The Tesla Model 3 Long Range, a favorite among customers due to its extended range and All-Wheel-Drive powertrain, has been reintroduced to the U.S. market following an eight-month hiatus. Initially, the vehicle was removed from the U.S. Design Studio in 2022 due to a lengthy waitlist, as stated by CEO Elon Musk.
Following its relaunch on early May 2023, Tesla initially listed the vehicle's range as "325+ miles". However, the Environmental Protection Agency (EPA) has now rated the vehicle's official range at 333 miles, a slight increase from the initial estimate but still lower than the original Model 3 Long Range AWD's 358-mile range.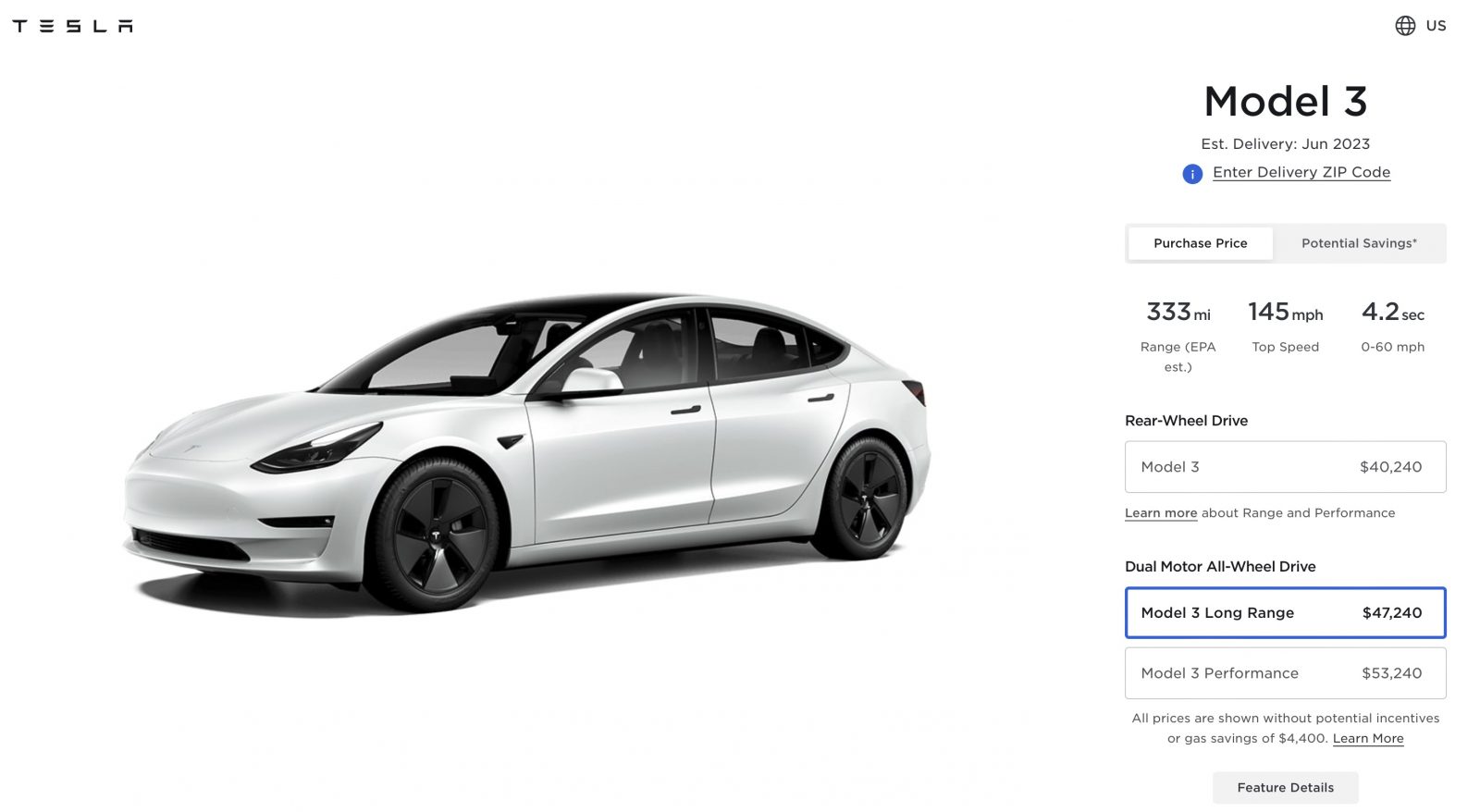 The Model 3 Long Range comes with a top speed of 145 MPH and a 0-60 MPH acceleration rate of 4.2 seconds. It starts at $47,240 and qualifies for $3,750 of the tax credit, with deliveries expected to begin in June.
Two other Model 3 variants offer distinct advantages. The Model 3 Rear-Wheel-Drive, Tesla's most affordable car, provides a 272-mile range and is ideal for climates where All-Wheel-Drive is unnecessary.
The Model 3 Performance, priced at $53,240 before the $7,500 tax credit, offers a top speed of 162 MPH, 0-60 MPH acceleration in 3.1 seconds, and an All-Wheel-Drive powertrain. While it offers slightly less range than the Long Range model, some drivers prefer the additional features for comfort while driving.
Our Thoughts
The new Model 3 Long Range AWD is likely equipped with Lithium Iron Phosphate (LFP) cells from China, indicated by the fact that the vehicle only gets half of the $7,500 federal tax credit for electric vehicles. The lower range could also be a result of LFP chemistry, which has a lower energy density than nickel-based batteries.