Congratulations to the first 100 VinFast customers for being the first in the world to take delivery of the VF 8 all-electric vehicles. After this initial delivery in Vietnam, the next batch of 5,000 VF 8s is expected to start shipping cars overseas in November. It should land in the US, Canada, and Europe as early as December 2022. Yes, all 100 of these buyers are considered pioneers as they've beat everyone else to the reservation.
Speaking at the event, Madam Le Thi Thu Thuy – Vice Chairwoman of Vingroup and Global CEO of VinFast – said: "Today's event marks a turning point for Vietnam's auto industry. In this historic moment, we are extremely happy to deliver the first batch of VF 8 all-electric vehicles to our pioneering customers in Vietnam. And very soon, the enthusiasm will be realized by more than 65,000 pioneering customers world wide."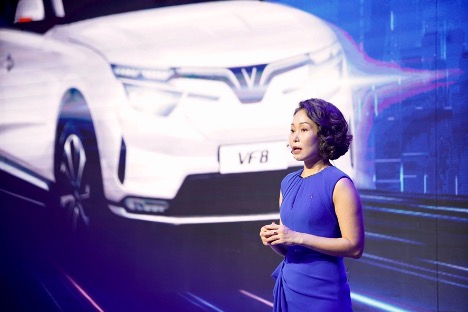 There are a lot of upsides to the VinFirst program for early reservations. VinFast offers a voucher worth $3,000, an additional $6,500 for the Smart Driving Package, and $5,000 for VinPearl. All VinFast customers get customer care service, VinFast's 10-year warrant, which comes with after-sale assistance and mobile charging.
There are currently 65,000 reservations globally, and the company expects to sell 750,000 annually by 2026, kicking off with the VF 8 and VF 9. The VF 8 and VF 9 EV pricing starts at $42,200 and $57,500, respectively, here stateside, which does not include the cost to lease the electric battery. There will be an option to buy the cars outright, which consists of the battery.
According to VinFast's battery subscription details, from Sept 1, VinFast offers an option to purchase batteries with the cars. Customers who made the RSVP for the VF 8 or VF 9 before Sept 1, 2022, can either stick with the original battery subscription option – locking in the permanent rate for the car's lifetime or switch to buying the vehicle with the battery included.
The VinFast VF 8's a 5-seater EV SUV that comes in Eco and Plus versions. The VF Eco version has a 260 kW-max-power electric motor, netting a max torque of 369 lb-ft, good for 260 miles (WLTP). The VF 8 Plus has 457 lb-ft of torque thanks to the larger 300 kW-max-power motor. The range is expected to be slightly less at 248 miles (WLTP).
On a side note, Carlist is joining VinFast's tour in Vietnam starting on 9/20 – so I invite you to check back for more related content and my first drive impressions.