Toyota made a big splash in the American media recently with the announcement that its all-new Crown, a marque that's been absent from our lineup for nearly 50 years, will return to U.S. showrooms.
Born in Japan in 1955, and hugely successful back home, the Crown was sold here from 1958 to 1973, so has been out of America's collective conscience since the oil crisis. To bring it back, Toyota did two things: firstly, it discontinued the Avalon, which it replaces, and secondly, offers the new Crown with a turbocharged 340-hp hybrid, all-wheel-drive powertrain. But more strategically, it will enter the market with a genre of car that is an odd choice—a crossover that's, well, not really a crossover.
It's common knowledge that SUVs and crossovers are flavor of the month, while in contrast, sedans and station wagons are a dying breed. Toyota call its new model a 'Crown crossover,' which means they think it meets the expectations and needs of most SUV buyers. Sure it's stylish, but when viewed from the side, the Crown looks like a lifted or tall fastback sedan, or dare we say hatchback, even though the car has a trunk, and no hatch.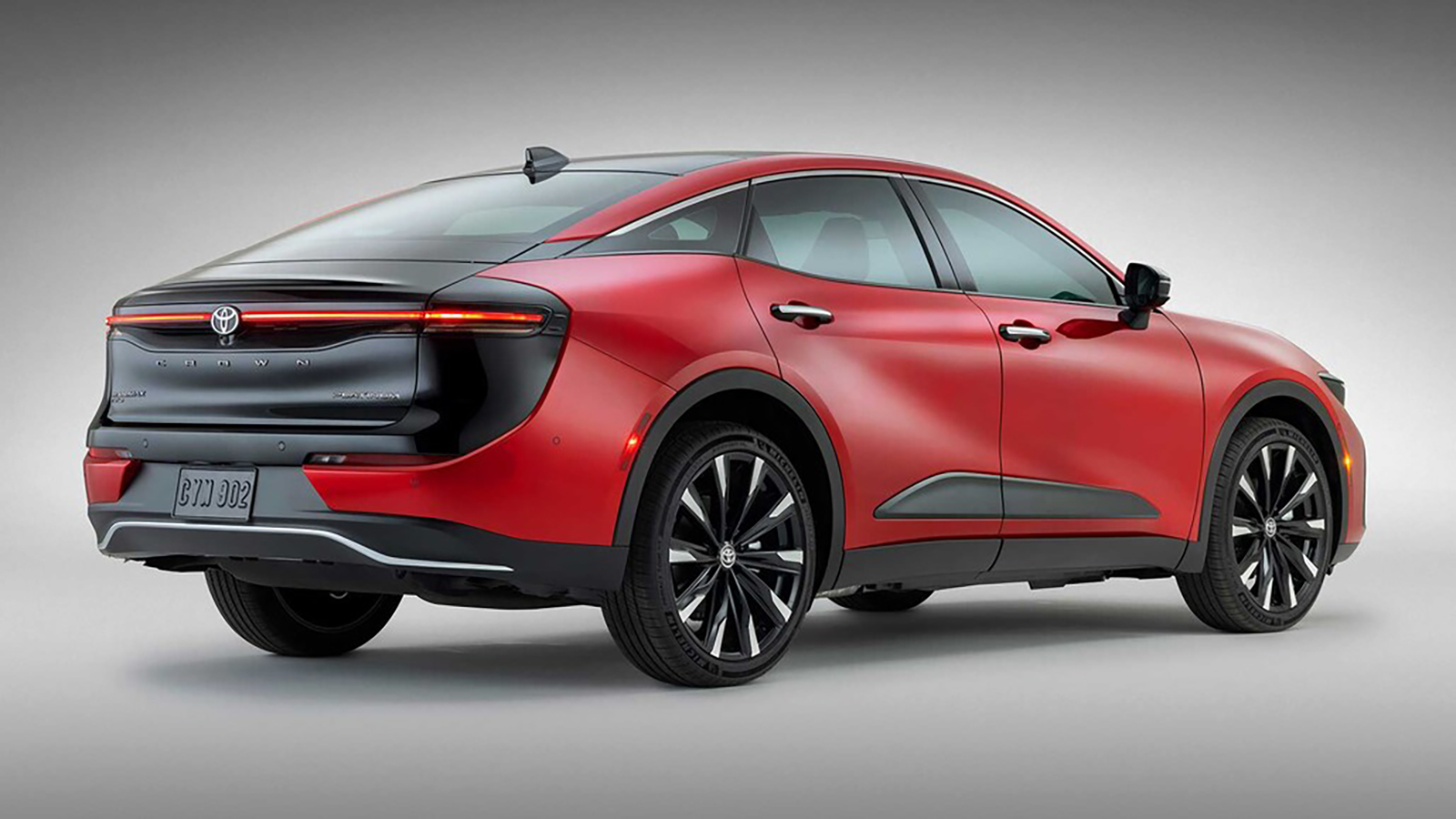 Just playing the devil's advocate here, but there is historical proof that such lifted sedans are not really what the market leans towards. We've seen example in the past—like the Subaru Legacy SUS, the AMC Eagle Sedan or even the Volvo S60 Cross Country that delivered similar styling and packaging to the new Crown. Toyota says we haven't seen such a car before. We think we have and none of them really hit a jugular vein. But who knows? Perhaps Toyota's combination of radical new styling, industry-leading reliability and a gutsy AWD hybrid powertrain, with the promise of at least three other Crown variants to come, might hit a soft spot in the market. Time will tell.
So what about that styling? Three trims are available — XLE, Limited and the Platinum flagship which has a two-tone color combination. Full LED headlights are fitted as standard, with LED daytime running lights also available. The front facia area is sculptured from a single piece of reinforced plastic and follows a design nuance we saw on the Camry. The large criss-cross mesh grille design works well with an aluminum accent along the bumper. The Platinum also gets 21-inch wheels and Michelin tires, 20's and 19's are also available.
To try to give the car its lowest possible side profile, Toyota designers have given it a traditional fastback-ish style rear end and included blacked out wheel arches that we see on models like the RAV4 and bZ4X electric SUVs. While the Crown is well-proportioned and does have some good-looking body work, it does look like a sedan that did a few too many benchpresses at the gym. Let's face it, the driver's eye point is a little higher than a sedan's but lower than a standard crossover.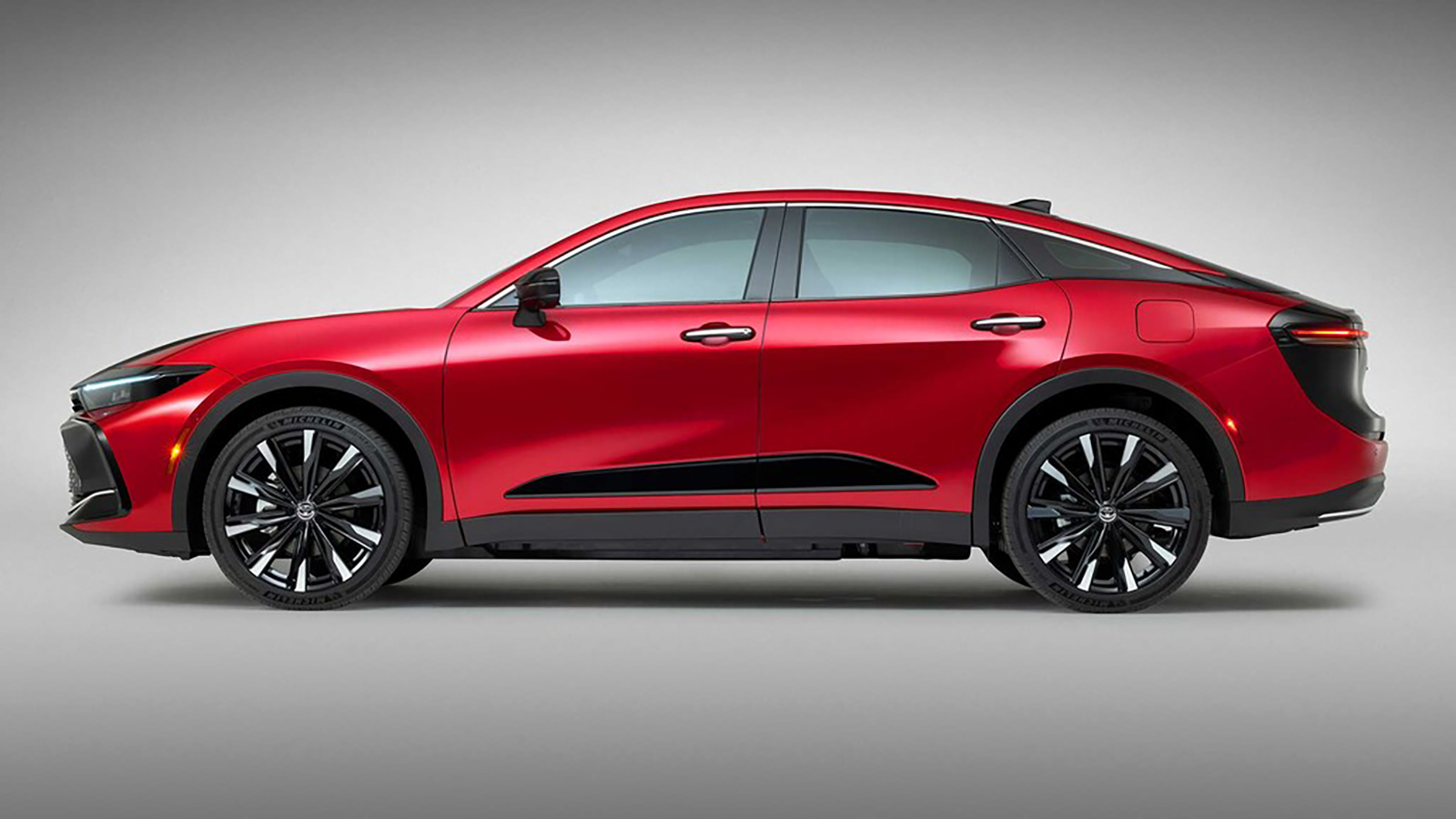 Inside the Crown, you will find clean modern surfaces and lines. Importantly, no gloss black is used and the leather seating comes with subtle stitching. A light bronze copper finish around the a/c outlets and across dash elevate the ambience while a 12.3-inch touchscreen boasts an all-new operating software and with hybrid powerflow graphics. The display also offers a 360-degree surround camera setup that gives a virtual view around car and piece of mind to motorists especially at night. In addition to the excellent side support in the seats, they also feature copper colored piping around the seat edges for effect. As you'd expect for a luxury sedan, the new Crown has a sunroof, 8-way power-adjustable electric front seats and an optional JBL 11-speaker sound system.
Drivers will enjoy the paddle shifters and source all necessary information from the 12.3-inch screen behind the steering wheel that artfully displays your power gauge, charge gauge, and drive modes that include Eco, Comfort, Normal, Sport S, Sport S+ and Custom.At launch, the new Crown will be offered with two powertrains. Firstly, the Platinum employs a hybrid 2.3-liter turbocharged inline 4 cylinder that's teamed up with a rear E-axle delivering 340-hp. It's mated to a 6-speed auto with a claimed 28mpg. The XLE and Limited models get a less powerful 236-hp hybrid system that uses a 2.5-liter four-cylinder and three electric motors.
Starting at an estimated $41,000 for the XLE, the Limited is priced at around $45,000 while the Platinum will get a sticker price hovering around $49,000. We feel the car will resonate with a niche market looking for sporty, reliable, powerful AWD cars packing loads of in-car tech and safety features, but the fact that the Crown offers a height-challenged profile with a trunk and not a hatch, will restrict its appeal to a wider audience.