PROS
Class-leading range of 330 miles
Stunning acceleration
Industry-leading 'Supercharger' quick charging network
CONS
Dull steering
Getting used to doing everything through the touchscreen
Firm ride
The Model Y is what we've come to expect over the last 15 years from Tesla, only it's better. With a practical and reliable range, fast charging network, roomy interior and user-friendly onboard technology, the Model Y will appeal to motorists who need to take care of the family basics, but who also want the curb appeal and street cred that Tesla delivers. You get a choice of two models; the mildly quick 'Long Range,' or the super quick 'Performance.'
Model Y on track to become the world's best-selling car.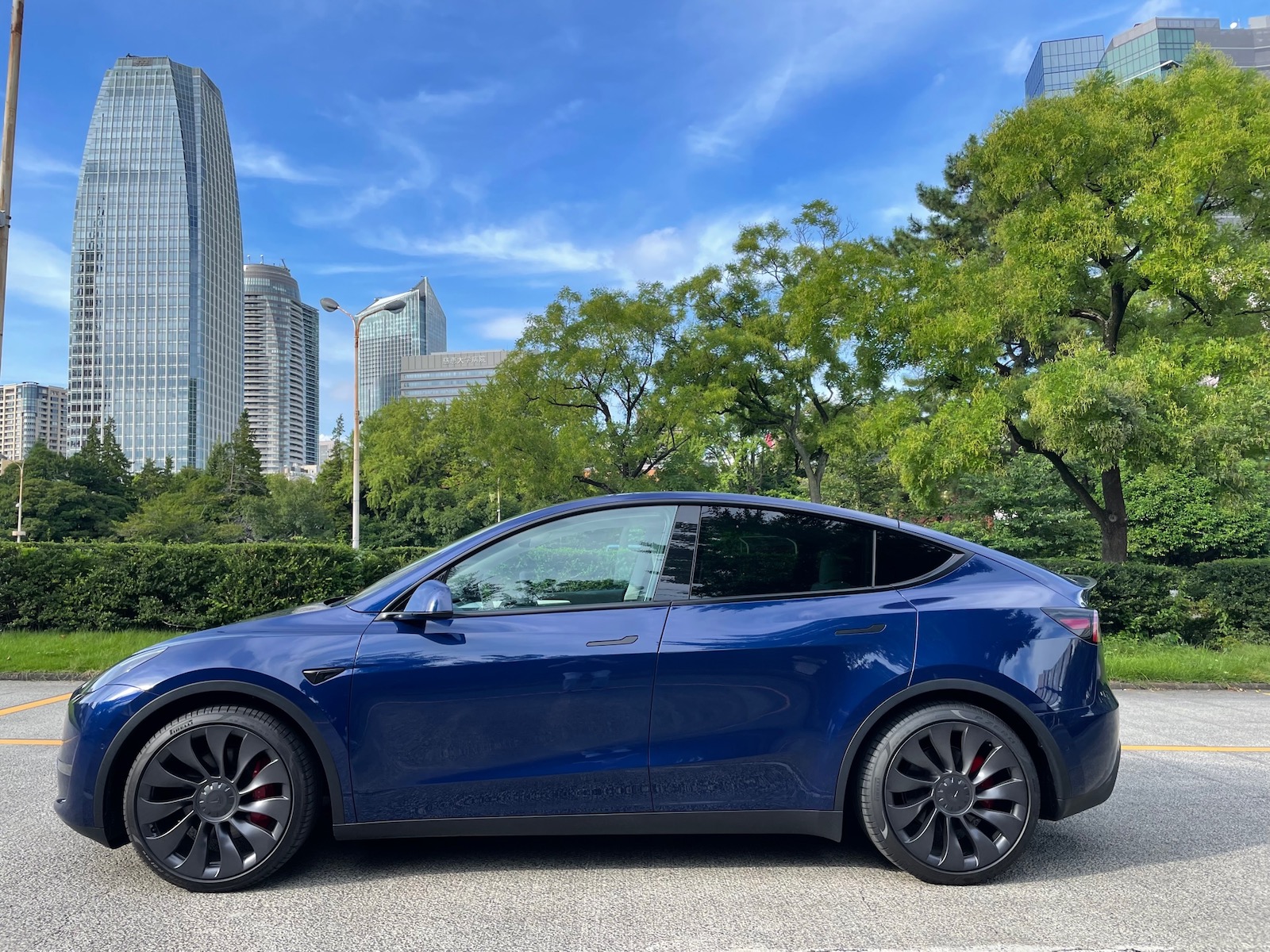 Based on the Model 3's platform, the Y shares around 75% of its parts with the 3, which includes a similar front end, interior design and powertrain. The Y however offers optional third-row seats for a seven-passenger capacity.
In the U.S., the Y was launched in March 2020, right about the time the pandemic was hitting hard and starting to shutter factories and disrupt carmaker parts supply chains. But the Model Y's crossover-style packaging, range, size, acceleration, and pricing helped it overcome the various challenges, enabling it to clear some 161,000 sales in 2021. In fact, it's already on target this year to outsell last year's sales figures and is on track to become the world's best-selling car.
Speaking at Tesla's recent annual shareholder's meeting, CEO Elon Musk claimed the Model Y will be the world's best-selling vehicle from a revenue perspective this year. In addition, Musk stated that the Y will be the world's number one vehicle when it comes to overall sales volume in 2023. The Model Y's sales success is even more significant when you consider how expensive it is. Never before has a $70,000 car sold roughly 150,000 units per quarter (Tesla only gives combined Model 3/Y sales figures, so precise Model Y sales are unknown).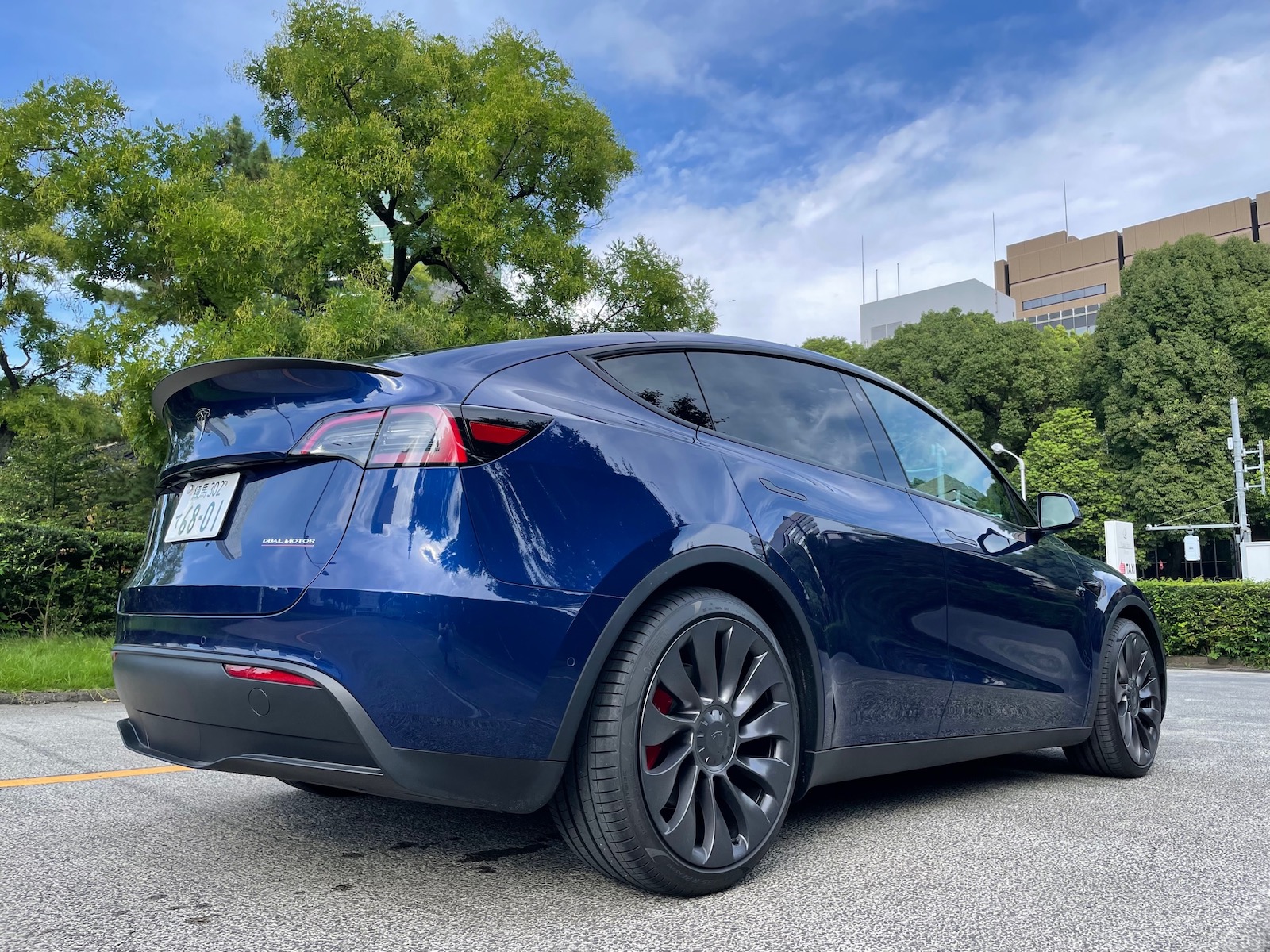 Model Y finally launches in Europe and Japan
A combination of strong demand in North America and various parts supply issues did however delay the Y's launch on the international stage, with the car finally landing in Europe and Japan this year. When Tesla launched the Model Y two weeks ago at Japan's first owner's delivery event, it was comprehensively covered by the local media with many journalists bemused by the fact that most buyers bought their Y without having seen one or test driven one. With all of Japan's Model Ys being sourced from the Gigafactory in China, Tesla Japan tells us that between 20 to 40 Model Ys are scheduled to be picked up by their new owners every day until the end of the year. That's how popular the car is in the home of Angels star Shohei Ohtani.
With prices starting from $65,990, the all-wheel-drive Model Y will go head-to-head with the Ford Mustang Mach-E, Audi Q4 e-tron, Hyundai Ioniq 5, Kia EV6, Mercedes Benz EQA, Nissan Ariya, BMW iX3, Volvo C40 Recharge and VW ID.4, even though most offer cheaper entry prices to their respective ranges than the Model Y.
The Y takes strong design hints from the 3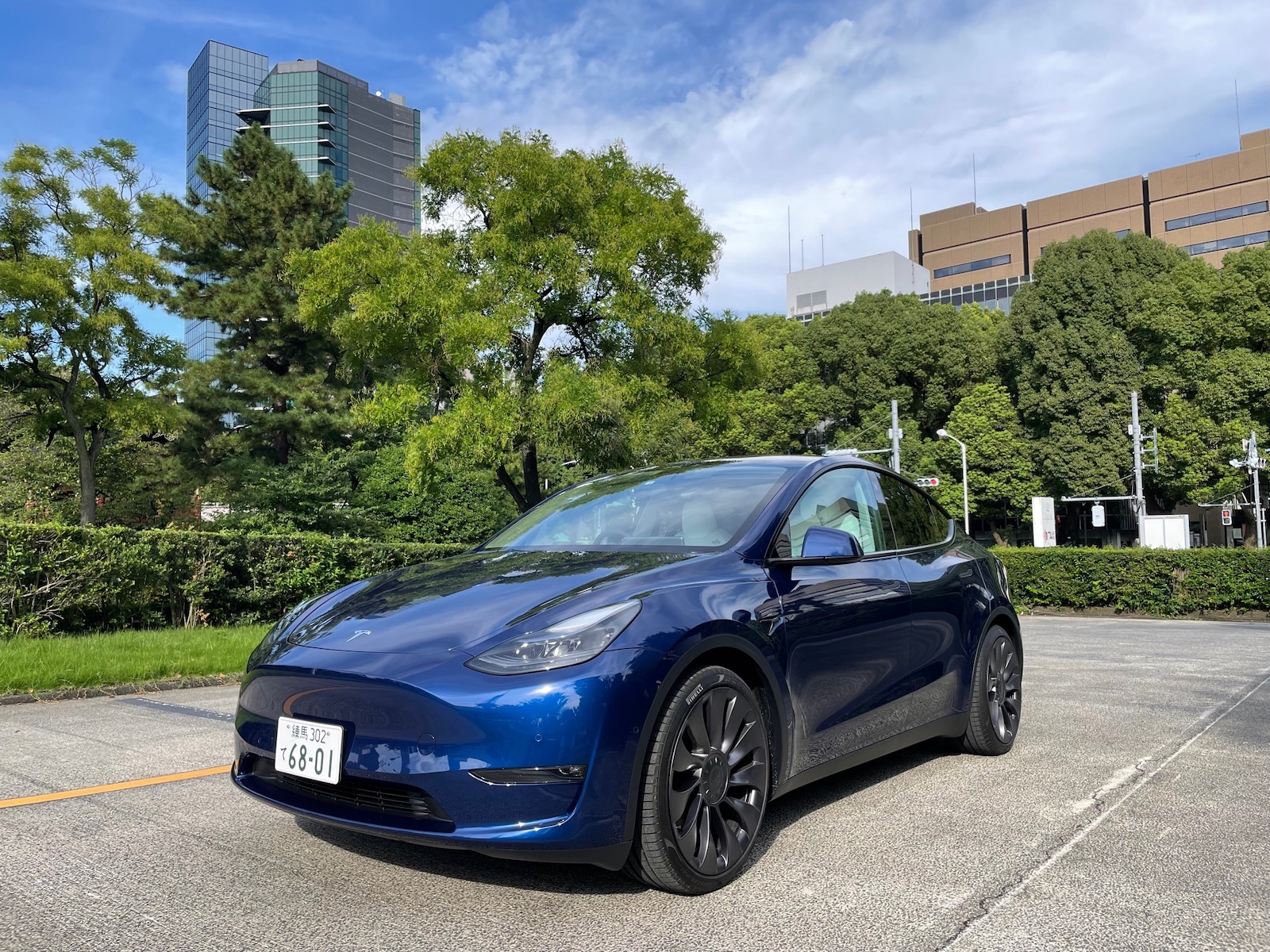 If you think the Model Y SUV has similar looks to the Model 3, you're spot on. Both use the same basic architecture, with the obvious differences being an increased ride height for the Model Y, along with a higher roof line, some extra bodywork, and black plastic trim around the door sills. While the Y's nose section appears almost identical to the 3's, the rest of the Y's body looks like a 3 that's been stretched using photoshop. Yes, it is functional but it's nowhere near as pretty as the aging Model S's exterior which boasted some of the industry's best proportions of a decade ago.
For 2022, Tesla is making some small changes to the Model Y. These range from a new, lighter 12-volt lithium-ion battery (replacing the traditional lead-acid one) and laminated rear windows to better insulate the cabin from noise.
Minimalist interior is chic and futuristic
Dashboards boasting massive touchscreens and without gauges are the future. Make no mistake. Following in the footsteps of the Model 3's interior, the Model Y's minimalist cockpit offers few surprises in the design department, with the huge 15-inch central touchscreen dominating the chic but spartan cabin. In fact, the only physical controls to be found are on the multi-function steering wheel and column stalks. Every adjustment that must be made to air-con, steering wheel tilt or telescopic functions, door mirror angles, and of course audio and satnav, must be made through the touchscreen. Luckily it has excellent graphics and quick response times. Switching to a Tesla from a standard gasoline-powered or hybrid car is a big adjustment as even reading the Model Y's speedometer, which hides in the top right of a large touchscreen, can be challenging at first.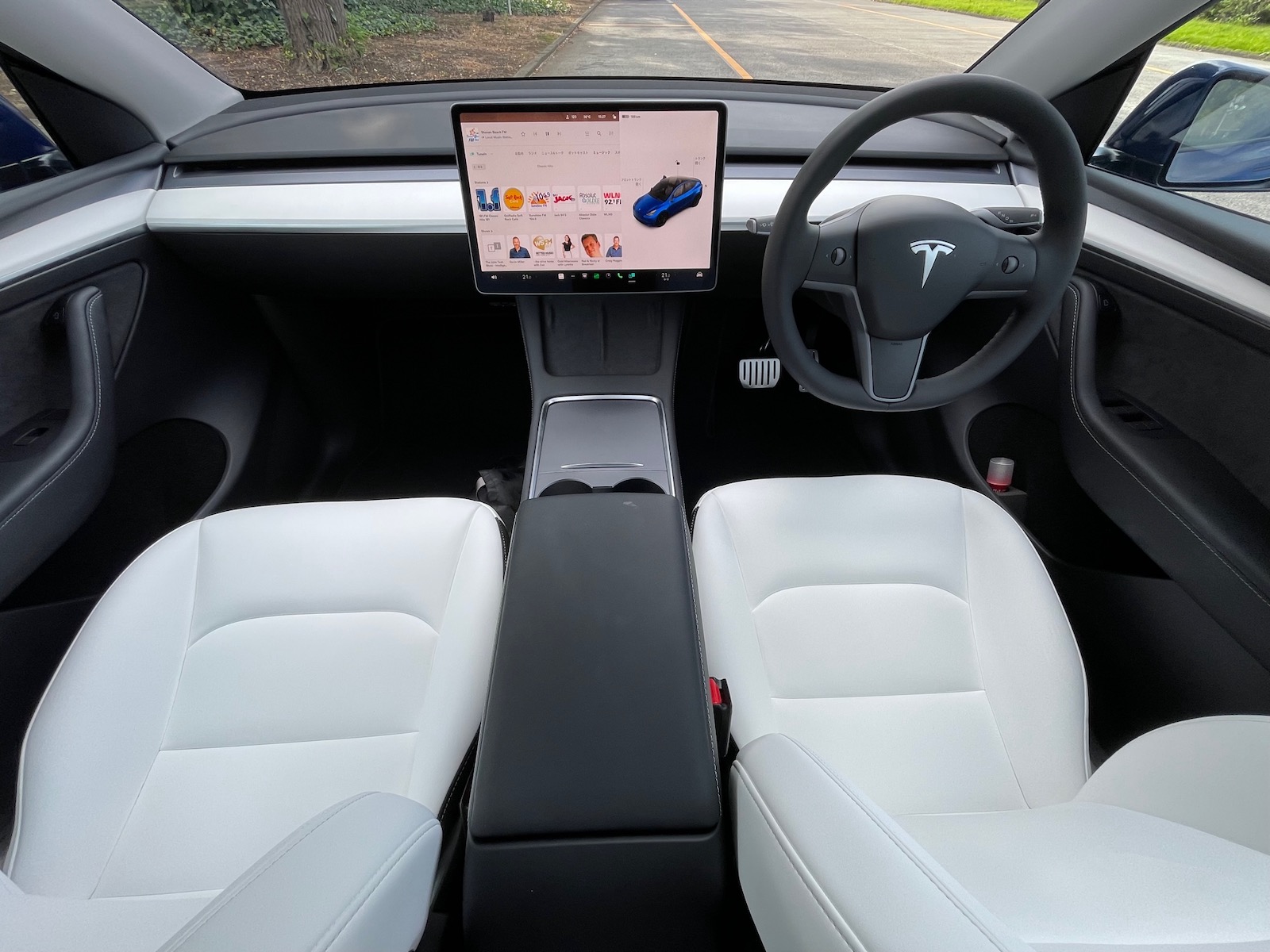 Its cabin provides excellent comfort in some areas and disappoints in others. The seats are well padded and provide sufficient leg and back support, but the simulated leather upholstery does not breathe well and can feel retain heat in hot weather. As you'd expect from a clean dash with minimal switches, the climate control is touchscreen-operated and can be a little fiddly to quickly find what you're looking for. Like a new iPhone 14, plenty of study is warranted. Speaking of smartphones, one feature we particularly liked was the Model Y's twin charging pad just under the touchscreen which allows you to lay two phones on charging pads side by side. Why doesn't everyone else do this? The Y's air-con can cool and heat the cabin well, but it has to work hard if the sun is shining through the Y's large glass roof. Like many EVs now, you can remotely switch on the air-con before you get in, which can save the day.
Fitted to the Y, Tesla's Autopilot system uses a combination of cameras and sensors to scan your surroundings and channel data into advanced cruise control programs that can significantly lower driver fatigue levels. but during our own test we felt that the standard adaptive system worked well enough.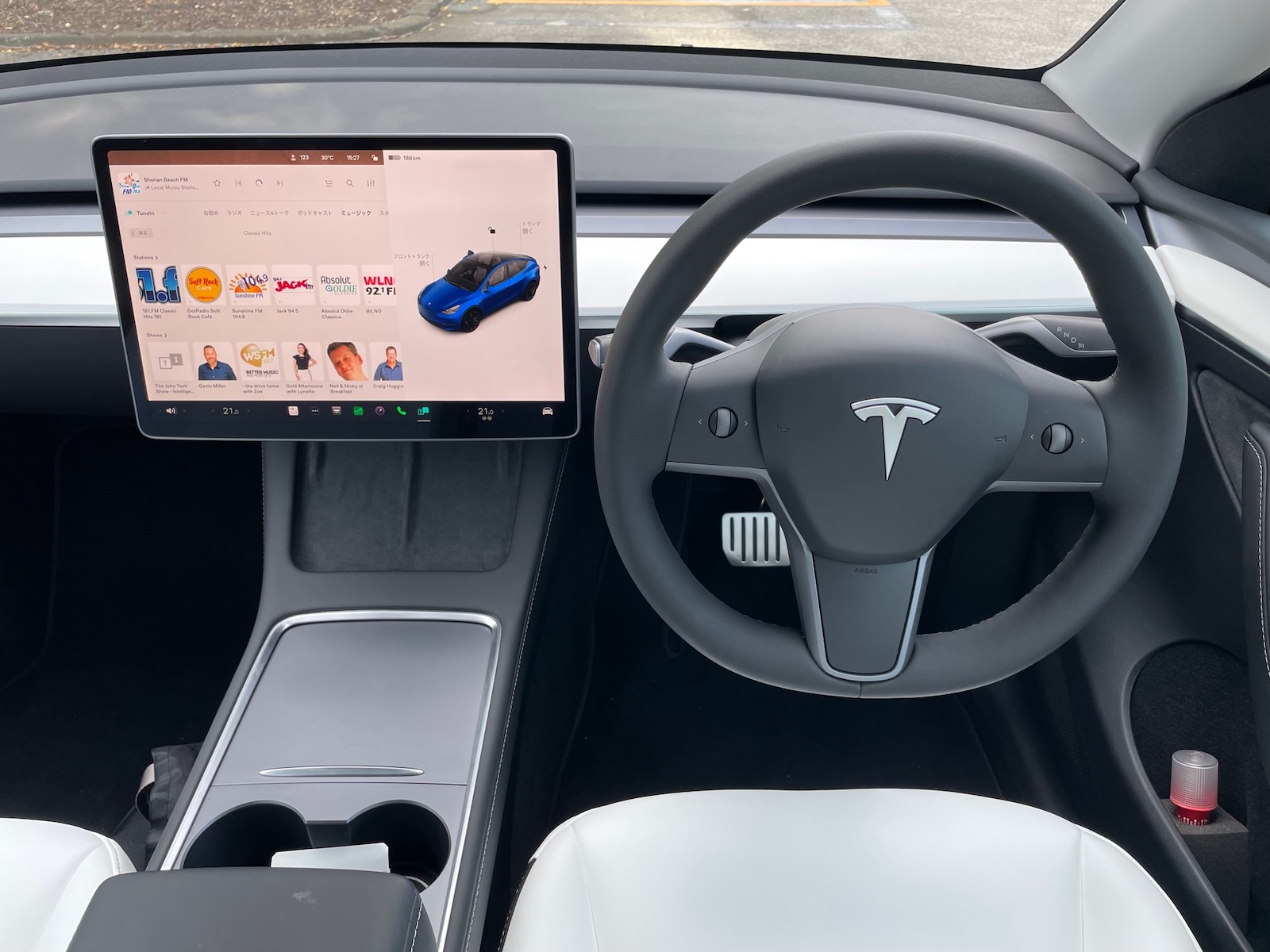 You can do just about anything with your smartphone these days, including gaining access to your car. As long as you're logged into your car with your smartphone app, the car will unlock and turn on when it detects your phone. If you don't want to use your phone, you can opt for a separate smartcard that unlocks the car when you hold it up to the B-pillar.
Interestingly, options are few and far between. Unlike rivals which supply options for seats and trim, wheels, paintwork, audio system, and even interior illumination, the Model Y only offers options for body color, seats, and wheels. Everything else comes as standard.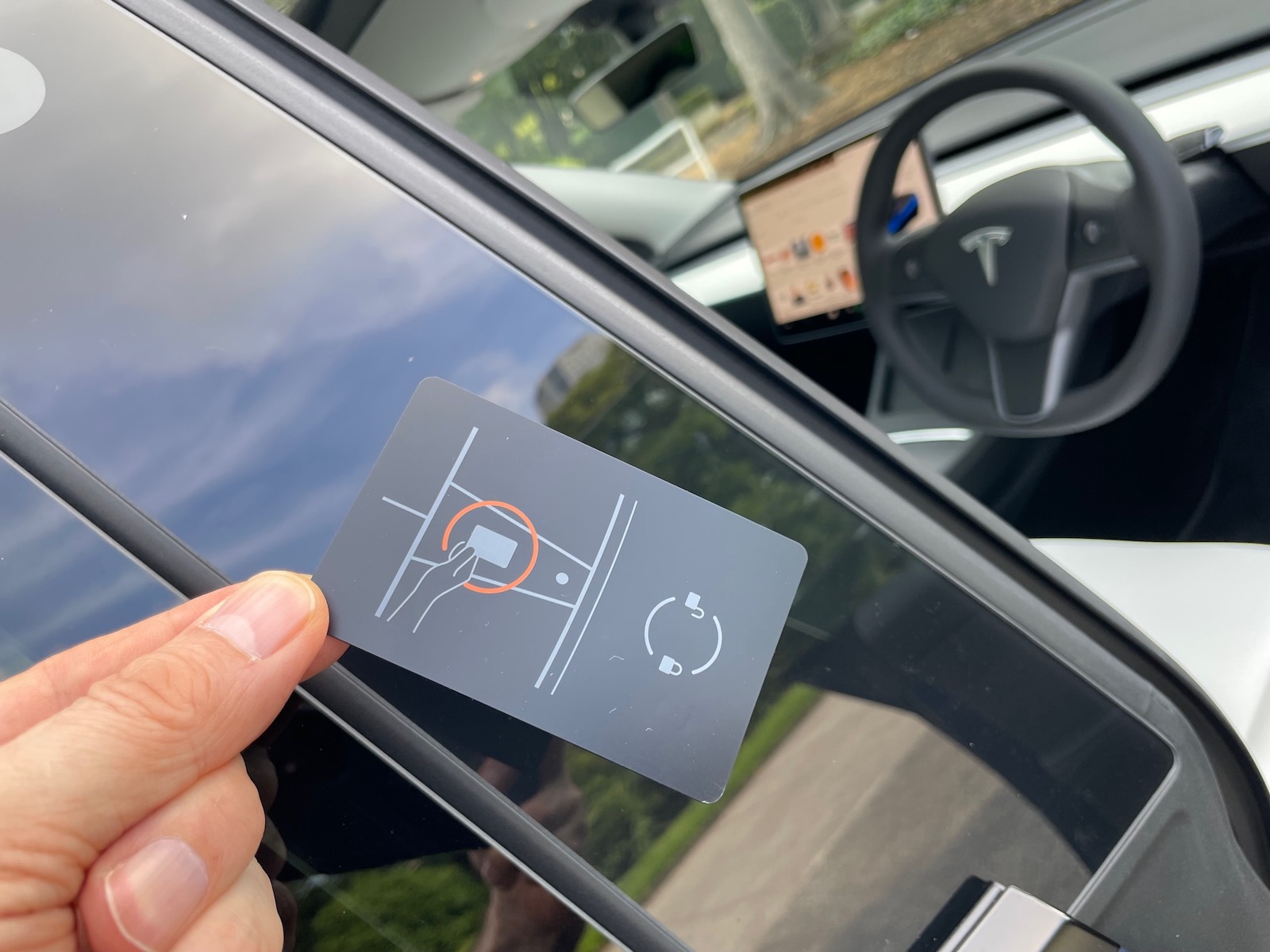 The Driving Experience
Tesla established itself as a maker of blisteringly quick electric cars back in 2009 with the introduction of the Roadster model. It followed this up with the Model S in 2012, the unique 'falcon wing' door-fitted Model X in 2015, and the Model 3 hatchback later in 2017, all offering supercar equivalent acceleration. We've all seen YouTube videos of Teslas trampling over Lamborghini Aventadors and Nissan GT-Rs to 60 mph and the quarter mile, so we don't need to reiterate how quick any Tesla is.
As mentioned above, you get a choice of two specs; the Long Range or the Performance. If you opt for the former, you get a 75kWh lithium-ion battery, which the EPA rates at 330 miles for the Long Range Dual Motor specification. Upgrade to the 'Performance' spec and your range falls to a claimed 303 miles, but in return, power leaps from 434-hp to a massive 563-hp. The EPA also estimates that the Long Range version is good for 131 MPGe in the city and 117 MPGe on the highway, while the Performance spec's fuel numbers are 115 MPGe city and 106 MPGe highway.
In Performance guise, the Y is capable of jumping from zero to 60-mph in a supercar-like 3.5 seconds and reaching a top speed of 155-mph. Even in Long Range spec, it is still able to post a pleasingly quick zero to 60-mph time of 4.8 seconds and a 135-mph top speed. Of course, the Model Y's dual-motor/all-wheel-drive set-up helps get the power down when you need that quick bout of grunt, but, in everyday driving, it will settle nerves when roads are slippery.
Handling in the 4,416-lb Model Y is good and predictable, and the best we've seen from Tesla since the Model 3. The steering is light and while it could have a weightier feel, it is still quick to respond to inputs, giving you a sense of control and connection through corners. It does not have the driver engagement of, say, a BMW iX3, but the Model Y is still a very capable handler. The Y is a smooth cruiser on the interstate of local road, but once on rougher terrain, the car's overly firm set-up can become a little jittery, and you'll notice some harsher crashes and bumps. In-town drivability however is excellent, comfortable and quiet, as one might expect.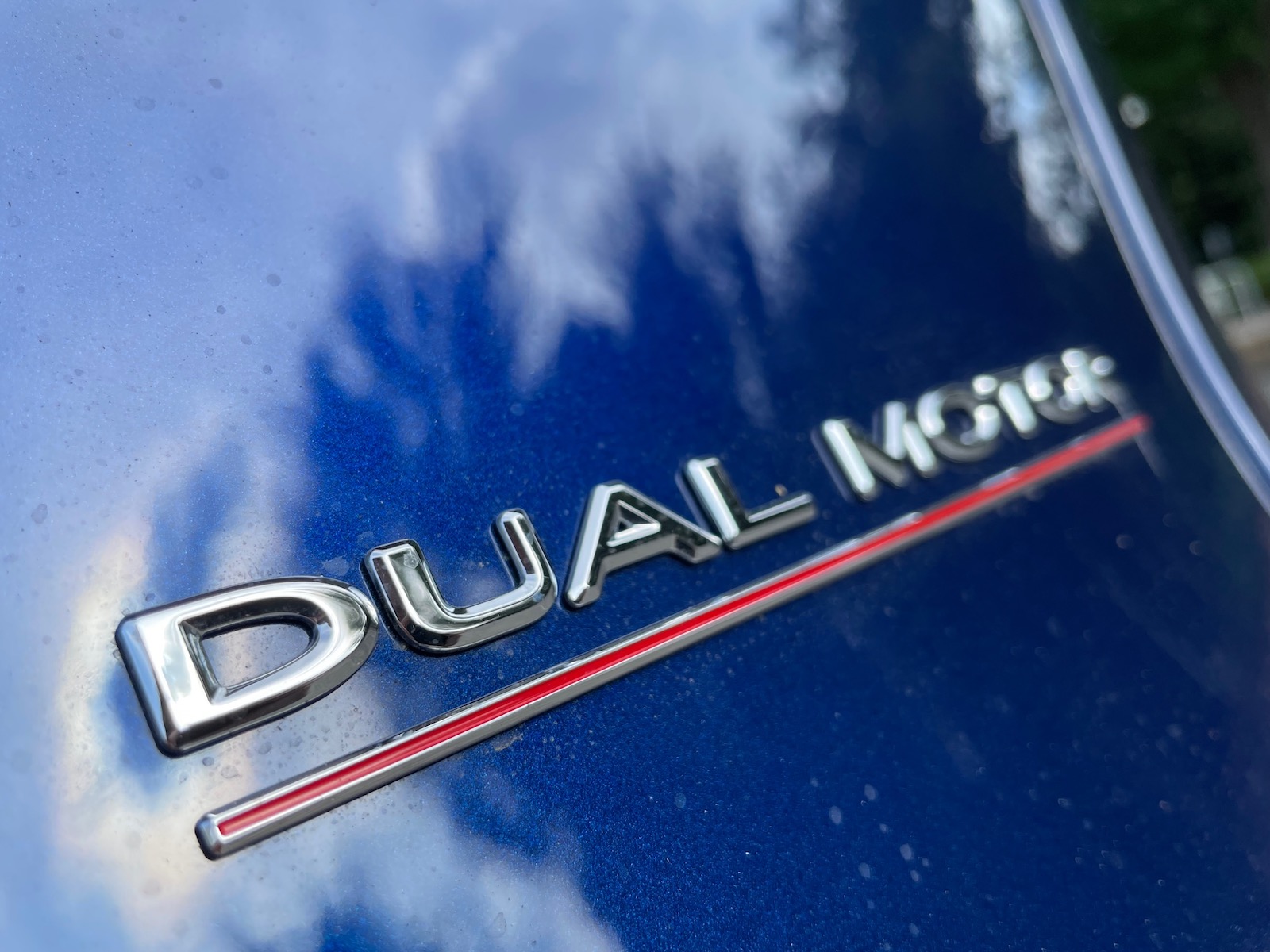 Using regen braking with one pedal allows a complete stop
Experienced EV drivers will enjoy the adjustable regenerative braking that allows effortless one-pedal driving. We were particularly impressed with the Y's ability to drive and stop smoothly using just one pedal—the accelerator. Unlike many of its European or Japanese rivals, the Model Y will come to a complete stop when you lift off the throttle, and without touching the brake. In heavy traffic though, it does take some getting used to. While Tesla claims you can charge from 10% to 80% of battery capacity inside of 30 minutes, it also says that you can top up 200 miles of range in just 15 minutes at its ever-expanding Supercharger network. The Model Y should qualify for the new $7,500 tax rebate starting January 1, 2023 under the new Inflation Reduction Act. More details to come on that so check back here later.
CONCLUSION
When it comes to delivering a pleasing mix of roominess, range, tech, and performance for an EV SUV, the Y stands heads and shoulders above the rest. Of the two versions, we prefer the Long Range. It may lack the ballistic acceleration of the Performance but it is still quick enough. It's also smoother riding and better value. While it does offer impressive tech on its huge display like Spotify and YouTube, it does however clearly lag behind the rest of the industry, though, in smartphone integration with no Apple or Android options. But of all the EVs on the market now, we'd have to rate the Model Y as one of the best, even at a starting price of $65,990.
This is the first Tesla we have tested where the initial impression is not blistering acceleration, driver assist tech, or that huge central display. It's the packaging. In its SUV form, the Model Y is the industry's signature EV crossover now thanks to its low flat floor, spacious cabin, and roomy luggage space, made possible of course by no engine, exhaust system, or fuel tank. And the main thing that's impressing buyers in and outside of the U.S. is the unique Supercharger network that will top up 200 miles in just 15 minutes. This in itself gives the brand extra kudos. In the time it took to test drive our Model Y and write this review, Tesla Japan just delivered another 40 cars. Meanwhile, back home in the U.S., the Model Y is on track to outsell last year's sales figures. To calm the nerves of a lot of owners and potential buyers out there, one final thing we should mention is that Tesla's giant 'safety recall' of 1 million vehicles is just another over-the-air software update.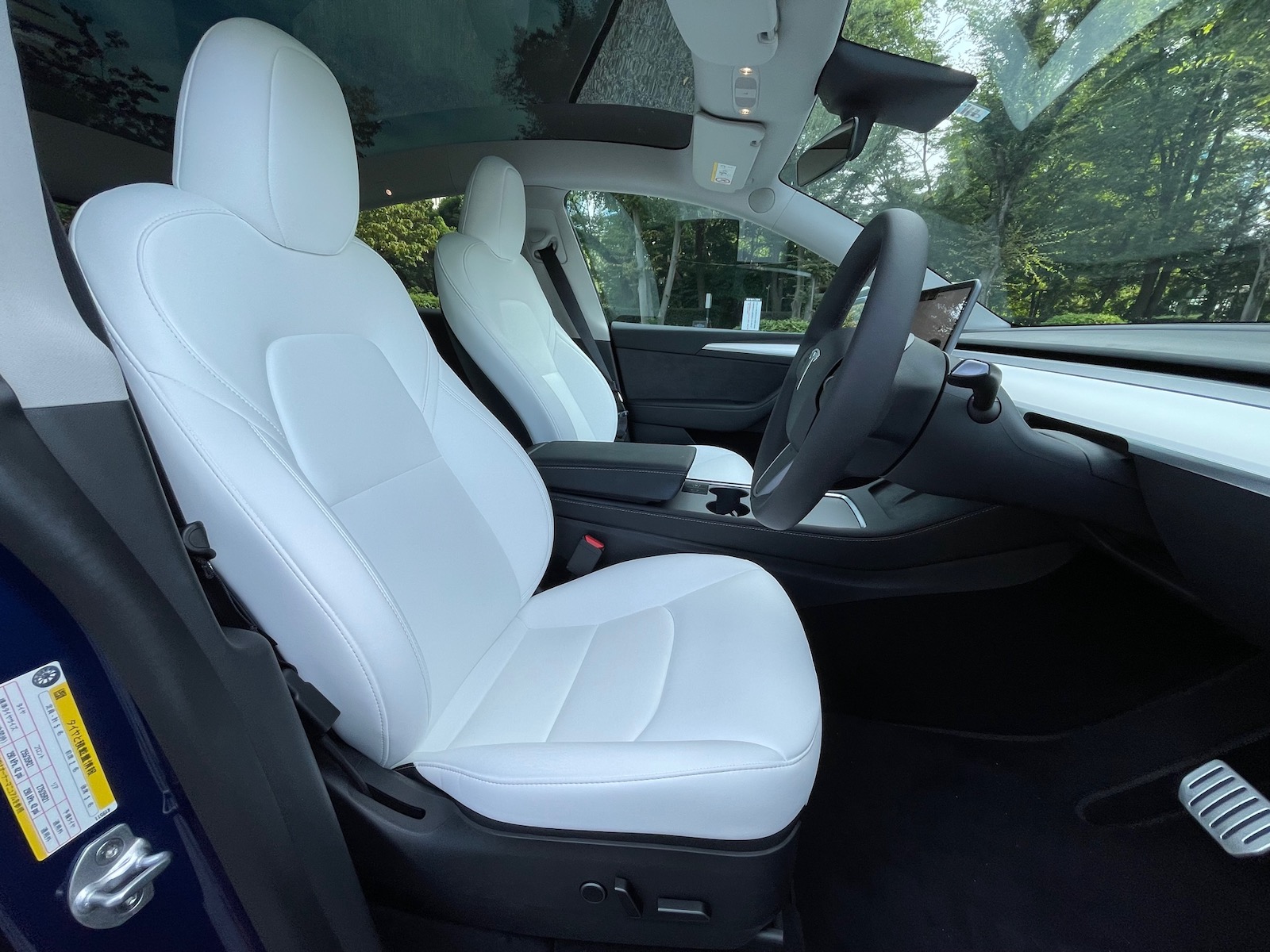 For anyone wanting to test a Model Y, or a Model 3 for that matter, why not visit Drive Electric Week which is on now at nearly 300 online and in-person events until October 2 in the US, Canada, and Mexico.