As the whole world turns towards electrification and reasonably-priced two-door sports cars lose their shine, carmakers are increasingly collaborating to share the sky-high R&D costs and make a viable business case to continue building coupes.
In this guide, we will look at three such sports cars and explain why we would buy them if we had a garage to put them in. But before we launch into the recommendations, let us first clarify what we are actually doing here.
Of course, when talking about sports cars, we need to first differentiate them between, 1) rear-wheel-drive, 2) front-wheel-drive, 3) all-wheel-drive, as well as coupes and hot hatches. In this buyer's guide, we will look at reasonably-priced rear-wheel-drive sports cars, and leave the other two drivetrains for a later date. So, this time, we will not be examining front-drive models like the Honda Civic Type R, Renault Megane RS and Hyundai i30 N, or all-wheel-drive sports cars including the Mercedes-AMG A45 S, Subaru WRX or Toyota GR Corolla.
Okay, with that clarification out of the way, let's move on to our three best reasonably-priced rear-wheel-drive sports cars.
2022 MAZDA MX-5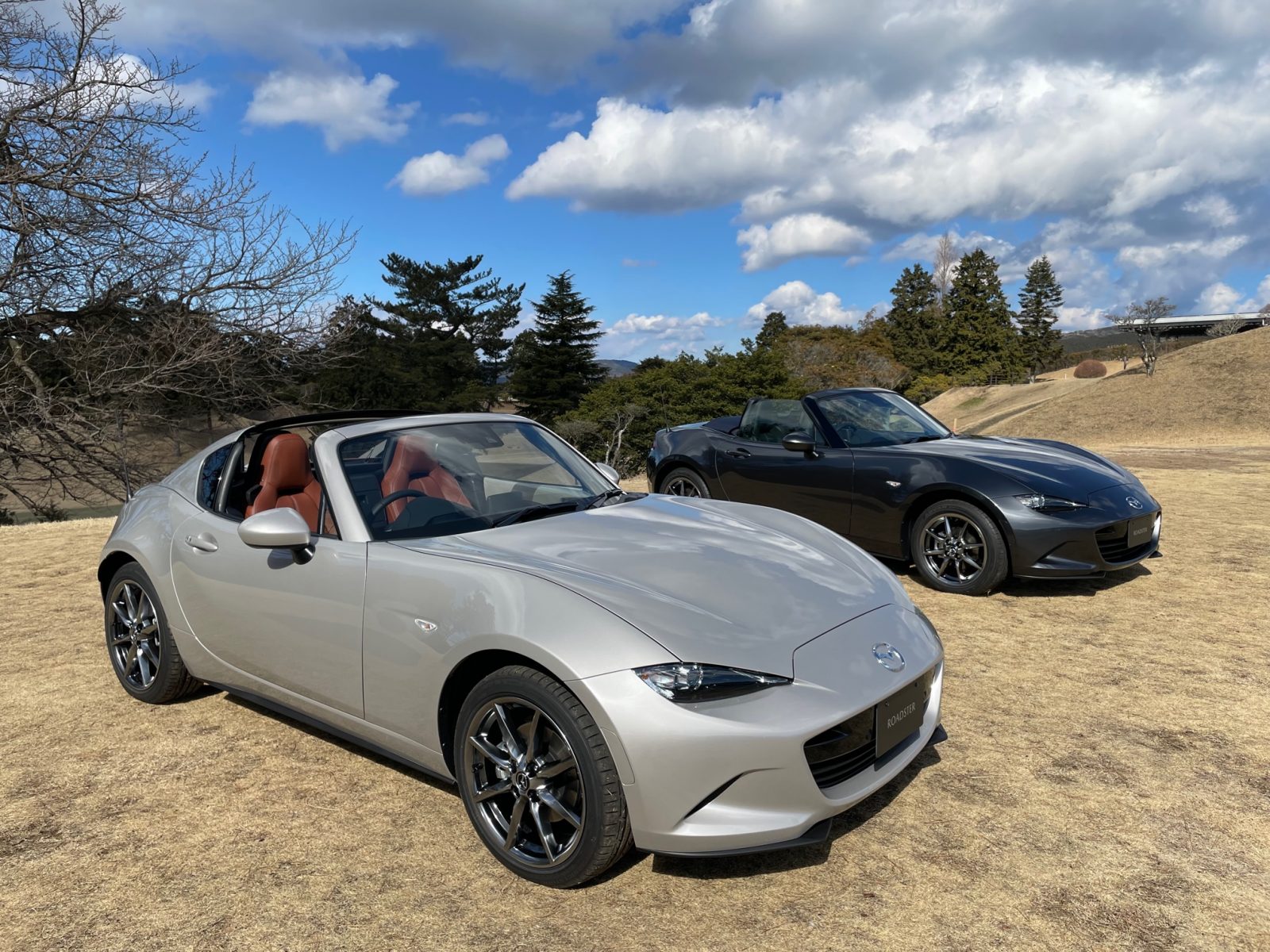 Price: $27,650 to $32,650
Aesthetics ●●●●
Ergonomics ●●●
Performance ●●●
Handling ●●●●●
Value for Money ●●●●●
Having sold over 1 million units since its 1989 launch, earning it a hallowed place in the Guinness Book, the multiple award-winning Mazda MX-5 is one of the very best sports cars on sale, regardless of its relatively low price. Let's face it. There are very few small, fun, rear-wheel-drive coupes on the market today, and for us, the MX-5 sits at the top of the bunch.
When it first appeared on the scene 33 years ago, the highly celebrated Mazda's immense popularity inspired a new wave of compact roadsters including the Porsche Boxster, Audi TT, Mercedes Benz SLK, BMW Z3 and Fiat Barchetta. And with the MX-5, there are two versions—the regular soft-top or the targa-style, hard-top RF variant.
The MX-5 has a tight cockpit and may not be a practical everyday car for some, but driver involvement and thrill level are simply in another league.
Its recently revised naturally aspirated 2.0-liter 4-cylinder engine is deliciously linear in its response and delivers a grin-inducing amount of acceleration with plenty of bottom-end torque. This Mazda pumps out an impressive 181-hp with a redline of 7500rpm, giving the little coupe a zero to 60-mph sprint time of 6.4 seconds. When compared to more expensive coupes, the MX-5 is less about outright performance and more about sharp handling and pure driving enjoyment.
With one of the very best manual gearboxes available, the roadster provides an intense dose of engagement, while light, direct steering gives feedback by the bucket load. Its seats too are supportive rather than body-hugging, and the cabin is snug, so tall drivers may struggle to get comfortable.
The fabric roof can be easily opened and closed from the driver's seat despite its lack of electric assistance. Its closest rivals are the recently revised and rather well-sorted Toyota GR86 and its sister car, the Subaru BRZ, but they do not have convertible options. Unless you plan to take the car on track days, you may not want to opt for the special Sport version that gets Bilstein suspension, a front strut brace and larger 17-inch tires.
2024 FORD MUSTANG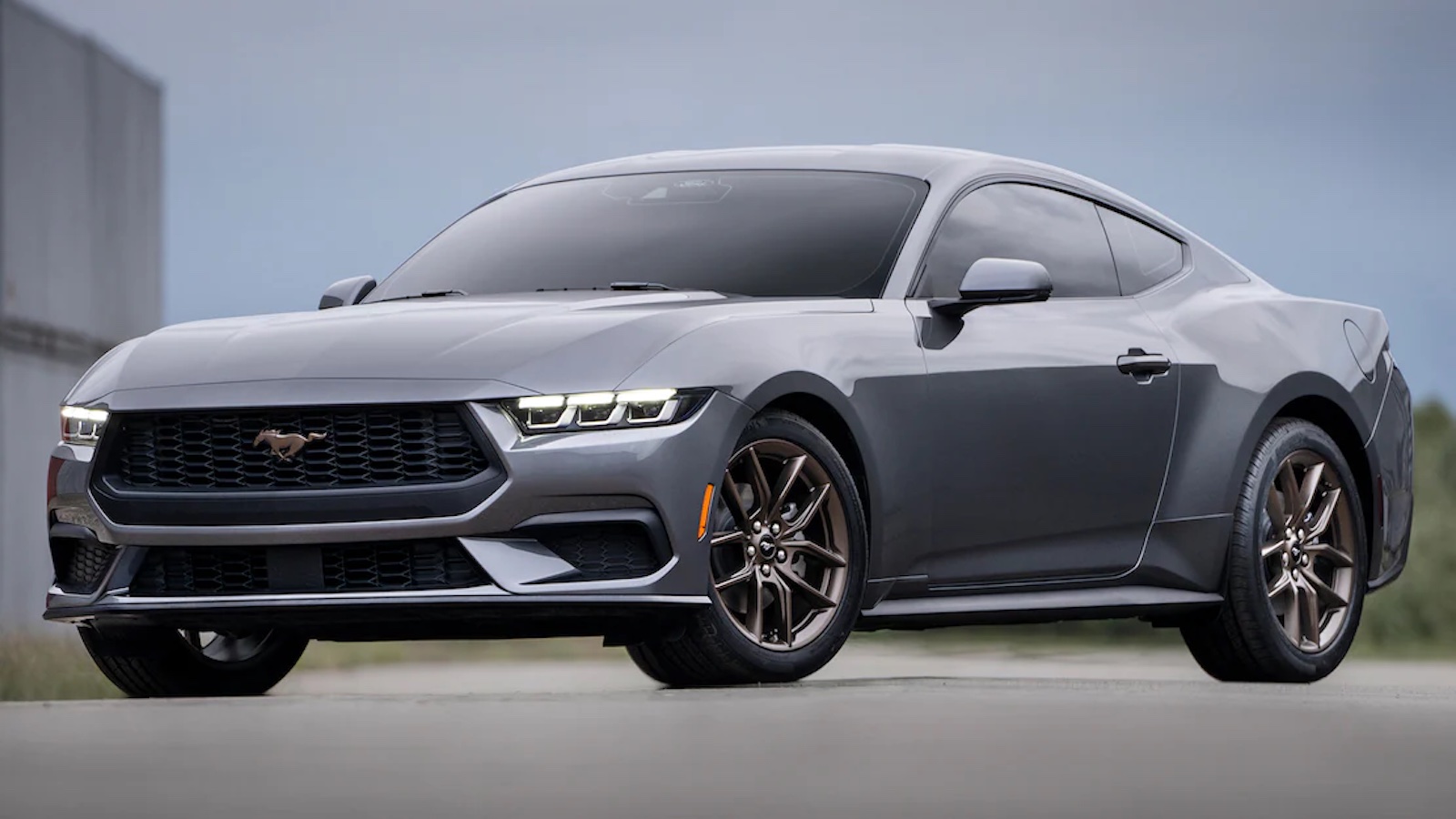 Price: $30,000 to $45,000 (est)
Aesthetics ●●●●
Ergonomics ●●●●
Performance ●●●●
Handling ●●●●
Value for Money ●●●●●
Just unveiled at the Detroit Auto Show, the all-new seventh-generation Ford Mustang will soon arrive in showrooms with sharp new lines and a choice of either an updated 300-hp turbocharged 2.3-liter 4-cylinder EcoBoost engine or a 5.0-liter V8 with an expected power boost to 480-hp. Both a 6-speed manual and a 10-speed automatic will be available depending on engine choice. Boasting a near 60 history, this legendary coupe, owned by presidents and rock stars over the years, is one of the best bargains on the market right now. It looks the business and will undoubtedly perform and handle better than its predecessor. This all-new version takes the Ford to the next level.
Ford's new model will continue to be offered in both hard-top coupe and soft-top convertible body styles. From the cockpit, every detail has been sculptured into place with what Ford is calling a "fighter-jet-inspired," design. The Mustang's revised cockpit will get a standard 12.4-inch touchscreen or an optional 13.2-inch display that's part of a large curved screen that extends over the center console. Adding a fresh new take, the system also replaces traditional knobs for climate and radio control with touchscreen "buttons." 
A Performance Pack adds a front strut-tower brace, Torsen limited-slip differential, wider wheels and tires, larger Brembo brakes, and a MagneRide active-dampening suspension. Optional Recaro buckets and an active exhaust are also available for the performance-minded.
Amazon Alexa and Ford Streaming will allow voice commands to replace dashboard switches and buttons, and every Mustang comes with Ford Power-Up software capability allowing over-the-air updates for new software and vehicle function upgrades.
While we haven't had a chance to test it yet, we can be sure that Ford has done a superb job with its on-road capabilities, especially if we go by what has gone before. Unfortunately, the new Mustang won't go on sale until summer 2023, so if you're in the market for a Mustang before then and can't wait, we'd highly recommend the current entry-level version.
2023 NISSAN Z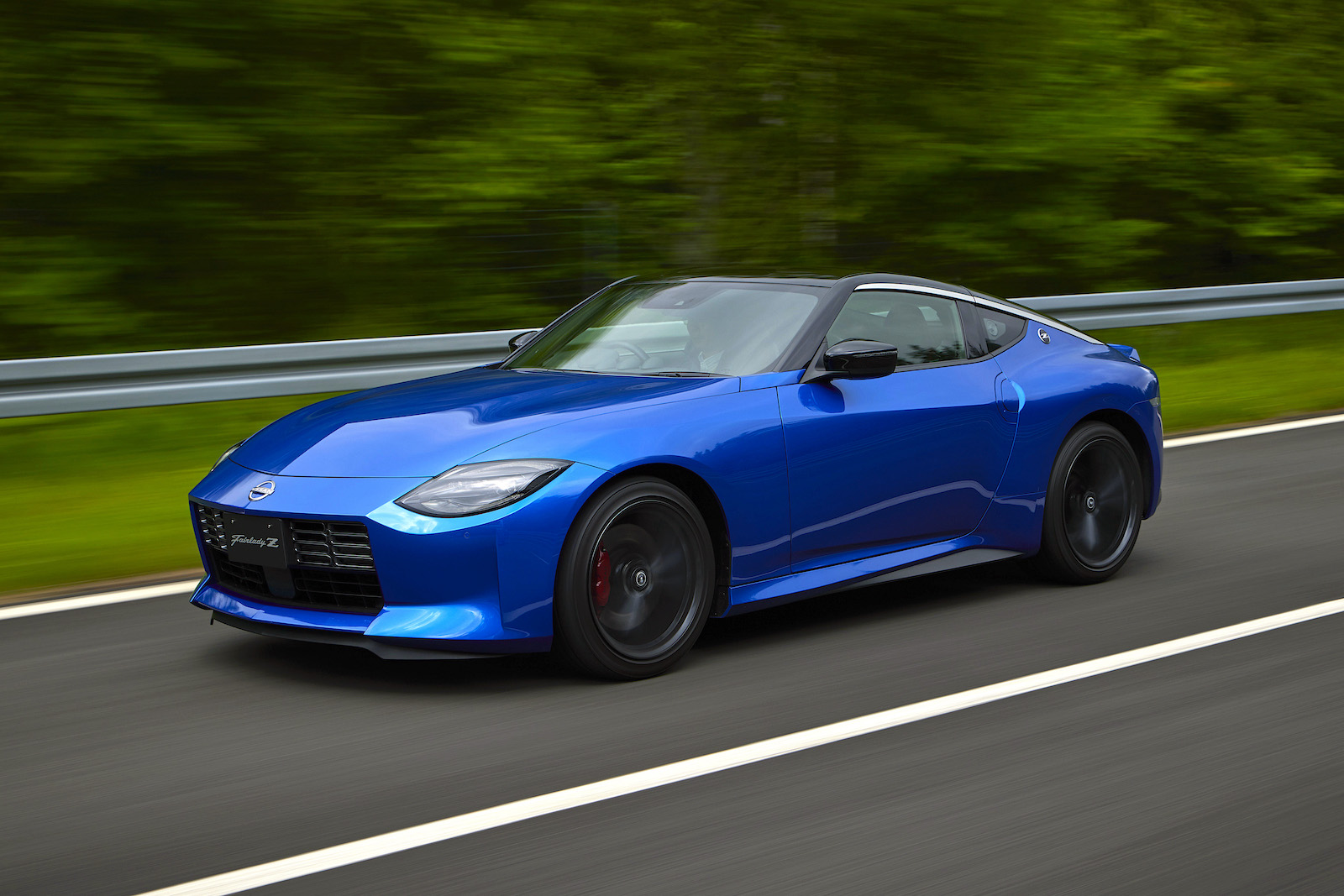 Price: $39,990 to $49,990
Aesthetics ●●●●
Ergonomics ●●●●
Performance ●●●●●
Handling ●●●●●
Value for Money ●●●●
Fully redesigned for 2023, the Z is the best bargain sports car on the market. Starting at just under $40,000, the new Z is powered by a 400-hp 3.0-liter twin-turbocharged V6 engine driving the rear wheels through a six-speed manual or a nine-speed automatic. Simply put, 400-hp for $40,000 is outstanding value!
The 2023 Z draws design inspiration from past models, incorporating the grille and headlight styling from the original 240Z of 1969, as well as the twin bar tail lights from the 300ZX launched in 1989.
Its 400-horsepower V6 is not actually new, having been adopted from the Infiniti Q60 Red Sport 400. This engine provides more than enough power for any situation and will jump from zero to 60-mph in under 4.5 seconds. deft handling and a surprisingly comfortable ride start the list of highlights. Inside, there are plenty of quality materials, modern features and two welcoming seats.
Compared to the Toyota Supra, it might be half a second slower, but the Z does undercut the 3.0-liter by a substantial $11,900, and, well, it does look better. On the road, the Z boasts sharp, pinpoint handling and zippy acceleration and we were thrilled to see that it's overall more refined than its predecessor. Its 6-speed manual has nice short throws while the 9-speed auto delivers quick no-shock shifts. Mercifully, the Z also receives a technology update with new touchscreen infotainment, a reconfigurable digital gauge display, and a host of new driver-assistance features.
Inside, Nissan has brought the Z into the 21st Century. The two-door gets a stylish, modernized cabin with cool new materials—a welcome improvement over the current 370Z's dated interior. Leather upholstery, power-adjustable seats, and dual-zone automatic climate control are all available. Its fitted with a standard 8.0-inch infotainment system (a 9.0-inch is optional), while a 12.3-inch touchscreen, Apple CarPlay, and Android Auto are also fitted. The new Z basically blows its competitors, like the Supra, out of the water when it comes to cost performance and handling. Definitely worth a look.
HONORARY MENTIONS:
2022 TOYOTA GR86 AND SUBARU BRZ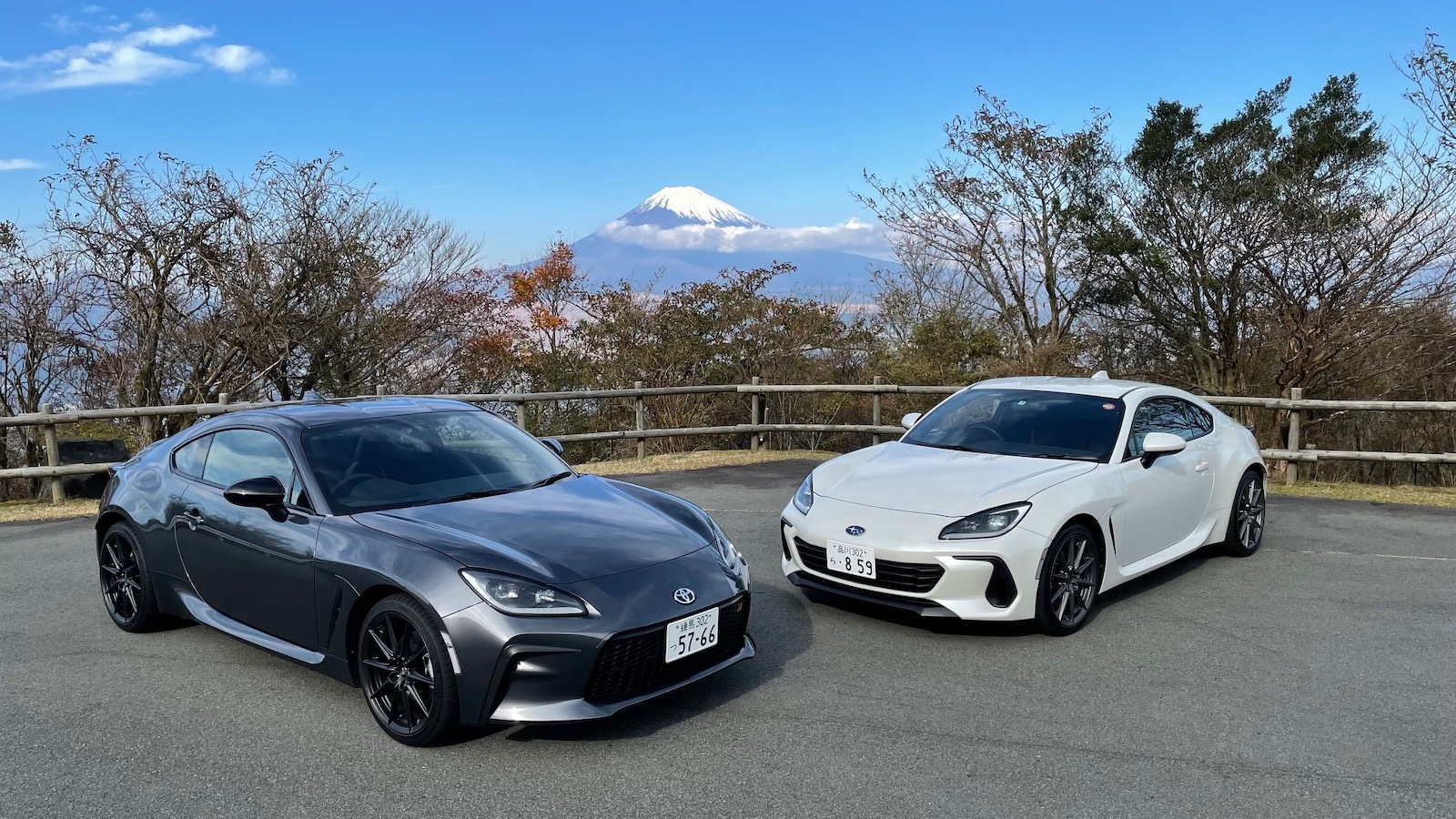 Price: $28,995 (GR86) and $29,615 (BRZ)
Aesthetics ●●●●
Ergonomics ●●●●
Performance ●●●●
Handling ●●●●
Value for Money ●●●●●
The recently revised second-gen Toyota GR86 and Subaru BRZ definitely deserve an honorary mention here. In fact, if this list was the "Best 5" instead of the "Best 3" then they would have comfortably slotted in at No 4 (BRZ) and No 5 (GR86).
Both cars were co-developed by Toyota and Subaru and therefore boast a litany of common parts and look almost identical. Upgraded from the previous model's Subaru naturally aspirated 2.0-liter boxer to a 2.4-liter boxer with a notch 6-speed manual or, both coupes generate 228-hp and 184 lb-ft of torque. So as can be expected by the significant similarities, both accelerate the same and handle similarly. In fact, the only signs of differentiation are in the suspension setups, front-end design, and interior styling.
Given the BRZ's slightly stiffer settings, it has a more stable rear end which means it's a little safer for everyday driving. In contrast, the GR86, therefore, has softer settings giving it better everyday ride quality but also allowing it to break rear traction easier making it more fun at the track.
2022 PORSCHE 718 CAYMAN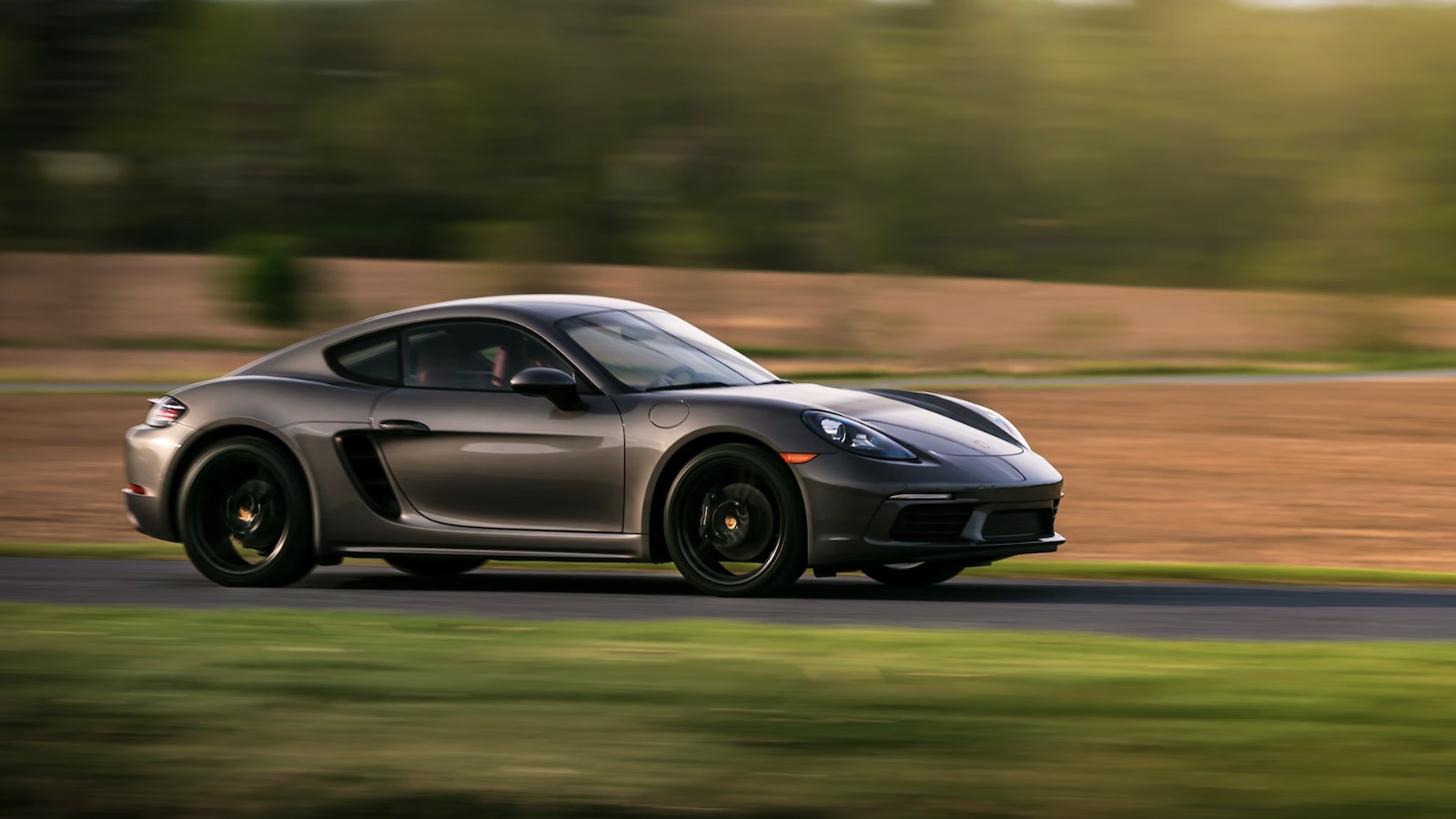 Price: $61,850
Aesthetics ●●●●
Ergonomics ●●●●
Performance ●●●●●
Handling ●●●●●
Value for Money ●●●●●
I know we are recommending reasonably-priced sports cars here, but if you happen to have $60,000 ($61,850 to be exact) to blow on a sports car, then just go right ahead and buy the latest Cayman. It's the coupe that pretty much every sports car lover aspires to, is a real thrill to drive, easy to live with, delivers industry-leading steering feel and boasts some of the best brakes in the business. This entry-level Cayman packs a mid-engined, 2.0-liter turbocharged flat-four engine generating a grin-enhancing 300-hp, channeled through a silky smooth 7-speed dual-clutch automatic. Scrumptious.
CONCLUSION
While we adore the attraction of the Z's 400 horses for $40,000 and think the new Mustang's interior is a huge step in the right direction, we rather like the combination of the MX-5's wind-in-the-hair thrills and being able to push your sports car to its redline without continually having to worry about losing your license. With the $27,000 Mazda, you can do that and that's why we'd gravitate toward an MX-5.