The Tesla Model 3 wins a Green NCAP test against 2 strong rivals
The Model 3 scored the highest score with a 9.6/10 energy efficiency result
Tesla's victory in this test was due to its superior aerodynamics
While Tesla's Elon Musk was busy telling people to vote for a Republican Congress and getting plenty of flack for that, he had cause to smile as his Model 3 electric car was winning a European comparison test. In a test conducted by Green NCAP, a European car assessment organization, the Model 3 topped the rankings for efficiency, scoring 9.6/10.
For the record, Green NCAP is a green vehicle assessment program hosted and supported by the New Car Assessment Program in cooperation with European Governments. The Organisation has test laboratories in eight European countries and aims to increase awareness of the environmental impact of vehicles.
As explained by Green NCAP researchers, electric vehicles already give motorists a great way to increase their energy efficiency during driving while helping to reduce their carbon footprint. However, in the organization's latest comparison, Tesla was ranked above the other electric candidates tested for their efficiency and sustainability rating.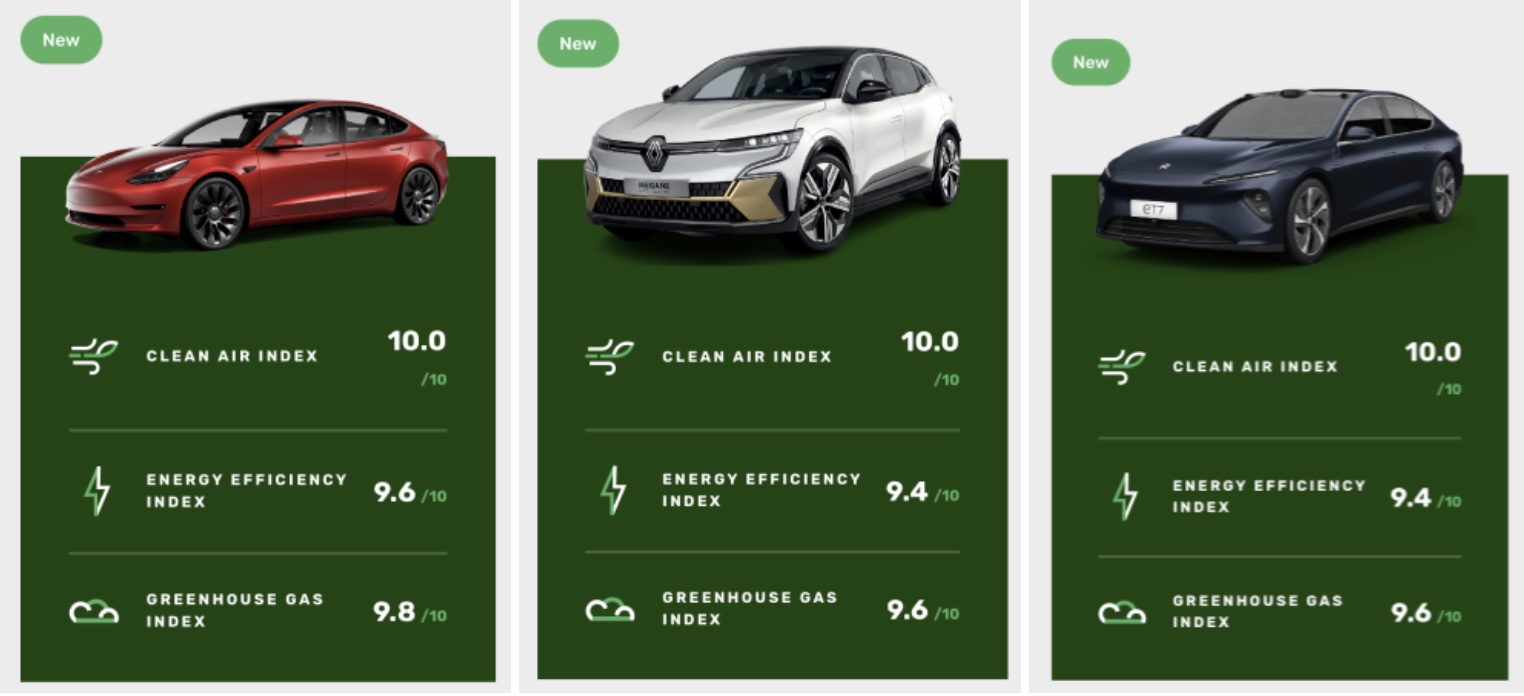 The comparison completed by Green NCAP included the Tesla Model 3, the Renault Megane E-Tech, and the NIO eT7. For the record, the class-leading Model 3 (Long Range) has a range of 358 miles and sprints from zero to 60mph in 4.1 seconds. Using the same platform as the Nissan Ariya, the Renault Megane E-Tech boasts a range of 292 miles and takes 8.6 seconds to reach 60 mph. Meanwhile, the NIO eT7 is seen as a direct rival to the Model 3 in China, has a range of 310 miles, and jumps to 60 mph in 3.8 seconds.
With these three vehicles, Green NCAP employed several tests to calculate their overall efficiency, including a highway driving efficiency test, a cold weather test, and a hot weather driving test, among other tests. The cars were given scores out of ten on an "energy efficiency index," along with other metrics from these tests.
The Tesla Model 3 scored the highest with a 9.6/10 energy efficiency result, while the Renault Megane E-Tech and NIO eT7 were both rated at 9.4/10. Researchers concluded that Tesla's victory in this test was due to its superior aerodynamics due to its smaller nose—which allows it to slice through the air easier.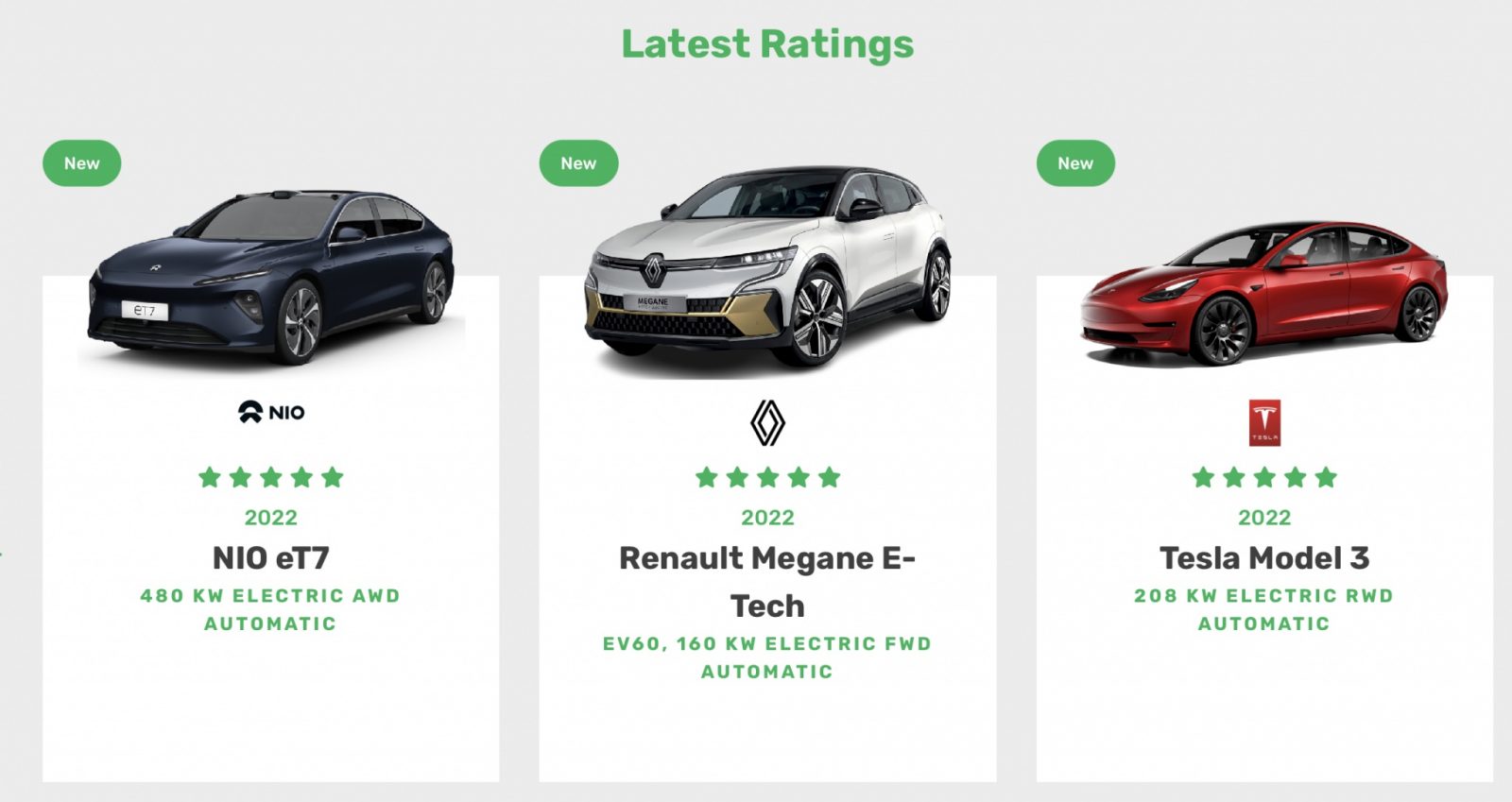 In contrast, however, all three vehicles suffered in the cold weather test, dramatically increasing energy use by 72% in the case of the Tesla and the NIO and 78% for the Renault. Extremely cold weather can significantly affect EV efficiency. In 2021, Consumer Reports stated that an unplugged EV's range can decrease by about 20% when the temperature falls to between 0-10F.
From their results, Green NCAP highlighted the need for improved air conditioning efficiency, which includes both heating and cooling. However, the researchers also strongly advocated for manufacturers to offer more reasonably-priced EV options that allow more consumers to access zero-emission forms of transportation.
While EV technology is a huge jump in efficiency compared to ICE vehicles, Green NCAP's testing shows that improvement is still possible and that changes can have real effects on the ownership experience.
OTHER THOUGHTS
We are not surprised that Tesla won this test. The Model 3 and its Model Y sister are the industry leaders right now, and this test just adds to their already strong credentials. Tesla entered the market in earnest with the Model S in 2012 and then over the next decade proceeded to dominate the EV market, boasting industry-crunching acceleration, range and performance. One other highlight was their exterior designs, penned by former Mazda chief of design, Franz von Holzhausen, which not only gained favor with motorists but also boasted excellent aerodynamics. We wonder how the Tesla would do against the Hyundai Ioniq 5.