Millions of motorists could face fines of up to $500 is caught with unroadworthy (bald) tires
One-quarter of all collisions where a vehicle defect has been reported involved illegal, defective, or under-inflated tires
With potential April showers on the way and potentially slippery road surfaces, we recommend you check your tires now
Drivers—listen up. Even though the days are now getting longer and warmer with the arrival of Springtime, it does not mean that the roads are any safer, with April traditionally bringing in more unsettled and unpredictable weather patterns.
With the quickly changing weather, motorists need to be aware of the condition of their tires. Failure to do so could lead to hefty fines, reaching as much as $500.00, and jail sentences in some states. as well as potentially losing their license, if their tires are found to be in a dangerous and illegal state.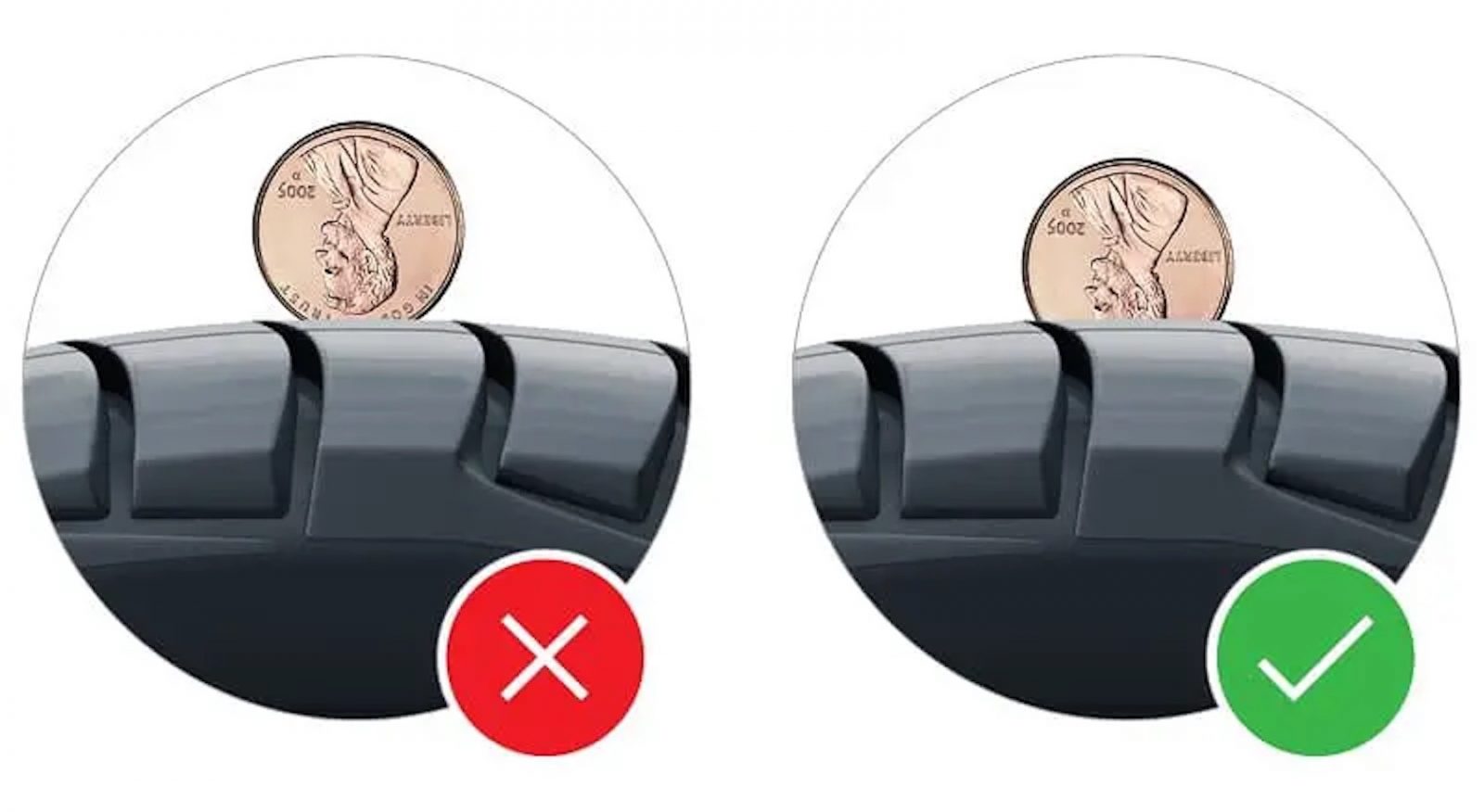 In California, for example, the law requires that tire treads be at least 1/8th of an inch deep for the front tires and 1/16th of an inch deep for the rear tires. So drivers are strongly recommended to check the tread depth of their tires at least once a month to remain on the right side of the law.
Driving a car with bald tires is a crime in California, as it is in all other states too, and is punishable with a traffic ticket and a base fine of $25.00 for each tire, although additional fines can also be imposed. A violation does not however result in the DMV placing demerit points against the motorist's driver's license. Failure to pay the fine on time or settle it in court can lead to the offender being charged with a misdemeanor which comes with a jail sentence of up to 6 months and/or a fine of up to $1,000. The law also applies to unroadworthy headlights and license plates.
In New Jersey, however, the fines are steeper. A tire with less than 1/16th inch tread when measured in any two adjacent major tread grooves at any location on the tire is $ 500.00 per tire. When a sidewall is cut, worn, or damaged to the extent the ply cord is exposed, the penalty for this violation is $ 200.00 per tire.
A recent survey has revealed that nearly 25% of collisions where a vehicle defect was reported involved tires which were either illegal (bald), defective, or underinflated. This data means that millions of motorists are potentially at risk of severe financial penalties if they do not keep a regular eye on the condition of their tires. Because if you have four unroadworthy tires, you can be looking at a fine of up to $2,000.
Here are three quick tips which motorists can do to make sure their tires are roadworthy:
When looking at your tires, you can use the penny trick–if you pop a one-cent coin into your tires' tread and it does not reach the top of Abraham Lincoln's head, then your tire depth is unroadworthy and should be replaced immediately.
Check for cuts, bulges, and tears because if they're over 1 inch long or cover 10% of the tire's section width, then they're also deemed to be unsafe.
Ensure that your tire pressures are at the correct levels—most cars have this information on the inside of the driver's door. The PSI can be checked with an air pressure machine which is available at most petrol stations.
OUR THOUGHTS
As a rule of thumb, we recommend that drivers take an extra two minutes (if you're at a self-service gas station) every time they visit a gas station, and check the tread depth of all four tires using the above-mentioned 'penny trick' before quickly checking tire pressures. Also, try to have a quick look at your tires' side walls just to make sure that there are no cuts or ply showing through. Just remember that your tires are the only part of your car that touch the road, so they need to remain safe and offer sufficient levels of grip.