Nissan unveils the shock of the show–a new 1360 hp electric GT-R while Mazda reveals the prettiest coupe we've seen in a long while. After four long years, the Tokyo Motor Show returned with a vengeance.
First things first, though. To try and appeal to a wider fan base, the powers that be in Japan decided to change the event's name to the 'Japan Mobility Show.' Granted, that name doesn't quite roll off the tongue as well as the former title, but at least it was worth the investment. And then some. The 1,000 foreign media who made the trip to Japan this year all left with a bunch of worthy stories and videos.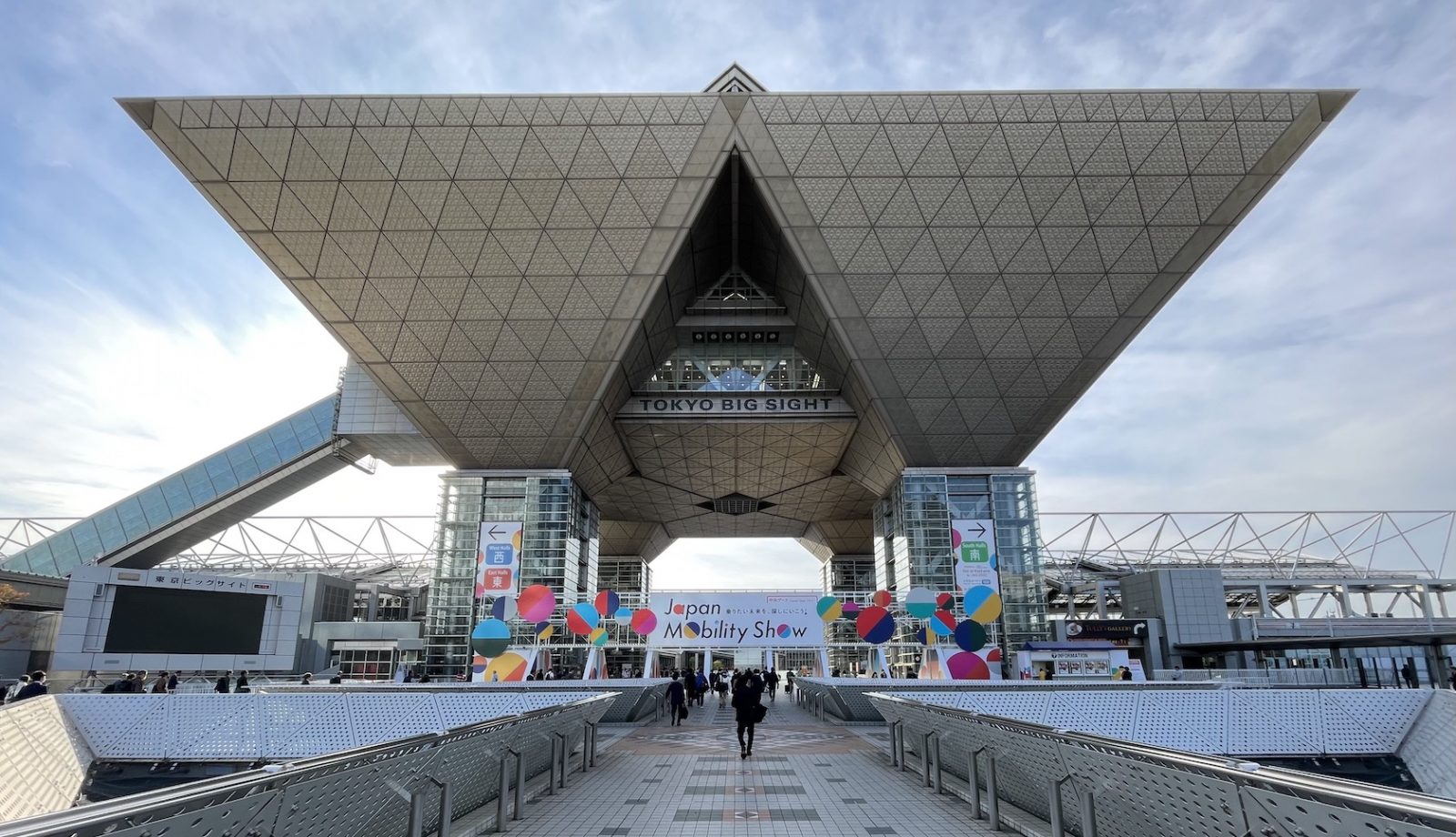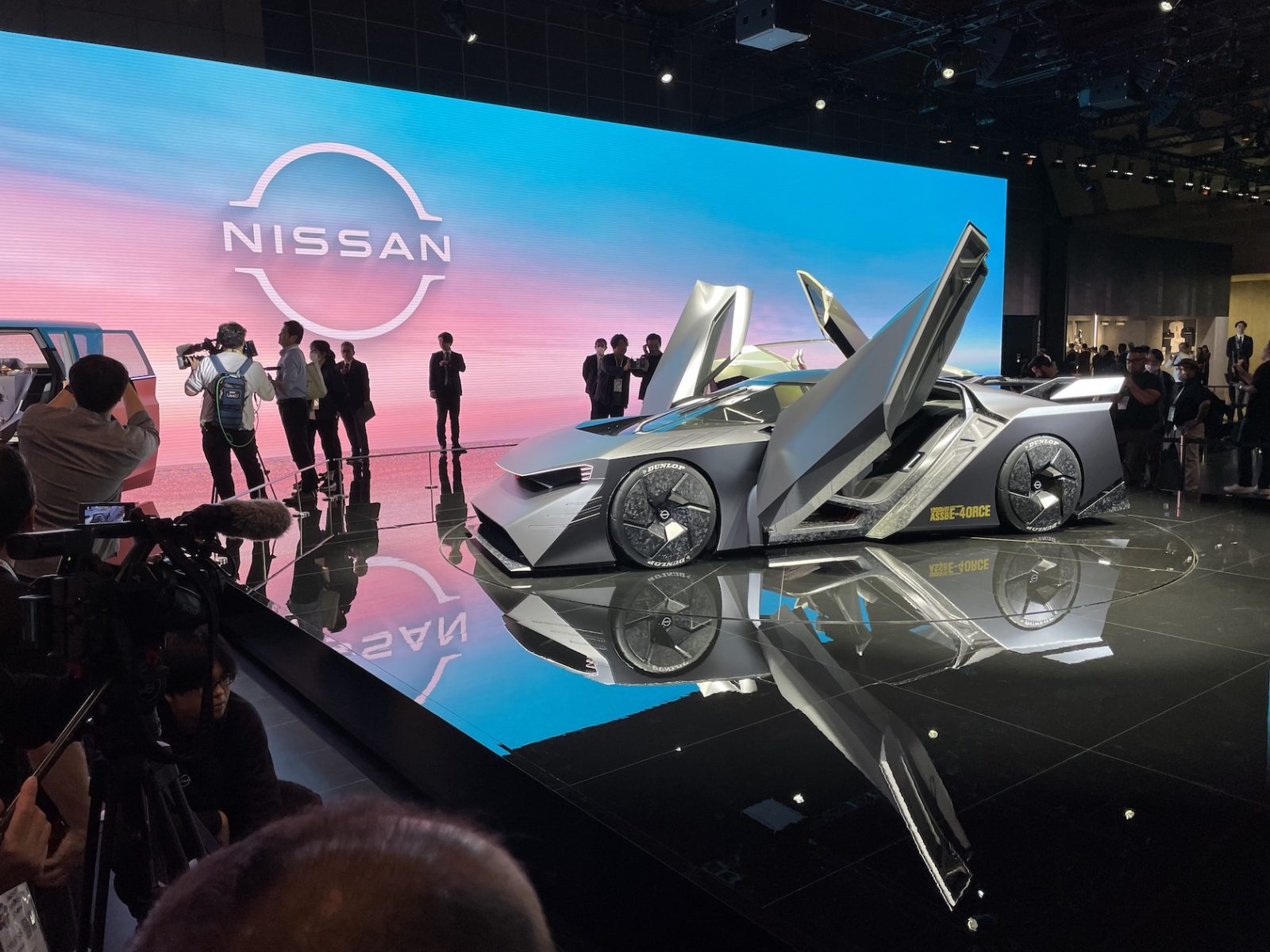 This year's Show certainly had lots of ready-for-production SUVs, minivans, trucks, and electric cars plus a smattering of futuristic concept cars. But it also boasted a strong mix of motorcycles, flying cars, one-seater personal mobility vehicles, and even robots. Honda even displayed its own aircraft.
But to be honest, I think it is far more accurate to say the theme of this show is 'Revival of the Sports Car'—because nearly every Japanese manufacturer unveiled a new sports car concept.
We'd heard beforehand that next-generation sports cars from Toyota, Lexus, Subaru, Honda, and Mazda would appear, but there were some huge surprises too. Arguably, the biggest surprise of all was Nissan's 'Hyper Force' supercar concept, a 4WD electric coupe that packs 1000 kW (1360 hp). And even though Nissan resisted strongly, many of the foreign media were calling this beast the 'next GT-R,' no matter from what angle you looked at it. The sharp exterior shape, body proportions, gullwing doors, 4WD powertrain and 1000kW all leant to this being the next GT-R.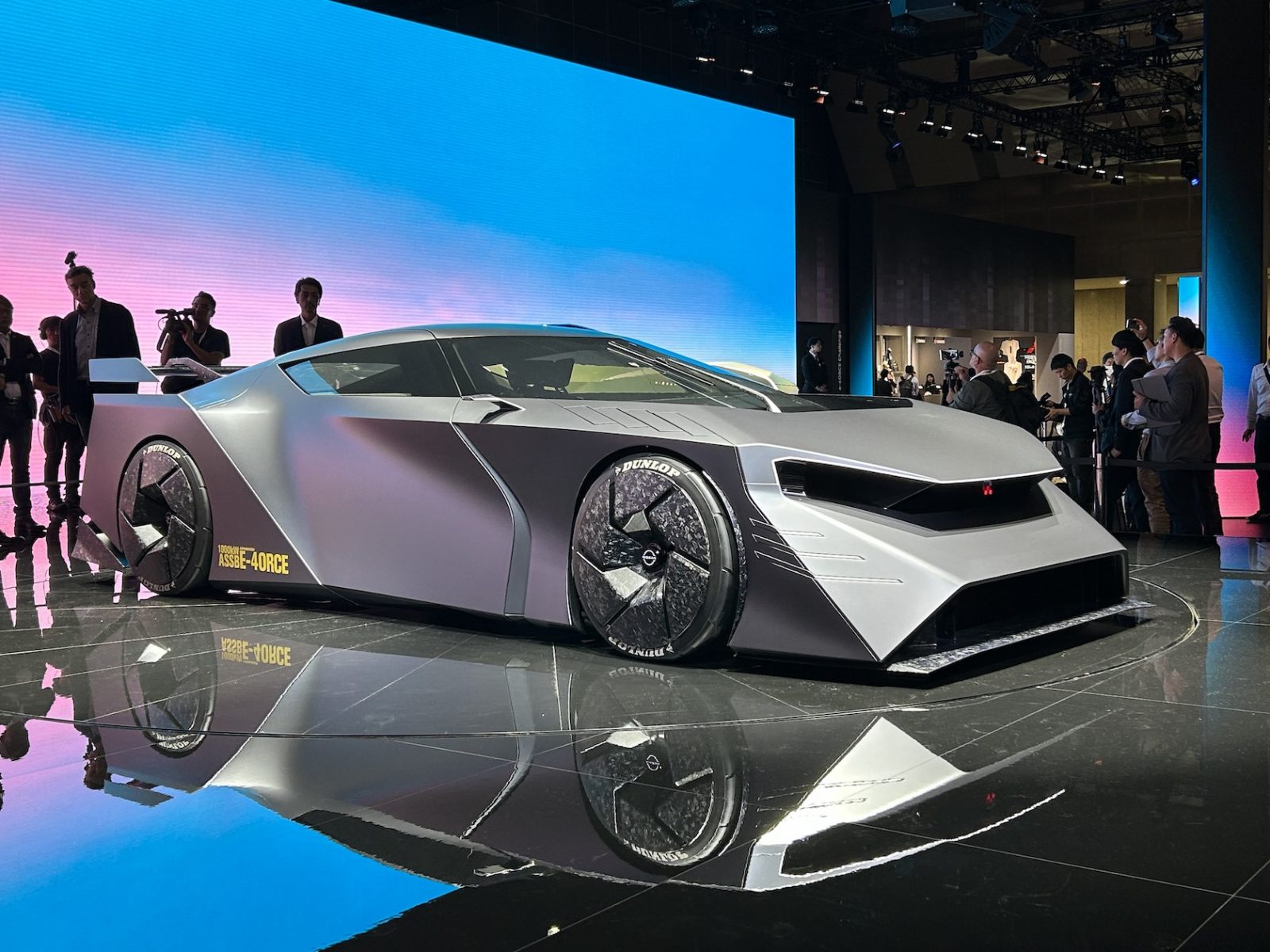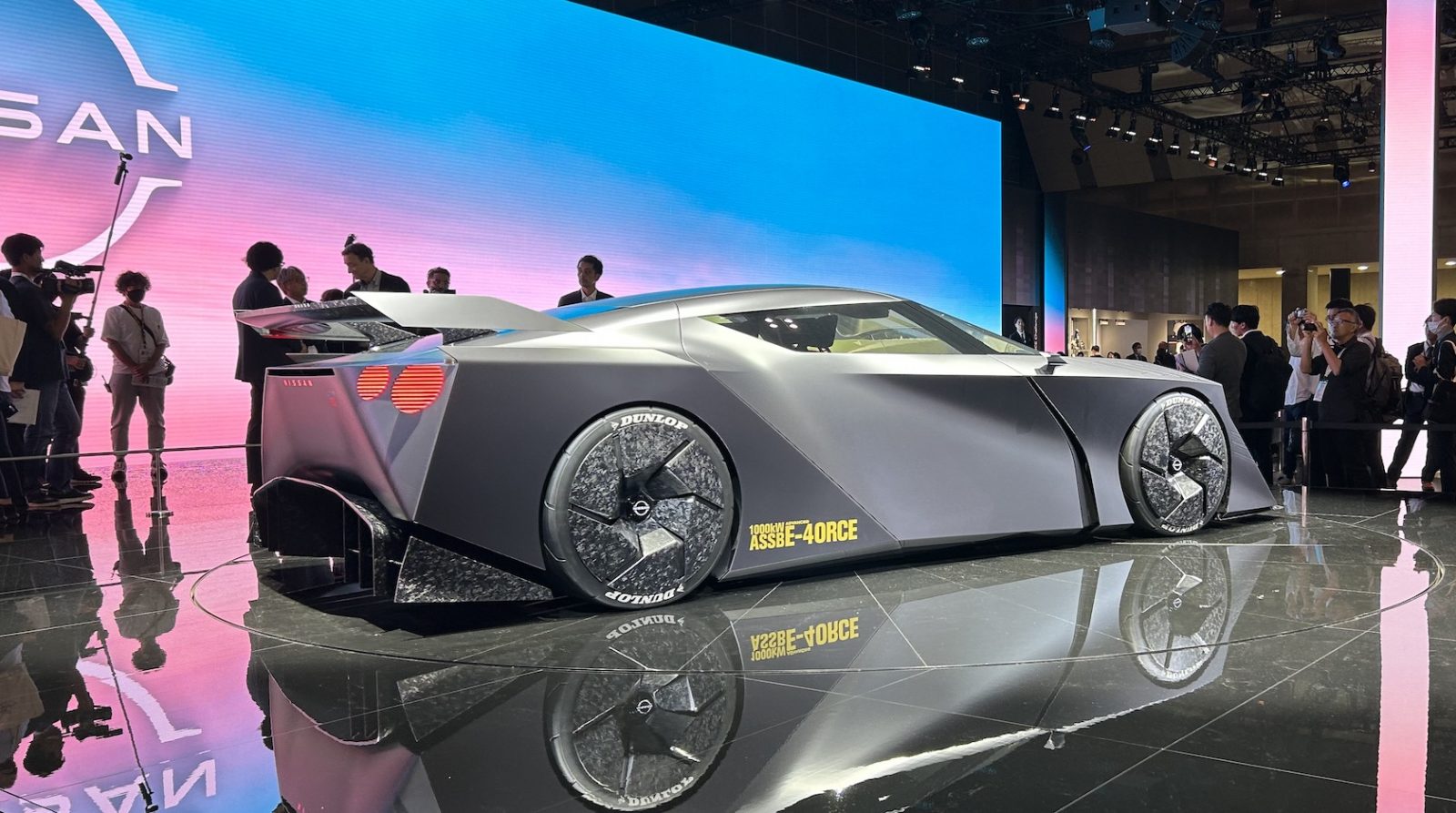 However, opinions on the car were mixed. Some said, "It looks like Gundam, or a poor example of Transformers! It's ugly. What the hell is Nissan thinking?" In contrast, others offered more favorable commentary like, "It's a design worthy of the next GT-R, and I'm looking forward to the 1000 kW of power." Nissan was keeping its range under wraps, but we'd hope for around 400 km at best. If Nissan does produce this car, expect that exterior design to be toned down considerably.
So the 'next GT-R's' styling got a pretty bad wrap. Mazda's star did not. The perfectly proportioned "Mazda Iconic SP" however, was heralded by dozens of colleagues as the "most beautiful car of the show." Let's face it—this coupe is gorgeous from every angle. Mazda describes its powertrain as a 'two-rotor rotary-EV system' in which the rotary engine acts as a generator to supply power to the onboard batteries. Boasting an engine that is said to run on carbon-neutral fuel, the maximum output is a healthy 370 hp while vehicle weight is just 1,450 kg, so we can expect impressive performance.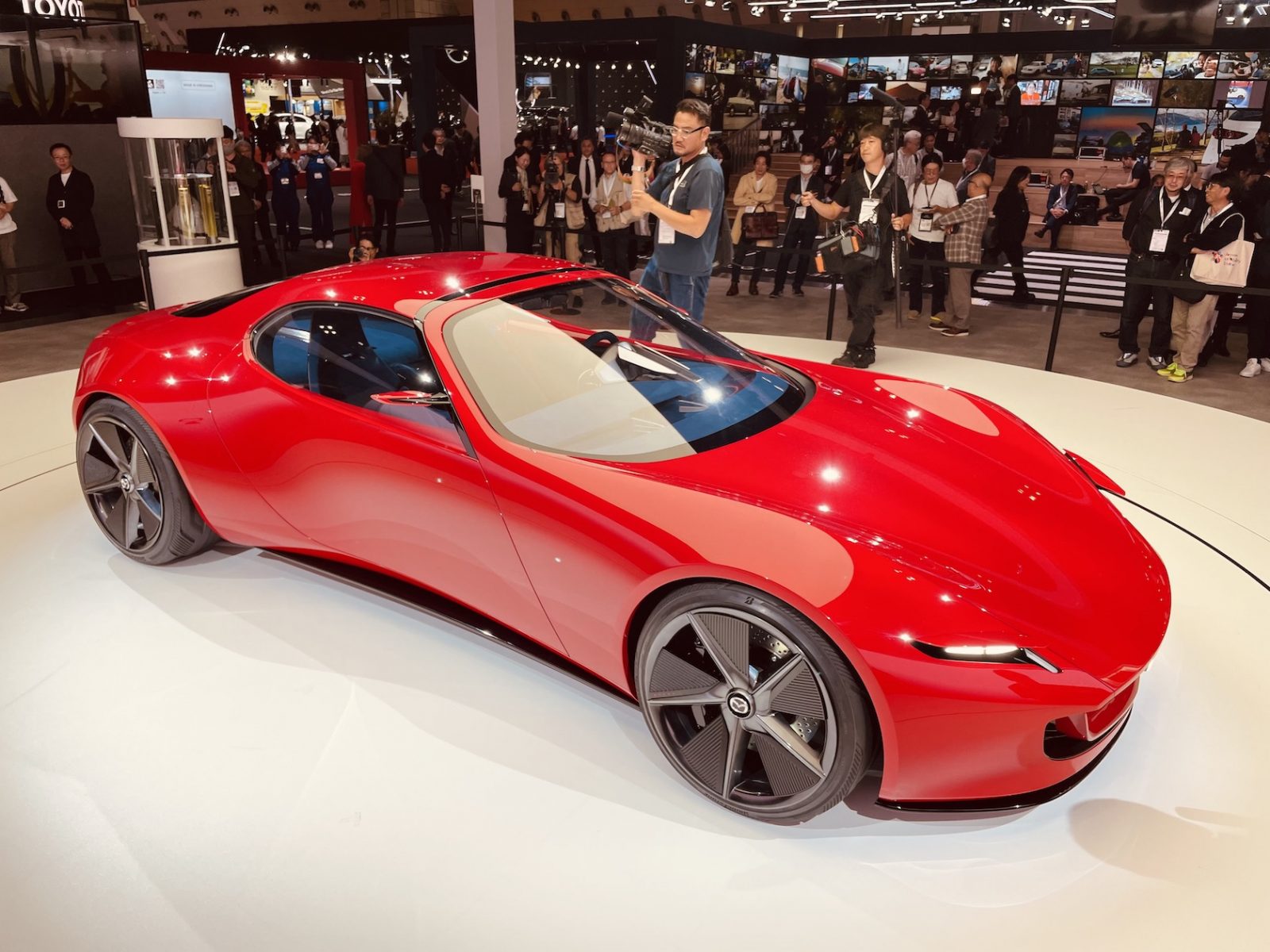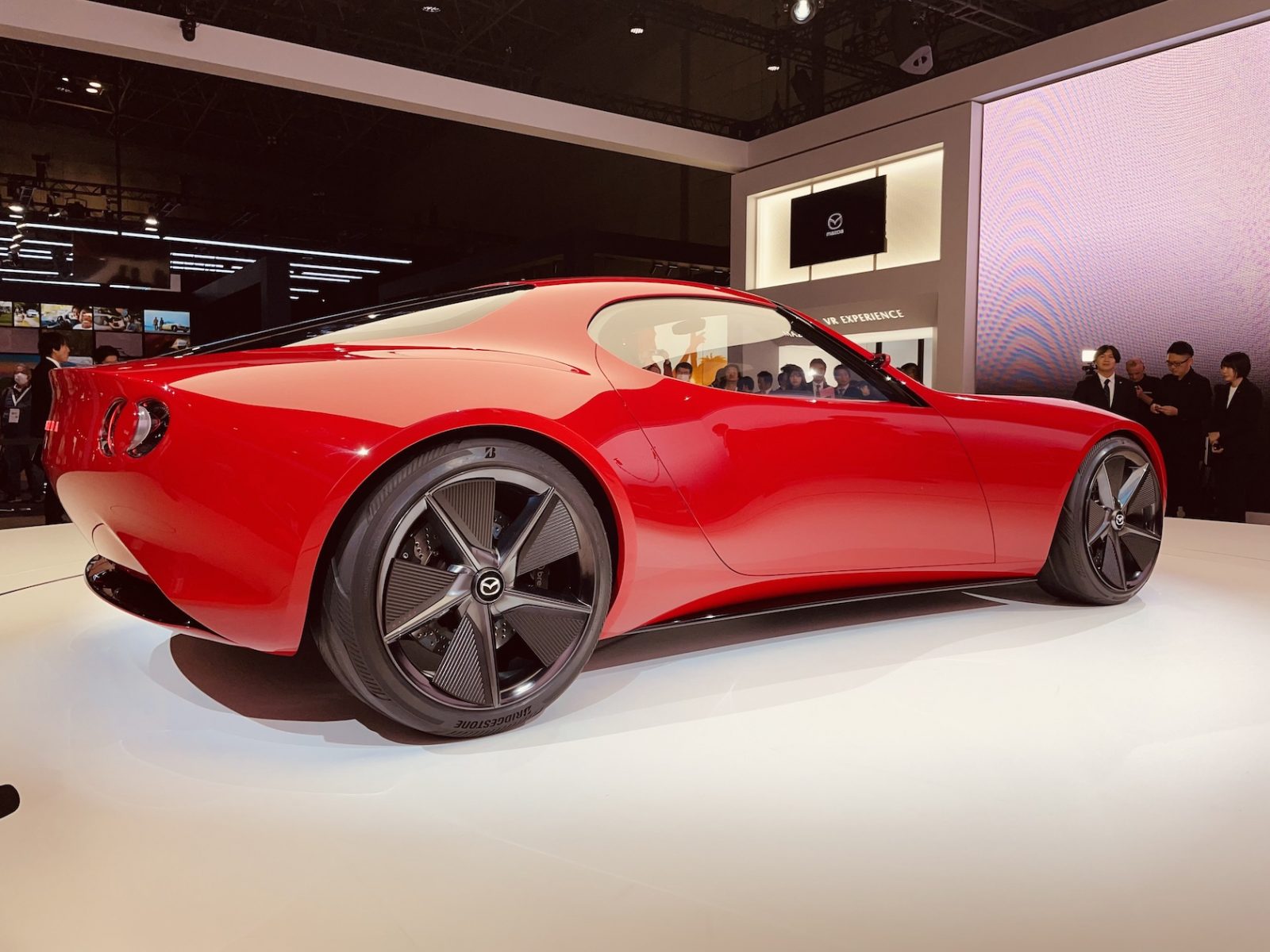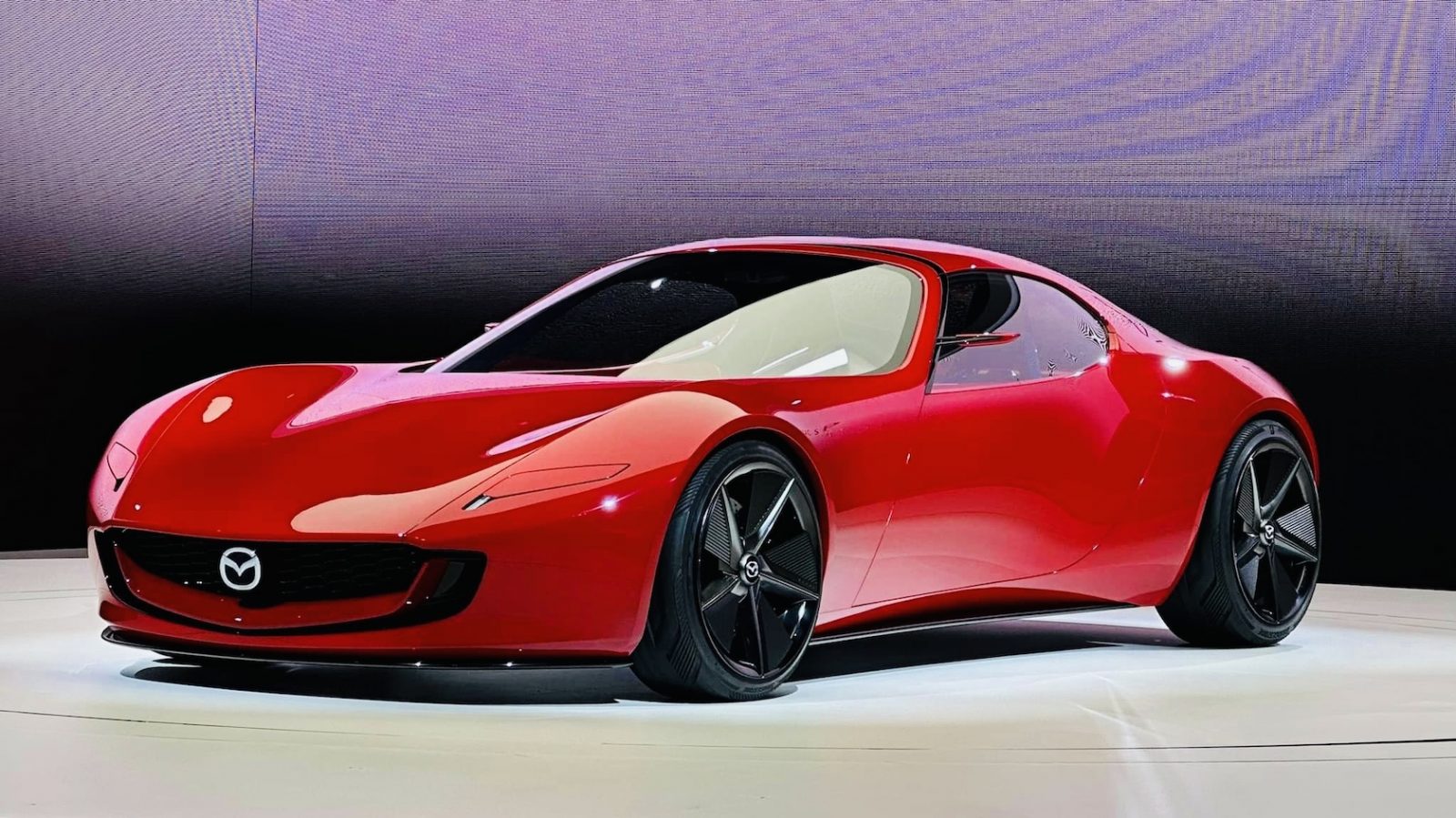 Interestingly, many foreign media outlets described the Iconic SP as the next MX-5 Miata, but from what I am hearing, things might be a little different. First of all, it has a rotary engine—with an electric powertrain—that pumps out upwards of 370hp. No MX-5 has ever had anything near 300hp. Also, in contrast to the soft-top MX-5, the new Iconic SP employs a fixed roof, just like the old RX-7. So in other words, we should expect a name like 'RX-something,' perhaps even 'RX-9.'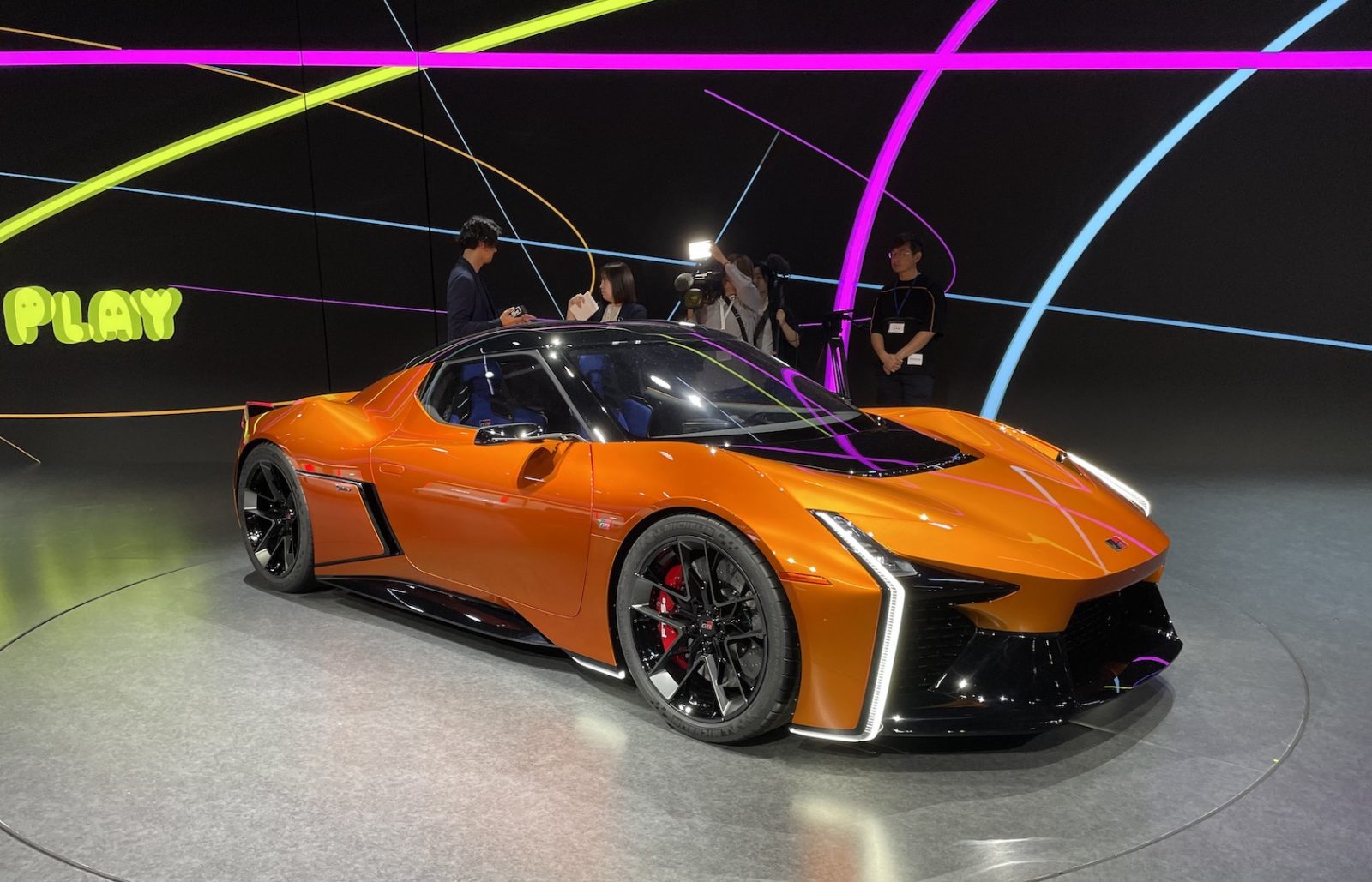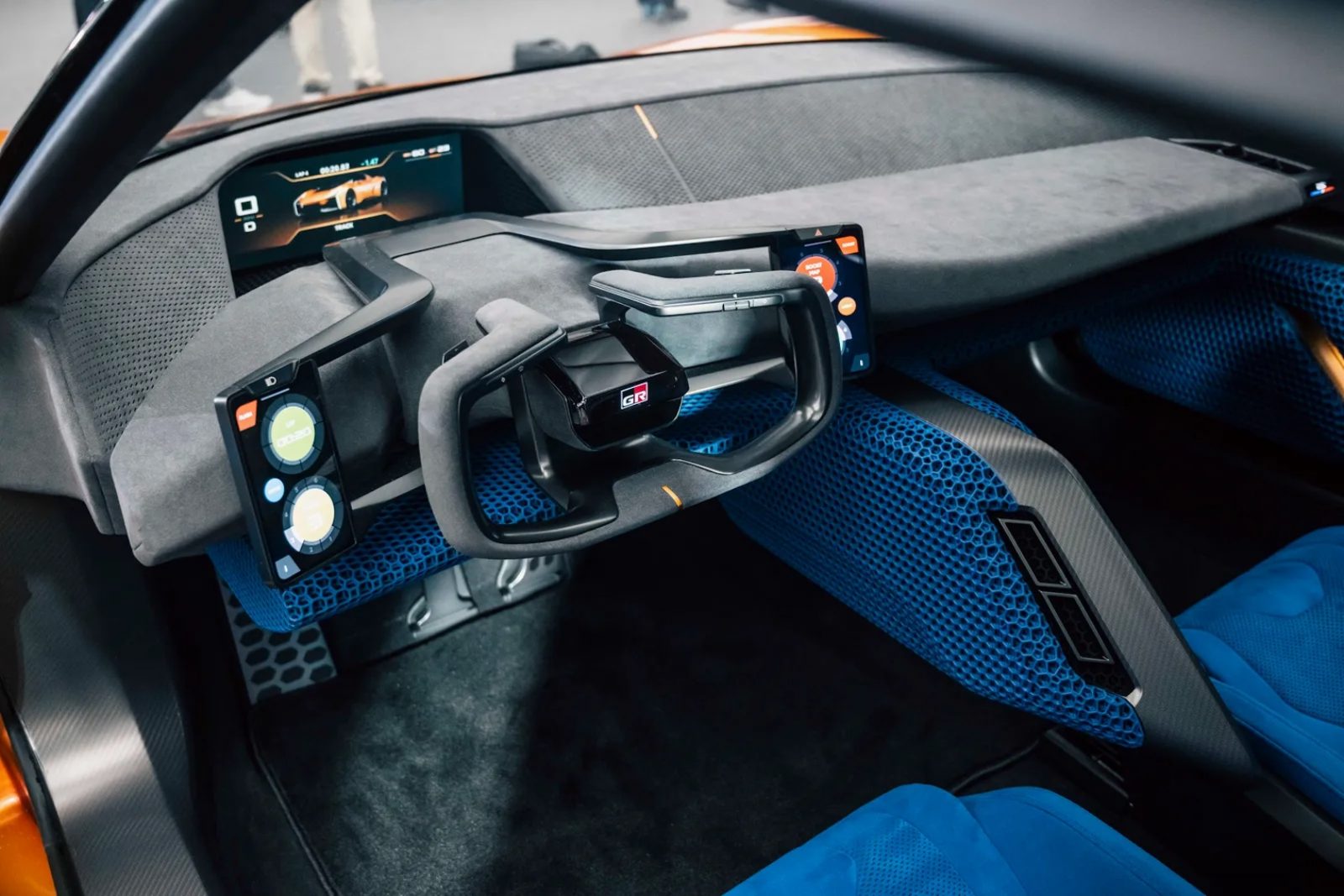 The next best-looking concept after the Iconic SP was the FT-Se, Toyota's world-premiere EV sports concept. After all, if you're going to design a sports car, you should make it look sharp, and appealing and employ generous contours like this coupe. While the low-slanting front end with 'GR' badging is eye-catching, those voluminous rear flared fenders are some of the sexiest lines I've seen on a Toyota in decades. Packing a 4WD powertrain with high-output motors front and rear, the FT-Se has been designed for high performance with circuit driving as part of its makeup.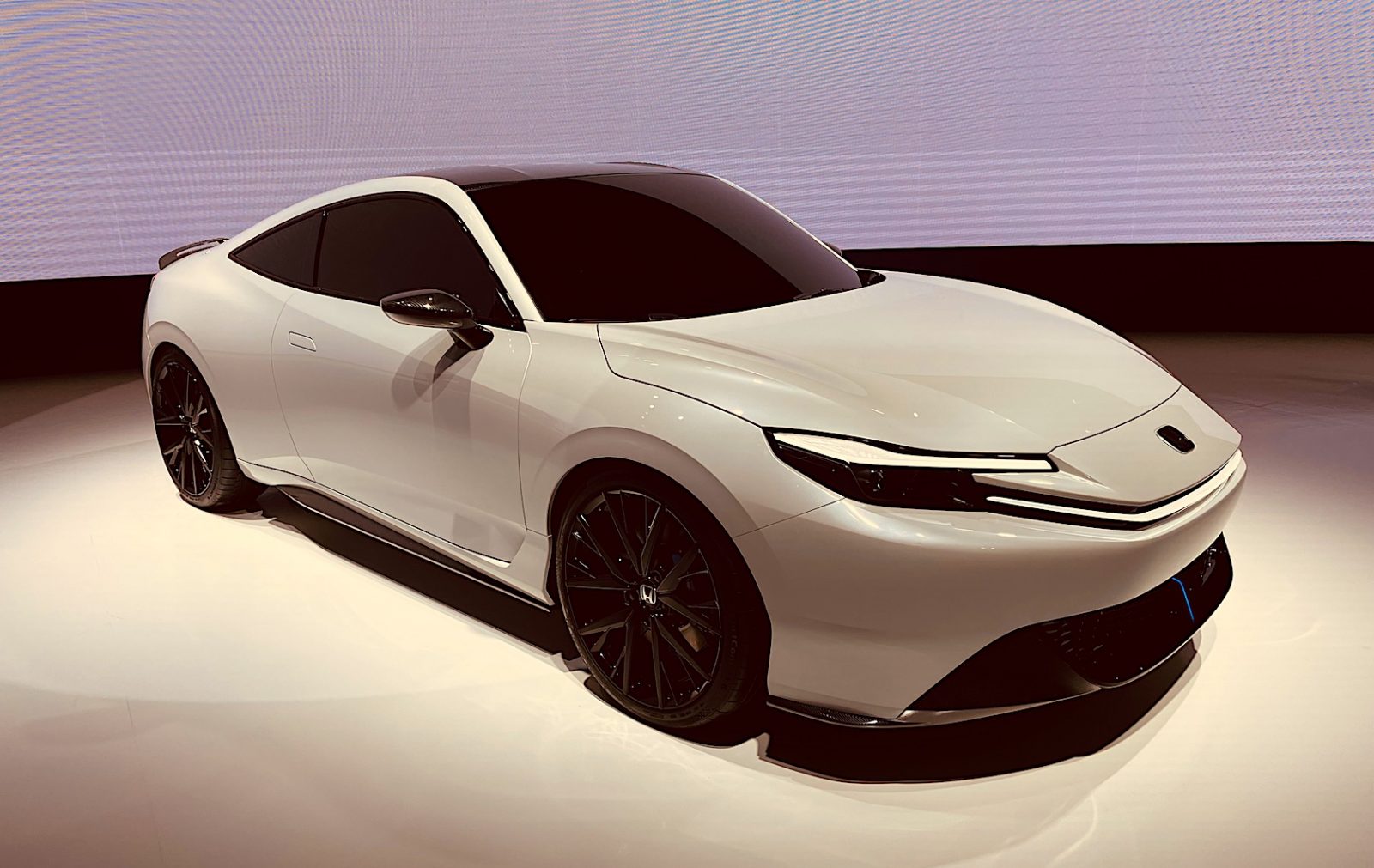 Another big surprise was the next-generation Honda Prelude. Or should we call this a 'revival version?' When Honda's popular coupe went out of production in 2001, we never thought that Honda would bring it back.
As a concept car, of course, Honda won't reveal detailed engine specs, but we do know that it's a hybrid and not a PHEV. The styling is fairly sharp and par for the course, but I would have liked to see designers being a little more adventurous with their brush strokes when penning this coupe—as it lacks punch.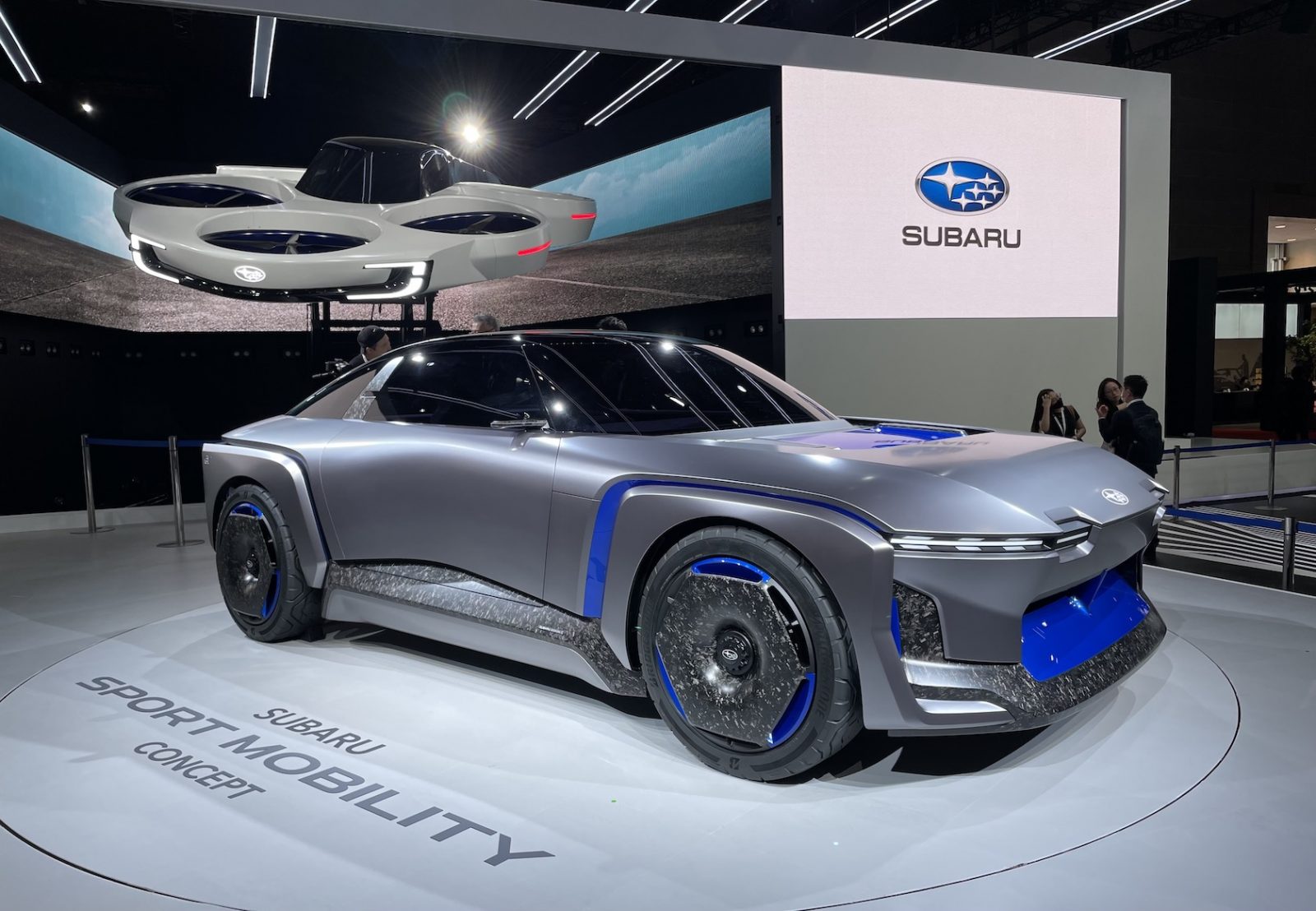 I had high hopes that Subaru and Lexus would unveil pretty coupes too, but that was not to be. Yes, both cars were very well made, but nowhere near as exciting to look at as the Mazda and Toyota.
Subaru's Sports Mobility Concept is not so much a sports car as a 'two-door sports utility' that can be driven anywhere in this age of electrification, whether on tarmac or off-road. To be bluntly honest, the flying 'Air Mobility Concept' that hung above the Subaru EV looked more interesting than the concept car. But let's face it, Subaru started out as an aircraft manufacturer—called Nakajima Aircraft Company—over 100 years ago, so their 'flying car' display seemed like a natural progression in the age of diversifying mobility.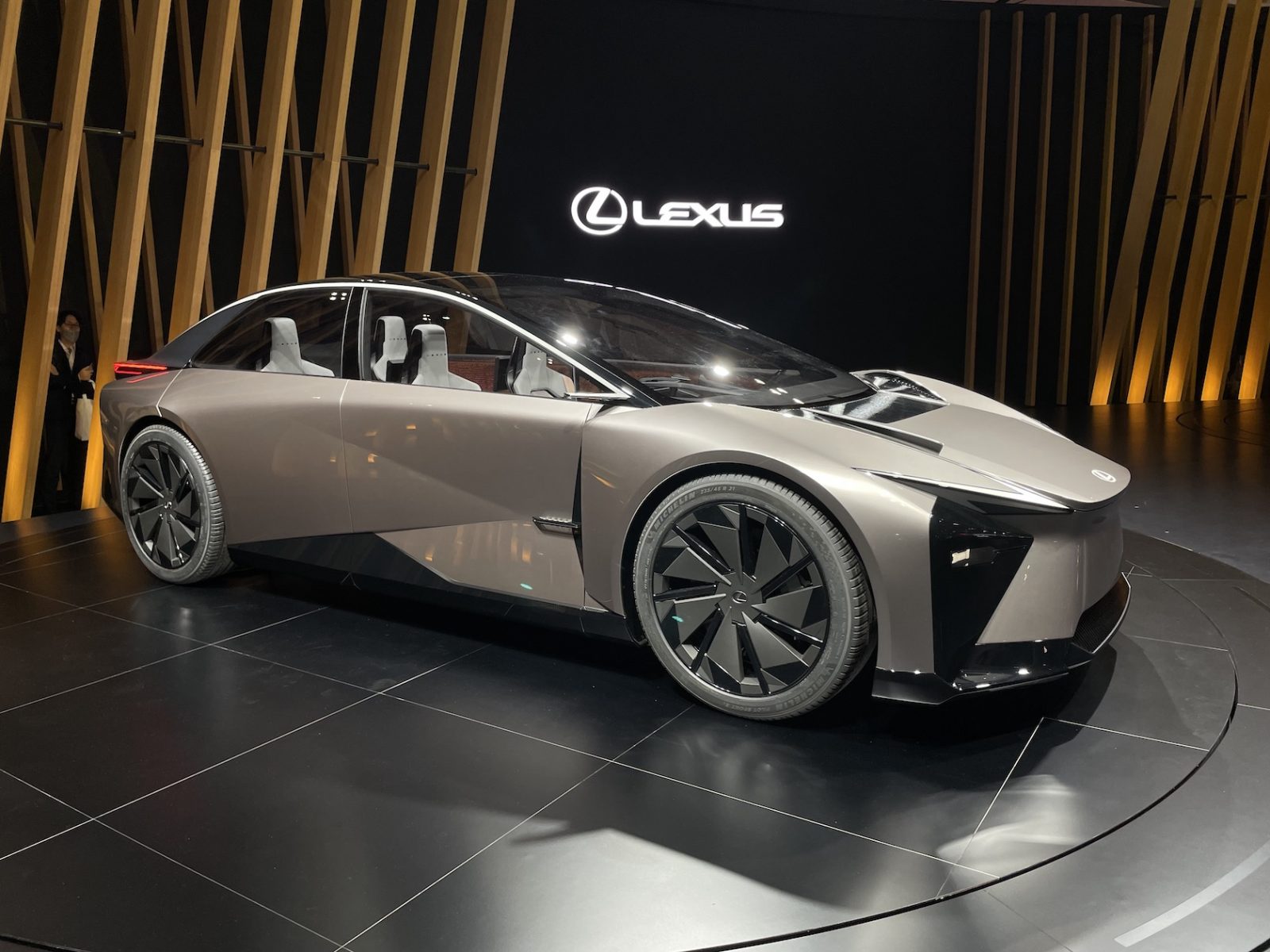 The four-door Lexus LF-ZC concept, an EV to be released in 2026, is slightly smaller than the current production LC. Fitted with the next-generation, high-density solid-state batteries, the Lexus is targeting over 600 miles in range while charging times are expected be fall to 70% of the conventional EVs.
One more EV that should not be forgotten is the AIM EV SPORTS 01, designed by former Nissan SVP and design guru Shiro Nakamura. As a good-looking sports EV that ran up The Hill at this year's Goodwood Festival of Speed in the UK, this coupe is now being targeted for limited production.
OUR THOUGHTS
From a small group of the over 1,000 foreign media at the show, I heard comments like "It was worth coming to cover the show," and "It was great to see sports cars from Mazda, Nissan, and Toyota even if the show does feel more like an extravagant domestic car show than a fully blown international auto event." Yes, the combination of production-ready SUVs, minivans, and EVs will offer motorists what they need now, but the eye-catching half dozen or so sports car concepts were just what the doctor ordered to elevate the Japan show to something special, something to be remembered. And expect to see many of those sports cars landing in showrooms within five years, albeit in slightly toned-down formats.