We've been hearing about flying cars for decades now. They've been featured in cult movies like Bladerunner, Star Wars and Back to the Future, and even the 1960s cartoon series The Jetsons, but as of 2022, to the best of our knowledge, there are no commercially viable flying cars in service.
That could be about to change very soon. Swedish company Jetson Aero, that obviously took its name from the animated show, appears to be the first company to offer a viable flying car, a feat proved recently when they released a video showing co-founder Tomasz Patan piloting his single-seat Jetson ONE flying car from his home to the office. According to Patan, the flight to work cut 90% off of his normal commute time by car on public roads.
The company was established in November 2017 by high-performance car entrepreneur Peter Ternstrom and drone specialist and inventor Tomasz Patan. Jetson Aero's hopes that it can give everyone the chance to fly by building an easy to fly personal drone powered by electric motors and hi-tech blades.
Weighing in at 190 lbs, the one seater, fully electric Jetson ONE has a flight time of around 20 minutes, and according to the manufacturer, is being made under FAA rules so buyers do not need to get a pilot's license. "It's not a fixed wing airplane. It's not a helicopter. It's hard to define? So right now, it sits in a grey zone," Ternstrom explained. Initial reactions are that it's part flying sports car and part drone. "It's not illegal to fly, but it's not legal either," he added.
Ternstrom says his firm provides a day of flight training for clients, who complete assembly of the aircraft themselves. However, according to one licensed pilot, who wanted to remain anonymous, it appears that customers would require a "sports pilot" license for ultra-light aircraft, which is what the Jetson ONE is. One other source explains that a user would also need to do a two-day course on aerial restrictions and learn how to use GPS devices in addition to brushing up their spacial awareness.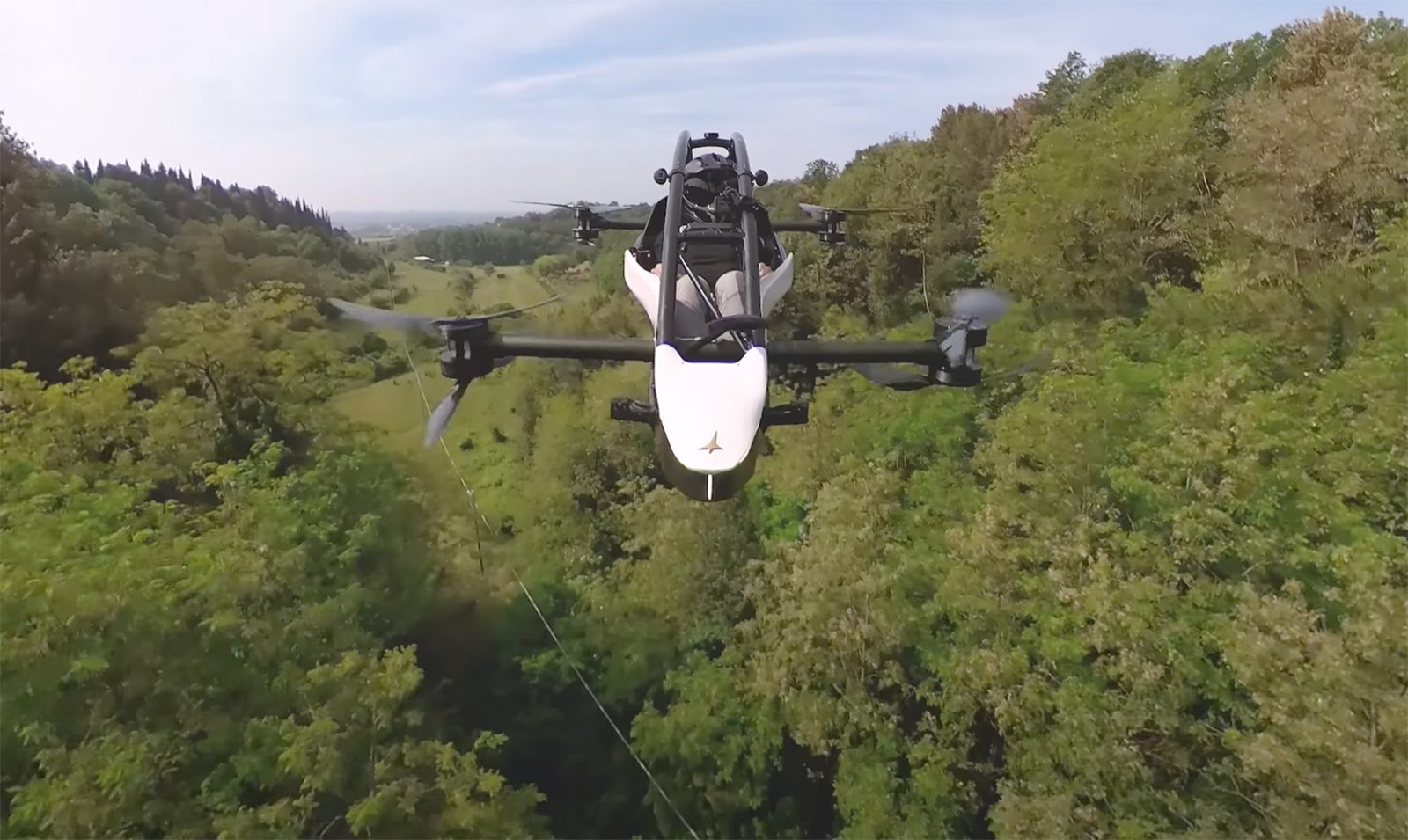 Several other electric vertical-take-off-and-landing (eVTOL) vehicles made by rival companies that include American Joby Aviation, Germany's Lilium and Volocopter, Japan's SkyDrive and Australia's FlyOnE, have working prototypes that expect to go mainstream in the near future. But Jetson Aero appears to be the most viable as of today.
Ternstrom explains that their eVTOL flying car was not created for inner city commutes or "hopping between skyscrapers in Manhattan." He says that current laws would not permit such flights. According to US laws, this type of 'aircraft' is not allowed to fly near airports or densely populated areas.
What distinguishes the Jetson ONE from rivals is its highly-automated software that makes the drone easy to maneuver even for a first-timer. "Its most important innovation is the flight computer and the flight control system," Ternstrom explains, stressing that he can put anyone in the driver's seat and that person will be able to fly in the time it takes to make a cup of tea.
The aircraft's flight computer is fitted with a Lidar sensor system that allows terrain tracking and obstacle avoidance including power lines and trees. It also comes fitted as standard with an auto-landing system. Cut the throttle to zero and the vehicle lands itself. The Jetson team says the ONE is capable of flying safely, even if one motor fails. It also has a rapid-deploying ballistic parachute on board to soften a sudden landing as a last resort. For now, the entire year's production of the Jetson ONE for 2022 is sold out, with the company now only accepting orders for production in 2023. If you want something that looks and feels very much like a Star Wars' landspeeder, then just get your $92,000 ready and be prepared to pay a $20,000 deposit.