The new C63 packs the most powerful 2.0-liter in history
F1-inspired turbo hybrid tech helps produce a heady 680-hp
The new C63 gets AWD and all-wheel-steer and can recoup energy
The all-new C63 S E Performance model could well be the closest thing you will ever get to driving a Formula 1 car on the road. Mercedes-AMG has transferred more F1 technology to this C63 than any production car before it, and by doing so, has created a game-changing sedan that generates an unheard-of 680 horsepower from a 2.0-liter engine. Yes, folks, you read that right. That's 1991 ccs to be exact.
Firstly, be warned that AMG has ditched its signature throaty V8 for an engine half the capacity and half the cylinders. But more power! We could talk here about its styling, which is sharp and muscular, yet understated and aerodynamically AMG-tweaked, but we know that you just want to hear about the mind-bending tech. So let's dive straight in.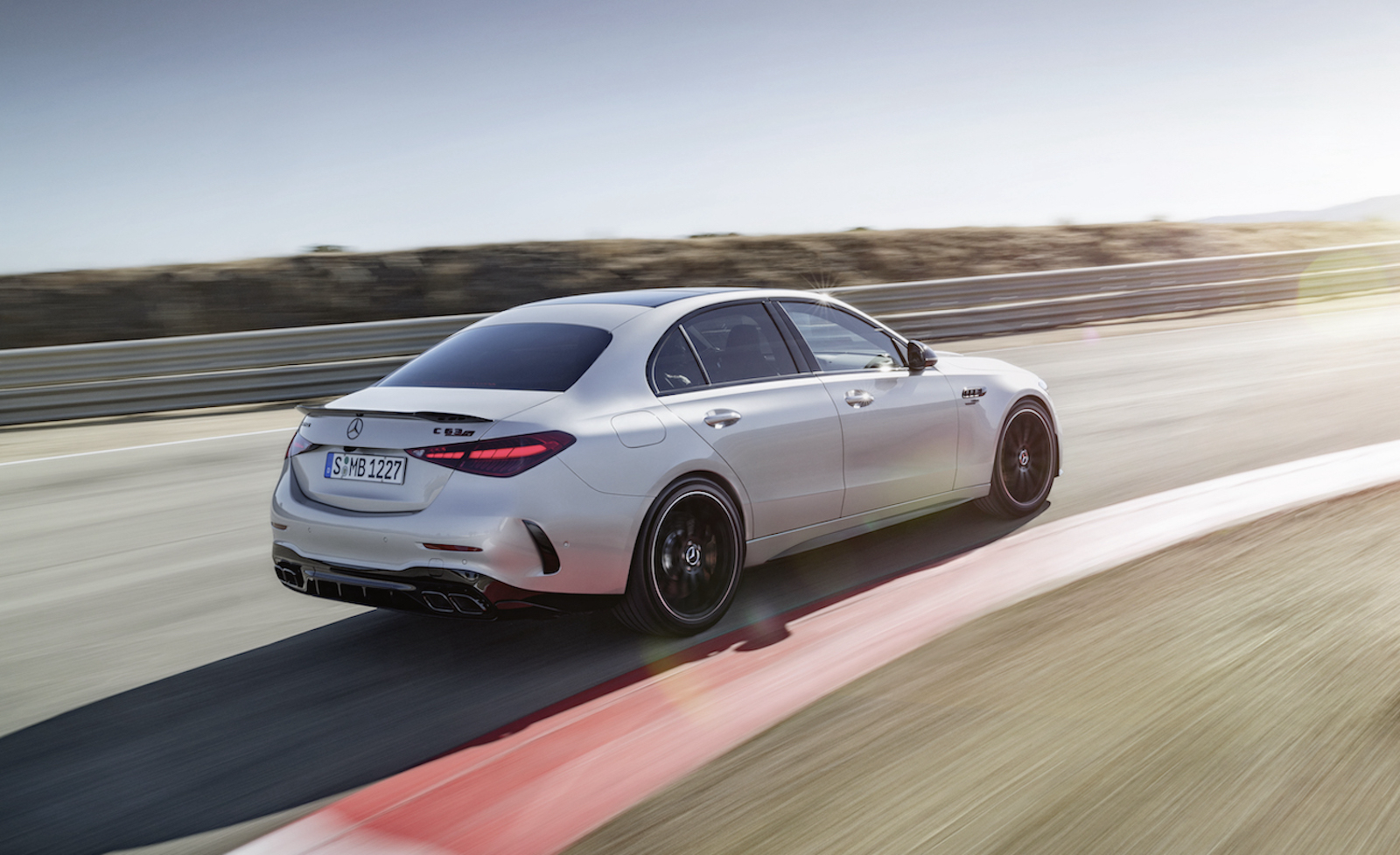 The base 4-cylinder engine, first developed by AMG for the A45, CLA45 and GLA45, generated 416-hp and 369 lb-ft of torque. Now in 2022, thanks to a clever F1-inspired electric turbocharger setup, this engine pumps out a sky-high 476-hp and 402 lb-ft of torque, making it the most powerful 4-banger in history.
So when Mercedes-AMG's CEO, Philipp Schiemer said, "drivers will be able to recoup energy at the track using F1-inspired technology," that just added to the car's mystique.
Its power is produced by a newly enlarged turbo with electric assist, meaning the turbo can spool up on electric power before exhaust pressure takes over, eliminating lag and generating quicker response. This is the first-ever production car application of this electric turbocharger technology, which comes directly from Lewis Hamilton's Mercedes Formula 1 hybrid drivetrain and takes advantage of the new C63's 400-volt electrical architecture.
There's more. The new turbocharger is not the sole source of electric power boost. The new C63 has a 201-hp, 236 lb-ft electric motor driving the rear axle via a two-speed gearbox, which assists the gasoline engine when accelerating hard. This leads to a draw-dropping maximum output of 680-hp and 752 lb-ft of torque to all four wheels through the brand's all-wheel-drive with Drift Mode. And that makes this c63 the most powerful 2.0-liter powerplant ever. The car has a claimed zero to 60-mph time of 3.3 seconds and an 'optional' top speed of 175-mph. Driving is enhanced by the C63's nine-speed automatic transmission that provides even snappier acceleration and gear shifts, according to AMG.
The car is as much at home on a race track as it is on a city street, says Schiemer. Recuperation starts when the driver takes their right boot off the accelerator without touching the brake pedal. The driver can select four different levels of recuperation using a steering wheel button, with the energy recovery programmed differently according to the chosen driving mode.
Even though AMG's C63 is a plug-in hybrid, and can run up to 81 mph on electric power, the company stressed that "the battery is designed for fast power delivery and draw rather than the longest possible range."
Purists won't like the idea that Mercedes has adopted hybridization with a 2.0-liter. But what we are seeing here is the future of high-performance sedans, so we'd all better get used to it.
For the first time, the C63 will be available in either Saloon or Estate versions and active rear axle steering will be fitted as standard, enhancing the car's handling. Yet more eyebrow-raising features include the AMG's eight drive modes: Electric, Comfort, Battery Hold, Sport, Sport+, Race, Slippery, and Individual, each of which adjusts the output, steering, suspension, and engine sound. It also gets decent stoppers, with six-piston calipers up front and single-piston calipers in the rear, plus four levels of regenerative braking ranging from nearly zero regen to full one-pedal driving.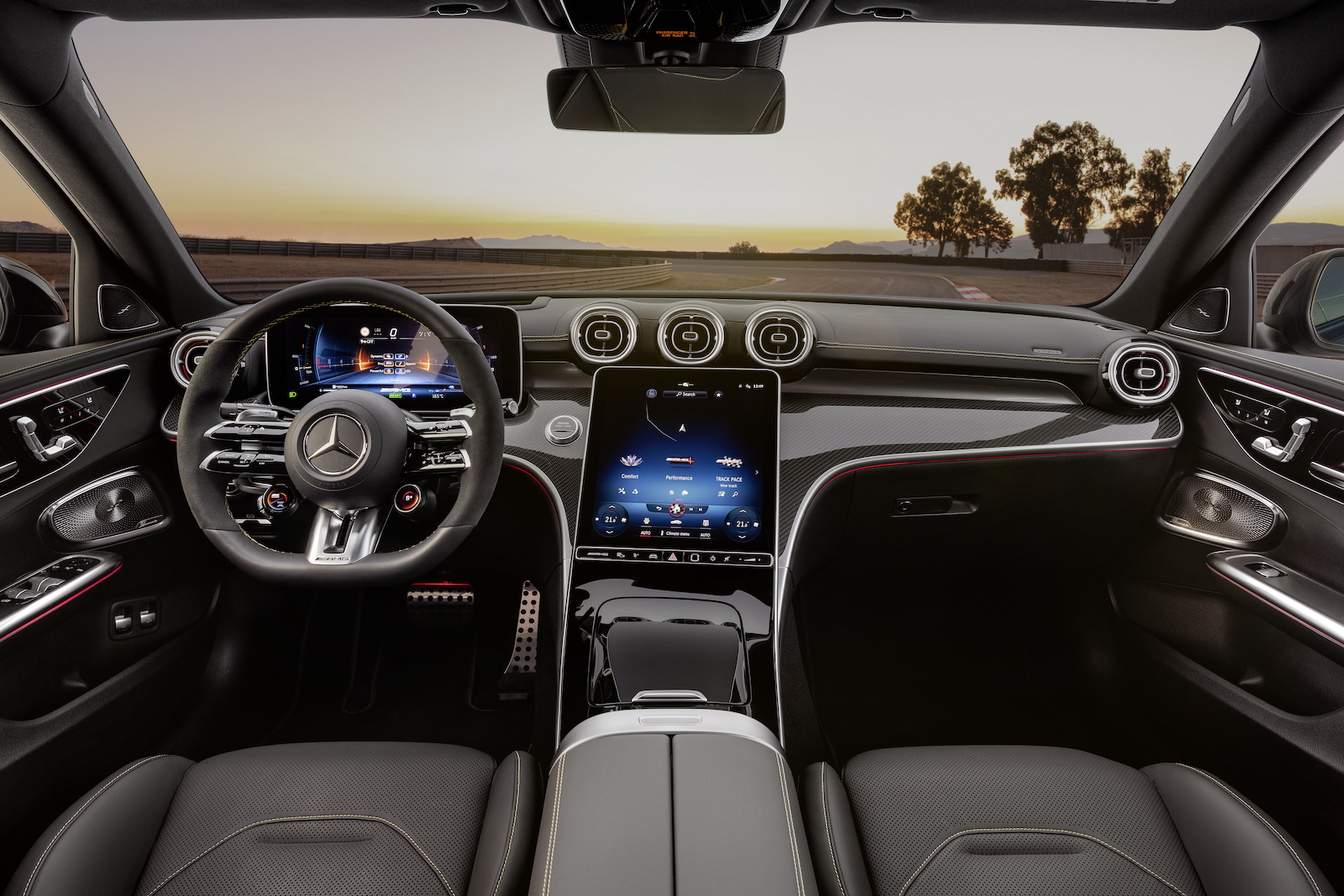 Probably the only downside to the C63 could be its augmented drivetrain noises, played through speakers and specially tuned to compensate for the loss of the beefy V8 burble.
The company remains tight-lipped about on-sale dates and prices but expects to see the new C63 land in showrooms by next spring.