Not as many people are flocking to EV showrooms as we thought
Americans are choosing to keep their gas-powered cars as they last longer and EVs are still relatively expensive
While we will see a much larger percentage of EVs on our roads over the next decade, it'll likely take until at least 2050 before most gas-powered cars are off the road
The truth of the matter is this—the car world is not quite progressing as the electric vehicle (EV) protagonists had expected. People are just not flocking to EV showrooms as we thought. Americans are keeping their gas-powered vehicles longer than ever — good news for repair shops, but not such good news for those expecting a rapid switch from gas-powered cars to EVs.
The longer people hold onto their internal-combustion cars, the longer it will take to replace those vehicles with the latest state-of-the-art EVs.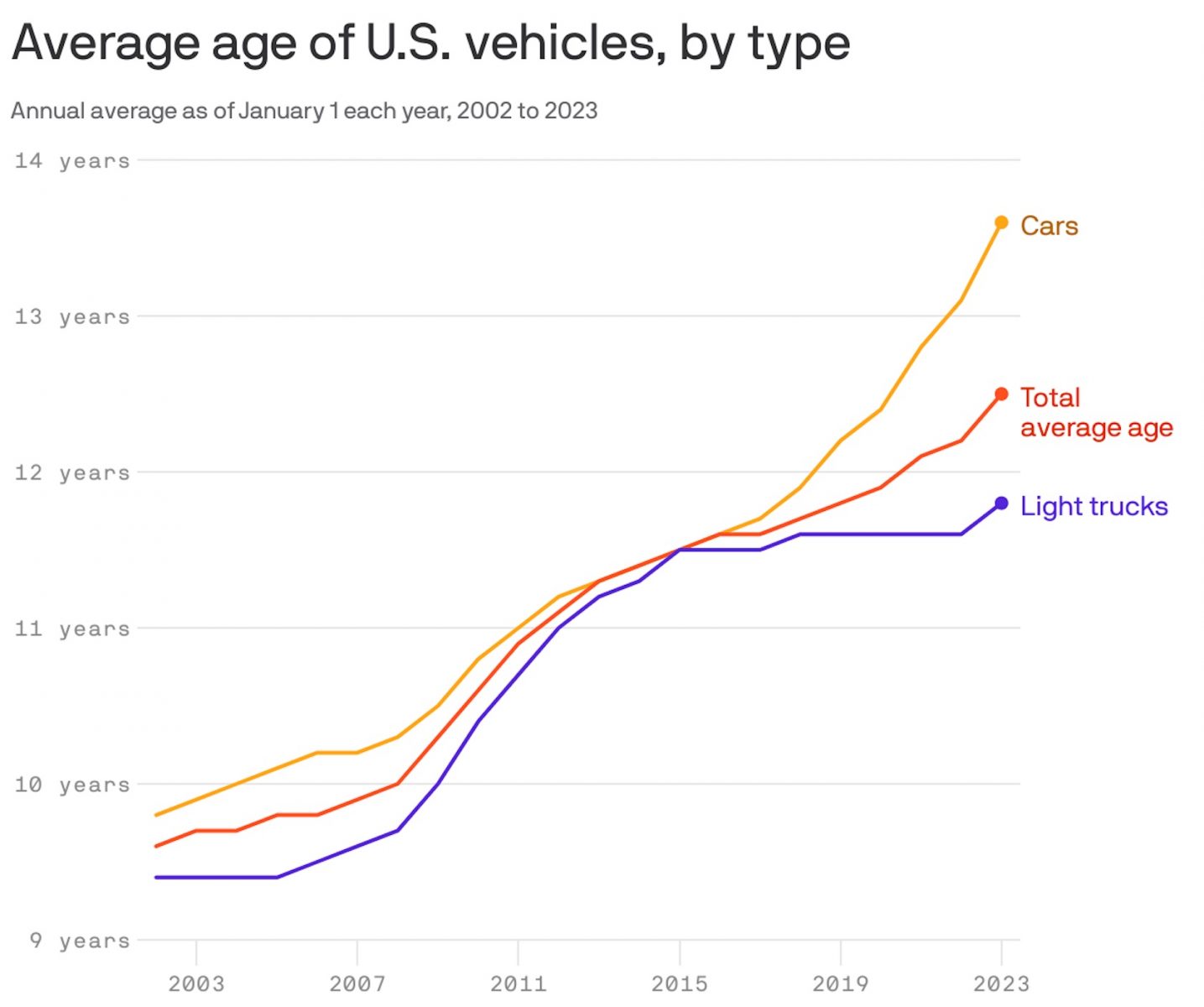 The average age of a passenger vehicle on the road in the U.S. is currently at an all-time high of 12.5 years, up three months from last year, according to an S&P Global Mobility survey. Two decades ago, their average age was 9.7 years.
The reason for this 3-year extension? Sticker prices for new cars are rising, and existing vehicles are lasting longer, giving owners multiple reasons to keep their cars. Long gone are the days when your car was scrappable if the odometer hit 100,000 miles. Today, a car lasting over 200,000 miles is not uncommon. Parts may last longer now too, but vehicles will still need regular maintenance and replacement components as they age.
The aftermarket industry revenue is expected to grow at least 5% in 2023 after climbing 8.5% in 2022, according to a forecast by S&P, the Auto Care Association, and MEMA Aftermarket Suppliers.
According to the above surveys, April's average new vehicle transaction price was $48,275, up 3.7% from that of last year, partly because of the popularity of more expensive trucks and SUVs. "The prices are astronomical," laments S&P's Todd Campau. If current owners don't need a new car, then they won't buy one, he says.
This state of affairs basically translates to the fact that the transition from gas to electric cars will take decades. While we will see a much larger percentage of EVs on our roads over the next decade, it'll likely take until at least 2050 — and possibly longer — before most gas-powered cars are off the road, Campau says.
Interestingly, however, EV longevity is going in the opposite direction. The average age of an EV fell from 3.7 years in 2022 to 3.6 years in 2023, in part due to an uptick in new purchases.
About 6.6% of battery-powered EVs bought between 2013-2022 have left the roads, compared with 5.2% of non-EVs — but Campau says it's too early to know why.
Evidence from S&P and Auto Care suggests that EVs generally come with an 8-year, 100,000-mile warranty — but early results show they last longer than that, according to an analysis by Recurrent, which tracks battery data.
Carmakers purport that EVs should last between 15 to 20 years, though modern EVs, which started with the first mass-produced Nissan Leaf in 2011, haven't been around long enough to validate that claim.
While EVs run cleaner than their gas-powered rivals, there's a human and environmental cost attached to mining materials such as lithium, zinc and cobalt used for battery production, and building new cars. That's why there's a strong argument for motorists to squeeze as much life as possible out of their current vehicles before making the switch to EVs.
OUR THOUGHTS
In America, passenger car popularity is dying while SUV and truck fans are growing rapidly. In fact, by 2028, it is estimated that at least 7 in 10 vehicles on the road will be pickups, SUVs or crossovers. And most motorists are choosing to keep their current vehicle. Yes, the future may be electric, but the gas-powered past will be with us for at least another decade, or two.