Hennessey Venom 1000 Mustang GT500 sets 'tree-mendously' impressive new holiday record
Road-going Mustang hits 192 mph at Continental Tire Proving Grounds in Texas
The annual 'Christmas Tree Run' is a Hennessey holiday tradition that validates the power and performance of the company's vehicles
Hennessey just upped the ante once again. A few days before Christmas at Continental's Tire Proving Grounds in Texas, the high-performance vehicle creator captured a new unofficial holiday record—driving its Venom 1000 Mustang GT500 to a speed of 192 mph with an illuminated Christmas tree strapped to the roof.
Based on the most powerful factory-produced Mustang of all time, the stock Ford Mustang Shelby GT500 packs a hand-built supercharged 5.2-liter V8 with a 2.65-liter Roots-type supercharger perched on top. Hennessey's Texas team upgraded the iconic pony car with a high-flow induction system, new fuel rails and injectors, as well as an air/oil separation system. In addition, fittings, lines, belts, and tensioners were upgraded, and the dual-clutch transmission was recalibrated for its high-output role. The result is the Venom 1000 Mustang GT500, which pumps out 1,000 horsepower and 850 lb-ft of torque on 93 octane pump gas.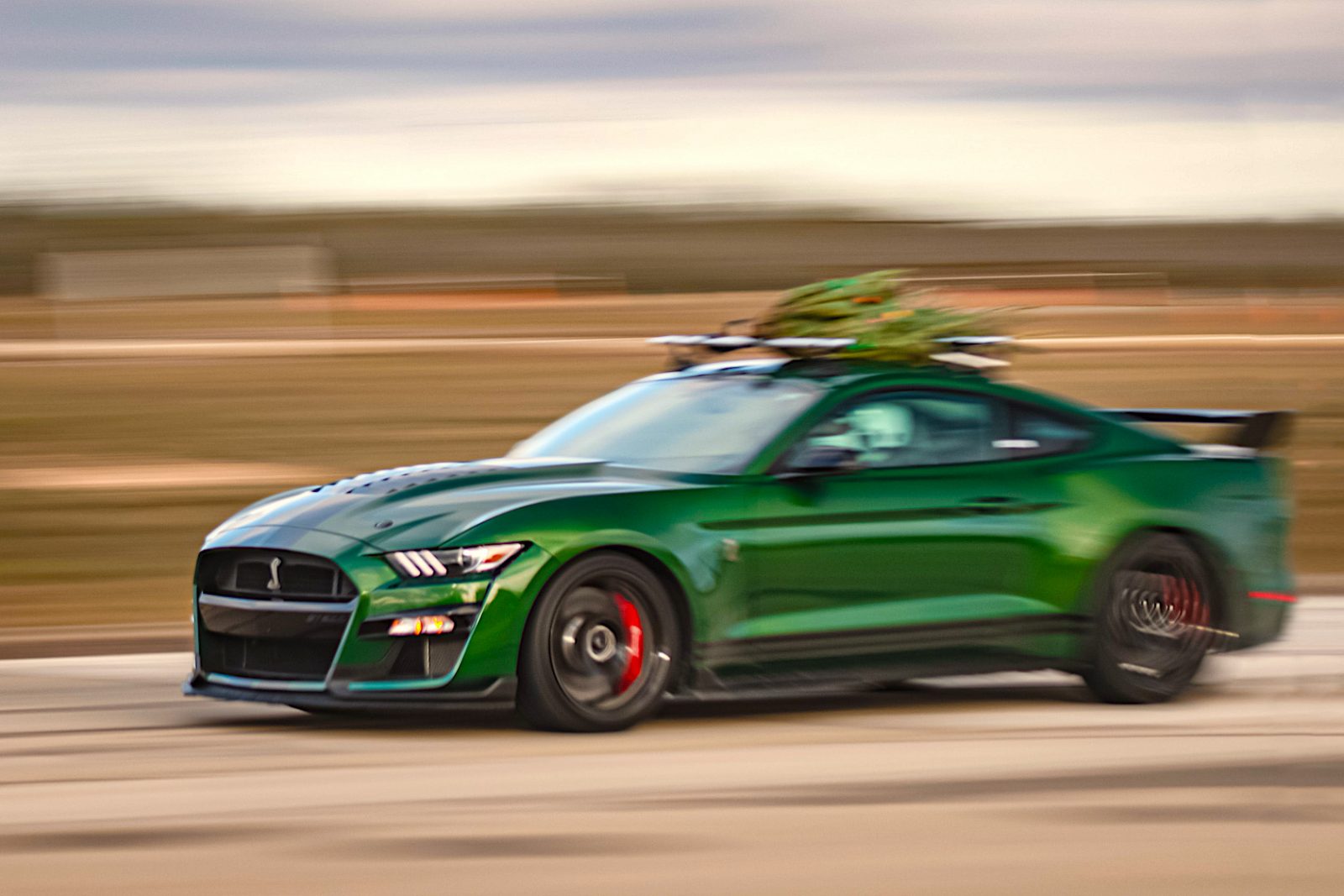 Piloted by professional race car driver Spencer Geswein under clear blue skies with temperatures hovering around the mid-50s, the road-legal Venom 1000 Mustang GT500 achieved the record 192 mph speed on the closed circuit without drama. This is despite the significant additional drag produced by a festal light-adorned evergreen. The only modification was to remove the factory under hood 'rain tray' to improve airflow. The 2022 model year 'Golden Ticket' GT500 was finished in a very rare Eruption Green paint, adding extra Christmas cheer to the occasion.
John Hennessey, company Founder and CEO, said, "Our annual 'Christmas Tree Run' serves two roles for our growing company. First, testing our performance at a proving grounds is a great opportunity to validate our engineering – the Venom 1000 delivers impressive numbers. Second, adding the seasonal twist allows our hard-working team to end the year with some high-speed fun before they slow down and enjoy their families for the holidays."
The 'Christmas Tree Run' has become a Hennessey tradition, with the team carefully choosing the proper pairing between vehicle and tree–if nothing else than to ensure needle stripping speeds. In 2017, the company used a 2018 Dodge Challenger Hellcat Widebody to take a tree to 174 mph, establishing a benchmark. That speed was broken in 2019 when its HPE1000 Jeep Trackhawk hit 181 mph with a Douglas Fir strapped on its roof rails. And last year, Hennessey cracked 183 mph with a tuned Audi RS 6 Avant (borrowed from John Hennessey's wife!) with a fresh Christmas tree tied to its roof.
OUR THOUGHTS
These days, the news is full of speed and acceleration records by electric vehicles, so it's refreshing to see a tweaked 'old-school' V8 creating a new speed record. What a great way to generate some press for your company right before the Christmas break. Just makes you wonder if they could have cleared 200 mph without that tree strapped on. Next year they should do a "with tree" and "without tree" speed trial just to see how much resistance the evergreen is creating.