Chery to launch Omoda and Jaecoo brands targeting different buyers
The new Chery Omoda 5 EV should generate a range close to 400 kms and charge from 0-80% in 35 minutes using a fast charger
Revealed in Shanghai last week, the Omoda 5 EV will employ a very different-looking face to its ICE-powered cousin.
At the Shanghai Auto Show last week, major Chinese automaker Chery unveiled their Omoda 5 electric vehicle (EV) to high praise from the international media. Although this fully electric SUV is destined for the Malaysian market, the carmaker was remaining tight-lipped about its details.
The Chery Group has since revealed however, that it will be launching two sub-brands — Omoda and Jaecoo, to be sold in markets where Chery is already present in showrooms. Namely Malaysia, amongst others. As expected, the different brands appeal two different types of consumers, with Omoda targeting youth, while the new, more upscale, more expensive Jaecoo sub-brand will cater to more sophisticated buyers. To start, Malaysian will get the Omoda 5 with Chery logos, and the specs are as follows.
The Omoda 5 EV employs a 61 kWh battery delivering 221 hp to a single motor. Its claimed 0-100 km/h acceleration time is 7.8 seconds, and Chery says it boasts power efficiency of 15 kWh per 100 km. When plugged into a fast charger, Chery claims a 0-80% charge in 35 minutes. Now while the carmaker mentions a range of 450 kms, we are guessing they are referring to the NEDC cycle and not WLTP, so we can expect a real-world range in the high 300s.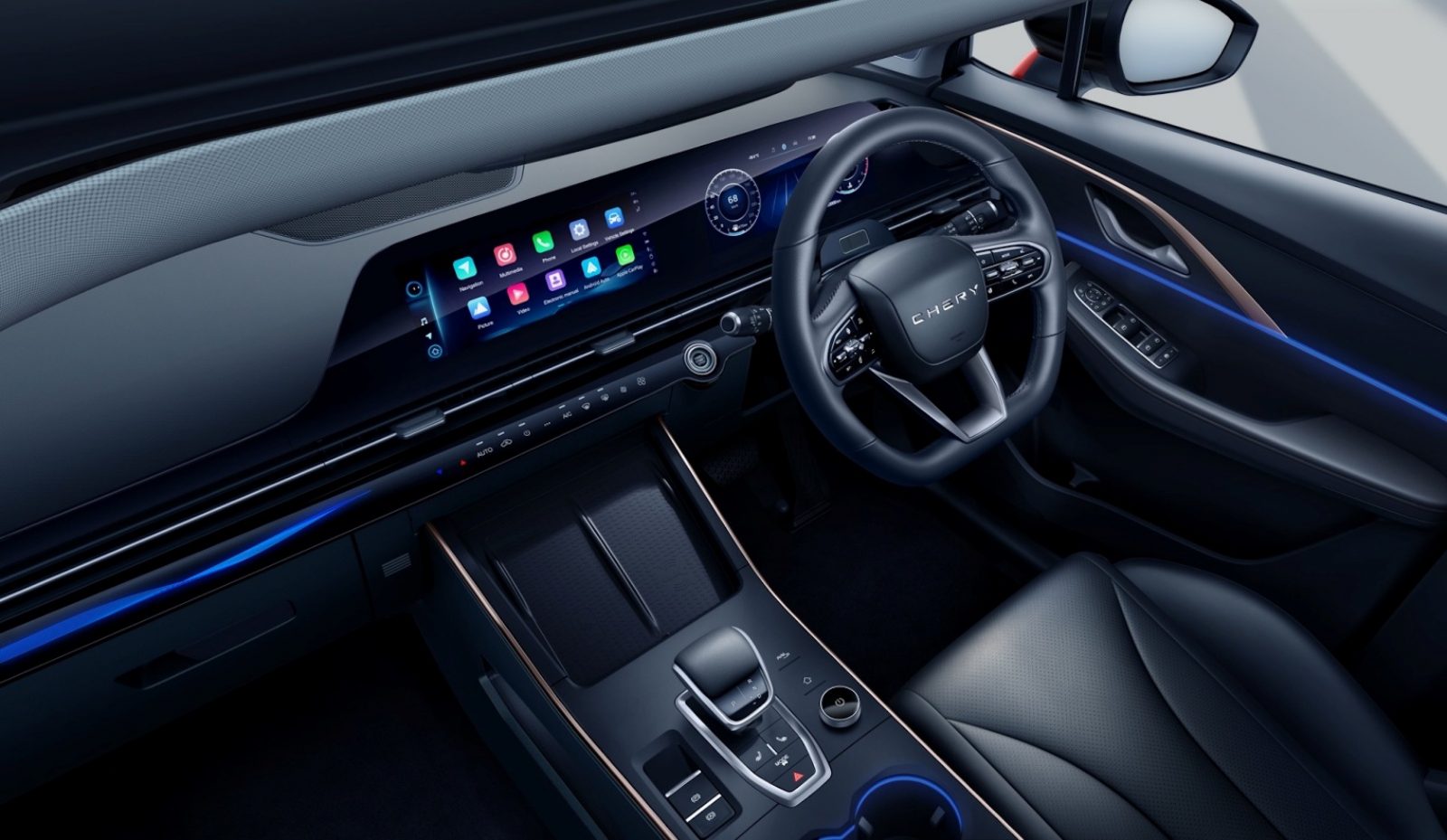 The Omoda 5 EV is actually adapted from the turbocharged 1.5-litre 4-cylinder Omoda 5 mated to CVT and employing the same chassis. But to clearly differentiate it, the EV version incorporates a completely different nose design with a cleaner, solid grille.
The Shanghai show car had a cream-colored interior, but we feel the charcoal grey interior trim with yellow stitching and bright blue illumination accents will appeal to more buyers. The steering wheel gets a Chery logo, while the futuristic dashboard's co-joined, high-quality graphics screens are complemented by twin smartphone charging pads.
According to Chery Malaysia, the Omoda 5 EV will arrive in the country by the end of 2023. The electric SUV will enter the local market as a 'Completely Built Up' China import, and will therefore be able to take advantage of Malaysia's duty-free incentives for imported EVs.
OUR THOUGHTS
Omoda 5 EV rivals that spring to mind include other Chinese EVs like the Ora Good Cat and the BYD Atto 3. But we think the Omoda 5 looks far more chic and impressive than the Cutish Cat or the ho-hum Atto 3. In addition to the Omoda 5, the Tiggo 7 Pro and Tiggo 8 Pro EVs are also in the pipeline although we cannot confirm yet whether both will make it to Malaysia.