We saw clearly over the last couple of weeks that 100F+ temperatures are as detrimental to human work efficiency as they are for oil refineries. As a result, a gallon of gas cost $3.79 on average nationwide as of this week, according to GasBuddy.
That's up a bit from the winter months — as expected based on historical patterns — but lower than last year's highs of nearly $5. Gas prices ticked up in recent weeks due to the excessive heat in Gulf states like Texas and Louisiana, where many of the country's oil refineries are located.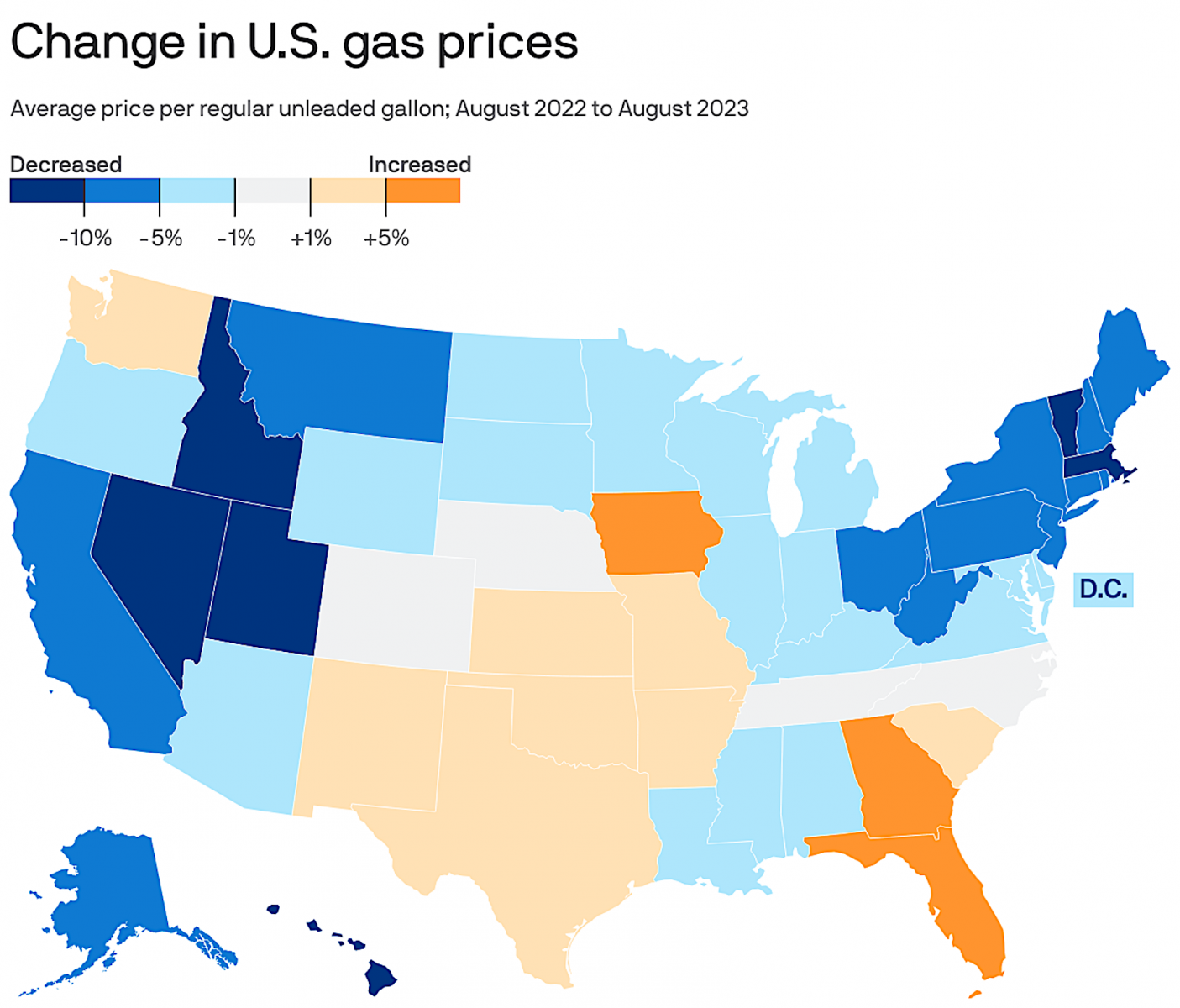 Refineries, which turn crude oil into products like gasoline, don't function as efficiently in 100+ degree weather, explained one analyst. This matters because America is a nation of car travelers, with the average driver cruising nearly 13,500 miles per year.
Thus, higher gas prices take a bigger toll on our wallets — and contribute to overall inflation. Gas prices can also influence how quickly people convert to low- or zero-emissions cars — a major Biden administration policy goal.
Still, how much you'll actually save by going electric can vary significantly based on your local gas and electricity rates, among other factors.
Compared to August 2022, gas prices have come down most significantly in Idaho (-14.4%), Nevada (-12.1%) and Massachusetts (-11.0%). In contrast, they've gone up most in Iowa (+6.1%), Florida (+5.7%) and Georgia (+5.7%).
Several factors can drive state-by-state variations in gas prices, including a state's taxes and its proximity to refineries.
As you can see in the map above, gas prices are generally falling or flat compared to August 2022.
We cannot however ignore the imminent hurricane season because severe storms can further disrupt refineries — thus reducing supply and raising prices. Saudi Arabia's ongoing oil production depletion also stands to increase energy prices.
OUR THOUGHTS
GasBuddy says, "The pace of price increases has started to slow down over the last few days, and for now, appears to have hit a peak over the weekend and is beginning to gently fall." But given the volatility of oil production, which is highly susceptible to hurricanes, high temperatures and events in the Middle East, we can expect prices to start on a slow upward spiral sooner than later.