Hydrogen fuel is finally making its mark. But not in cars as companies like Toyota and Hyundai have pushed with recent H2-powered fuel-cell car launches. Hydrogen-powered semi-trucks instead are finally coming to market, alongside new efforts to boost hydrogen fuel.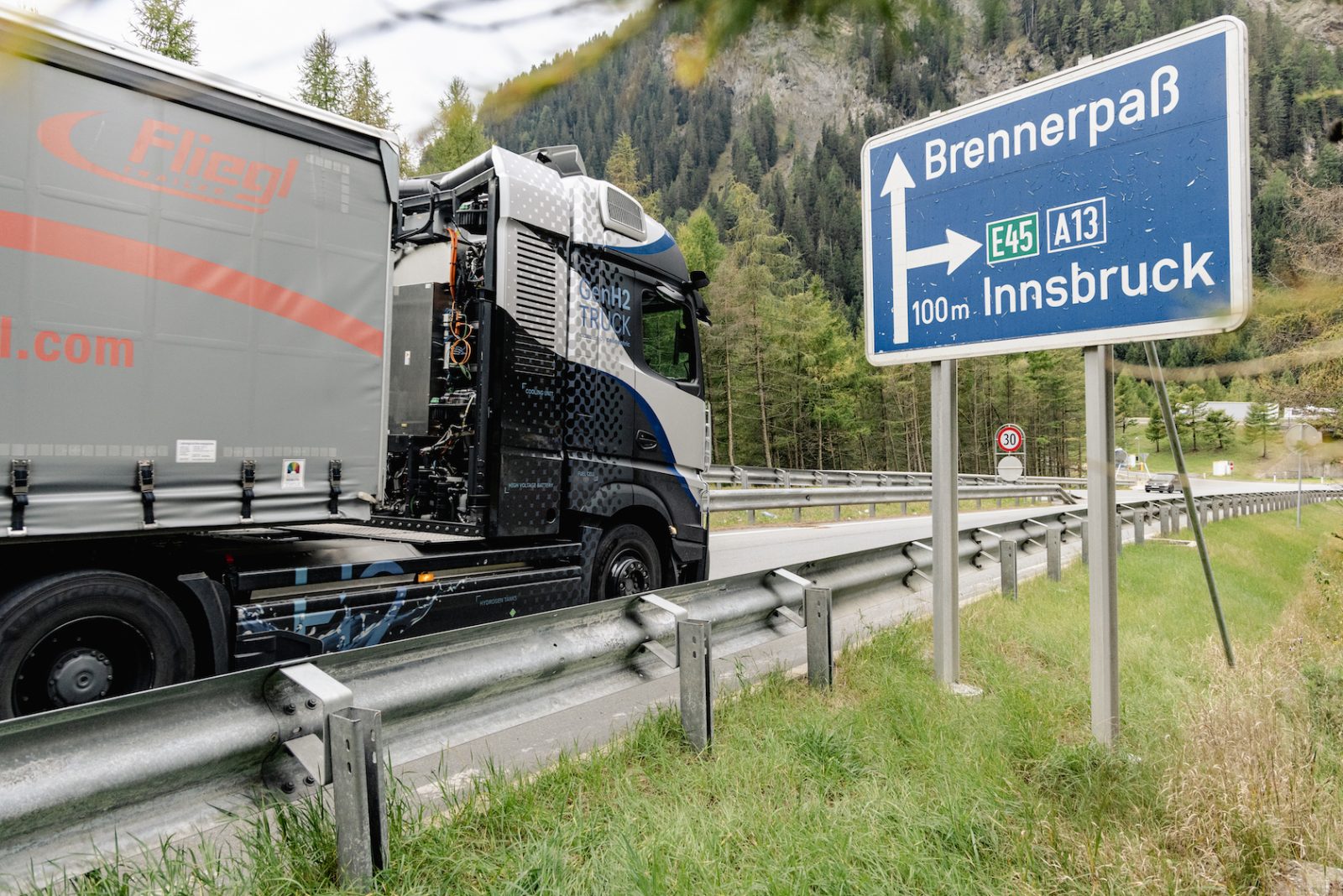 Zero-emission trucks — like the Mercedes Benz trucks you see here, are powered by a combination of hydrogen fuel cells, large battery packs, and electric motors — could help fight climate change and improve health outcomes for millions of people.
Long hailed as an abundant and pollution-free energy source, hydrogen has failed to take off for a host of practical reasons: It's costly and difficult to produce clean hydrogen in large amounts, plus there is no nationwide distribution network.
The Biden administration hopes to change that with new incentives for U.S. hydrogen production, which could help bolster sales of hydrogen-powered trucks now being introduced by a handful of manufacturers, including Toyota, Hyundai, Nikola, and Cummins.
While it's clear that trucking needs to clean up its act, there's debate over whether that's best achieved with hydrogen or battery-electric trucks.
Conventional wisdom is that electric semi-trucks, like the 'Semi' that Tesla introduced last year, don't make sense — as their batteries would have to be so large and heavy that it would limit their range and/or cargo capacity.
Hydrogen trucks however don't have that weight problem and can refuel quickly, meaning less downtime. Their total cost of ownership is also lower than an electric semi, industry officials say.
Still, new U.S. Department of Energy data shows that the vast majority of freight tonnage is shipped distances of less than 250 miles — easily within the range of an electric semi.
Hydrogen trucks may still have a role to play, especially for long-haul routes and round-the-clock freight logistics operations — as long as the refueling challenges can be solved.
One manufacturer in the news is Nikola Motors. It made headlines recently as the firm tried to put a slew of scandals behind it, and recently started producing its first hydrogen fuel cell semi-trucks in Coolidge, Arizona.
Demand has been strong, the company said, with more than 200 orders to date. Deliveries are expected to begin this fall. The trucks boast a range of up to 500 miles and an estimated fueling time of approximately 20 minutes — similar to a diesel fill-up.
A new $40,000 clean commercial vehicle federal tax credit, along with purchase incentives of $175,000 to $250,000 in states like New Jersey and California, are helping sales, the company said.
Other hydrogen trucks are hitting the market, too. Hyundai in May unveiled its new XCIENT fuel cell semi-truck for the North American market. Meanwhile, Toyota, which piloted its Class 8 fuel cell trucks at the Port of Los Angeles, is partnering with Paccar, the parent of Kenworth and Peterbilt, to bring them to market in 2024.
Hydrogen combustion engines from companies like Cummins and others are also gaining traction. They're different from fuel cells, which create energy through a chemical reaction when hydrogen is mixed with air.
But the big hurdle is that there is still a lack of hydrogen infrastructure. The U.S. has just 57 hydrogen stations (all in California), compared to nearly 8,000 DC fast-chargers for electric vehicles.
Truck companies getting into hydrogen have created their own network with most truck fleets running their own refueling equipment.
Hydrogen has reached a "turning point," says Jason Roycht, Nikola's global head of fuel cell electric vehicle market development. "Five years ago, we had to explain the fuel cell solution. Now that's not true anymore."
OUR THOUGHTS
The bottom line here is that the transportation industry will likely require both battery electric and hydrogen-powered trucks to reach its net-zero carbon emissions goals by 2050. Just one power source will not do it. One truth in the hydrogen industry however is that this fuel does have potential—just not with passenger cars.