PROS
The EQS is the world's most luxurious, hi-tech limo
Can charge from 10% to 80% in 31 minutes using 200kW charger
The EQS's body boasts the world's slipperiest drag co-efficient
CONS
Nondescript exterior design
Slow when compared to rival Tesla
Huge learning curve for new buyers
When I first drove the Tesla Model S over 8 years ago, I was blown away with its simple spartan interior, and class-leading acceleration and charging capability. Back in 2015, I remember thinking that this car felt like a time machine transporting me to 2020. Then in 2021, I tested the BMW iX and was suitably impressed by its futuristic design and class-leading luxury, driving dynamics, and power. I remember thinking that the iX felt like a luxury SUV that had been sent back in time from 2025.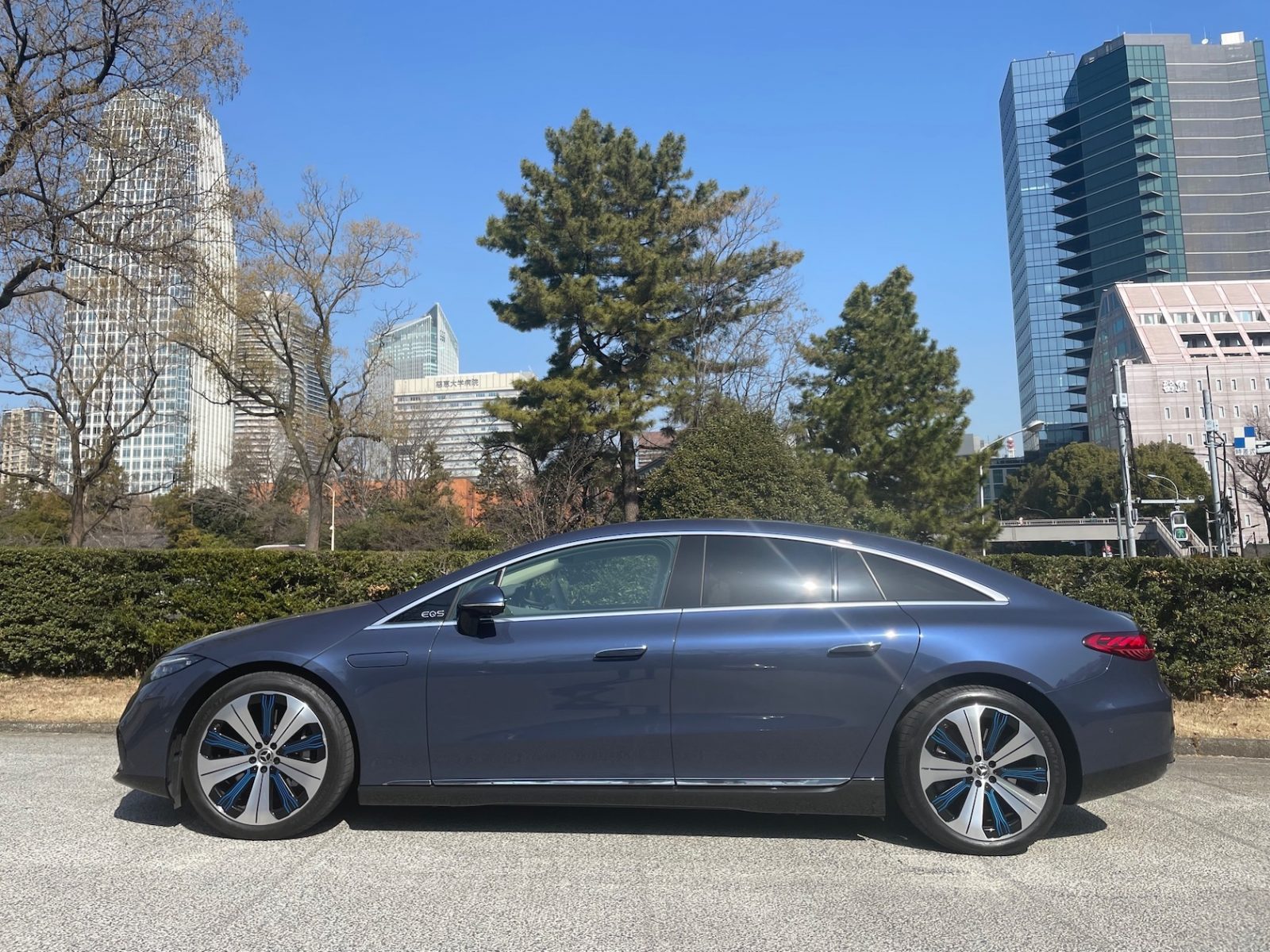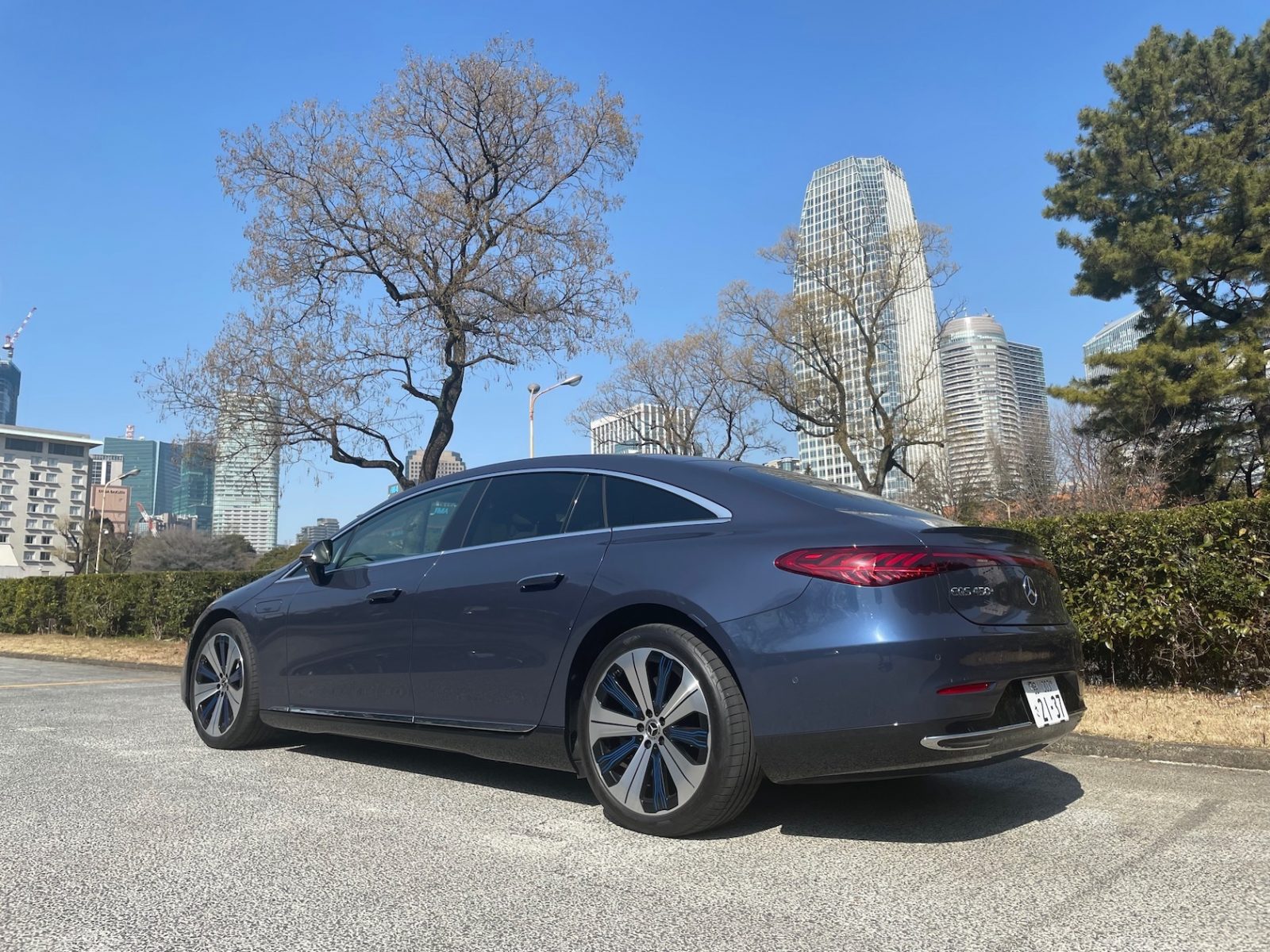 The EQS redefines luxury EVs
Now, I've just driven the all-electric Mercedes-Benz S-Class, aptly named the EQS 450+, and this car takes all of those impressions to the next level—redefining every luxury EV that came before it. It is a next-generation time machine displaying mind-boggling advanced tech and features that most cars will have in 2030. 
Of course, being an EQS (with an 'S' suffix) means that this 17-foot-long smooth, edgeless behemoth is the pure electric reinterpretation of Mercedes' quintessential S-Class. Gone is the V12 internal combustion engine, replaced by 107.8 kWh lithium-ion battery pack and powered by a 329 hp electric motor driving the rear wheels.
To be bluntly honest, it's not a beautiful car. In fact, compared to its gasoline-toting S-Class brethren, this 5-door electric hatchback is an unusual-looking car. The fact that designers did not have to house a huge V12 engine under the hood has allowed them to reduce the size and volume of the front section. Aiming at the most aero-dynamic styling possible, it now employs a stubby nose while its rear sharply rises into a domed, elongated passenger cell in between. Mercedes claims an unheard-of 0.20 drag efficiency making it the world's most aerodynamic car. Sitting on a bespoke EV-focused platform, stylists have sacrificed design flair for a slippery exterior in the wind tunnel.
Of course, it has no physical grille, as the car has no radiator. In its place, you have a large FRP-shaped grille boasting hundreds of tiny Mercedes 3-point stars for effect. The lower air vents at each side of the front bumper, look mean and help to direct airflow through to the front wheel wells to improve streamlining and cool the brakes. Its fastback shape is in direct contrast to the square S-Class and has also been styled to produce the best possible fuel efficiency.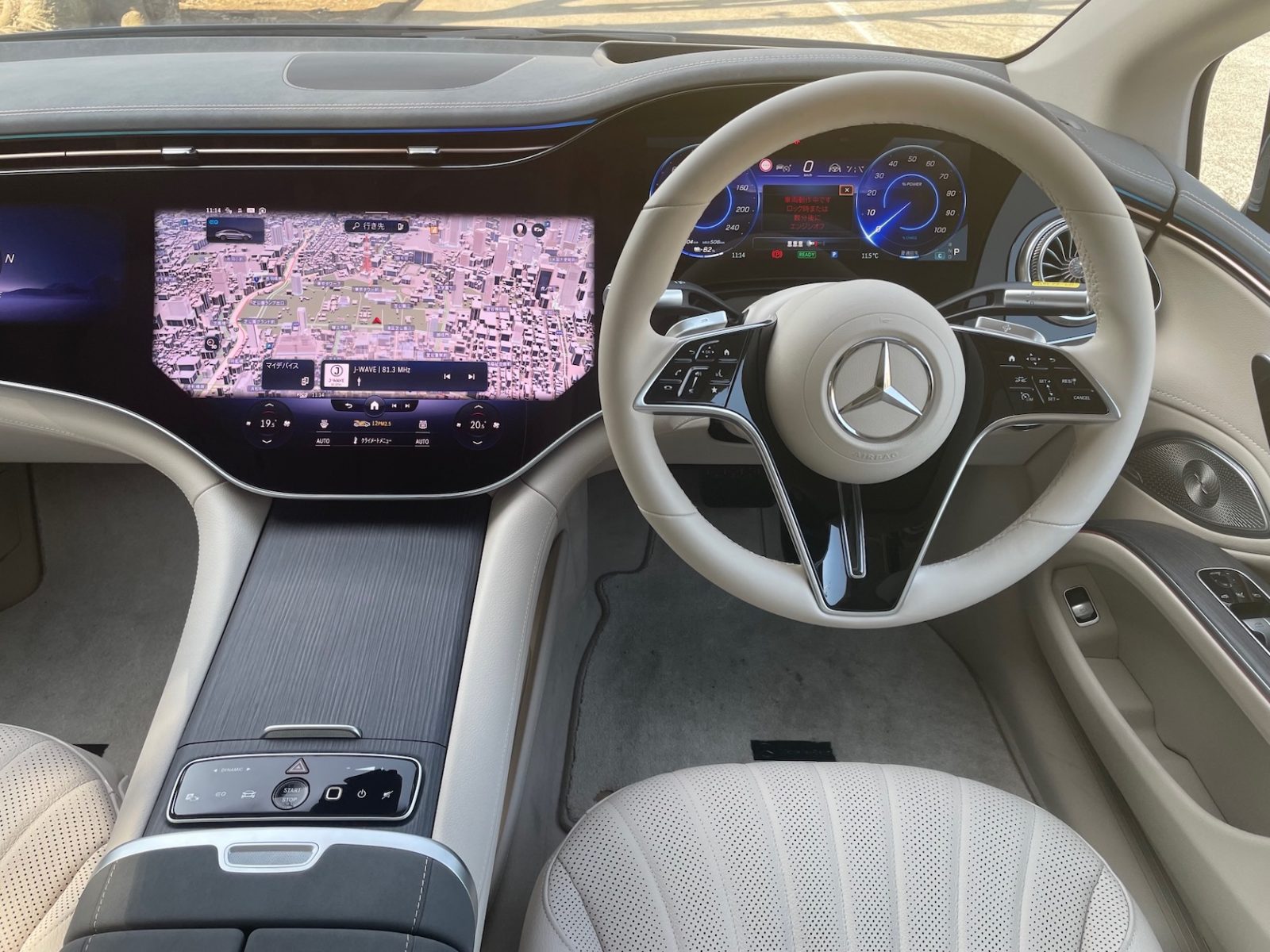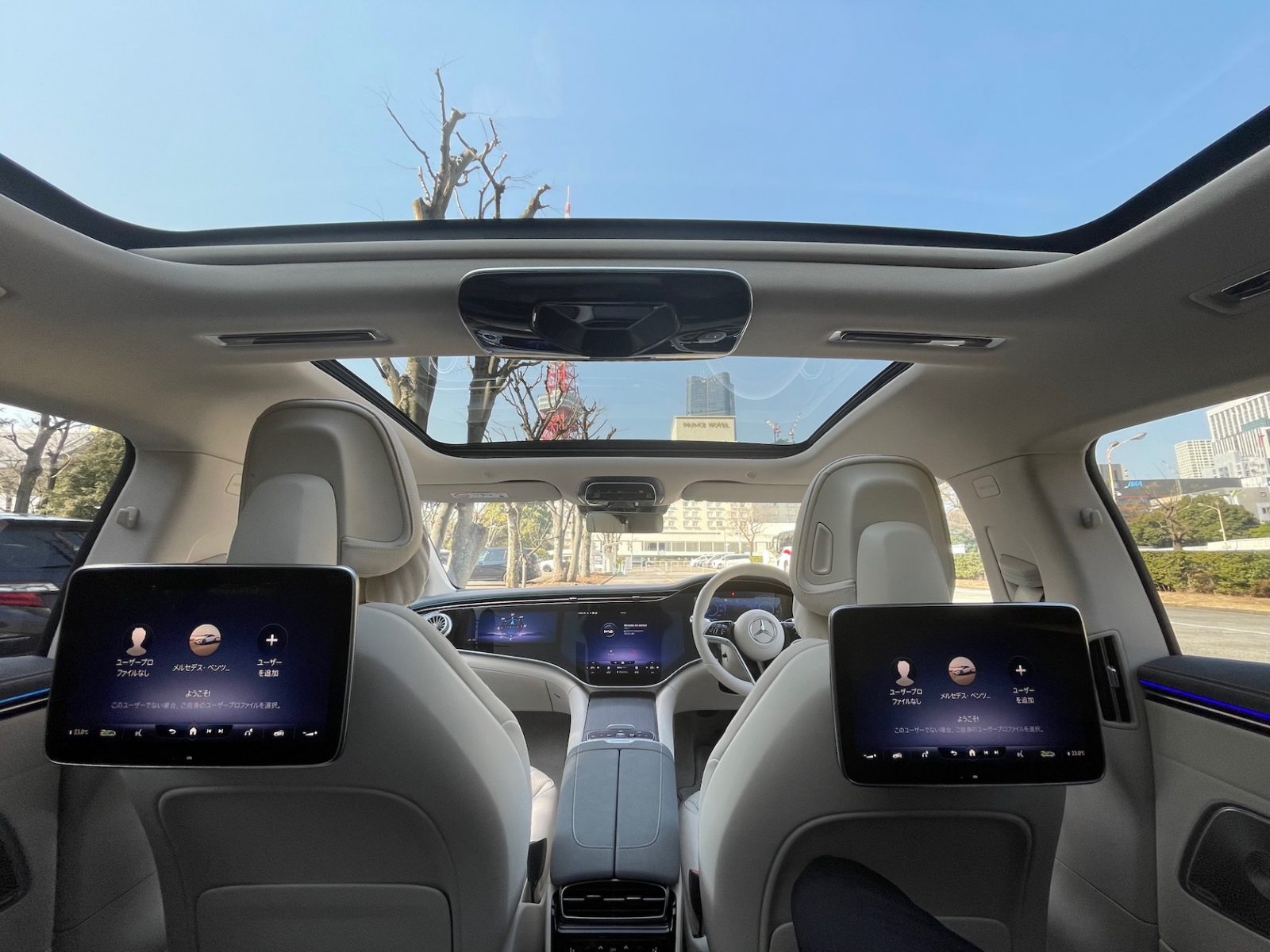 The EQS's cabin is like stepping into a time machine
If you thought the exterior was radical, wait until you get behind the steering wheel. You will immediately feel as though you've stepped through a time portal to the year 2030. It feels more like a time machine than any car I've ever driven. The highlight is its full cabin-width, one-piece-of-glass fascia that encompasses not two but three (!!) large displays. The central touchscreen measures a huge 17.7-inches, while the gauge cluster and passenger display are each 12.3-inch in size. It also has two hyperscreens—one for each rear seat—which measure 12.8-inches, giving every passenger their own screen, which can all operate independently of each other. The instrument cluster boasts a huge array of sat-nav and augmented reality aspects — like animated arrows appearing in your head-up display telling you where to turn. The trunk is spacious too, with enough room for four golf bags.
The front setup feels like a cross between a 3D IMAX theater and a next-generation Gran Turismo game, all drowning in swathes of super luxurious leather and polished aluminum. The illumination tech and the stitching on the seats and dash really set the tone for the cabin's ambiance. One thing you notice straight away is the lack of physical switches and buttons. Every control in the cabin, apart from the start button and hazard switch are haptic digital switches that live underneath the glass displays and center console. Even the sunroof has a control on the ceiling that has no button—just a 3-inch long alcove for the driver to slide their finger to open and close it. But then, of course, that's if you want to actually physically operate it yourself.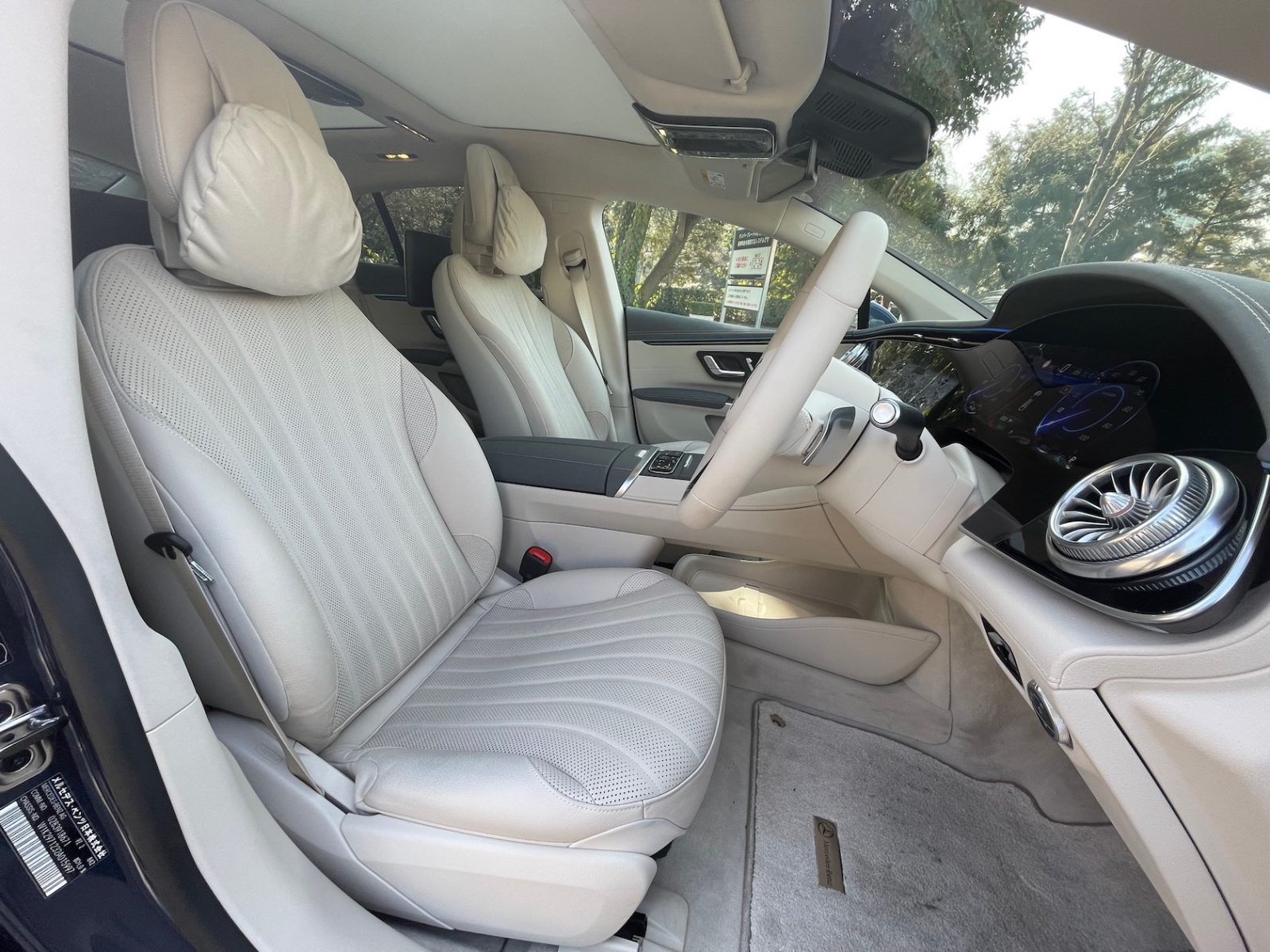 Occupants have the option, of course, of using the voice-activated "Hey Mercedes" feature which allows you to verbally ask the car to do things for you—like turn on the seat heaters, open the sunroof, locate the best local Italian restaurant, and turn up the radio volume down. When you manually turn up the room temperature, the illumination stripes which run the full length of the car's interior flash red, and when you turn the temperature down they flash blue. These steps are also connected to the brakes—when emergency braking is required, the strips flash red to heighten the driver's awareness of imminent danger. In fact, this car is so advanced, that there is a huge learning curve for new buyers.
The EQS is next level in so many areas that we cannot describe it all here.
There are two powertrain options available at present; the EQS 450+ generates 329 hp and 419 lb-ft of torque, while the EQS 580 pumps out 516 hp and 631 lb-ft of torque. Let's get some more important stats out of the way. The 450+ is rear-wheel-drive with a single motor and 350 miles of range, while the 580 gets twin motors and is therefore all-wheel-drive delivering 340 miles. Made by Mercedes, the 107.8 kW 400V lithium-ion battery pack comes with a warranty of 10 years or 150,000 miles. The 450+ can go from a 10% to 80% in 31 minutes using a 200-kW DC fast charger.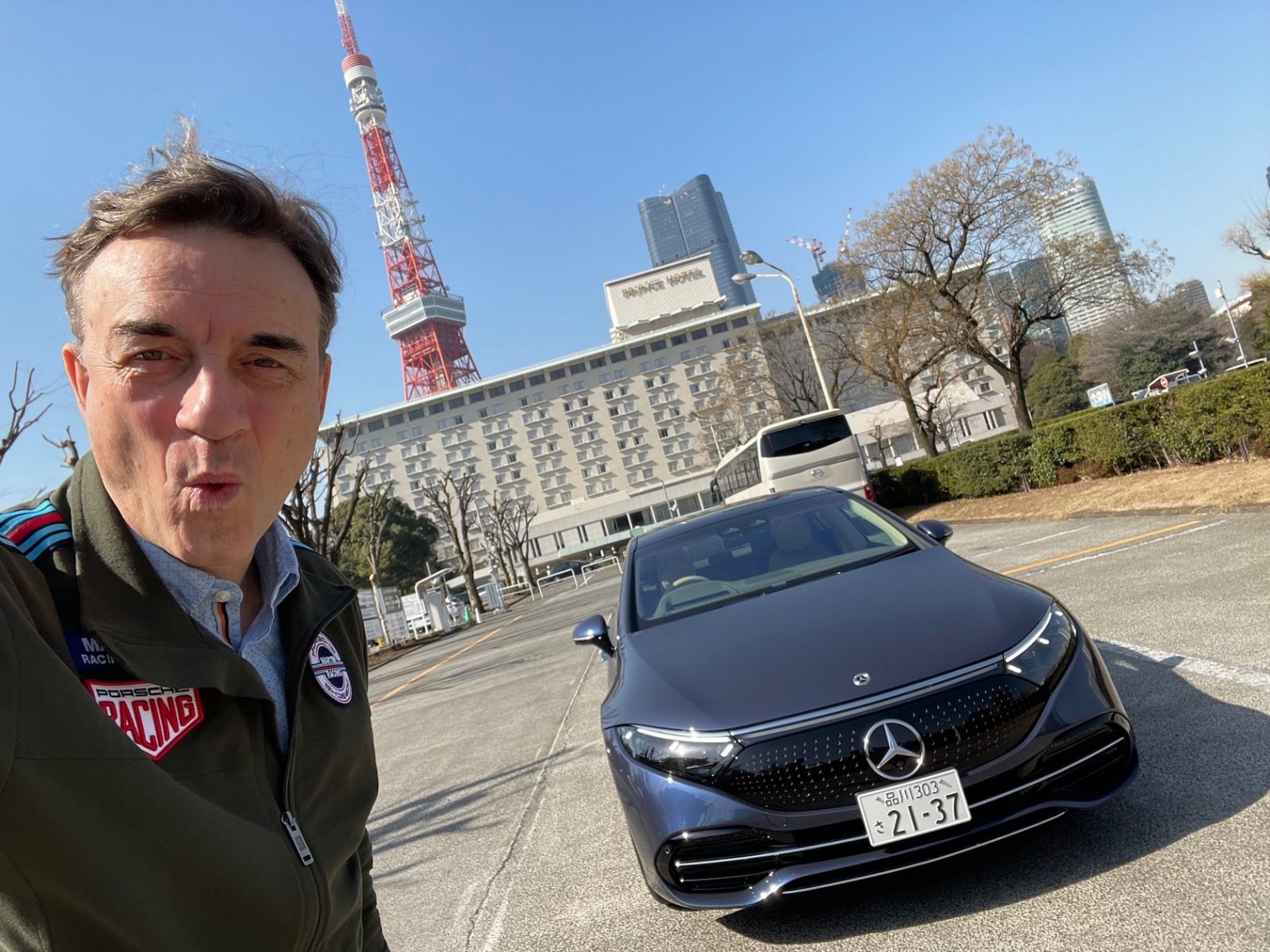 The EQS beats Tesla in luxury and hi-tech but not in performance
The EQS blows Tesla out of the water when it comes to interior luxury and hi-tech features, but it's nowhere as quick as, say, a Model S. Weighing in at 5,500 lbs, the hefty EQS450+ will cover zero to 60 mph in a very acceptable 5.7 seconds, over 3 seconds slower than a top-spec Model S. At standstill the EQS makes a futuristic 'ambient' background noise, and if you need to accelerate quickly, then this changes into a futuristic 'mechanical' sound.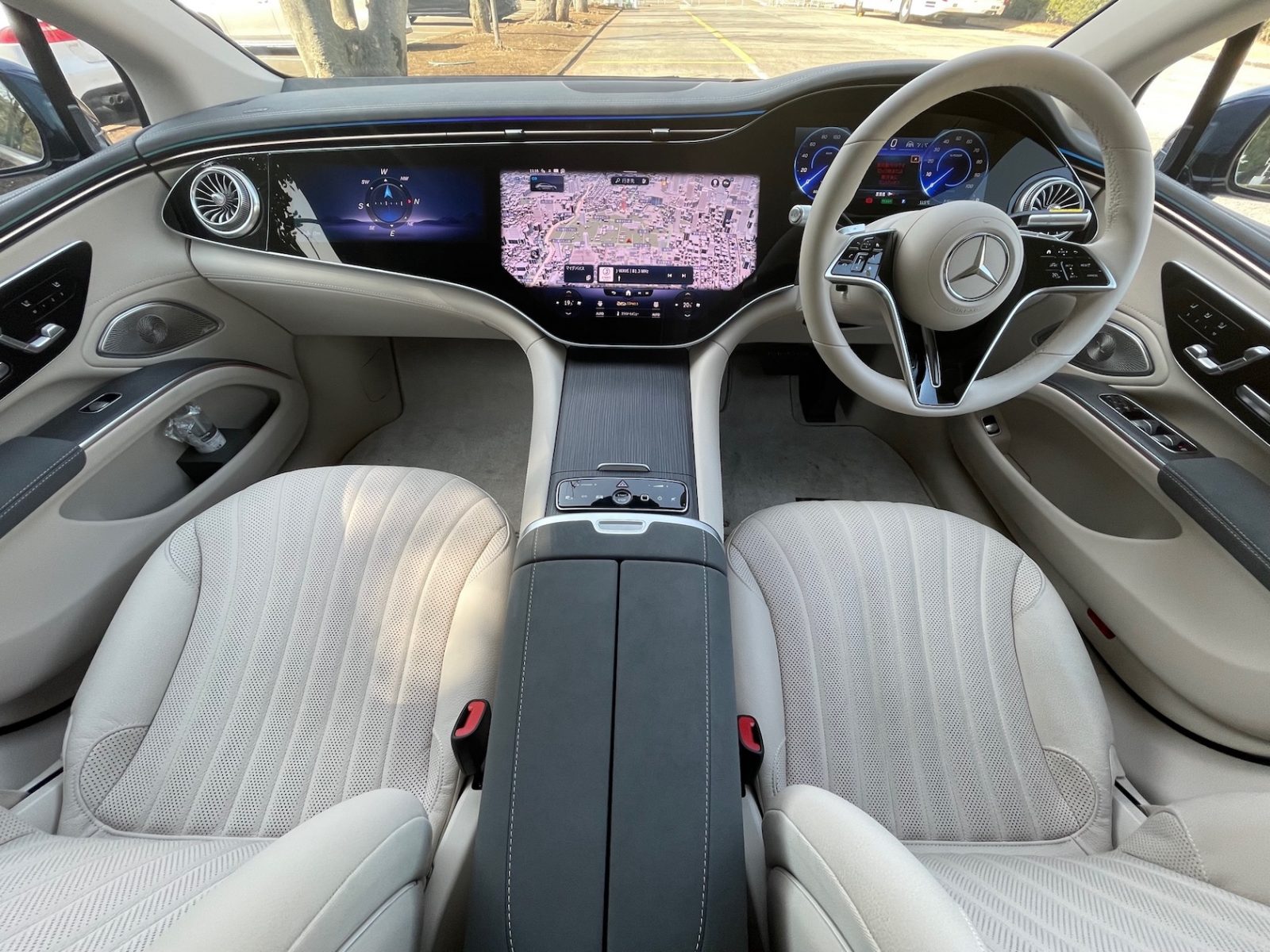 The 450+ comes standard with adaptive air suspension and rear steering. Being able to turn the rear wheels can make all the difference when parking in tight bays but it also helps reduce the turning circle and bolsters stability when high-speed driving. The suspension is soft even in the most dynamic setting, but it still offers a certain amount of firmness and stability. Steering is accurate but a little numb, especially when traveling at low speeds. The EQS 450+ and 580 models offer world-beating levels of luxury and tech, and because of that focus deliver a quieter, softer ride than a sporty one. Buyers will have to look to the Mercedes-AMG 53 for greater performance and sharper handling.
The 450+ has three 'Dynamic Select' drive modes – Eco, Comfort and Sport – and you can adjust the level of regenerative braking by using the steering wheel-mounted paddles. Speaking of braking, the pedal feel is not as confidence-inspiring as it should be, but it will still pull up effortlessly in 111 feet from 60 mph.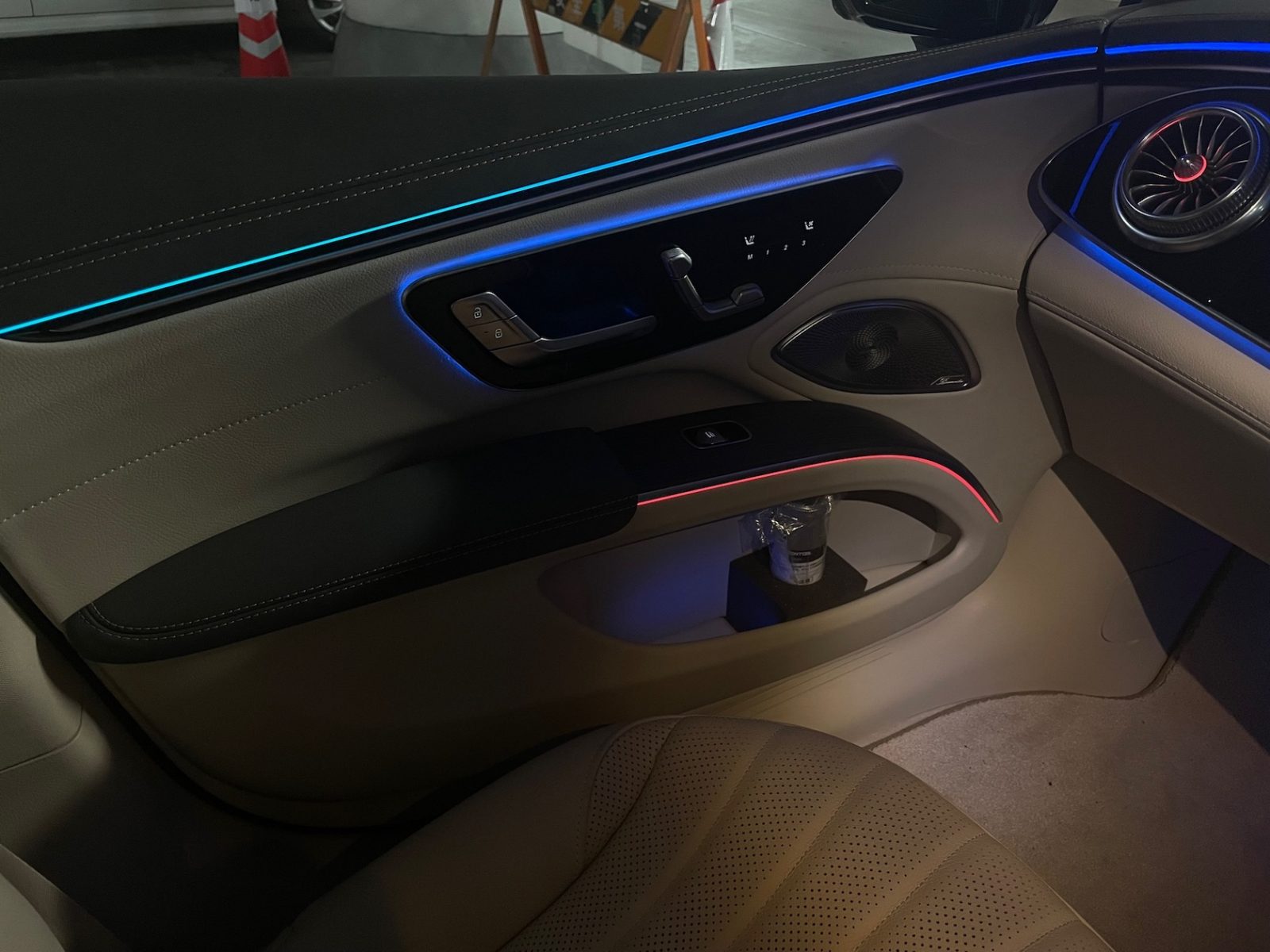 CONCLUSION
This will be what every luxury EV will aspire to from now on. The EQS 450+ is an intensely impressive limo and the starting price of $102,310 is impressive too. It has a range of up to 350 miles (EPA rating), delivers gutsy, effortless performance, is smooth, quiet, and comfortable on long trips, and it offers the most advanced package of hi-tech features we've seen. And. The fact that it's a hatchback just adds to the practicality of the car. Just a pity it doesn't look as striking as the S-Class.