PROS
Superb handling
Less boy-racer and more mature-looking design
Quicker and more responsive acceleration
CONS
The cabin is the reddest interior you've ever seen
A throatier exhaust note is desirable
The LogR data-logger only works at some race tracks
Honda says "Give us your quickest lap"
When Honda invited us to test the all-new Civic Type R at the Autopolis Circuit in southern Japan, we knew they meant business. Unlike many other carmakers launching sports cars, Honda wanted the media to fully understand the upper limits of its new Type R. That's why they prepared racing suits and helmets for all participants and tempted us to "pump out our best lap time." Why? Because they were timing us with new onboard tech, but more on that a little later.
This new Type R is no ordinary car. It's an ex-lap record holder for front-drive cars at Germany's famed Nurburgring and the R wants its crown back. Wanting to hold that lap record again, Honda tells us that they will take their new road-going scud missile to the Nurburgring circuit 'soon' to recapture the "world's fastest front-drive car" record—the one they lost to Renault's Megane R.S. Trophy-R back in 2019.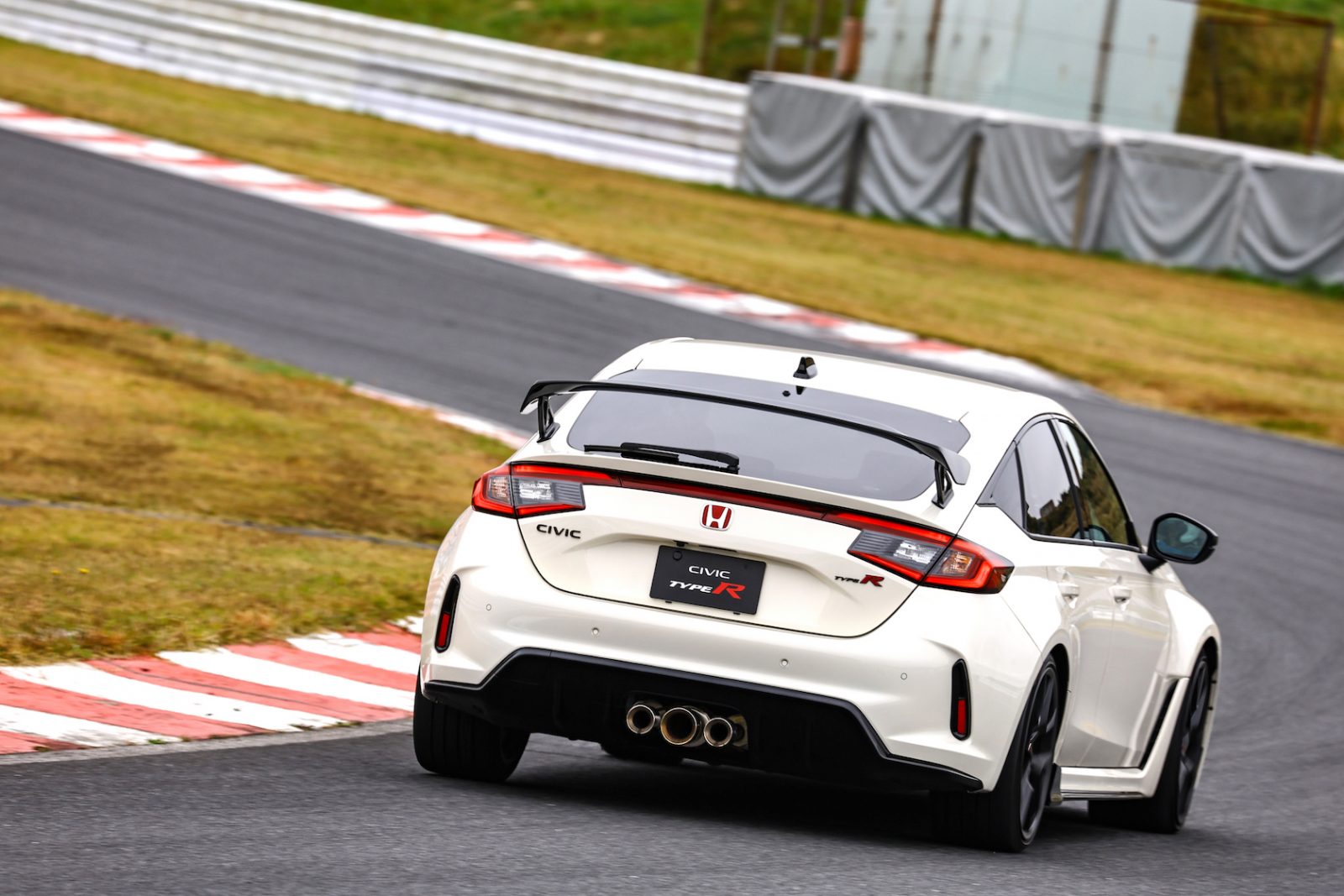 Honda wants that Nurburgring lap record back
It was actually the 5th generation model that put the Type R name on the map when it posted a fastest lap time of 7 minutes 43 seconds around the Nurburgring circuit in 2017, making it the fastest 'front-drive car on the planet.' That record, however, was snatched away in 2019 when the Megane RS Trophy-R bettered Honda's time with a blistering 7 minutes 40 seconds.
But first, let's check out the new car's styling? When we say "it's the best-looking so far," we don't really have much to compare with, given that the predecessor had such busy, edgy styling that it looked strangely like something from Transformers. Even if we compare the new model to the previous five generations, with the original version first surfacing in 1997, then we would still say that the latest version is the best-looking.
One quick glance at the all-new model and you can see that it is altogether more mature. Gone is that edgy, boy-racer styled, Fast and Furious-inspired design—replaced by more subtle edges and a tidier face.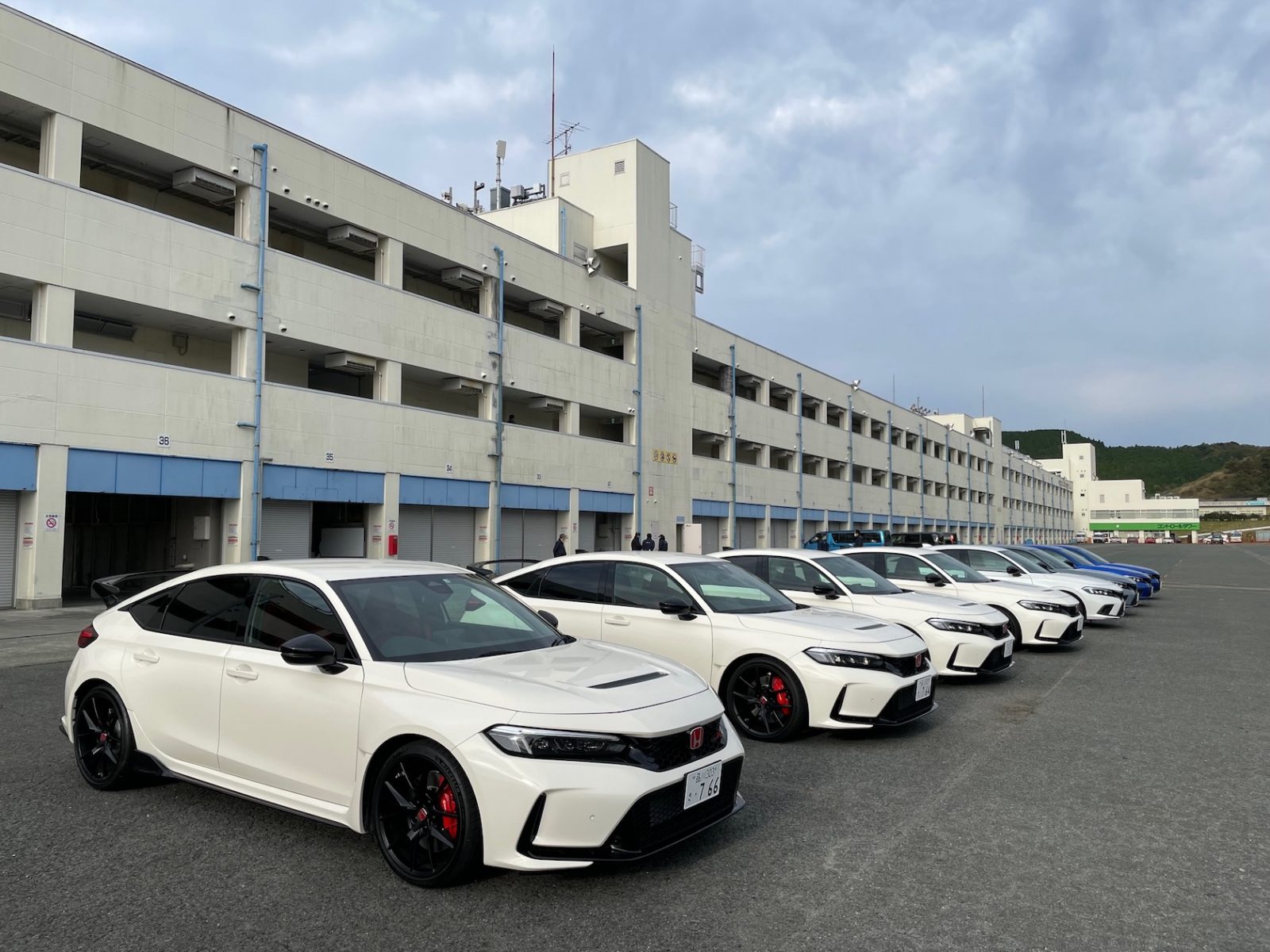 The all-new Type R is more mature with less boy-racer attitude
Don't get us wrong, though. The Type R still has loads of attitude. From its improved aero-body and triple exhaust pipes to its brake-cooling front air intakes to its huge rear wing and rear diffuser, the Type R screams high performance. All of the vents are real and functional this time round, which adds to the car's performance and helps to slice precious seconds off lap times. The rear spoiler is still bigger than anything you would find on an Audi S3 or Mercedes-AMG A35, but this time, the R's wing sits on shorter, more aerodynamic vertical struts rather than huge vertical metal plates like on its predecessor.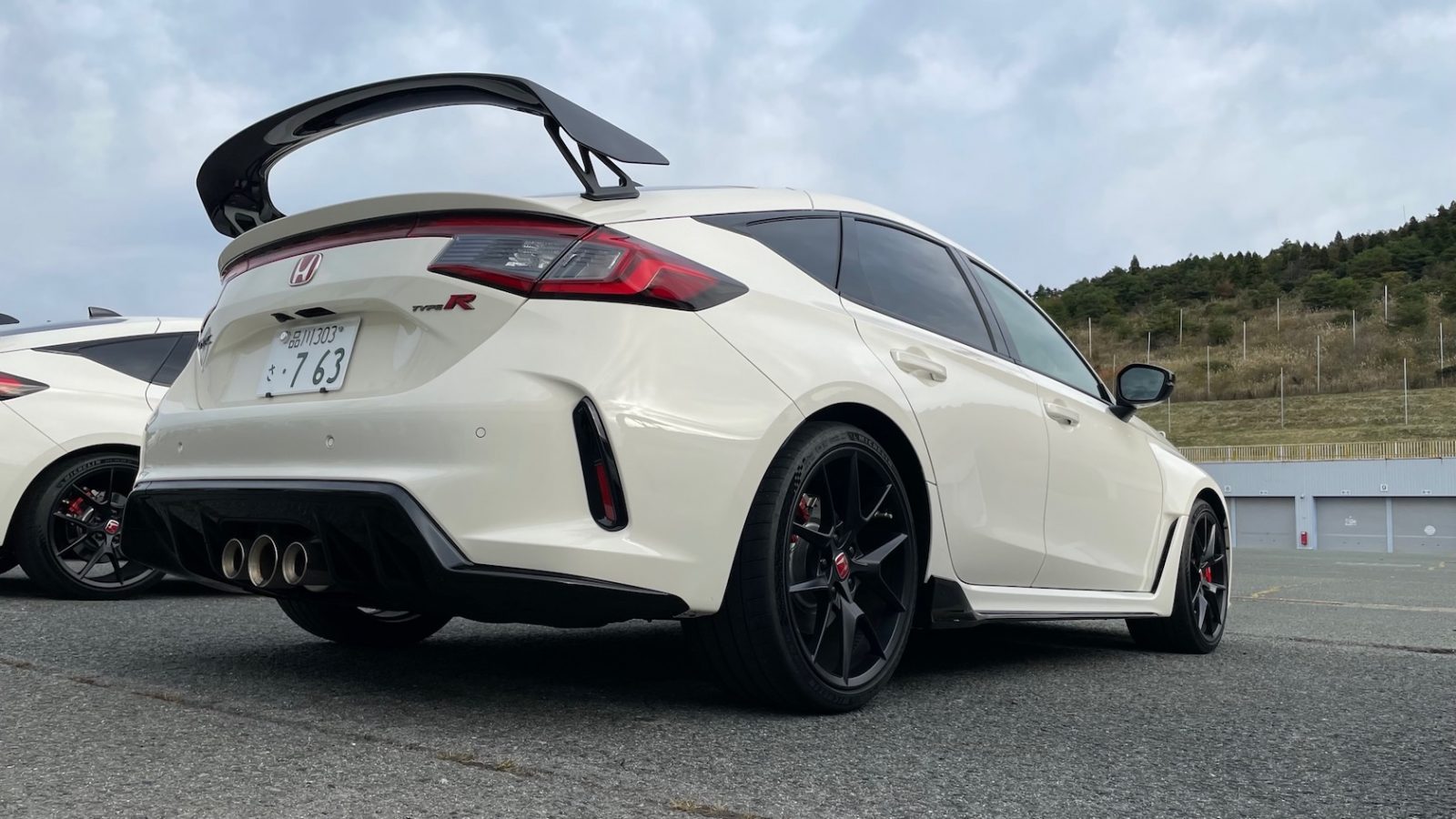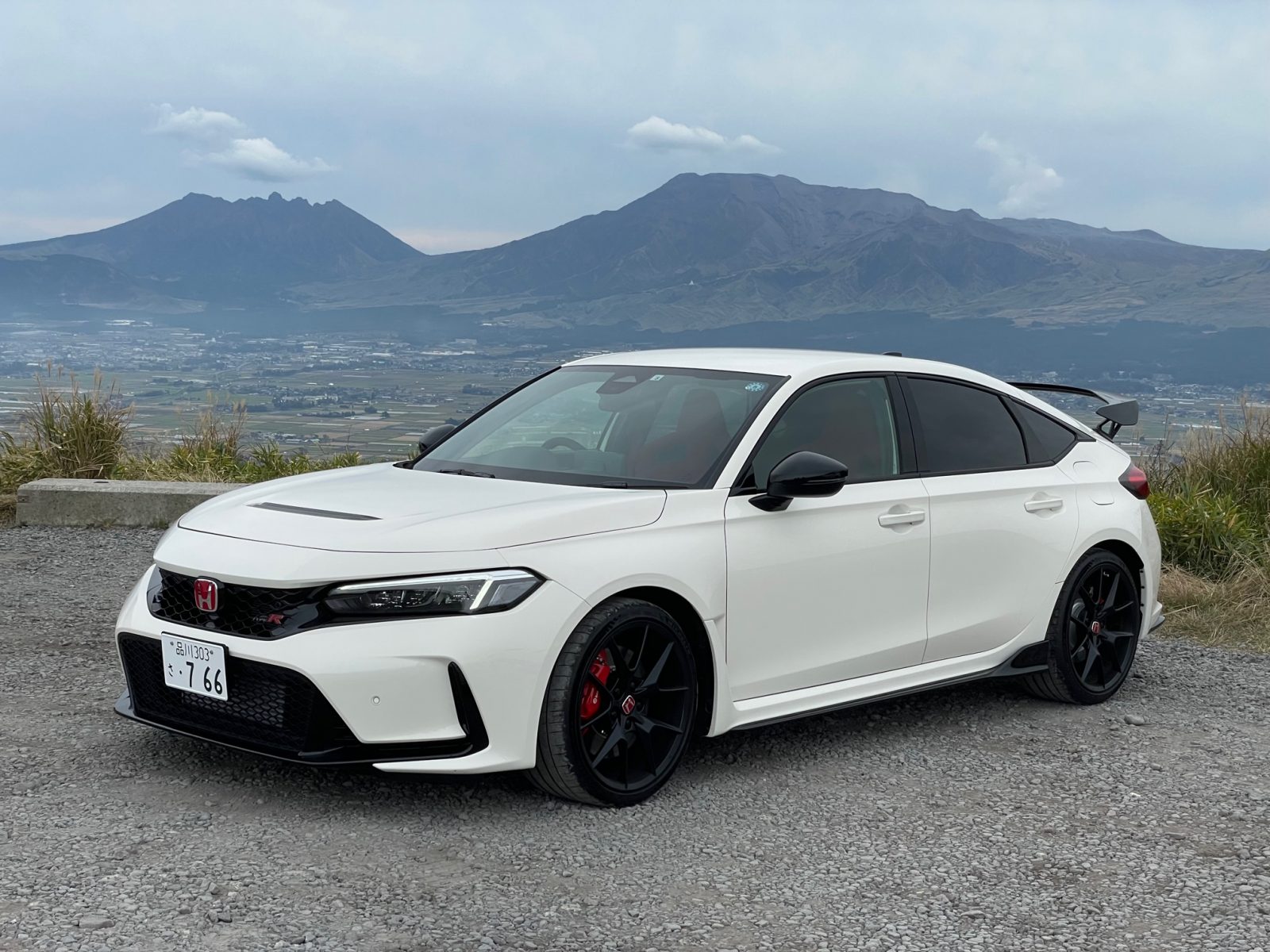 All of these upgrades combine to make the new car not only more aerodynamic and planted, but make it look far more mature. It still stands out, but this time, you won't be embarrassed showing it off to your mates.
Inside, the Type R is still very red and very sporty. With its bright red seats and carpets, red stitching on a black Alcantara-wrapped steering wheel, and aluminum accented dash, the R elevates the adrenalin level even before you fire up its engine. Truthfully speaking though, stylists may have used a little too much red. It's everywhere. The compact aluminum gear knob is vintage Honda and tickles the senses every time you flick through the gears. I'd argue that it's mechanical precision and perfectly positioned short throws are nearly as good as the 6-speed stick shift on the NSX, or at least as good as that on the now-out-of-production S2000.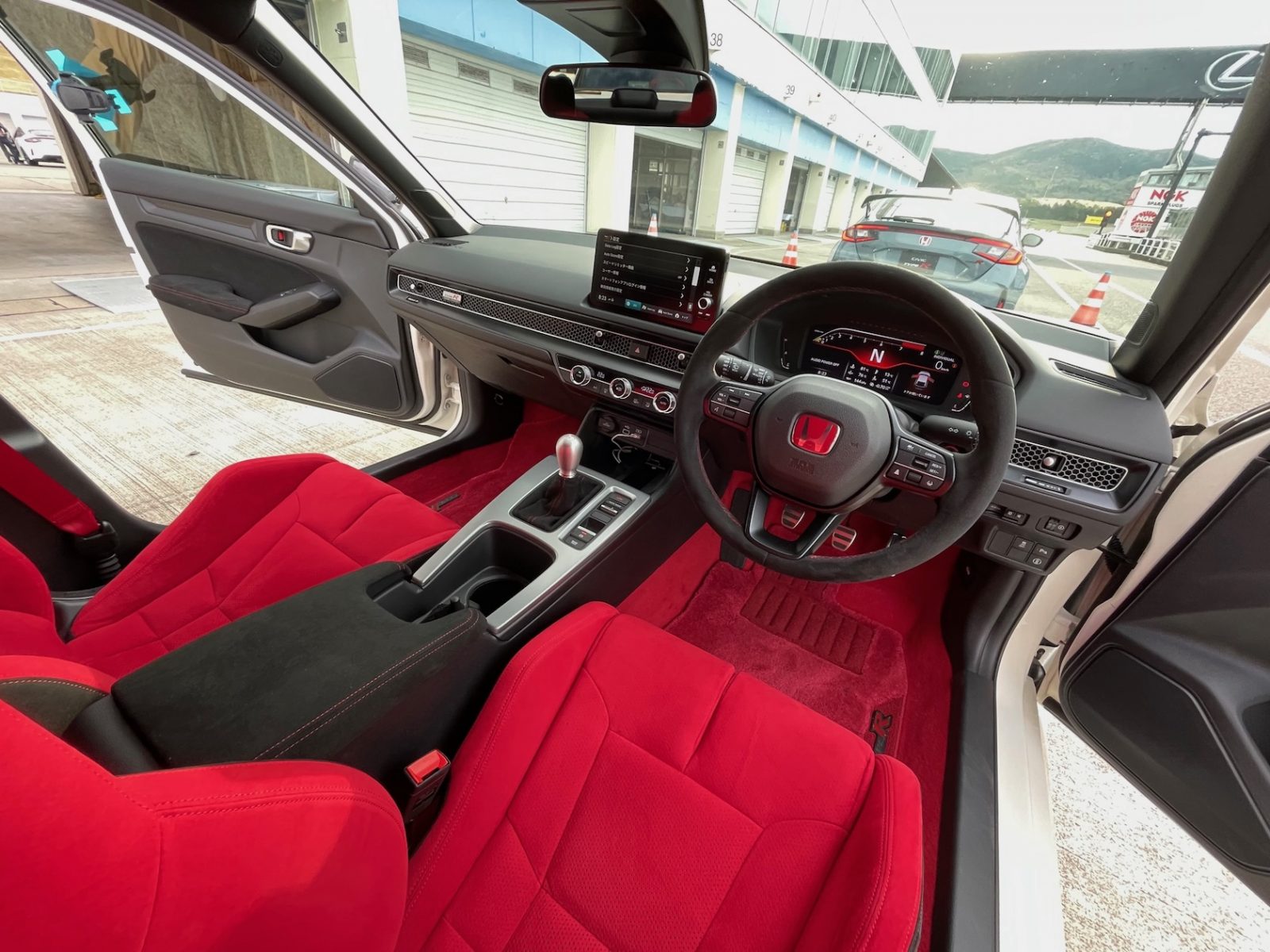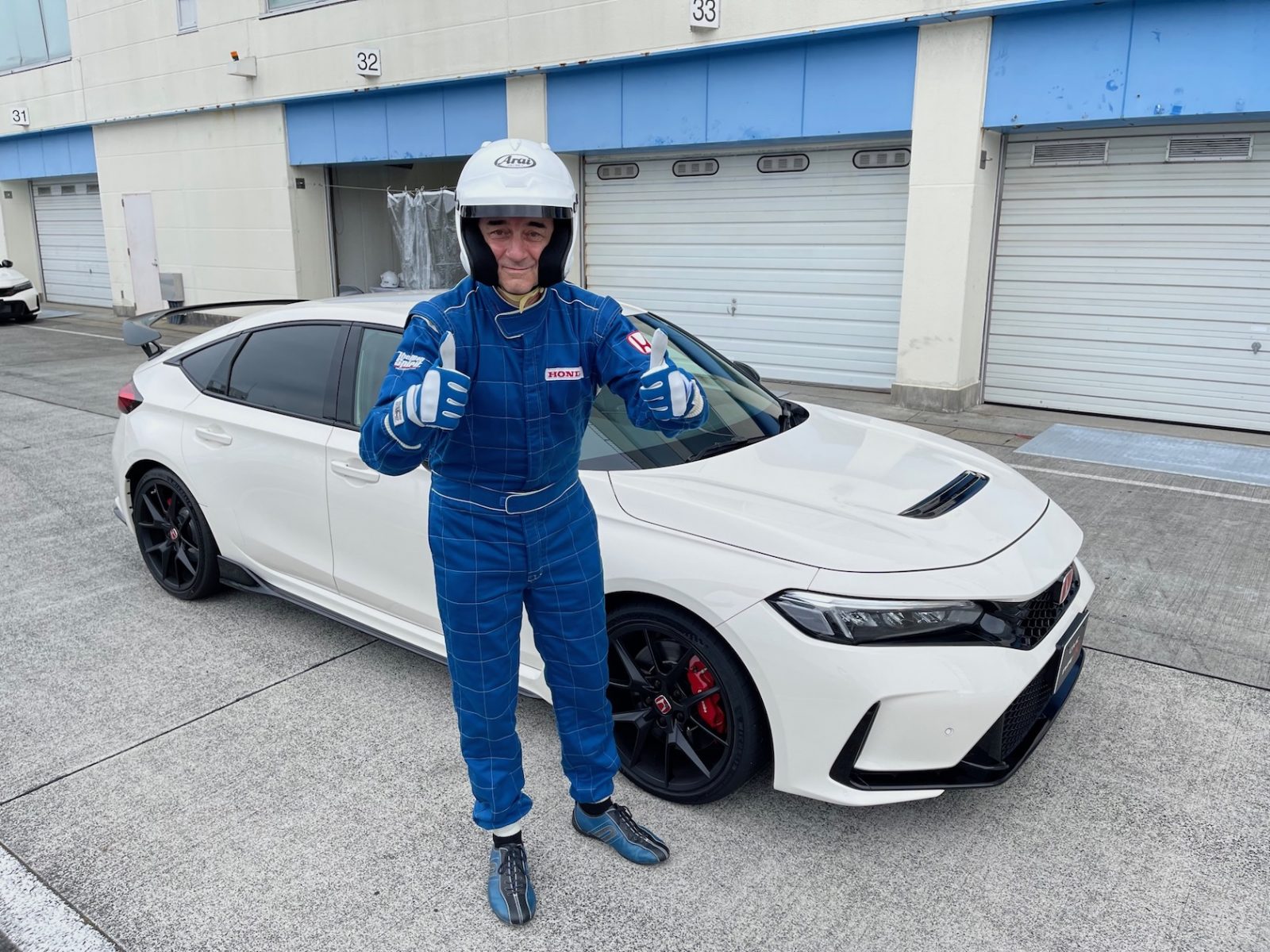 In the hot seat
Speaking of the Type R's engine, there is some good news about that too. This is the most powerful Type R powerplant ever—courtesy of its uprated 2.0-liter turbocharged four-cylinder engine. The unit gets revised turbo geometry, improved cooling and more exhaust back pressure to sharpen up its throttle response. It's married to that brilliant 6-speed manual gearbox, that I mentioned above, and pumps out 315-hp and 310 lb-ft of torque, increases of 9 hp and 15 lb-ft over the old Type R.
Extend your right foot aggressively and the tacho and race car-style digital rev bar climb quickly towards its 7000rpm redline, complete with blinking F1-style red gearshift lights. Power arrives in a constant, linear ascent, and defies its turbo roots, almost feeling naturally aspirated in the way it responds. Keep that turbo rotating between 3000 and 7000 and you'll have prodigious amounts of power ready for the taking. But because of revisions to the chassis and suspension, you're able to get that power down onto the tarmac better than ever before, a development that realizes quicker lap times.
The Type R's manual gearbox continues to use Honda's automatic rev-matching tech, which is now 10% faster according to Honda. Of course, you can switch it off if you prefer to heel-and-toe for real, but it works superbly when left on. In addition, the rev-matching feature helps to make day-to-day driving easier and smoother and is a helpful tool for those new to manuals.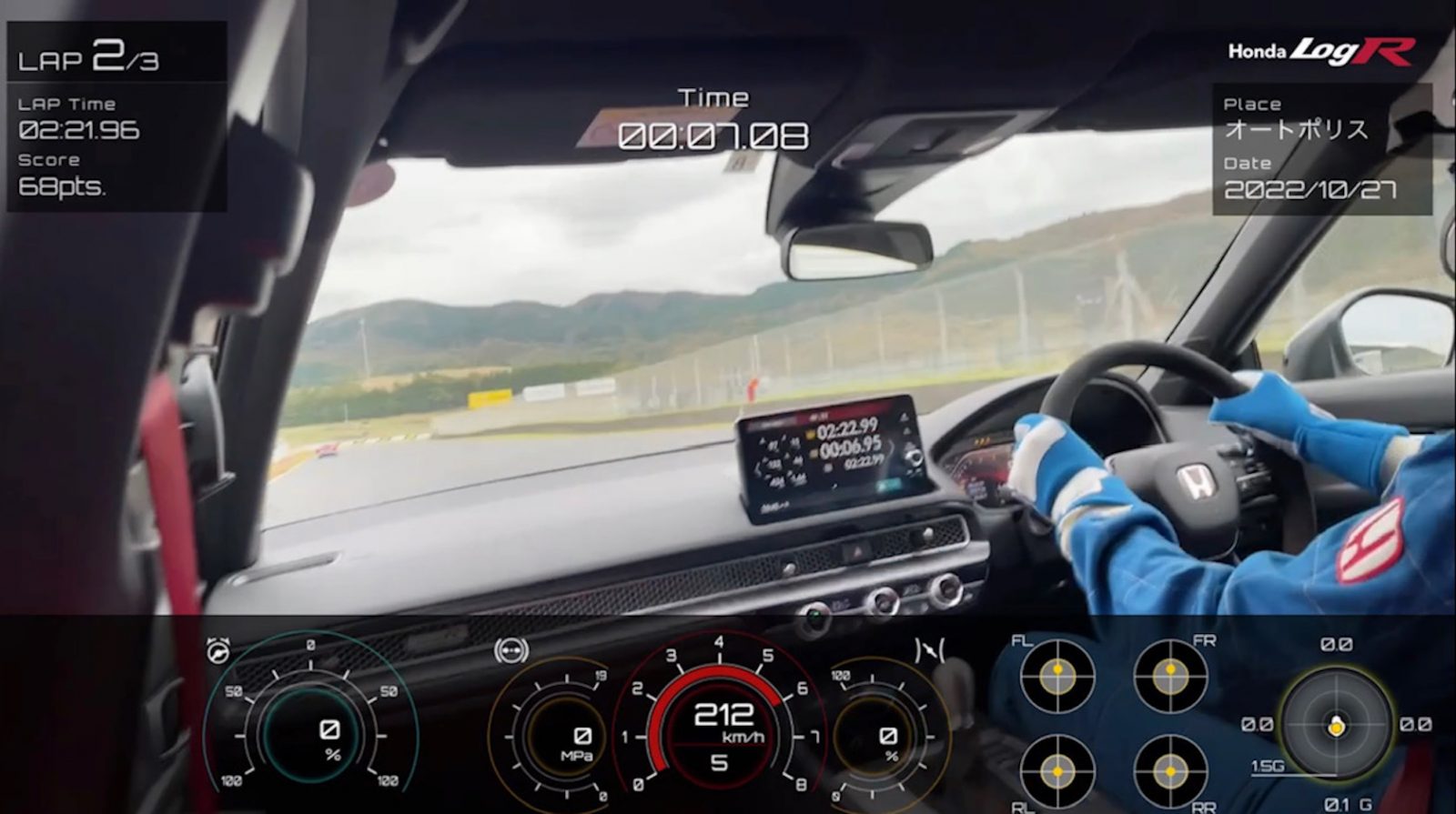 The race track is the only place to test the Type R properly
The Autopolis track was the ideal place to put this R through its paces. As I punched the brake pedal quickly and grabbed 3rd on entry to a 70mph right-hander, the R hunkered down with massive grip from the Michelin Pilot Sport 4S tires and then launched out of the exit with an almost overconfident "is that all you got?"
This car feels seriously quick, light, chuckable, and genre-beating. It just gets on with the business of driving as fast as you want but making the driver feel like a production car series racing hero in the process. It is very clearly in its element on a race track. But the ride does feel stiff. We took it for a one-hour drive on public roads and while the car can cope with bumps, tram lines and potholes, the Type R is definitely on the firm side.
The difference in off-the-line acceleration and cornering between the previous generation and the new model was eye-opening and grin-generating. The front suspension has been modified to provide improved traction and turn-in at the limits, while the rears squat nicely thanks to their reinforced rear rigidity, providing better around grip and quicker exits from corners.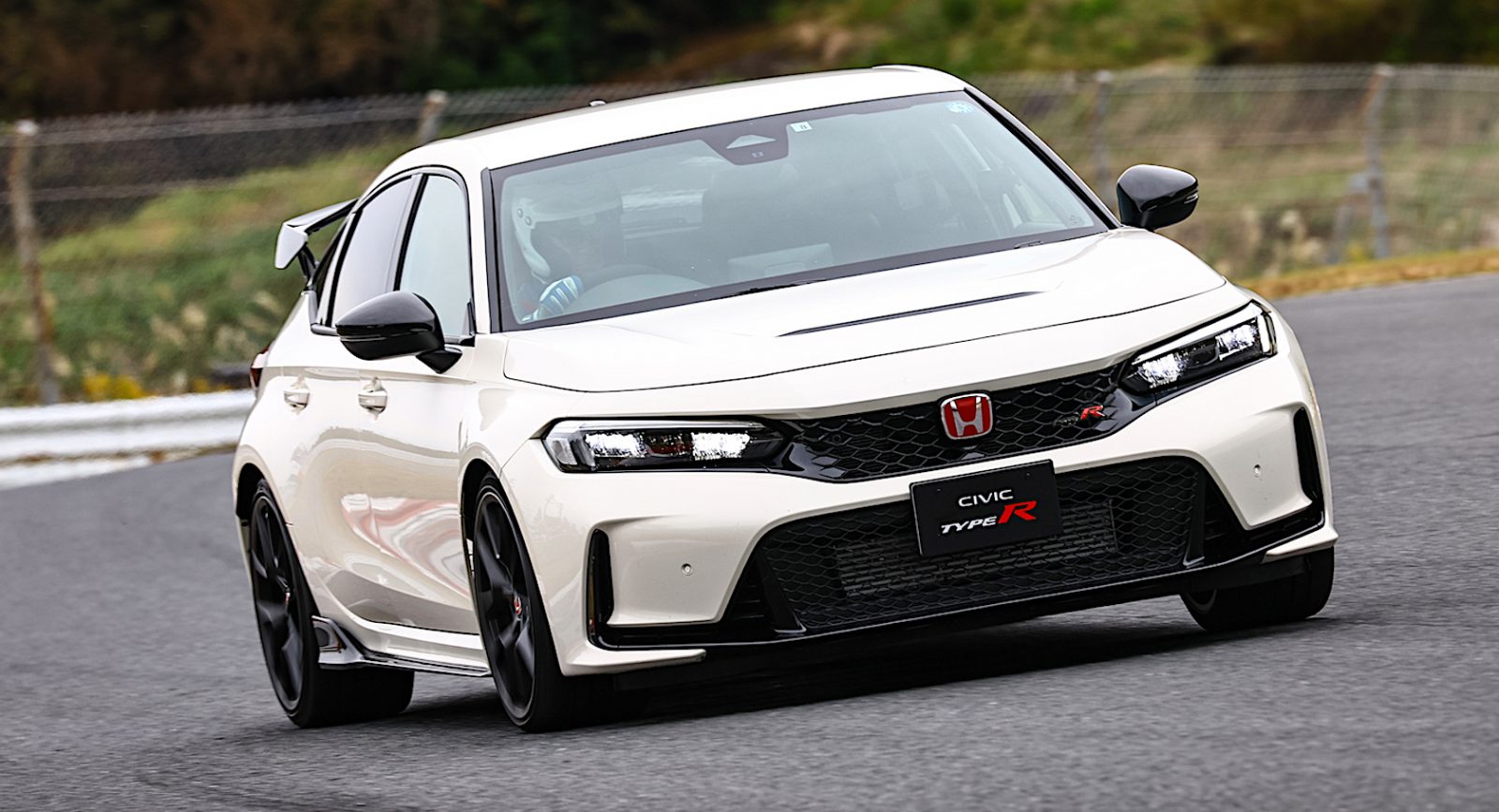 How quick are you?! Data Logger fitted to add thrills
To elevate the thrill level on track, Honda has fitted a data logger, aptly named "LogR." This device will time your laps, but more importantly, determine how good your driving technique is and then give you a score. During my test drive session, former Japan Touring Car and F3000 champion racer Akihiko Nakaya scored 96 points, the best score of the day. My score was a little lower as I was not nearly as familiar with the track as he was, or at least that's my excuse.
The only downside is that the Type R still doesn't sound as sporty as it should, even with the new model's improved exhaust flow and active valve design. If only the engineers had added as much aggression in the sound department as they have in the aerodynamics and interior styling departments. It doesn't bark, pop or crackle like a Toyota GR Corolla, Ford Focus RS or Hyundai Elantra N, and the synthetic exhaust note pumped inside through the speakers needs a definite tweak.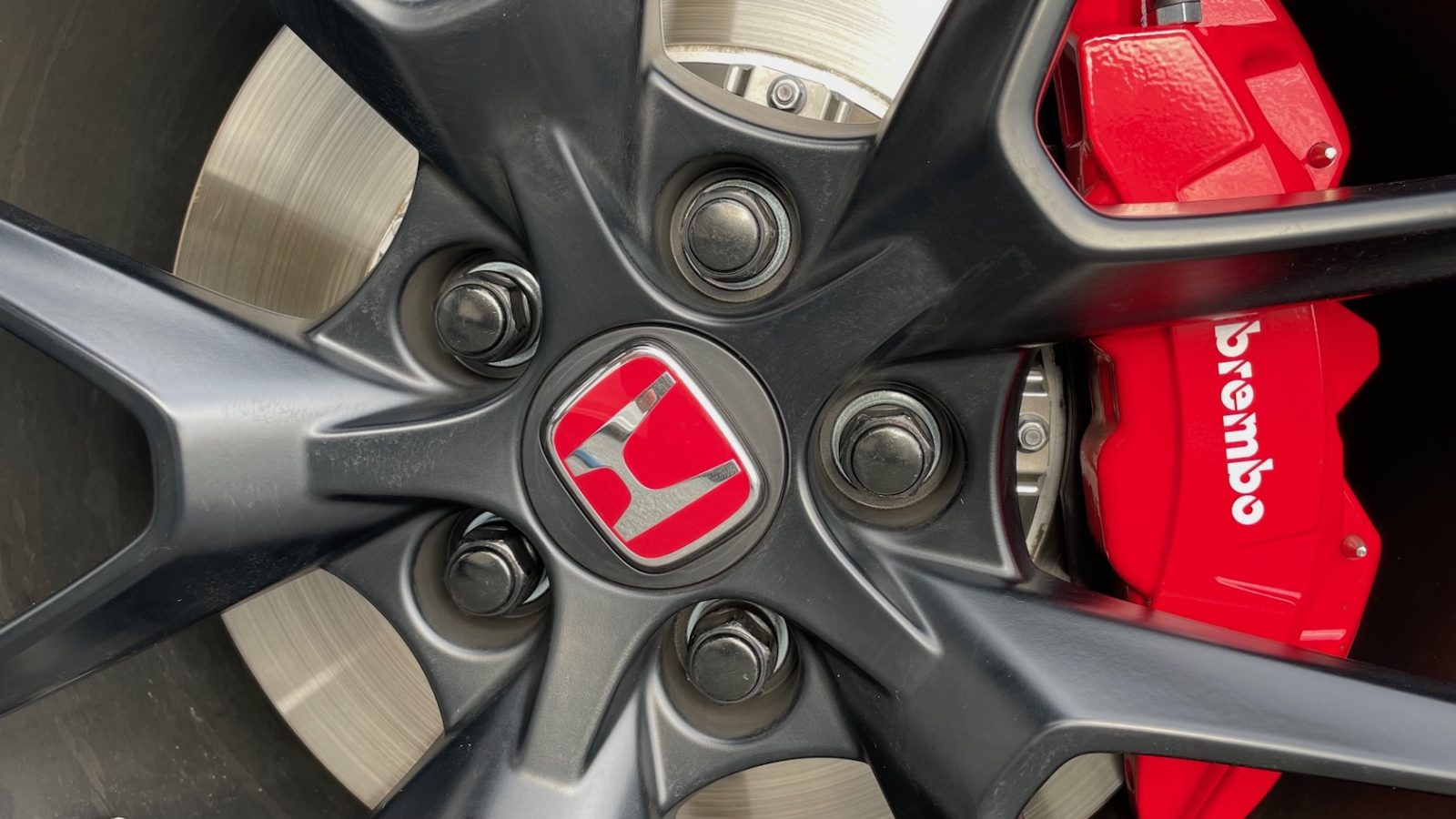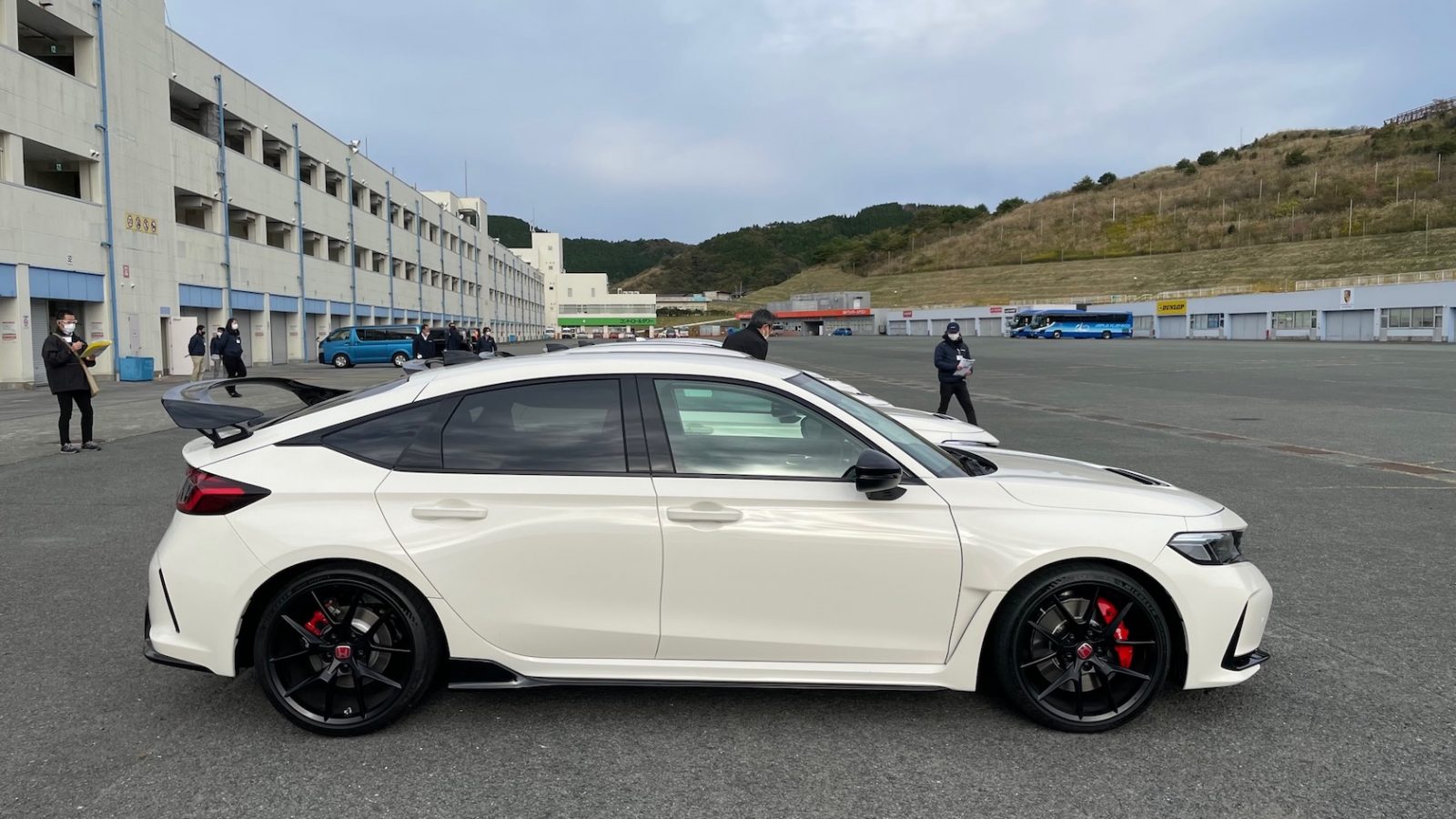 Expectations are high for the new model, as the previous generation became a hit, selling 47,200 units worldwide. As only the second Type R to land in the U.S., hopes are high for strong sales. I am saddened however with the knowledge that this will be the last gasoline version before Honda employs electrification in a big way.
CONCLUSION
Rivals from Toyota, Hyundai, and Renault, for example, will be the Type R's strongest competitors, especially since they significantly undercut Honda's $43,990 base price. As far as options go, the Type R pretty much comes like this straight out of the box. You can choose from one of two Michelin brand tires, including the more road-going friendly Michelin Pilot Sport 4S we used in Japan. Put up against its rivals, the Type R may be a little more expensive, but then again, if Honda can recapture the R's 'fastest front-drive car' title at the Nurburgring, then the extra status could be a deal-maker.