PROS
Gutsy 300 hp 3-cylinder turbo
Great rally-honed handling
Adjustable all-wheel-drive system
CONS
Not the prettiest of hot hatches
Only built in small numbers
Must keep revs high to maximize power
Toyota's president Akio Toyoda famously declared more than five years ago that "we will never make another boring car." That was a bold statement given that Japan's No 1 carmaker was still making Camrys, Corollas and Priuses. But one look at the 2023 model "GR Corolla" may change the way you think. Last week, I finally got behind the wheel of a GR Corolla RZ-spec and I have to admit, I was suitably impressed. The lads and lasses at GR have turned "boring" into "blast," because that's what the GR Corolla is like to drive.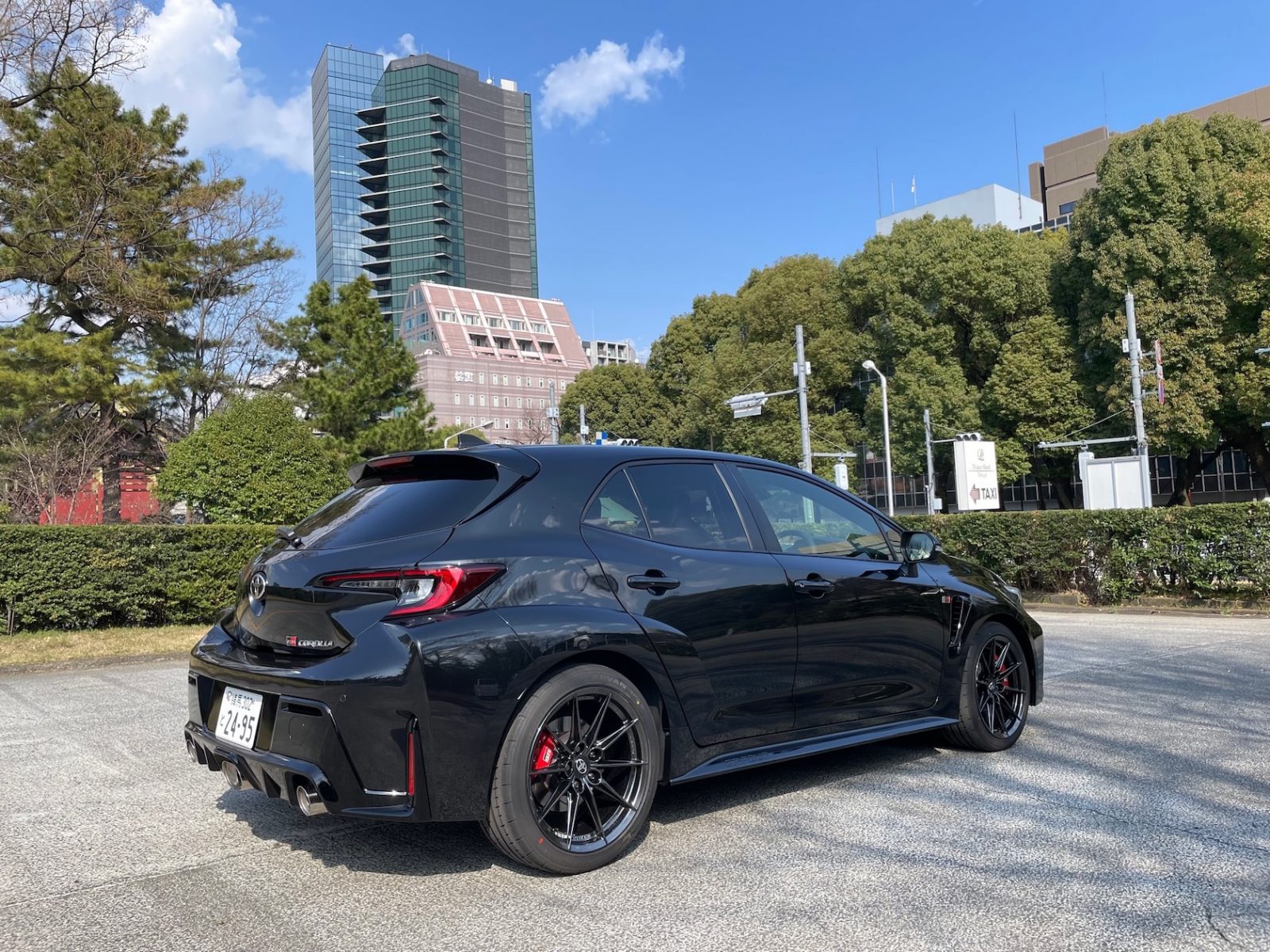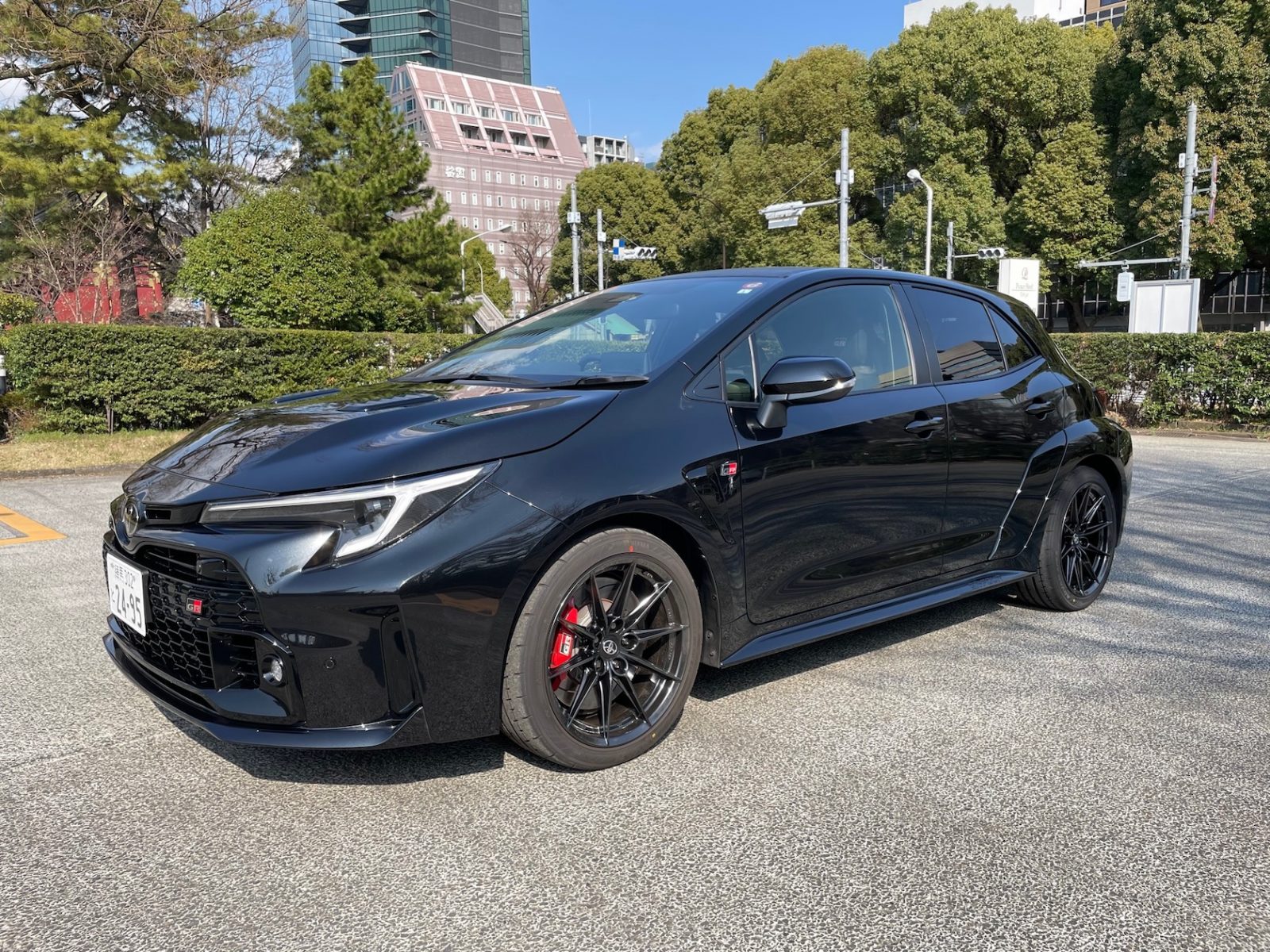 GR is short for 'Gazoo Racing' and is the name of Toyota's in-house global motorsport and tuning division which started operations in 2007 as an official Toyota racing operation with Akio Toyoda, then Toyota's vice-president, as a test driver. Back then, he was given the nickname 'Morizo,' which is engraved on the window of the top-performance version of the new GR Corolla.
Nothing like the GR Corolla has ever made it to US shores
Looking back over the years, we have seen many edgy exterior designs and high-performance versions of Toyota's sports models. The Celica and Supra are good examples. But the GR Corolla, with its muscular body, maximum output of 300 hp, all-wheel-drive, 6-speed manual, big brakes, and tires, 0-60mph in under 5.0 seconds, and starting from an MSRP of $35,900, is completely different from anything Toyota has released before–in the U.S. at least.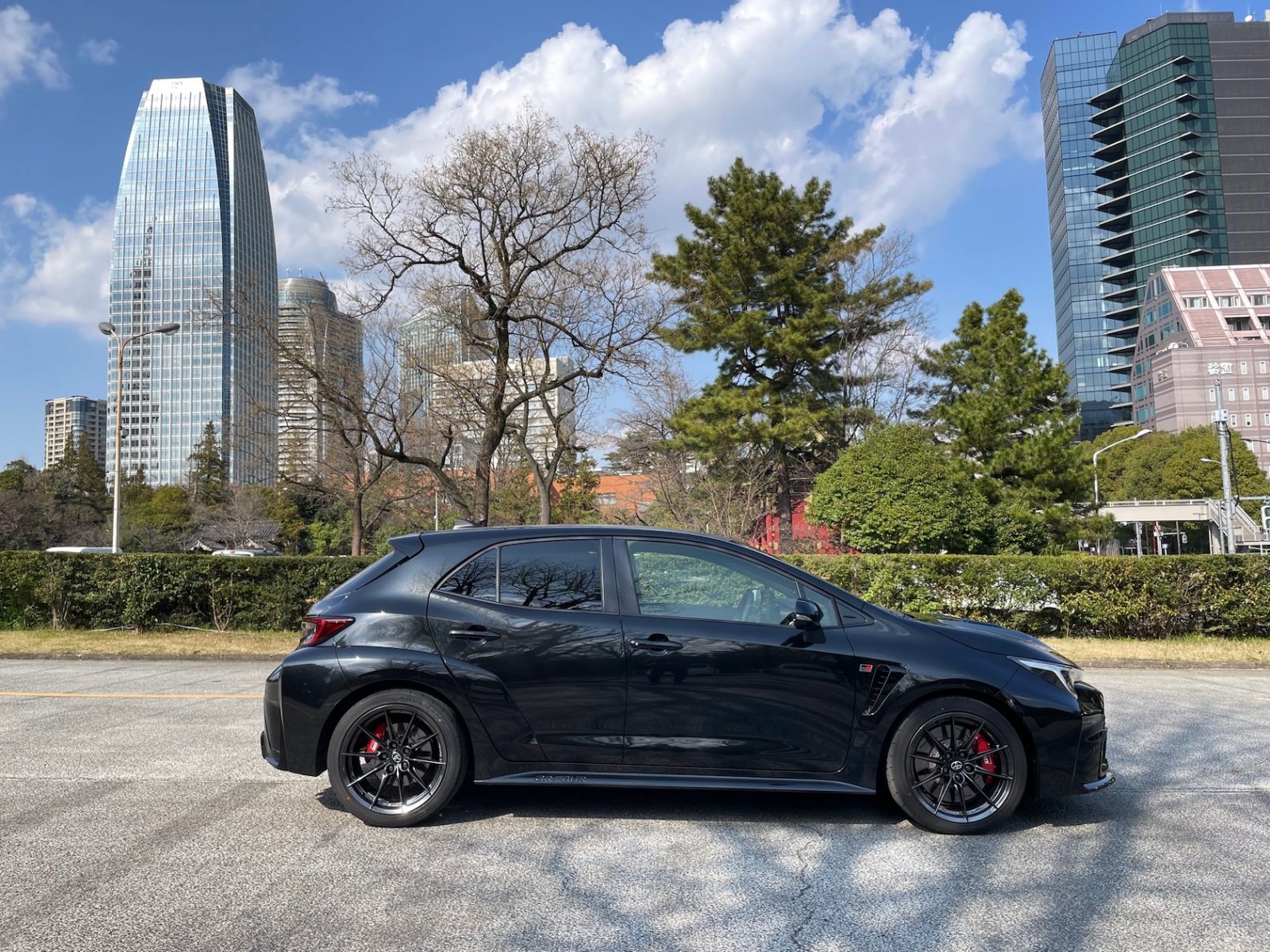 Ten years ago, if I had told you that Toyota's best-performance car was a Corolla, you'd have asked me what I'd been smoking. The world's best-selling affordable Corolla has undergone a major transformation, now offering an over-the-top hot hatchback version. Why did Toyota build it? Simple. The GR Corolla is a direct response to customers asking for a hot hatch in North America.
But how did this sports car story begin? It all started with the Sports 800 in 1965, followed quickly by the legendary 2000GT (of James Bond fame) back in 1967. Then came the first Celica in 1970, the first Supra in 1978, the Corolla AE86 Levin of 1983 that sparked the 'drifting' craze, the MR2 in 1984, and the MR-S in 1999, just to name a few.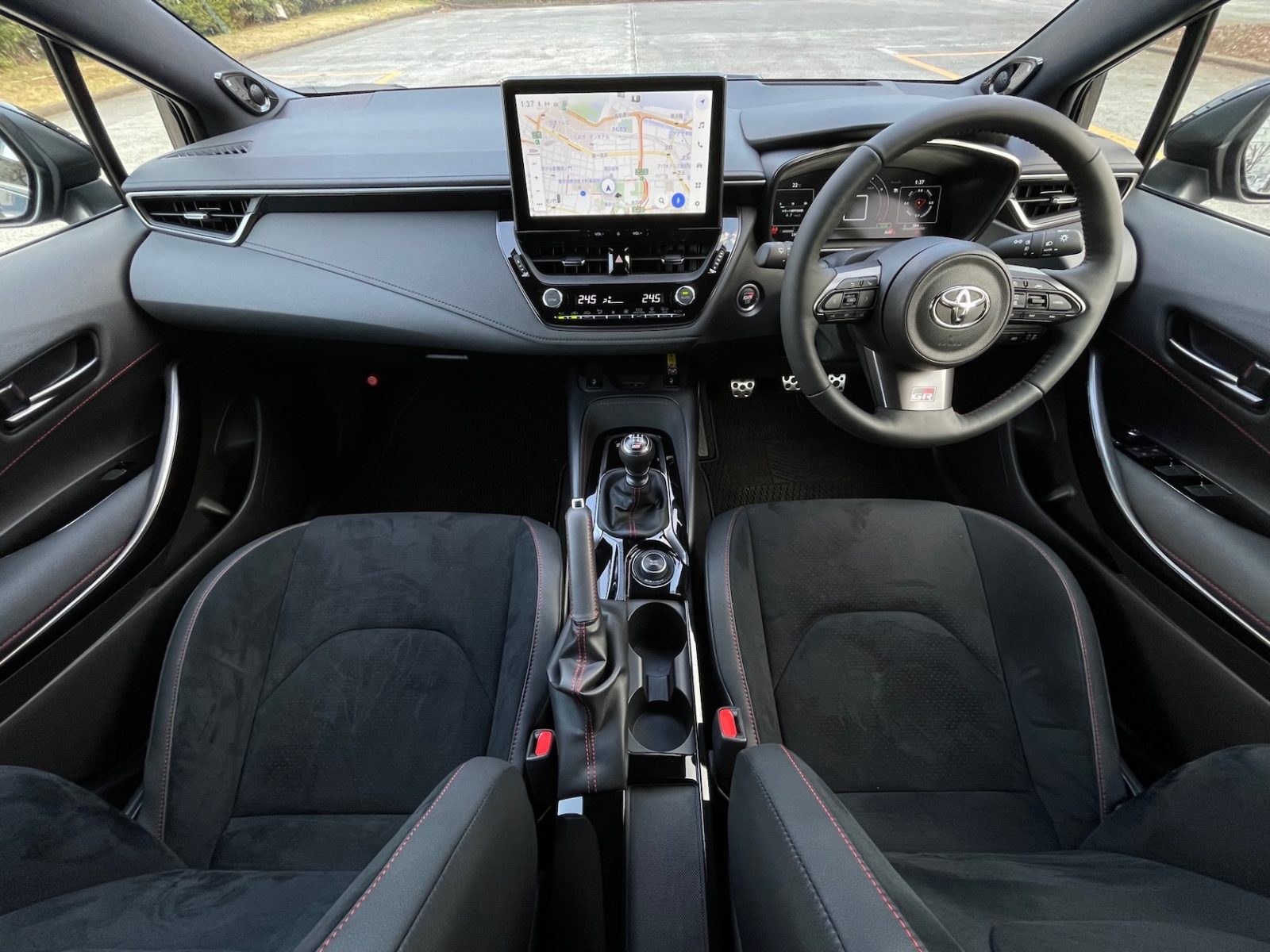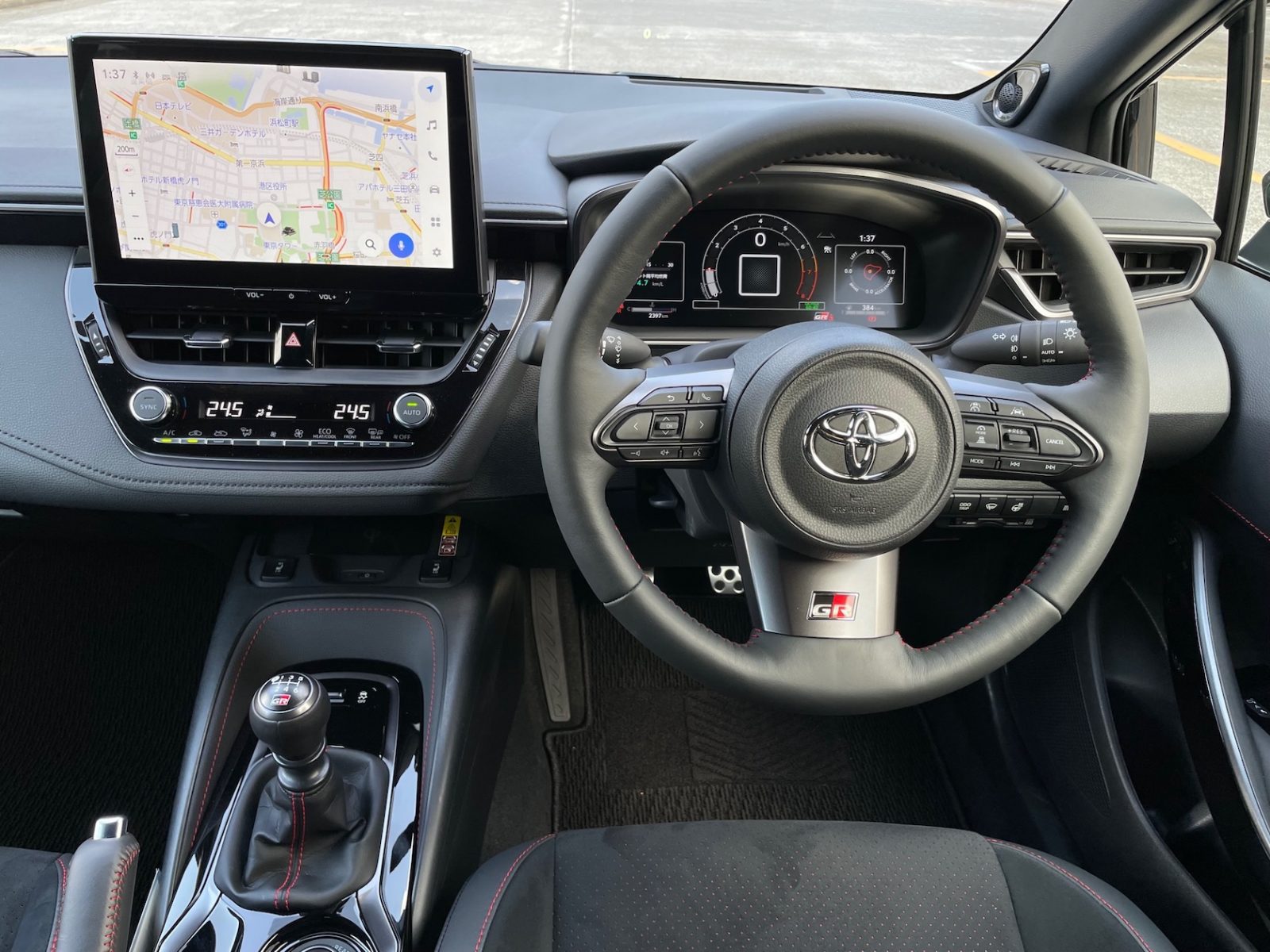 Toyota has strong lineup of sports car heritage
Debuting in 2012, the original Toyota 86 (called GT86 in the US) was the first step to reviving the brand's sports car heritage. Then in 2021, its successor from Gazoo Racing, the GR86, was born. Two years earlier, to strengthen the GR brand, the GR Supra, with even more power, was launched to inject some fun into the U.S. market. Hardly known in the U.S. but highly praised in Europe and Japan, the tiny 2020 model GR Yaris, which won all kinds of awards in Europe, showed that Toyota had not forgotten how to make a ballistic hot hatch.
Now in 2023, the GR Corolla joins the Gazoo lineup making it the fourth installment. And dare we say it—but we think this one offers the most thrills of any GR model yet. While the body is based on the Corolla Sport, most of the exterior parts are bespoke. To be blunt though, the exterior with its sharp edges and massively flared fenders and wheel arches is not pretty, but functional and aerodynamic. This is a car that means business. The black matte honeycomb grille is the biggest we've ever seen on a Corolla and is basically there to feed air to the engine and intercooler while the side air intakes act to channel air to cool the brakes.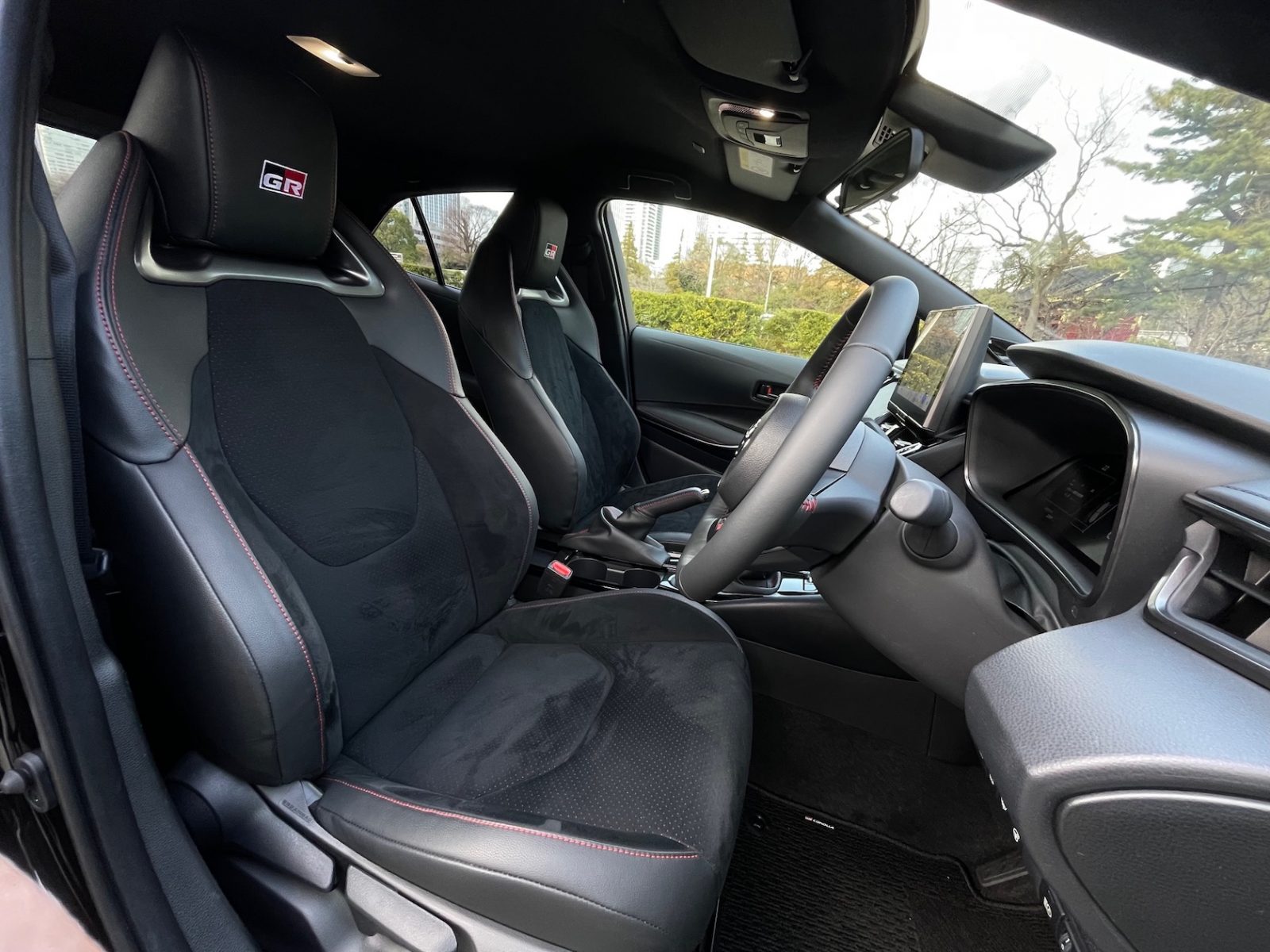 Exterior styling is not pretty but functional
The hood is equipped with twin air outlets to further enhance turbo efficiency. Unlike many sports cars today, all of the air vents and scoops we see on the GR Corolla are functional and boosts the car's performance. And of course, there are parts that elevate a driver's pulse rate like the chrome-plated three-piece exhaust setup and rear diffuser, sticky 18-inch Yokohama Adan tires, blacked-out wheels, and red 4-piston brake calipers with slotted rotors.
Jump behind the wheel, and the car lets you know in no uncertain terms that it's ready to rock'n'roll. Cabin color tones are available only in black, with dark grey for the dashboard, door trim, seats, and carpets. You get a thickish leather steering wheel with red stitching and GR badges and that theme is mirrored in the seats, stick shifter, and hand brake too. A large 12.3-inch LCD instrument display is specially designed to give you all the info you need when setting your car up for some track or dirt shenanigans.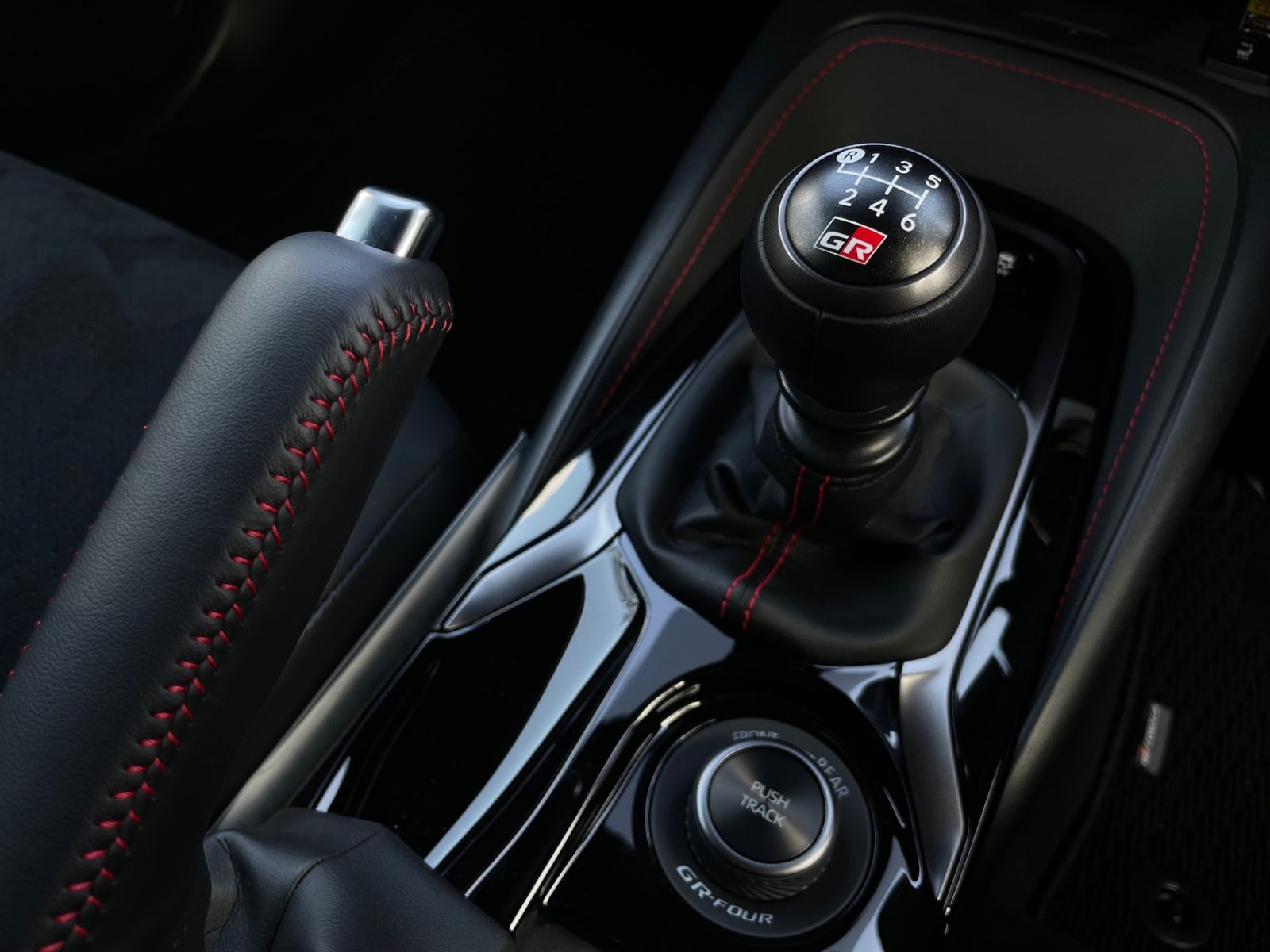 The GR Corolla's 1.6-liter three-cylinder turbo is essentially the same unit as that in the GR Yaris, but with 32 more ps (up to 300 hp) and 273 lb-ft of torque. But interestingly, even with the slight difference in power output and weight, the GR Yaris and GR Corolla have almost identical 0-60 mph times of 4.9 seconds. However, due to the Corolla's somewhat slower turbo boost response, power does not reach its peak until over 3,000 rpm, which is actually almost twice as slow as the Hyundai Veloster N.
The 1.6-liter turbo pulls hard to 7200 redline
Also, with the GR Corolla, you have to rev it to 6,500 rpm to reach maximum output, which means you'll be busy flexing your right boot to keep that turbo spinning. But from there, it'll make you grin when it pulls hard all the way to the 7200 redline. The car's tastiest zone is just under the redline in third and fourth gears. The more you rev this engine, the more it comes alive, so without realizing it, you find yourself trying to squeeze that little more out of it, especially in 2nd and 3rd. And every time you do, it responds like a Pit Bull being asked if it wants dinner.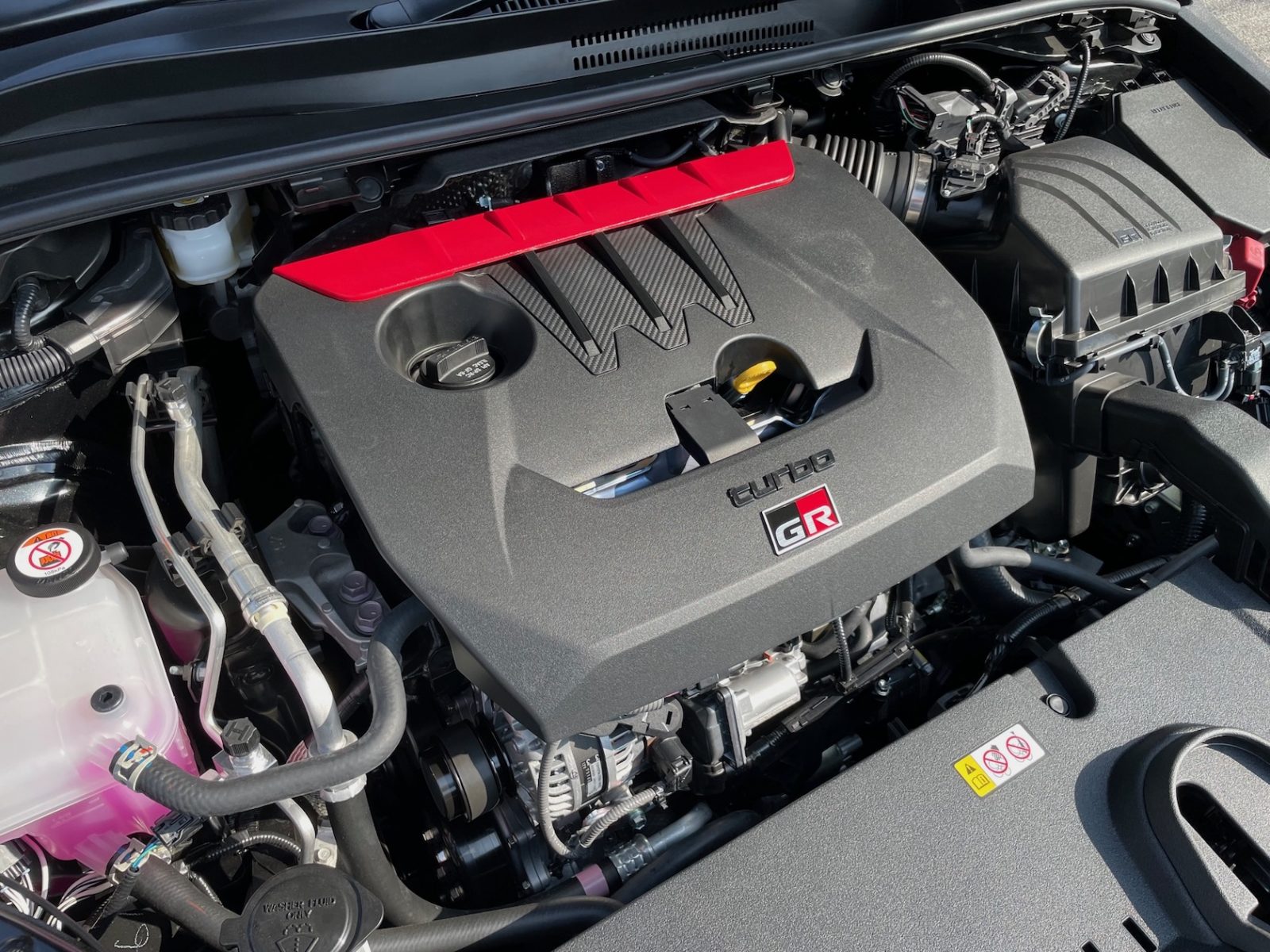 As you'd expect from such a high-performance hatch, that employs rally-bred technology, the only transmission offered is a 6-speed manual with superb, tight mechanical action and nice short throws. In particular, first, second, and third gears click into place and the short And with a brilliant rev-matching system, there are no more failed heel-and-toe maneuvers for those of us who are not rallying legends.
The GR Corolla's all-wheel-drive system is a revised version of Toyota's well-known 'GR-FOUR,' which has been honed in rallying making its cornering performance unparalleled in the segment. A dial on the center console allows the driver to select their amount of front/rear split from '60:40′, '50:50′, and '30:70′. Its default setting is 60:40, which leads the Corolla to corner more like a front-drive car. Flick it to the 30:70 rear-biased mode and you'd better be ready for some tail-happy thrills as a quick squirt of the throttle will get your rear end out of joint quicker than you can say "Gazoo Racing." However, being a true road-going rally car, the 4-pot brakes offer generous amounts of stopping power while the ride is stiff to say the least but compliant with very little body roll.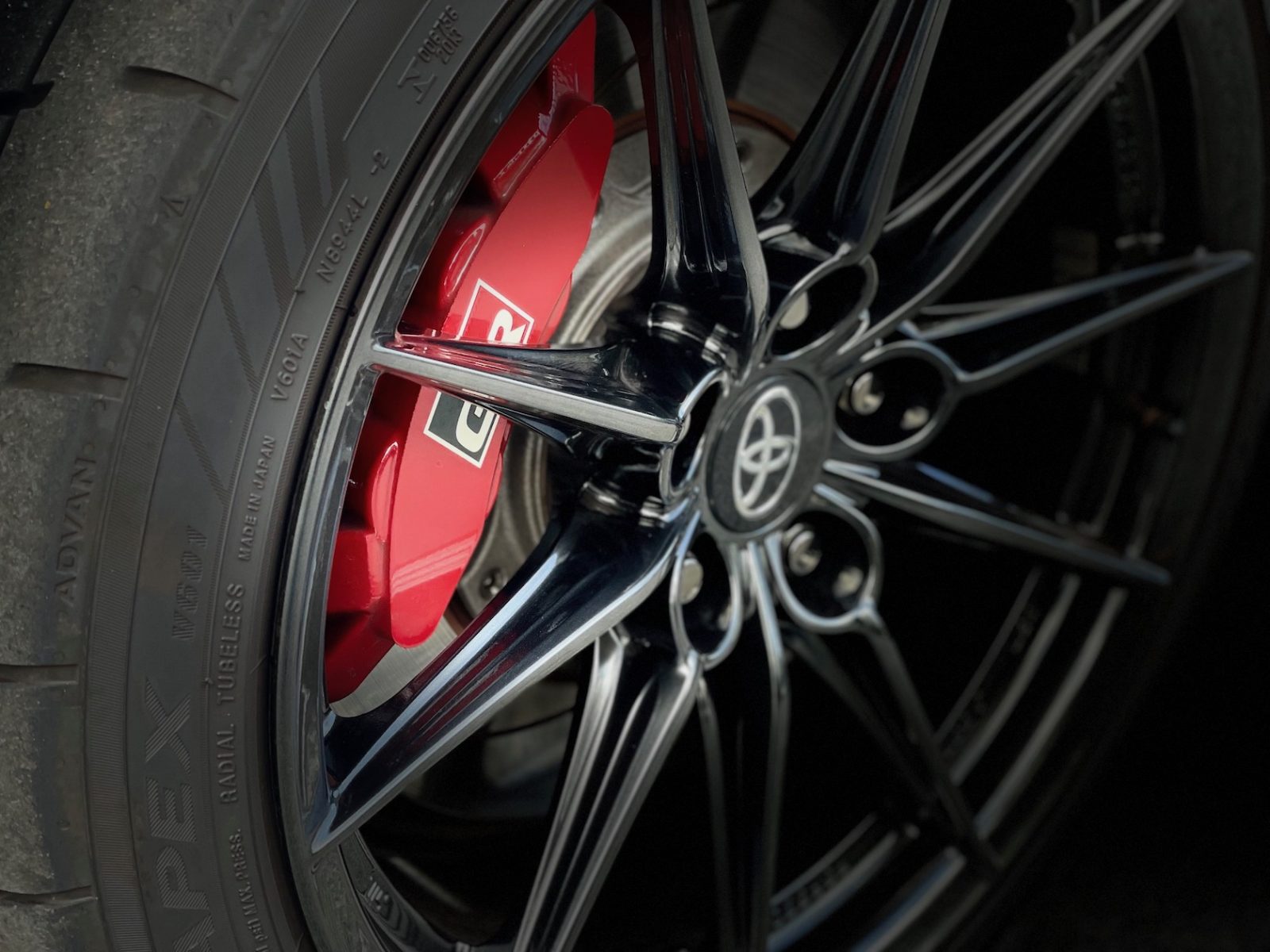 Its rigid chassis and circuit-specific tuned suspension make exiting corners very stable and predictable even in rear-biased mode. The steering delivers perfect weight at speed and pinpoint accuracy entering and exiting bends. As you get more and more used to piloting this AWD street-legal rally car, you will be able to delay your braking while getting back on the gas quicker than the previous corner. This car instills prodigious levels of confidence in the driver and sounds good doing it.
CONCLUSION
The 2023 GR Corolla has edgy, muscular looks but delivers more function than flair, something that most buyers will be happy to hear. Its punchy 3-cylinder turbo and excellent handling make it a blast to drive and with a starting price of just $35,900 for the base 'Core' trim, this hot hatch is sure to give its rivals a run for their money.