Chinese EV maker Xpeng's X2 5th-gen prototype flew over Dubai's skies last month
The 6th-gen model will look completely different from the 5th-gen and feature four wheels and a bespoke roof propeller compartment
The final production version will fly for 35 minutes and can fully charge in 3 hours.
Last month, Chinese electric vehicle manufacturer Xpeng launched the latest version of their first-ever flying car—the two-seater X2—a vehicle they claim will be the world's first flying car that can drive on public roads and fly, given enough space to take off. The electric vertical and take-off and landing (eVTOL) vehicle has gone through six generations so far and is nearly ready for production.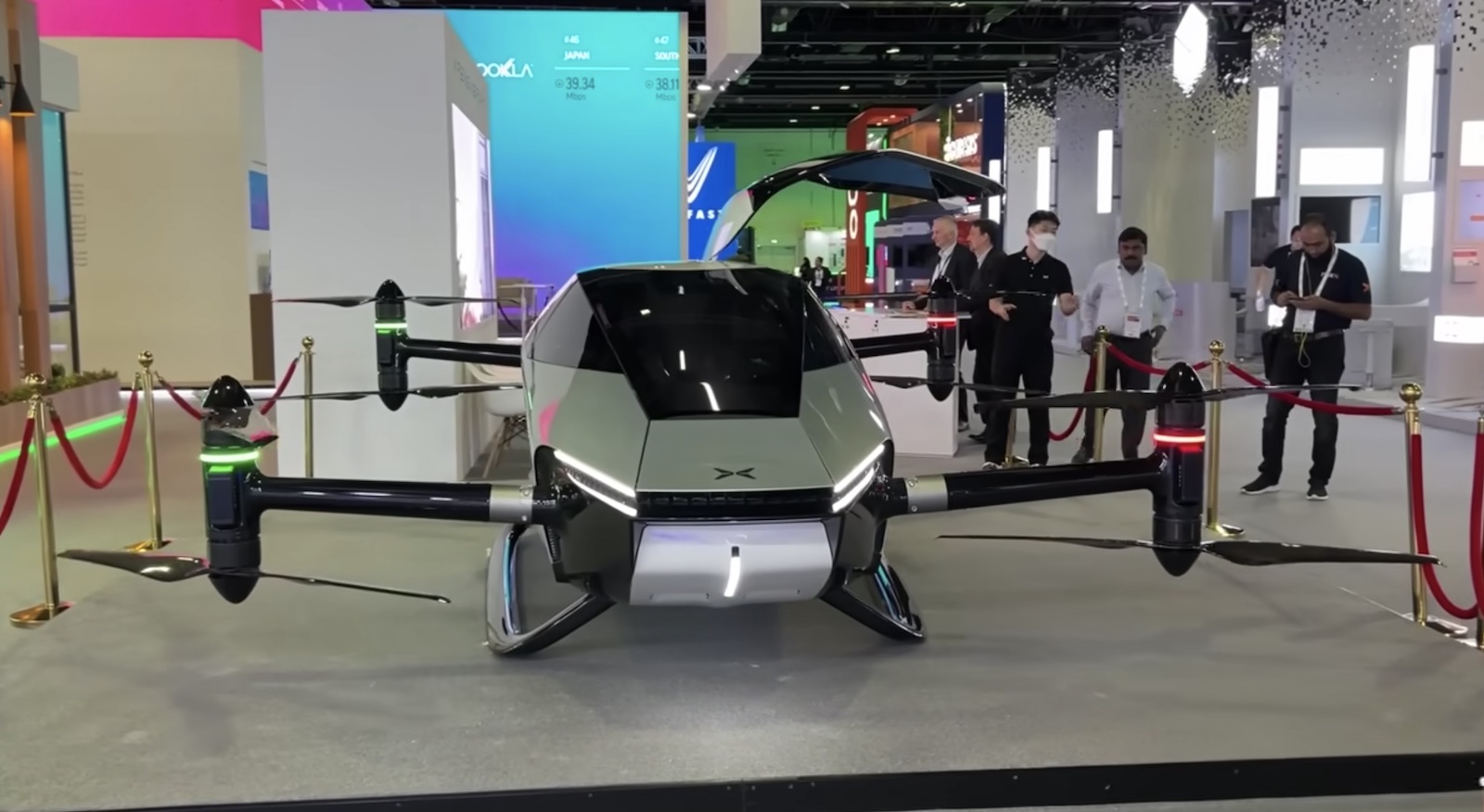 The 5th generation drone-like, wheel-less flying machine—called the X2—which took to the skies over Dubai last month at the GITEX Global tech show, is however a precursor to the finished product—the significantly upgraded 6th generation X2 which will have four wheels, a car-like body and four sets of propellers that fold neatly into a bespoke roof structure.
Slated to debut in production form in 2024, the flying X2 that appeared in Dubai is merely a prototype that will soon morph into a stylish two-seater car that can deploy its propellers in a matter of minutes and take to the skies. The Dubai event marked the X2's first public display after completing its specific operations risk assessment and achieving a special flying permit from the Dubai Civil Aviation Authority. Over 150 media and industry people witnessed the demonstration flight, which took place on the opening day of the GITEX Global tech show at the Dubai World Trade Center.
The prototype has two lightweight gull-wing doors and slim headlights that are styled like a supercar while the windscreen angle is steeper than that of a Lamborghini Aventador.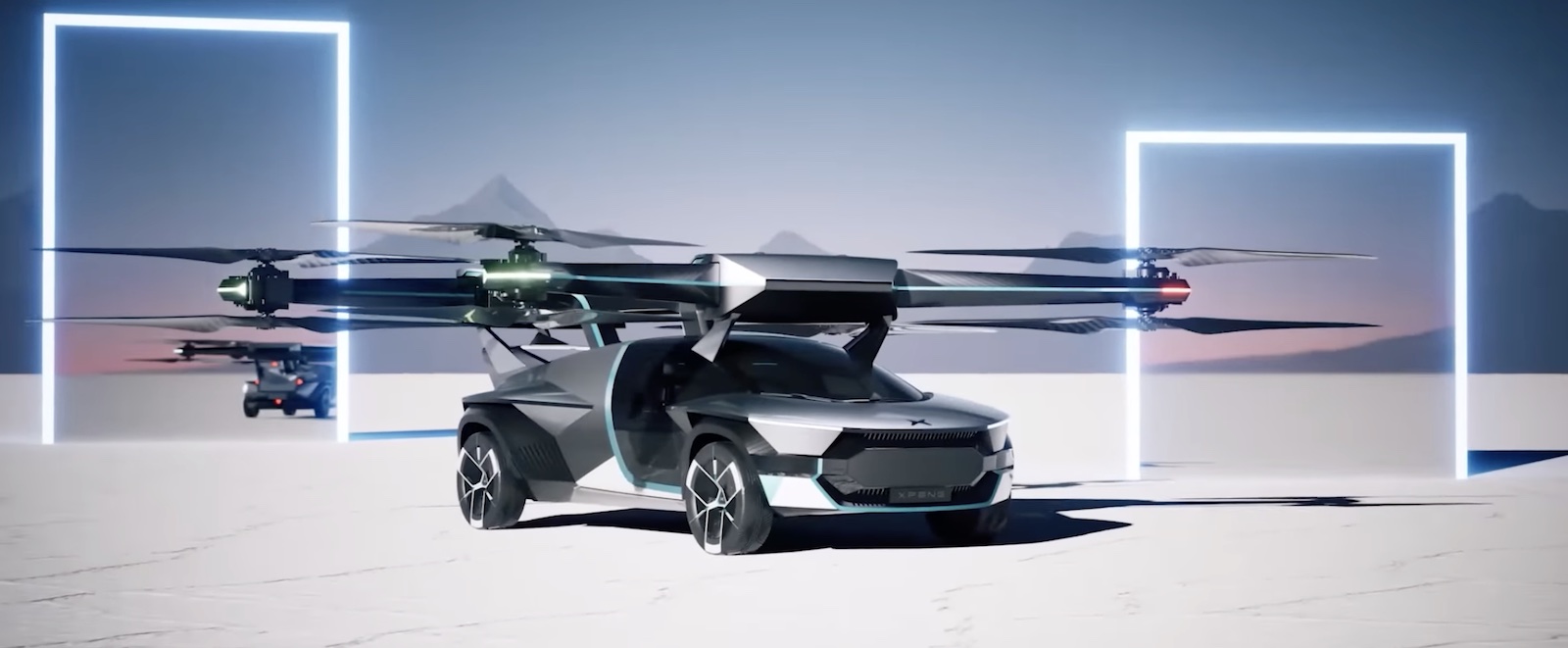 Inside, the 5th-gen X2 prototype has no controls, but the final 6th-generation model, which will transform into a car, will offer two driving modes: autonomous and manual, which will require actual driver input from its cockpit controls. The Xpeng machine will be fitted with materials often employed in luxury cars including Alcantara, carbon fiber, aluminum, and ambient lighting while incorporating a starter switch, camera, and fighter jet-style toggle switches on the ceiling. It also has an iPad-sized center touchscreen that shows everything from climate control to vehicle, motor, and propeller status, battery range and flight time.
Some of the hardships encountered during development included flying a car that weighs nearly two tons (@ 4,400 lbs) and working out how to deal with the significant amount of inertia. Another issue was how to manage the NVH levels inside the car, making it a pleasant experience for passengers.
If you flip a switch inside the grille, you will open what seems like a small hood, but underneath that hood, you will not find a small luggage space but the vehicle's charging port instead. It takes around 3 hours to fully charge, but once it's juiced up, you can fly it for up to 35 minutes.
The X2 has 4 sets of propellers which are fully exposed and made out of carbon fiber to save weight. In fact, the whole vehicle is constructed out of carbon fiber and tips the scales at just under two tons.
From the driver's point of view, red LED lights have been integrated into the left-side propeller shafts while green lights are inlaid into the right-side shafts—this is a safety feature so that other flying vehicles know which way you are flying. The XPeng X2 is a flying car designed for future low-altitude city flights, especially short-distance journeys such as sightseeing and medical transportation.
As to whether the X2 is really the first-ever flying car may be debatable, given that companies like Aeromobil, Terrafugia, Joby Aviation, EHang, Alauda Aeronautics and Kitty Hawk have all developed flying cars and have working prototypes. But given that Xpeng claims the X2 is the first that can fly and drive like a car on public roads, then we will give it the benefit of the doubt.
When the X2 finally goes on sale in 2024, expect a price of between $126,000 and $236,000.
OUR THOUGHTS
The X2 has gone through many stages to reach the 5th generation prototype that we saw flying over the skies of Dubai last month. As a perfect illustration of just how fast the eVTOL industry is developing, that X2 prototype is basically already obsolete and will have little bearing on what the final 6th generation model looks like or handles. For example, the final production version will have four wheels and a special bespoke propeller retractable roof compartment which the 5th generation does not have. We will save judgment until we see the 6th generation in flight, but the final X2 looks very promising indeed.