Nissan revealed a physical version of the Max-Out EV sports car ahead of its Nissan Futures event from February 4 in Japan
The Max-Out was actually part of a 4-pronged EV lineup launched in virtual form back in 2021
Back in 2021, Nissan said it would develop 23 electrified vehicles through 2030
Nissan has shown us several eye-catching electric concept cars over the past decade, including the wacky BladeGlider of 2016. Then, in 2021, the Japanese carmaker shared renderings of four EV concepts boasting suitably outrageous names like Chill-Out, Surf-Out, Hang-Out, and Max-Out as part of its plan to invest $17.6 billion in next-generation EVs and battery technology.
Earlier this week, the brand finally showed a real-world physical version of its EV convertible Max-Out ahead of its Nissan Futures event in Yokohama beginning on February 4. What's significant about this coupe is that it's the first physical version of an EV sports cars concept that originally appeared in digital form.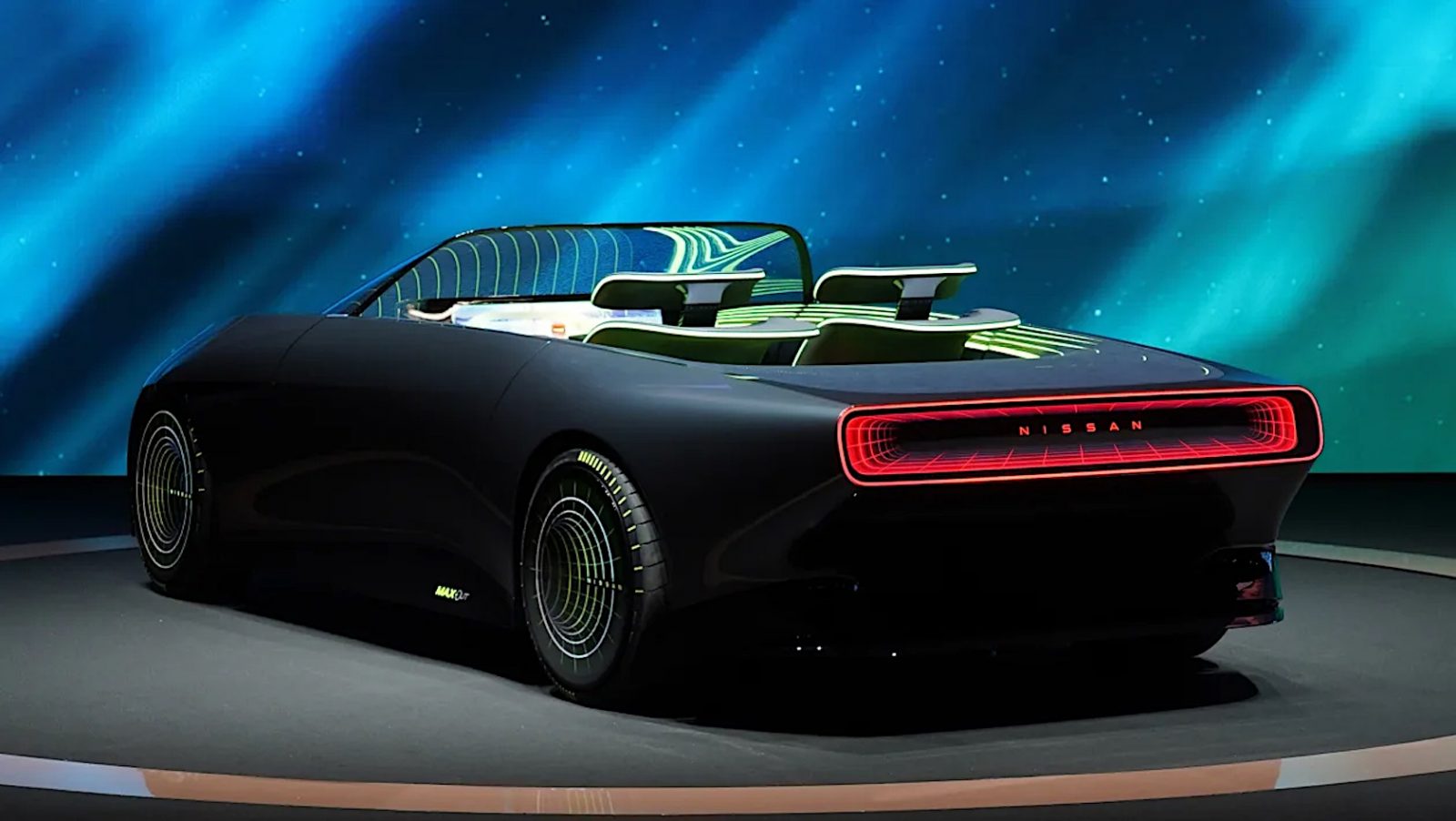 This part futuristic, part retro-designed two-door convertible offers a vision of how the brand sees an electric coupe of the future. Its simple, flowing design employs a rectangular grille that seems to take inspiration from the grille on the new 400-hp Nissan Z sports car launched last year. In addition, three-dimensional lighting units are used on the nose and tail, and the wheels are covered in illuminated covers.
The interior is equipped with a full-width digital display that features holographic elements at each end. The cabin features a pair of animation-inspired seats and a central screen that dominates the area where a normal fascia would be.
Nissan GT-R fans are likely watching closely. There are hints that a GT-R successor is coming and that it will be electrified. In December 2022, Nismo CEO Takao Katagiri said that Nissan was developing a new sports car that would be available as a hybrid or in other electrified formats. It will first be sold in Japan, followed by North America, Europe and the UK.
Nissan sources are tight-lipped about the production potential for the Max-Out. But the Japanese brand is showing the physical concept at its headquarters in Japan, as part of an event to showcase how it is "shaping the future of sustainable mobility and innovative design".
When Nissan showed us the four EV concepts in 2021, the company said it would develop 23 electrified vehicles through 2030, with 20 of those coming to market by 2026. The firm stressed that it wants 75% of its portfolio to be either hybrid, plug-in hybrid, or battery-electric in Europe, 55% in Japan, and 40% in the U.S. and China by 2030.
The fact that the Max-Out was originally shown under the banner 'Nissan Ambition 2030' also buys Nissan several years in which to build any production car inspired by it; that means that it could feature next-gen electric motors and potentially even forthcoming solid-state battery technology, which offers greater range and quicker charging.
OUR THOUGHTS
Nissan says the car will provide a "liberating sense of openness," and that despite a normal set of pedals, and a not-so-normal steering wheel, it has (according to Nissan) been designed to offer "a new driving experience with stability and comfort, tight handling and limited body roll." Hang on. Tight handling and limited body roll—sound like just about every high-performance EV out there right now actually, but we'll reserve judgment until we can test the prototype. Let's just hope that can bring something like this to market without toning it down too much.