American car buyers are purchasing Japanese autos faster than ever before. Why? The weak yen, or should we say the strong dollar. The yen has weakened by nearly 13% against the dollar this year, making Japanese car prices far more appealing to many buyers. Because a weaker yen means Japanese exports are cheaper for American buyers.
Japanese automobile exports to the U.S. have surged this year. They were 50% higher, in yen terms, during August compared with the same month last year — and it was the seventh straight month of double-digit gains.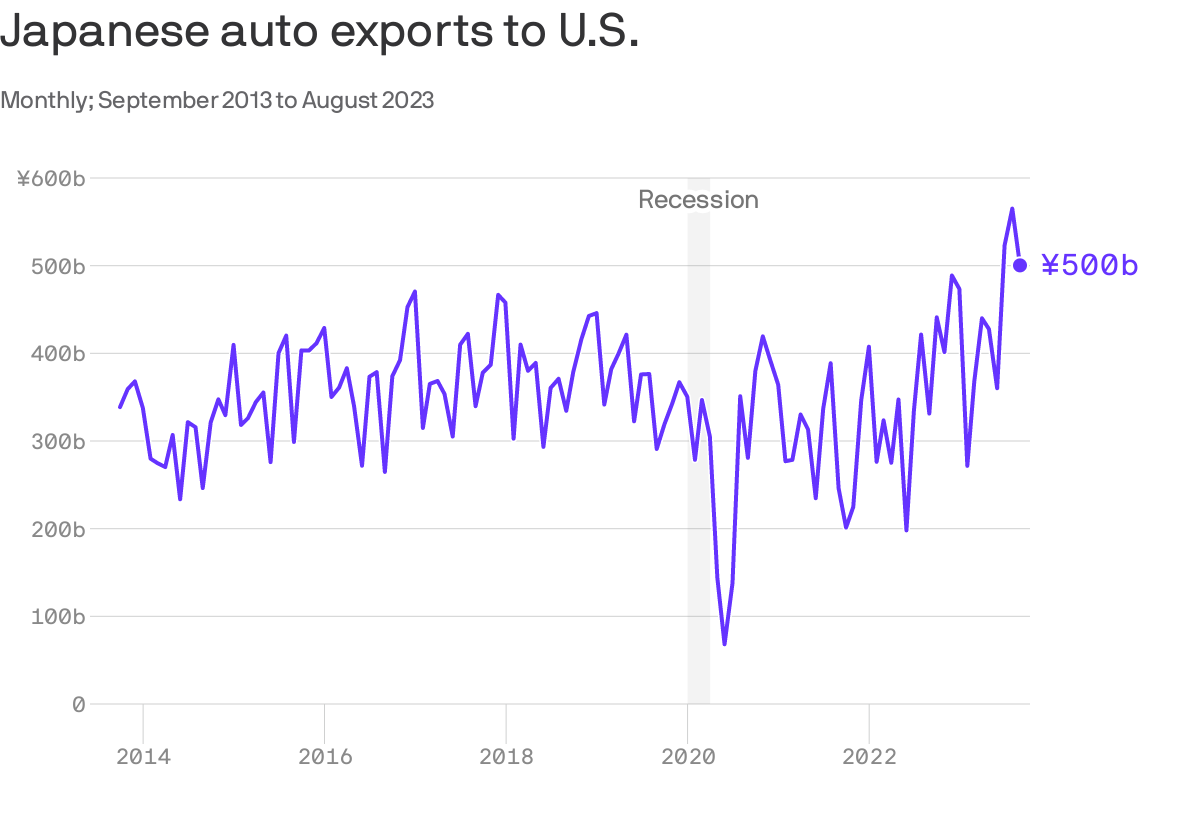 Japanese carmakers are enjoying the current situation, with shares of Toyota Motor up 54% this year, Subaru up 47%, and Honda Motor up 76% — in yen terms — beating the 27% gain for the Nikkei 225. Models that are selling particularly well are the Toyota Camry, Corolla and RAV4, the Honda CR-V and Accord, the Nissan Rogue and Altima, and the Subaru Outback and Forester.
The weaker yen means that more Americans are visiting Japanese dealers to pick up the latest bargains. According to the website 'next-drive,' motorists are flocking to Japanese car showrooms due to the more reasonable pricing but also for the following reasons: quality, fuel efficiency, design, reliability, hybrid engines, safety and longevity.
Another major reason why Japanese cars are selling so well might have something to do with the UAW strike. With workers now striking at American carmakers, Japanese auto giants are seeing an opportunity to make inroads in the U.S. Such a push would be helped by the favorable financial tailwinds created by the exchange rate.
The weak yen hasn't supercharged all exports from Japan. Exports to China fell 11% year over year thanks to the weakening economic conditions in the world's second-largest economy.
OUR THOUGHTS
Who knows how long the dollar will stay this strong against the yen? But while these conditions prevail, we can expect every Japanese carmaker to push hard to sell as many cars as possible in the U.S. The weak yen is also helping the Japanese compete with Chinese carmakers like BYD and Nio, who are entering the U.S. with some of the most price-competitive EVs on the market.