Ken Block switches from gasoline-powered Fords to an all-electric Audi in signature over-the-top style
Block hits the neon-lit streets of Vegas in an Audi S1 'Hoonitron' sliding and spinning at speeds clearing 100 mph.
Audi utilizes Block's sensational drive to promote its rich motorsport heritage
There are few people who can shut down Las Vegas. One of them is drift legend and Internet sensation Ken Block, the man who has become a huge household name in motoring circles for creating tire-shredding car stunt videos that terrorize the streets of cities like Los Angeles and London, generating upwards of 66 million views each.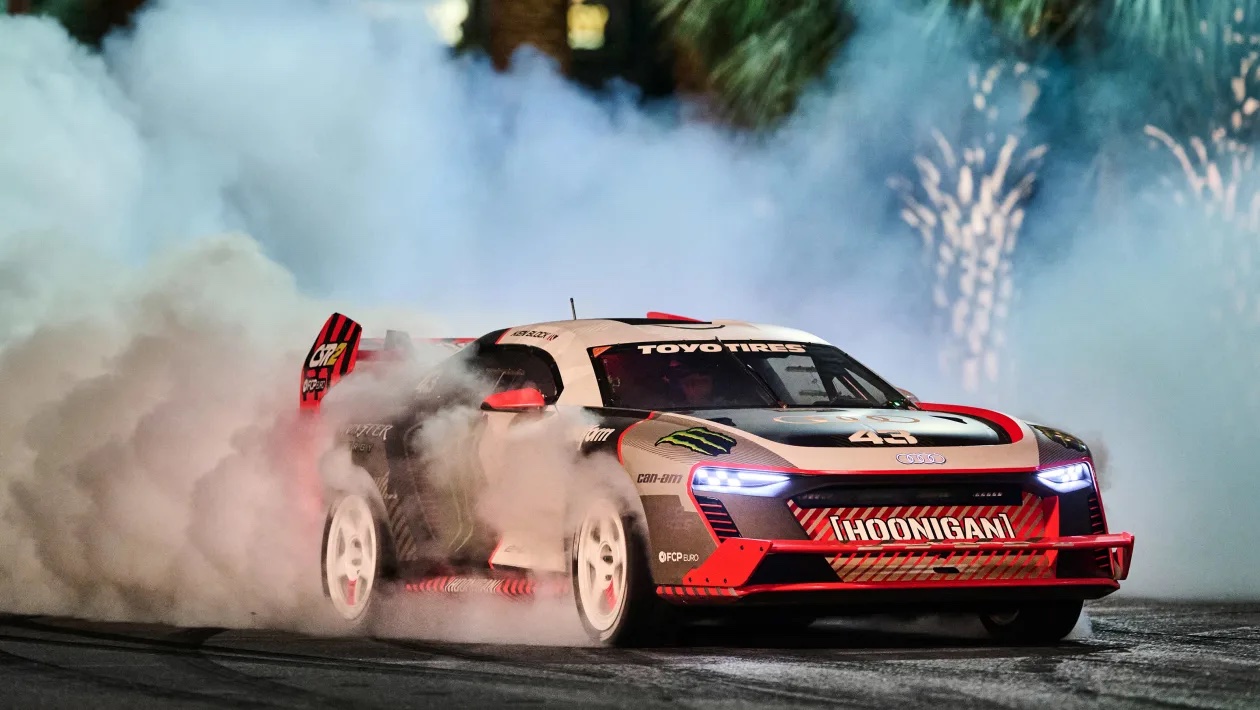 In his latest video, aired last week, Block hit the police-pardoned, specially vacated streets of Las Vegas in his all-electric Audi S1 'Hoonitron' for a new series called 'Electrikhana.' The new YouTube film has Block 'slaying' over 100 Toyo Tires as he tears around the neon-lit streets of downtown Vegas in a 9.5-minute video sliding and skidding around corners at speeds in excess of 100 mph, as icons from Audi's motorsport museum make brief appearances.
Block says that he normally uses around 40 tires in his stunt videos, but this time he cleared the century due to the Hoonitron's instantaneous thunderous acceleration that allows the car to jump from zero to 120 mph in several seconds, meaning that the tires wear down a lot quicker.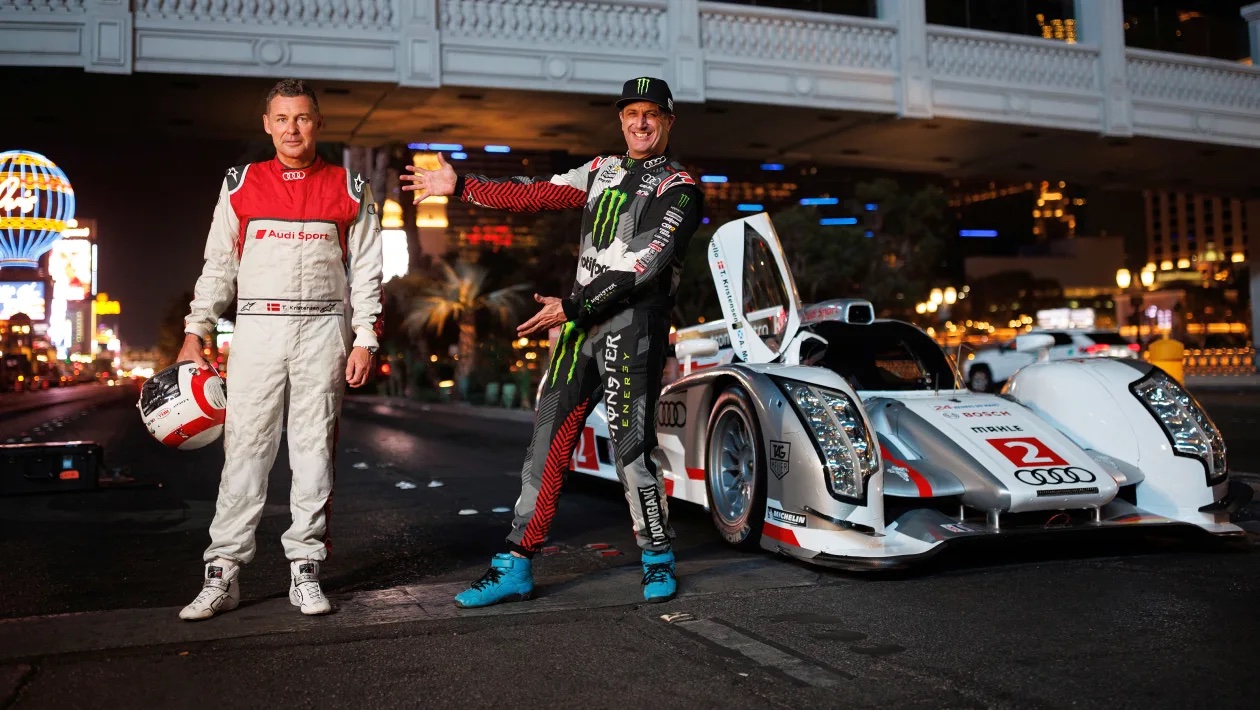 Having worked with Subaru and Ford in the past, Block is now contracted to Audi, and this 'Electrikhana' Vegas shoot was his first collaboration with Audi Sport. The car he is driving is exceptional. It might have been originally designed to tackle the Pikes Peak Hillclimb – and is, therefore, FIA compliant – but the aptly named 'Hoonitron' generates peak power output of 1400-hp from its 4WD twin electric motor setup and channels 2,231 lb-ft of torque to each axle.
To shine a spotlight on Audi's motorsport heritage, legendary cars like the 1989 Audi 90 IMSA GTO, R8 LMP and Quattro Gruppe B A2 make cameo appearances while 9-time Le Mans 24-Hour winning driver Tom Kristensen even makes a quick appearance.
Each of the two motors is connected to a gear reduction system and a differential, with custom settings including 'preload' that allow Block to perform his trademark slides and spin turn manoeuvers. He also uses his well-known hydraulic fly-off handbrake which, when pulled, impedes the rear motor during slides while maintaining drive to the fronts.
Audi Sport created bespoke head and tail lights for the prototype machine, with an estimated cost clearing $12m to develop. Its Formula E motors extract power from four sets of batteries sourced out of the brand's plug-in hybrid Q7 SUVs. These are mounted in the center of the chassis which reduces the center of gravity, improves weight distribution as well as a unique F1-like seating position for Block.
Enveloped in a carbon-fiber chassis is a combination of carbon-fiber and carbon-kevlar bodywork, specially shaped in one short month by Audi Design at its Ingolstadt headquarters under the tutelage of Marc Licht. The Hoonitron design combines current design elements from present-day and future models including the segmented rear light bar and checkered flag daytime running light pattern that's expertly married to the car's iconic styling and aero inspired by the legendary S2 rally car of 1985.
OUR THOUGHTS
This is a great PR move by Audi. Up until now, Block's eye-opening performances have been associated with cars including the screaming 1400-hp Ford V8-powered Mustang 'Hoonicorn.' So to see Block showing what's possible with a gutsy 4WD fully electric-powered Audi can only work to enhance the brand's strong move into the EV sphere with models like the e-tron.