When a carmaker like Lamborghini debuts its first-ever fully electric car—the Lanzador—you know that gasoline power is on the way out. But is this an SUV? Or is it a coupe that's elevated? Actually, it's none of these. According to Lamborghini, the Landazor Concept is a brand-new vehicle that the brand calls an "Ultra-GT" and directly connects to its big-selling Urus SUV. Although extended and elevated into a radically different shape, it nonetheless has the aggressive, angles and bulges of any modern-day Lambo.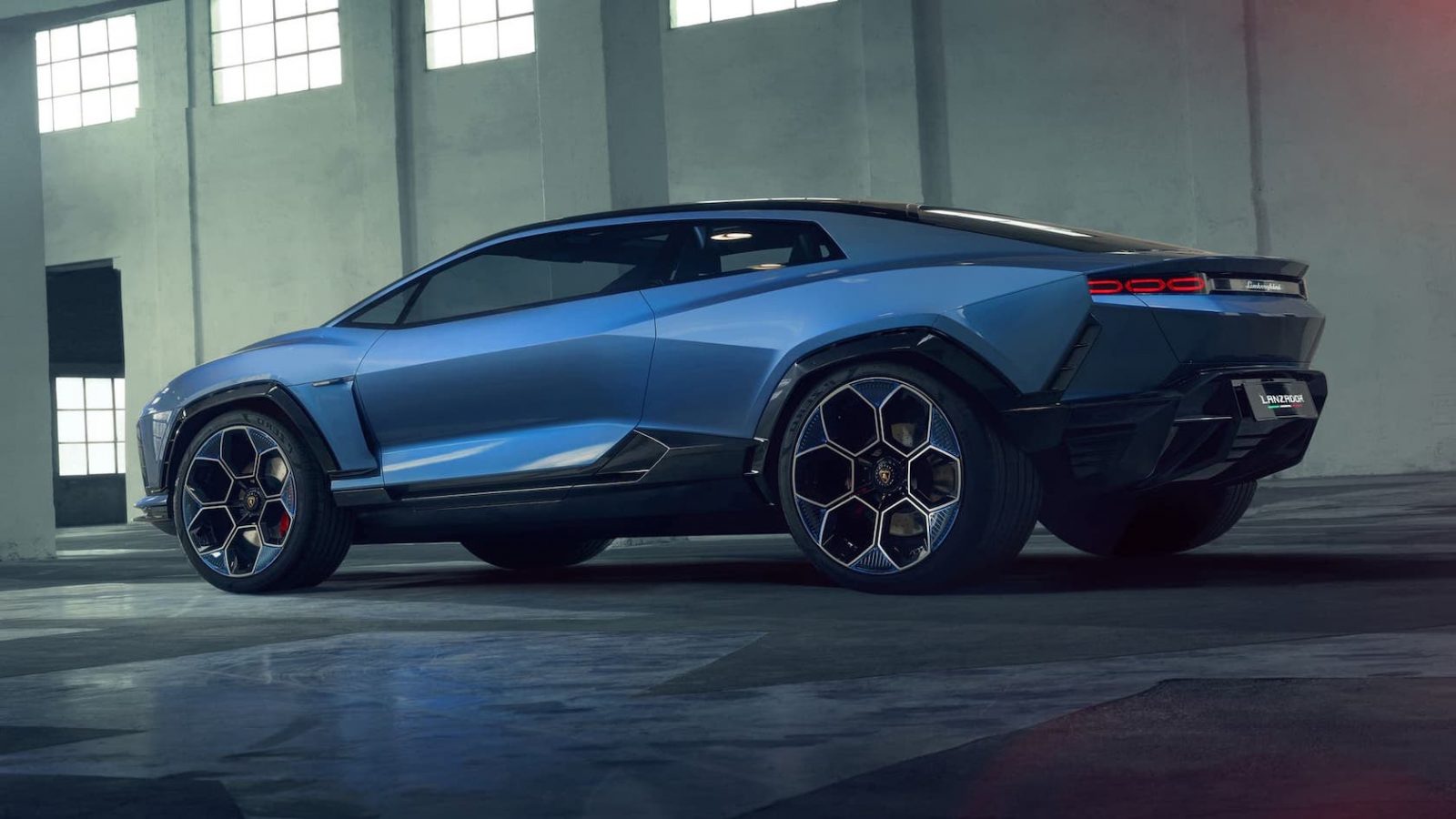 And it's purely electric. Yes, this is the rumored fourth model, joining Revuelto, Urus, and the Huracán replacement (all of which will be plug-in hybrids by late 2024), with initial deliveries set for 2028. This is a very long wait, but CEO Stephan Winkelmann isn't hemming and hawing about it; it's set in stone and, according to what we're informed, is a "concrete preview of the production vehicle."
Officially speaking, this is a concept, but we can spot a showroom model from a mile away, especially when the press release is packed with loads of sumptuous specs. Like the fact that it will have two e-motors, one on each axle, and generate more than a megawatt of power, or roughly 1,350 hp. According to the press release, it will employ rear-wheel steering, self-leveling air suspension, and a "new generation high-performance battery, which also ensures a longer range," though it is unclear exactly how long. According to Lamborghini CEO Stephan Winkelman, the lowest distance now is 300 miles; but we expect within five years, 400 miles will be closer to the average.
According to chief technical officer Rouven Mohr, the whole new platform, which will be shared with other high-end VW Group EVs but tweaked by Lambo, opens up a world of possibilities. "We are taking Lamborghini integrated driving dynamics control to a whole new level, which has not been possible for production sports cars before and offers our customers a completely new driving experience," he claims, referring to the recently developed Lamborghini Dinamica Veicolo Integrata (LDVI) driving dynamics control.
Non-engineers: To ensure precise control of the car's handling, more sensors and actuators than ever are working overtime and communicating by the millisecond. 'Active e-torque' can shift torque between the two rear wheels while the system can change torque between the front and rear axles instantly.
According to the head of design Mitja Borkert, the exterior design is inspired by the new Countach, Sesto Elemento, and Murcielago. The body is low and wide in the best Lambo tradition, but the raised stance and enormous 23-inch wheels will take some getting used to. At both ends, active aero is cleverly hidden away beneath the surface to increase downforce in tight turns and when necessary, to allow air to flow for minimum resistance, greater range, and higher speeds.
The inside is even more radical than the exterior with a skeletal Y-shaped center console that separates the driver and the passenger. An unnecessary pop-up cover and start button are carried over from the ICE cars because theater means a lot to this brand—which we love. There's also an instrument screen for the driver and a second one for the passenger to play around with. The materials also include merino wool, sustainably-tanned leather, 3D-printed recyclable foam, and stitching made of recycled plastic.
OUR THOUGHTS
We've been waiting to see Lambo's first EV and here it is. The Lanzador is definitely a looker and will no doubt boast some outrageous performance figures rivaling the quickest in the supercar field. Whatever Lamborghini is doing, it appears to be working, as the Lanzador concept follows the company's first-half 2023 sales record of 5,341 vehicles, up 5% from 2022.