Starting at around RM1.2 million, Cielo simply means 'sky' in Italian and could not be a more perfect name for this convertible Maserati. Sitting on the chassis of the Maserati MC20 Coupe, the MC20 Cielo you see here is one of the prettiest topless supercars you will see nowadays. And in the near future, watch out for the all-electric MC20 Folgore (meaning 'lightning') that will be added to the lineup in 2024.
Tipping the scales at 1,540 kg, the Cielo's tub is constructed from carbon-fibre and composite materials with the body measuring 4.7m long, 1.2m tall, and 2.2m wide. So what about its design? Maserati tells us that the body was penned with visual longevity as a priority, and given that it was launched back in 2020, we'd say that their aesthetic goal stands the test of time as it still looks striking. One of the most stand-out features (pun intended) are the butterfly doors which were designed to add a luxury feature but mostly to show off the carbon-fibre chassis. This Maserati also incorporates lots of vents and air ducts to feed air to the engine bay and cool the brakes, which feature 6-pots on the front and 4-pots on the back.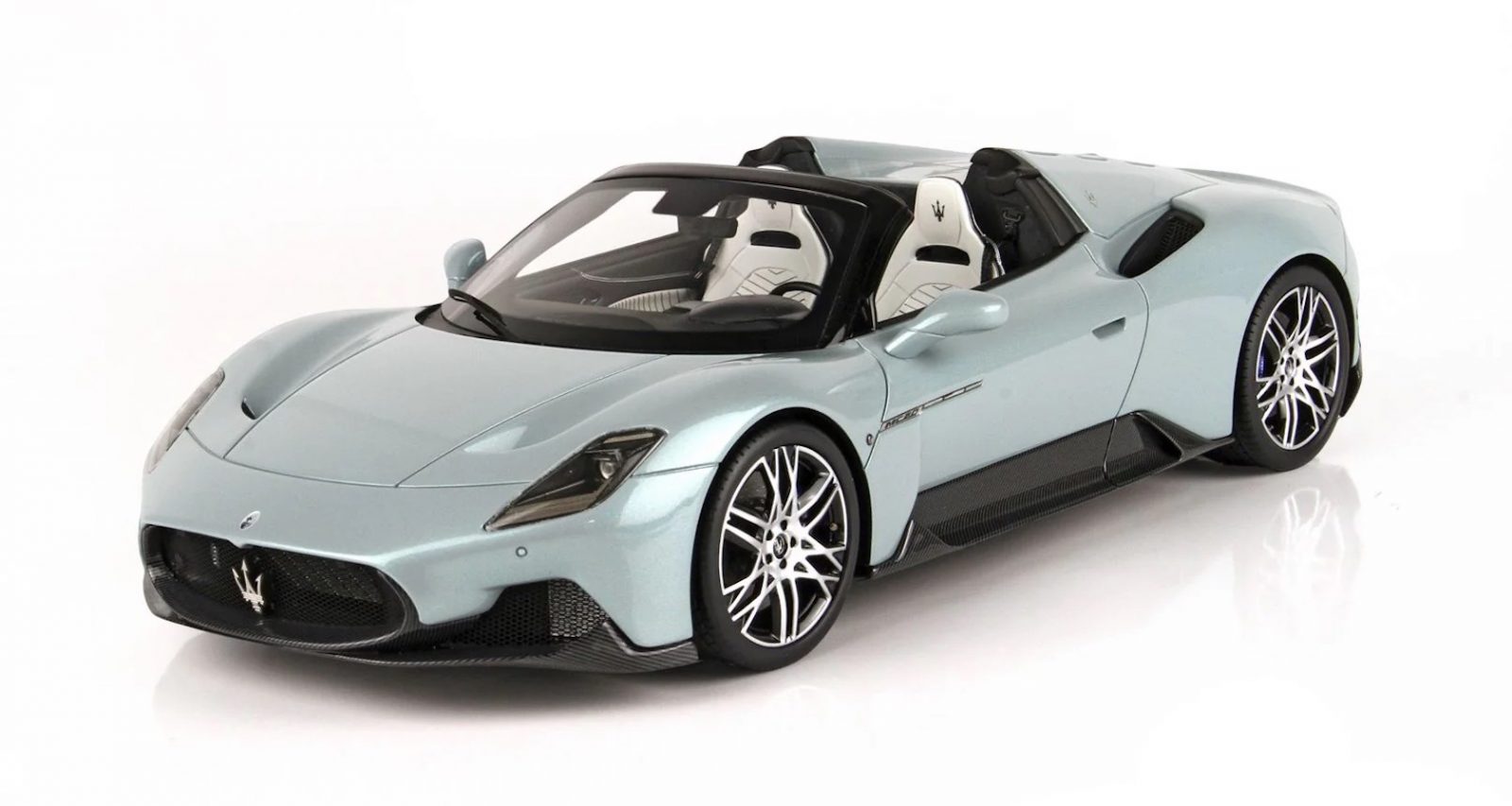 Does it get a hybrid? Not this time. The Cielo employs a mid-engined 3.0-litre V6 with two turbos. It's pretty responsive off boost, and if you keep it spinning about 3,000rpm you've got 630 hp to play with at 7,500rpm with 730 Nm of torque at 3000-5500. That's gutsy enough the launch the Cielo from zero to 100 km/h in 3.0 seconds flat with a top speed of 320 km/h. Thankfully, that's mated up to a quick-shifting eight-speed twin-clutch transmission, fed through an LSD for grippy traction.
Inside, the Cielo is stylish and functional with carbon-fibre accents, although overall, the cockpit is not as flashy as the exterior. While it does get a 10-inch touchscreen with cool graphics, and the powered roof opens and closes in a touch over 12 seconds, cabin design is simplistic, especially when compared to something like a Lamborghini. Switches are minimal and you only get one cupholder at the rear of the centre console.
OUR THOUGHTS
The Cielo is a supremely gorgeous-looking machine with open-top credentials and a more than adequate V6 twin turbo pumping out 630hp with a thumping exhaust note. If you're looking for a topless supercar that's as flashy inside as it is outside, then you might want to check out coupes from other Italian manufacturers. But if you're happy with a cockpit that's subtle and a little understated then the Cielo is for you.