The Mustang still has a choice of a 2.3-liter turbo four or a 5.0-liter V8
This time it also gets beefier styling and a tech-centric cockpit
One of the 'fun' new features Ford introduces is 'Remote Rev' which allows drivers to remotely rev the engine using the car's key fob
Mustang diehards will be thrilled to hear that the legendary pony car still has a choice of a 2.3-liter turbo-four or the 5.0-liter V8, although both engines are heavily updated. And yes, a manual transmission is still with us!
As the original muscle car enters its seventh generation, Ford also introduces some radical new features that include an electronic drift brake, a way to remotely rev the engine, more muscular styling and a tech-centric cockpit.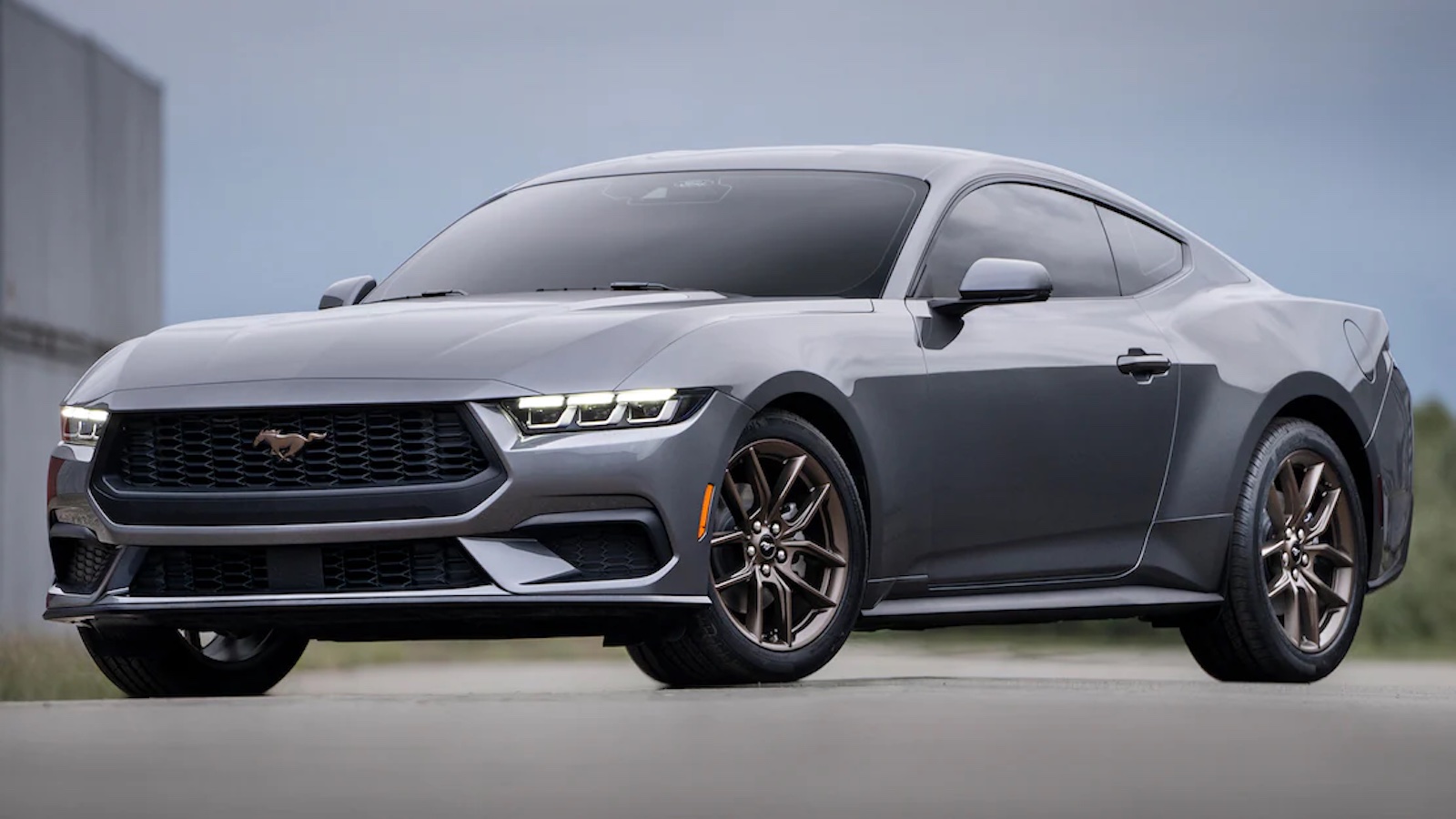 Nearly six decades have passed since that original Ford Mustang debuted at the 1964 World's Fair. The coupe was an instant hit, with its 1965 model becoming the most successful vehicle launch since the 1927 Model A. In 2018, Ford produced its 10-millionth Mustang and is currently the world's best-selling sports coupe, according to Ford analysis of registration data from S&P Global Mobility.
Mustang stylists appear to have practiced the 'if you're on a good thing,' approach because the new car's design is more evolutionary than revolutionary. While maintaining the predecessor's basic proportions and overall look, the seventh-gen model gets entirely new and edgier bodywork boasting more muscular nuances. The front end is squarer and inspired by the original Mustang, but its new headlights, with their tri-bar LED elements, give the car a more modern touch. Its three-bar tail-lights remain a signature detail, but they're more accented than before. The car's hips are also wider, and the rear overhang is shorter.
The most dramatic revisions however have taken place inside the car. Gone is the "double bubble" dashboard design, replaced by a more driver-focused layout dominated by digital displays. Most 2024 Mustangs have a massive glass panel that combines a 12.4-inch gauge cluster and a huge 13.2-inch central touchscreen. Ford beancounters say that the new-look interior is a break from tradition, and targets a younger demographic of drivers who grew up playing video games.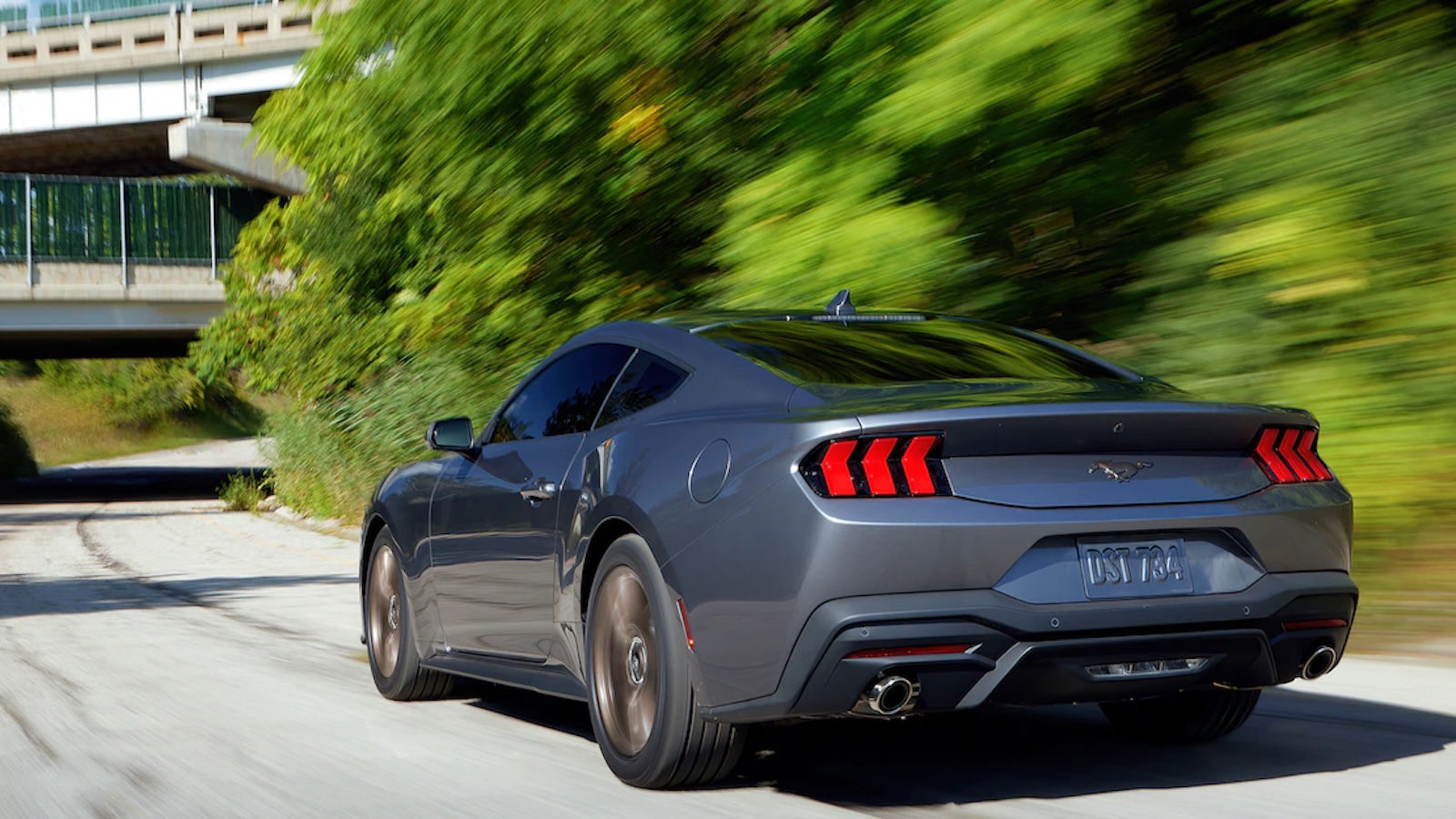 In fact, games like Forza Motorsport inspired the animations and how occupants interact with the Mustang's Sync 4 infotainment system, which boasts a new architecture that allows over-the-air updates and customization. The new interior is not just more tech-centric, it also features better materials that lacked quality in the previous generation. Faux leather materials are used extensively throughout the cabin while other trim pieces are clad in a racy carbon-weave pattern. It also now has a flat-bottom steering wheel with a thicker rim and smaller diameter.
The new model continues to be offered as a coupe or convertible. Both grades are also still available with the EcoBoost turbocharged 2.3-liter inline-four or a Coyote 5.0-liter V8, but both engines have been heavily revised.
The 2.3-liter has the most sweeping modifications, which include new fuel-delivery and ignition systems, a higher compression ratio, and an updated turbocharger, making the four-pot more fuel-efficient and improving performance. While Ford remains tight-lipped on horsepower and torque figures, we expect to see a slight boost to 330-hp and 350 pound-feet of torque with a 10-speed automatic only.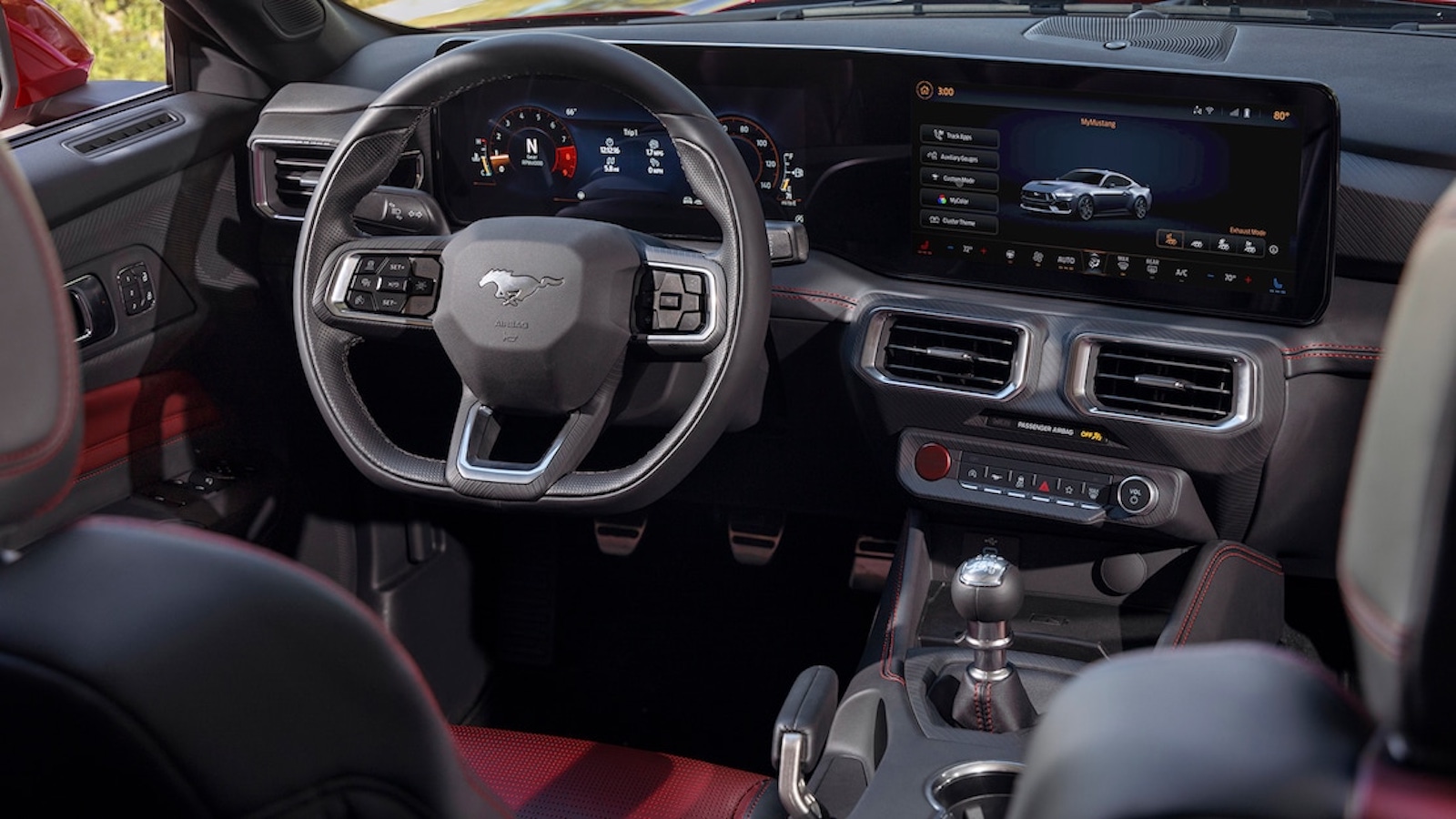 In contrast, the fourth generation of the Coyote V8 engine adds dual throttle bodies fed by dual air intakes, that provide better airflow and boosts horsepower. We don't yet know the engine's exact output, but Ford claims the new V8 will be its most powerful pony-car so far, meaning it will clear 480-hp and 420 lb-ft of torque. The V8 still comes standard with a six-speed manual transmission, while a 10-speed automatic is optional.
One of the 'fun' new features Ford introduces here is called Remote Rev. This allows drivers to remotely rev the engine using the car's key fob, which we think can only tickle young drivers but annoy older ones. Remote Rev runs on its own pre-programmed sound and comes on any Mustang with the active exhaust system, except for manual-equipped models.
A new brake package fitted with an electronic brake booster has also been fitted to the new coupe. Models with 19-inch wheels also have new Brembo six-piston front calipers and four-piston rears. More noteworthy is the new electronic drift brake available on all Mustangs equipped with the optional Performance package. While it looks like a stock e-brake lever, when drift mode is activated, it instantly locks up the rear wheels with four to five times more force than a regular parking brake.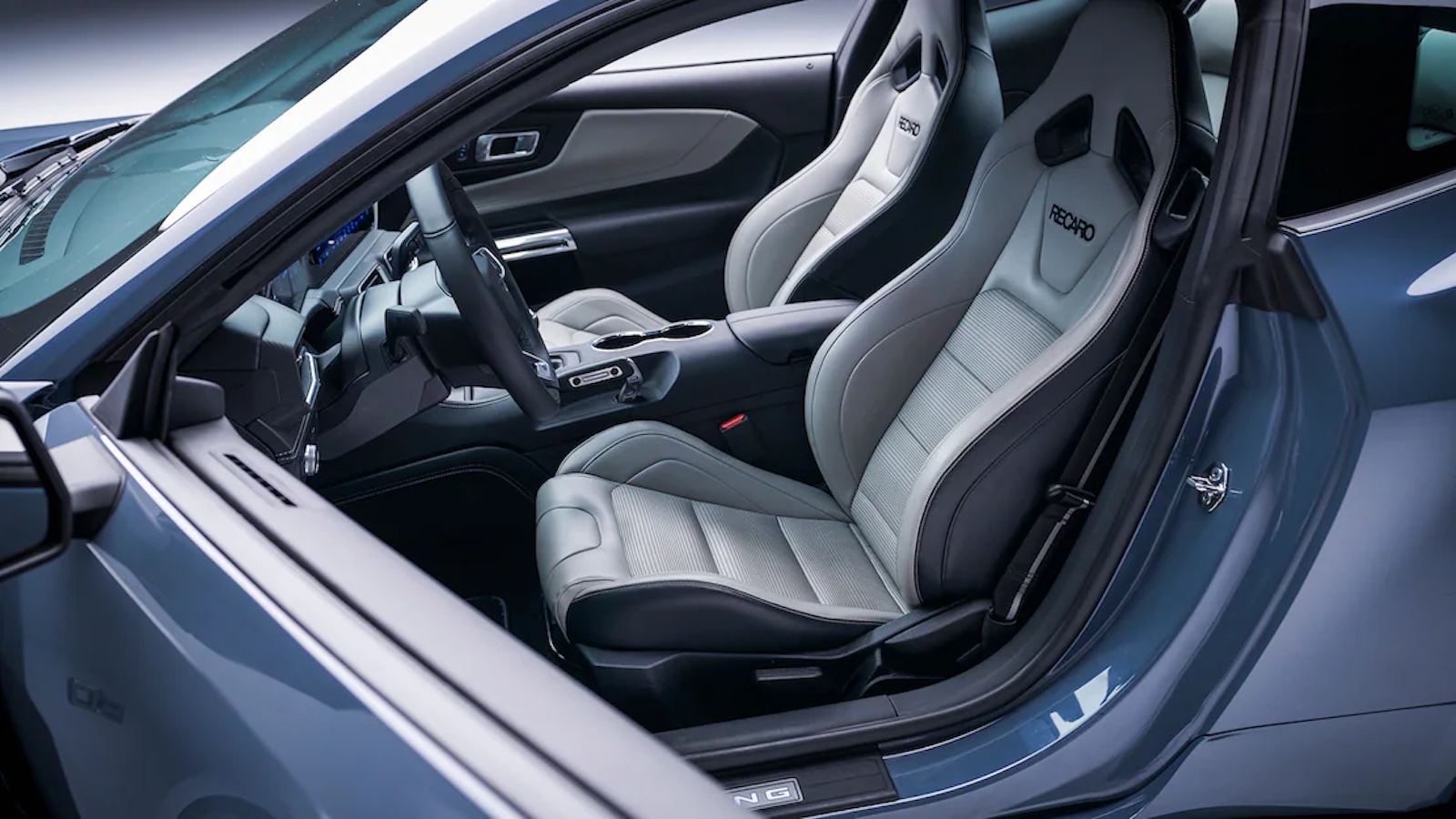 Slated for a 2023 summer release, prices have not yet been announced but we expect the base EcoBoost model to start from $29,000 and top out at over $57,000 for the Mach 1.