The new Crosstrek exterior similar to its predecessor with more black cladding
EyeSight system has new camera setup for improved safety
Set to go on sale by mid-2023, the new cabin gets an upright WRX-style touchscreen
Just in case you're not familiar with the Crosstrek, Subaru launched its bread-and-butter hatch in 2011 as a crossover version of the popular Impreza, with the second generation following in 2017. And this time it loses its "XV" suffix meaning the car will not be referred to as Crosstrek XV anymore. To stress how critical the Crosstrek is to the brand's lineup, one industry report placed it within America's fastest-selling cars, having sold some 127,466 units in 2021. With its chunky looks, AWD ruggedness, reliability and affordable pricing, it's easy to why.
Now for 2023, Subaru has unveiled the all-new 2024 Crosstrek this week, but, to be honest, you'd have to be a Subarist to spot the differences between the new and outgoing models. It's pretty much a 'when you're on a good thing' type of approach to the design upgrades, even though Subaru says all body panels are new.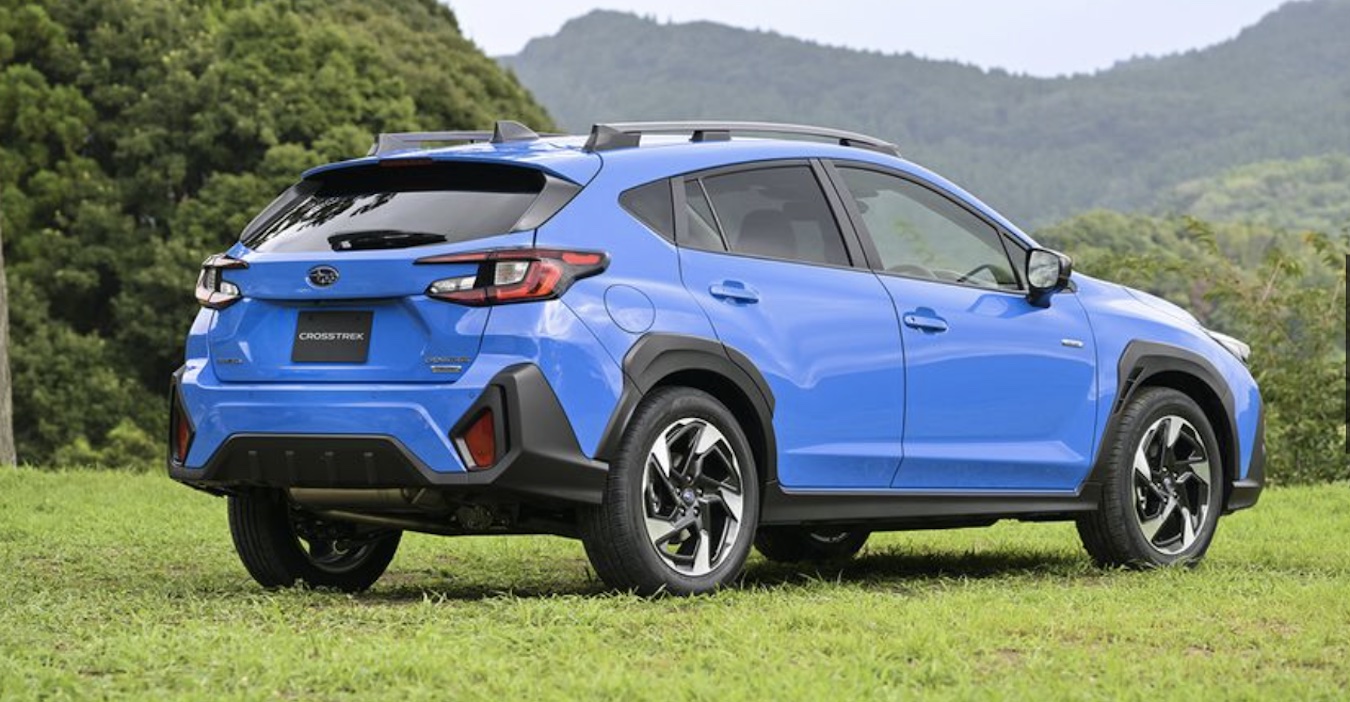 As before, the Crosstrek is a tall subcompact crossover with ample ground clearance, almost identical dimensions to its predecessor and lots, we mean lots of black plastic body cladding, especially around the wheel arches. The most noticeable changes take place at the front end with the new model employing a larger hexagonal grille that is connected via a sword-like chrome piece to slimmer, LED headlights.
At the rear end, smaller C-shaped LED tail lights are better integrated within the bodywork, while the tailgate and rear bumper are more sculpted than before. There's also more black plastic cladding on the rear bumper, housing the diffuser-style skidplate and reflectors.
The new Crosstrek sits on a revised version of the same Subaru Global Platform as before, and, while we don't have U.S. specifications yet, we expect to get a version of the Japan-market model that employs a 2.0-liter boxer-four with Subaru's e-Boxer hybrid system. The carmaker still hasn't confirmed whether the current plug-in variant of the Crosstrek will continue with the new generation. Subaru's well-known all-wheel drive system is fitted as standard equipment, as is a continuously variable automatic, which is the only transmission choice.
Inside, the overall look is fresher and more upmarket with better quality materials. The dashboard has been redesigned, adopting the large 11.6-inch infotainment touchscreen already found in the WRX and JDM-styled Levorg. The physical climate controls are gone and are now integrated within the touchscreen, a fact that some drivers will lament. EyeSight driver-assistance technologies are also improved thanks to upgrades to the camera system.
The new Crosstrek is expected to go on sale in Japan by mid-2023, and it'll likely arrive in the U.S. a little after that. So we'll have to wait to find out more details including powertrains, features, and pricing. Expect it to start a little higher than the current model, which has a base sticker price of $23,645.