When an emergency vehicle appeared out of nowhere one-day last year, scaring a hearing-impaired Stellantis employee who had not heard it coming, it gave her an idea. She decided to submit a suggestion to the company to create a system that could pre-warn drivers of the presence of such vehicles. "That's how this system came about," Trpko Blazevski, a Stellantis digital-innovation manager, referring to the firm's emergency-vehicle alert system (EVAS).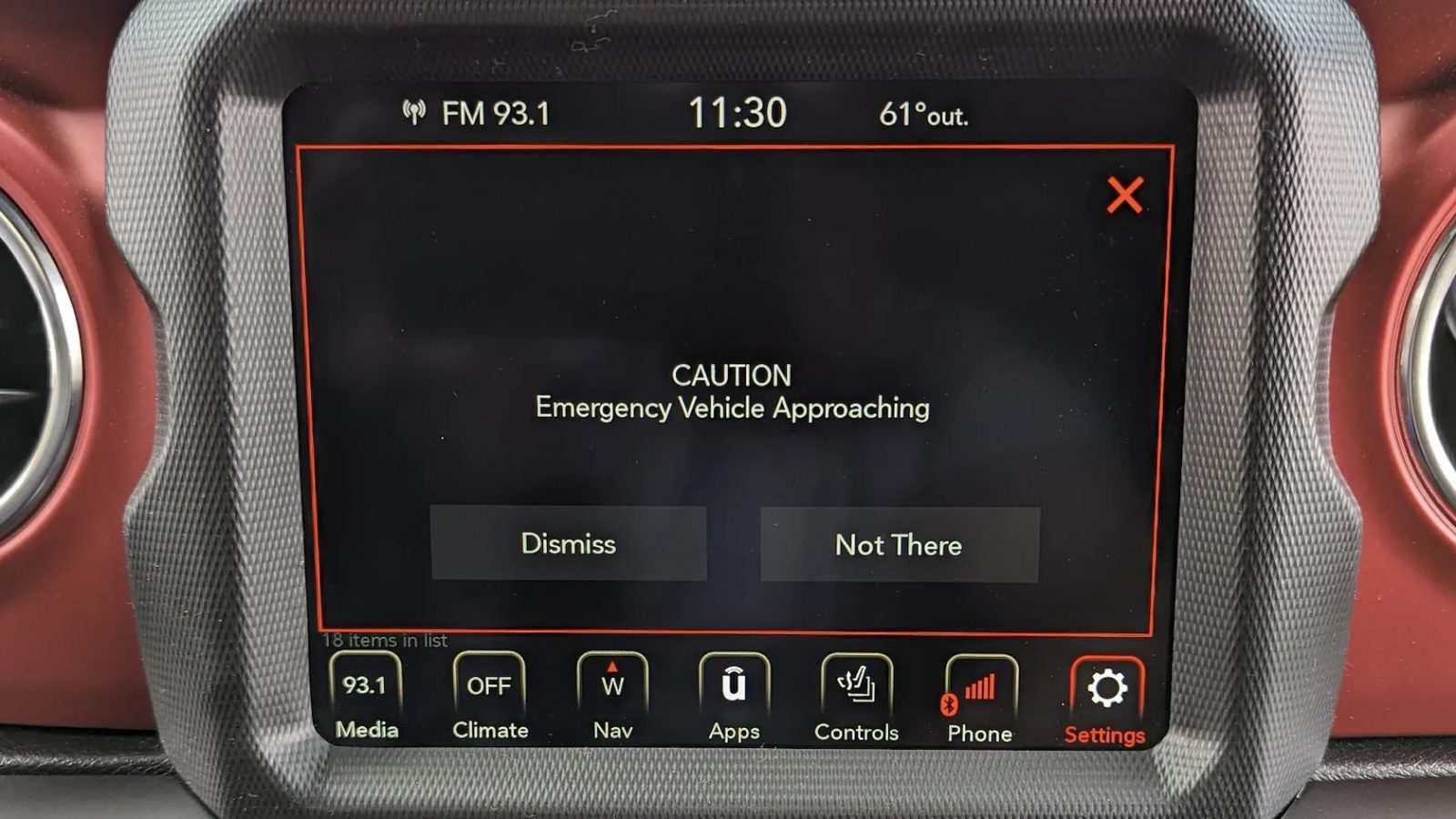 Now a standard feature on the automaker's Uconnect infotainment system in North America, EVAS visually and auditorily notifies drivers of an active nearby emergency vehicle, such as an ambulance or fire truck.
The new cloud-based feature is now fitted to more than 1.8 million Chrysler, Dodge, Ram, and Jeep brand vehicles letting drivers know about the presence of nearby emergency vehicles.
The system could not have come at a better time. Police vehicles, fire trucks and ambulances are frequently involved in accidents because other drivers didn't see the flashers or hear the sirens. Some 6,500 ambulances are involved in traffic accidents each year, translating to 17 accidents every day.
Stellantis' EVAS is one of the first applications of vehicle-to-everything (V2X) technology, which allows vehicles to "talk" to one another, and to the infrastructure around them. Stellantis is the first global automaker to make V2X digital alerting a standard safety feature through its Uconnect infotainment system.
To join, car owners must register for Uconnect, and then agree to share their vehicle's location, to activate it. Sharing your car's location can also help recover it if it's stolen, Stellantis says.
The carmaker integrated its software with HAAS (Hardware as a Service) Alert's Safety Cloud platform, a V2X digital alerting system used by thousands of public and private roadway fleets in North America.
The system is quite simple. When emergency responders activate the flashing lights on their vehicle, a signal is sent to HAAS Alert's Safety Cloud, which begins tracking its location. EVAS-equipped Stellantis vehicles receive an audible and text alert on the infotainment screen if an emergency vehicle is approaching from any direction.
OUR THOUGHTS
YouTube has literally hundreds of videos of motorists smashing into emergency vehicles, so this system is long overdue and will help to make the roads safer. The alert can be delivered up to 30 seconds in advance, even around blind corners, and helps reduce the risk of collision by up to 90%, according to Chicago-based HAAS Alert.