Toyota follows in Subaru's footsteps and uses dubious teaser images to promote its new Grand Highlander
The new Toyota SUV will feature 3-rows of seating for up to 8 passengers and will debut at the Chicago Auto Show next February
The new Grand Highlander will feature a new remote parking system
Recently, we have been focusing on the effectiveness of teaser images to promote new models just before they are revealed. Last month, we spotlighted Subaru who first teased their Crosstrek model in October before unveiling teaser images of the new Impreza in November.
As we wrote then, and as we still believe now, teaser images should only be used for cars that bring a certain level of excitement to the conversation, like sports cars, or supercars, or a new electric vehicle that stimulates the optic nerve and has a range of over 500 miles. That's what teaser images should be made of.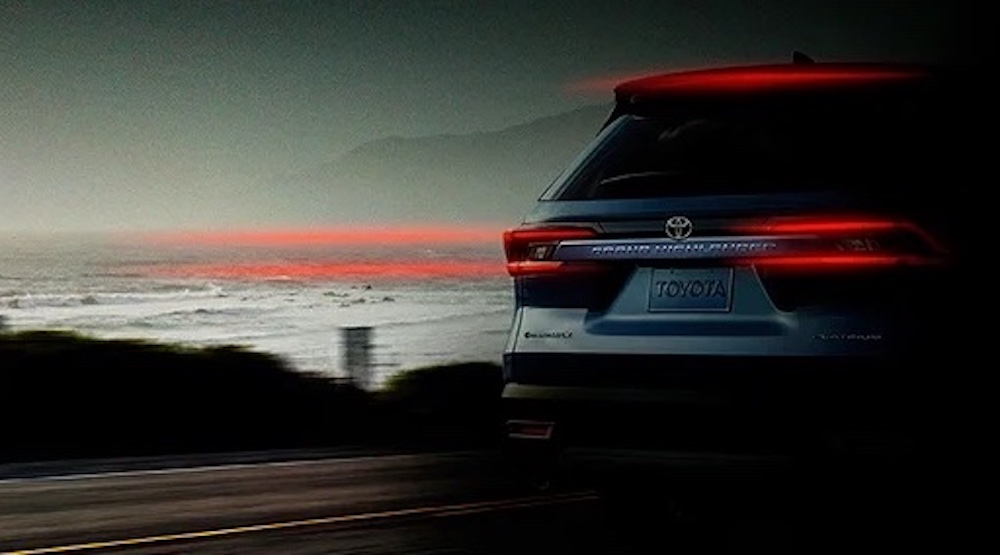 They should not be used for basic, stock standard sedans or minivans or crossovers—like the upcoming Toyota Grand Highlander. Late last week, Toyota released its first teaser images of the next-generation Grand Highlander crossover and said the larger 3-row vehicle will make its official debut on the eve of the Chicago Auto Show in the second week of February.
Their teaser image shows a darkened rear door view of the three-row SUV and its brightly lit LED lighting, but little more is visible. Toyota sales boss Jack Hollis recently said the Grand Highlander will fill a remaining hole in Toyota's lineup.
"That long journey three-row crossover segment is growing at a rapid pace. Our Highlander does such a good job now, and the hybrid does an even better job, but there's a compromise in its third-row seating," Hollis said. "The Grand Highlander fixes that deficiency." Toyota is still being tight-lipped about pricing and powertrain specifics, but it suggests that the larger three-row wouldn't cannibalize sales of Toyota's similarly-sized body-on-frame Sequoia SUV.
We already know a lot about the Grand Highlander and what will be its eventual three-row brother, the Lexus TX, after Toyota in 2021 announced an $803 million refurbishing of its assembly plant in Indiana.
Both vehicles boast more spacious third-row seating compared to the current Highlander and they will feature a system that allows for hands-free driving in certain conditions. Toyota refers to this tech as "a remote parking system allowing the driver to park and unpark from outside the vehicle using a smartphone, and a digital key that turns a user's smartphone into their key and allows them to share it digitally."
Japan's biggest carmaker said both vehicles will feature seating for up to eight people, a reference to the second row offering three seats. We have also established that vehicles will have hybrid powertrains, given Toyota's electrification strategy. It is unclear, however, whether there will be plug-in hybrid versions or whether there will be optional non-hybridized versions.
Perhaps what Toyota should do, instead of throwing teaser images to an unsuspecting public, is to focus on snapping scoop images of camouflage-clad prototypes or concept cars in action on test tracks or public roads.
Why do we say this? Because heavily cladded and camouflaged Grand Highlanders were spotted testing near Michigan recently revealing what appeared to be longer rear overhangs, which would permit extra third-row seating room.
OUR THOUGHTS
As we said with the Subaru Crosstrek and Impreza, we believe that teaser images should be restricted for high-profile cars like sports cars or game-changing EVs. Although the new Grand Highlander will no doubt be impressive, we just don't think it warrants the need for a teaser image.