Fully electric cars have finally cleared that magic 20% threshold. EVs have surpassed one-fifth of year-to-date sales in California, the country's largest auto market by a mile,
Battery electric vehicles accounted for 21.5% of overall California sales through the first nine months of the year, per the California New Car Dealers Association. A year ago that number stood at 16.4% year-to-date and was 9.1% in 2021.
It is no surprise that Tesla dominates statewide sales with 103,398 Model Y's sold and some 66,698 Model 3 cars finding new homes, with Tesla's overall market share of BEV sales reaching 62.9%.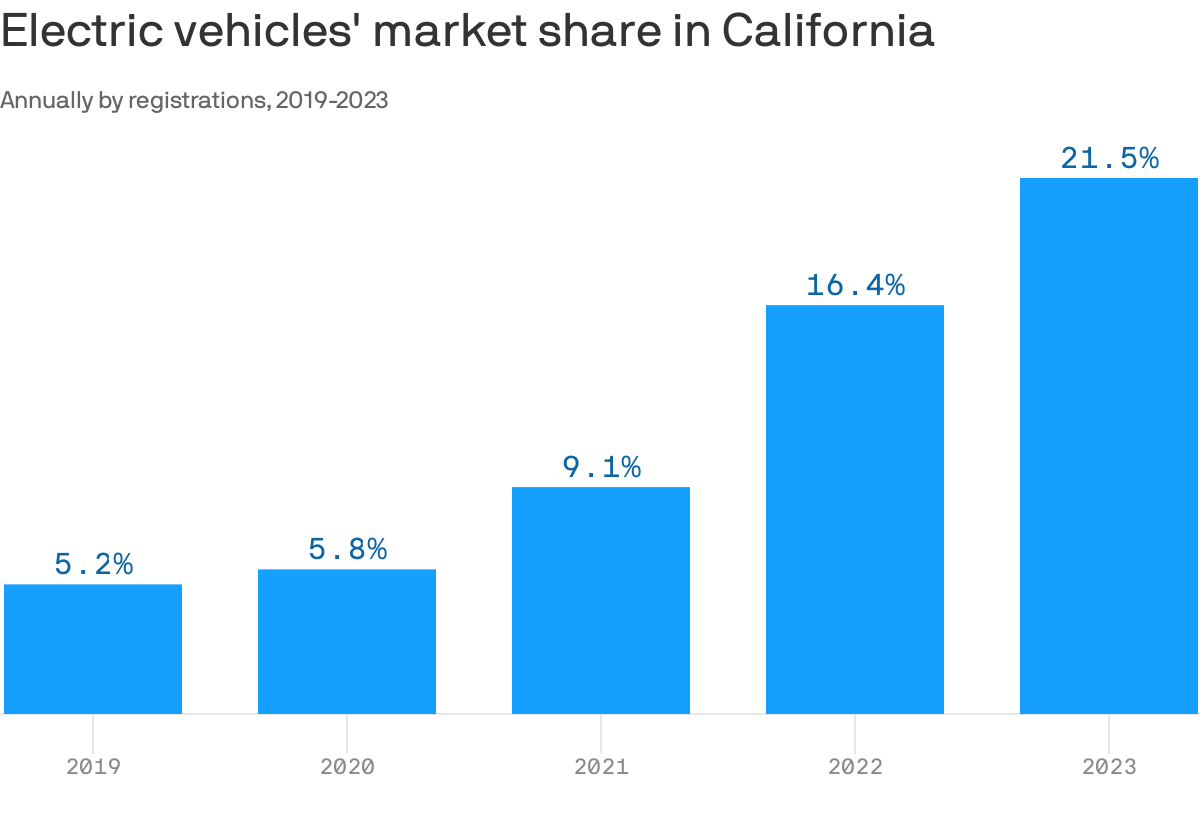 If you add in hybrid and hydrogen fuel-cell vehicles, the figure jumps up 35.4% for all vehicles sold year-to-date in California. The data comes amid anecdotal signs of slowing demand elsewhere in the country.
California is renowned for setting the national standard for automobile trends, with changes in government policy and preferences eventually making their way across the nation. Although the state has over one-fifth of all vehicles electrified as BEVs year to date, the national average is still a low 7.4%. And of course, we need to keep in mind that starting in 2035, California's regulatory bodies will not be selling gas-powered cars.
Tesla's overall market share has decreased from 71.8% YTD last year, despite positive news for the company. Brands such as Hyundai, Mercedes, BMW, Chevrolet, and BEVs have been steadily gnawing into Tesla's market share.
With 15% of total sales in the state, Toyota leads the field, followed by Tesla with 13.5%. Nevertheless, year-to-date sales of Tesla in the state have increased by 38.5%, compared to a 0.7% decline for Toyota.
OUR THOUGHTS
It remains to be seen if Tesla's growing popularity among Californian drivers will allow it to surpass Toyota in 2023 or if other EV manufacturers will be able to entice California's EV-hungry consumers away from Tesla with more affordable models.