Rolls Royce unveils Spectre, its first fully electric car
Sitting on a Phantom platform, the Spectre promises 310 miles
In 1900, company co-founder Charles Rolls prophesized a clean and noiseless electric future for the automobile. Today, that prophecy is fulfilled in the Spectre.
With a name like Spectre, and gleaming in gold paint, Rolls Royce's first-ever fully electric car seems destined for a starring role in an upcoming James Bond film. But if it does, we'd wager that the chief super-nasty from the international criminal organization Spectre would be driving it, not our faithful secret agent 007.
Okay, enough hypothesizing. Unveiled last week, the world's most luxurious EV packs 577 horsepower, measures 5 meters long and 2 meters wide and has a driving range of 310 miles. The Spectre sits on the same platform as the Phantom sedan and Cullinan SUV but is driven by a fully electric powertrain comprising dual electric motors that, when pushed, can shoot the 6559-pound car from zero to 60 mph in 4.4 seconds.
Rolls Royce is remaining tight-lipped about the Spectre's price, but we hear it will hover around the $400,000 mark according to one source. Rolls-Royce hasn't revealed how big the Spectre's battery will be, but its 260 miles should vie with other luxury sedans for range. While DC fast-charging is on the cards, it's almost a given that most buyers will have a charging system already fitted at their estates, saving them from long waits at roadside quick chargers.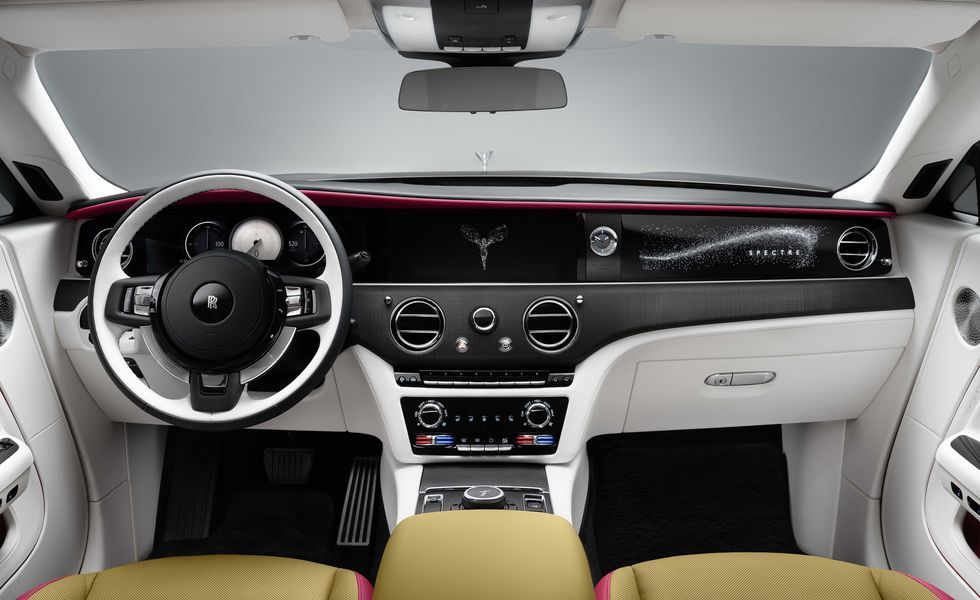 The Spectre's interior offers plenty of room for four with plush bucket seats in both rows. The new interior design follows the current Rolls Royce tradition, although designers have added several new bespoke design features that are unique to Spectre. In addition to the brand's signature starry-night headliner, the car's door panels shine a similar twinkle with miniature LED lights sparkling around the armrests. Details are scarce but the Spectre should be available with a huge array of personalization options and material choices like its other models.
Carmakers love talking about prophecies. Rolls Royce CEO, Torsten Müller-Ötvös, says the brand has come full circle as he quoted company co-founder Charles Stewart Rolls, who said over a century ago, "The electric car is perfectly noiseless and clean. There is no smell or vibration. They should become very useful when fixed charging stations can be arranged."
In 1900, Rolls prophesized an electric future for the automobile. Having acquired an electric vehicle named The Columbia Electric Carriage, he foresaw its suitability as a clean, noiseless alternative to the internal combustion engine – providing there was sufficient infrastructure to support it. Today, more than 120 years later, the time has come for Rolls-Royce Motor Cars to fulfil the prophecy of its founding father.
In referring to the Spectre, Müller-Ötvös went on to say that "instant torque, silent running and the sense of one imperceptible gear have defined the characteristics of an extraordinary canon of products dating back to the very first Rolls-Royce, the 1904 10 H.P."
As Rolls Royce unveils Spectre, it sets a new precedent in the creation of an entirely original class of vehicle: the Ultra-Luxury Electric Super Coupé.