Nissan unveils weird-looking Ariya Surfwagon Concept at SEMA
In contrast, Nissan's Sunny Leaf project is a sensation
SEMA starts today and runs until November 4
Known as the world's biggest and most important automobile aftermarket show, SEMA starts today in Las Vegas. Short for Specialty Equipment Market Association, SEMA is a trade show representing the $44 billion customizing and tuning industry but is unfortunately not open to the public.
The first show was actually held in Los Angeles in 1967 but moved to Las Vegas when it ran out of space in 1977 because the city provided room for continued growth, dependable weather, big-name entertainment and a world-famous location. The show in its current form today is attended by aftermarket manufacturers, original equipment manufacturers (OEM) media, car dealers, retailers and restoration specialists.
Some of the highlights this year include the Baja Designs '14 Lexus GX460 and '22 Jeep Wrangler, a Thumper Fab '22 Can-Am Defender, the Berg Performance Inc. '08 Porsche Cayenne Turbo and the CDT Automotive '21 Ford F-450.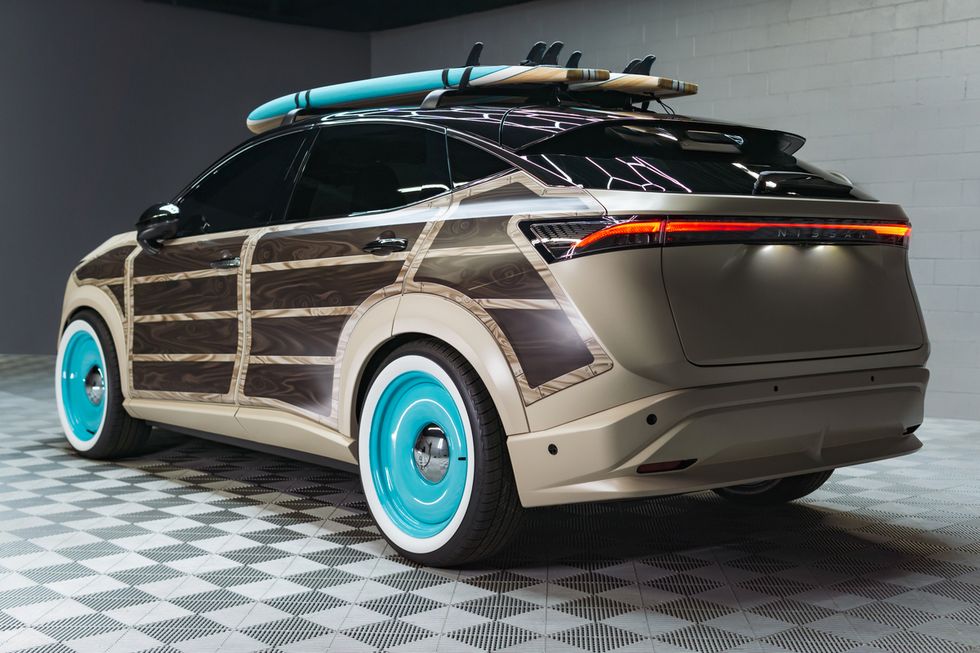 But one of the stranger concepts to appear will be the Nissan Ariya Surfwagon Concept, just one example from its six show cars. While the star attraction of Nissan's stand will be the Sunny Leaf project, which plonks a special liveried 1987 Nissan Sunny pickup body onto the chassis and powertrain of an electric Nissan Leaf, the Surfwagon Concept will raise more eyebrows and question marks than gain agreeable nods.
Boasting wood-panel vinyl wrapping and huge spotless wheels, the fully-electric Ariya Surfwagon Concept SUV would have to be one of the weirder vehicles to grace the show floor. To be honest, we thought that such wood paneling went out of style decades ago, after wagons like the 1972 Chrysler Town & Country, the 1974 Chevy Vega Estate, the 1984 Mercury Colony Park and the 1993 Jeep Grand Wagoneer lost popularity forever.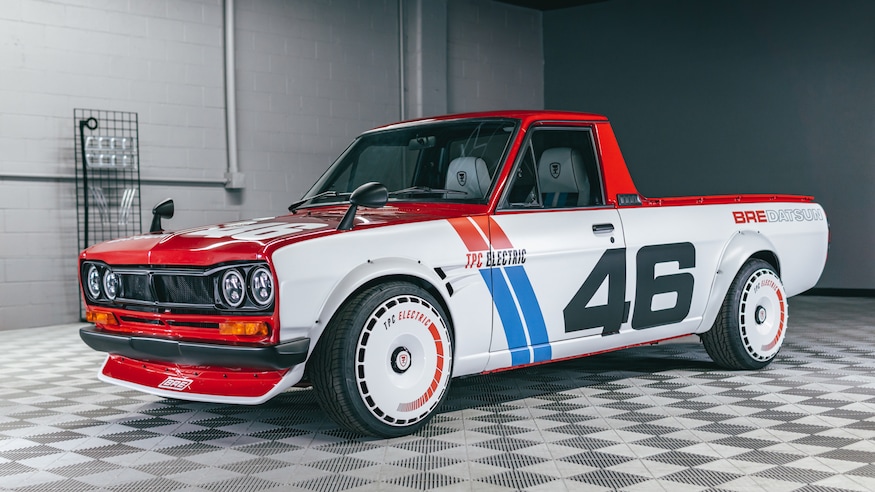 Even before we mention the Tommy Pike Customs created wood paneling itself, we have to raise huge question marks about the decision to mix and match sky-blue colored rims with white-walled tires with a beige and chocolate brown wood-panel designed body. Sorry guys, but it just doesn't work.
The Ariya's suspension has been lowered, bringing the 20-inch wheels with polished center caps closer to the electric SUV's body. Up top, a custom roof rack holding a pair of 7-foot surfboards completes the aesthetic. Purely a styling exercise, the Ariya Surfwagon concept's electric powertrain and performance are completely untouched.
In contrast, the Nissan Sunny Leaf project however is a good looker. The Sunny comes in for a complete visual makeover with a "Hakosuka" Skyline style wide-body kit, 17-inch Rotiform wheels wrapped in Toyo Extensa tires, and a red, white, and blue Brock Racing Enterprises "46" livery that pays homage to Nissan's racing heritage. Parked across from the oddball Ariya, the Sunny pickup looks sensational and further enhances its street cred with 147-hp, 236 lb-ft, double the power and torque of the original engined car.
OUR THOUGHTS
What were they thinking?? We can only wonder how these wildly different concepts came about. While the Sunny pickup looks a million bucks and will pop on Nissan's stand, the weird Ariya Surfwagon will turn those sweet vibes sour. Let's hope the Sunny is not located too close to the Ariya.