At CES, Sony Honda Mobility reveals a controversial new brand name — Afeela.
The new joint venture also unveils the prototype of a new electric sedan that it plans to sell in the U.S. as soon as 2026.
The first production car will offer best-in-class entertainment for movies, music, and games thanks to Sony
The wait is over. Sony and Honda have finally come up with an official name for their new all-electric joint venture brand. The makeshift name of 'Sony Honda Mobility' is out and the rather oddly conceived 'Afeela' is in.
At the Consumer Electronics Show in Las Vegas yesterday, Afeela's CEO, Yasuhide Mizuno got up on stage and made his company's ambitions clear by announcing the brand's controversial name just as they rolled out a prototype of what appears to be an updated version of the Sony Vision-S concept which we first saw last year. Afeela will start taking orders in 2025, and says that deliveries will start in North America in the spring of 2026.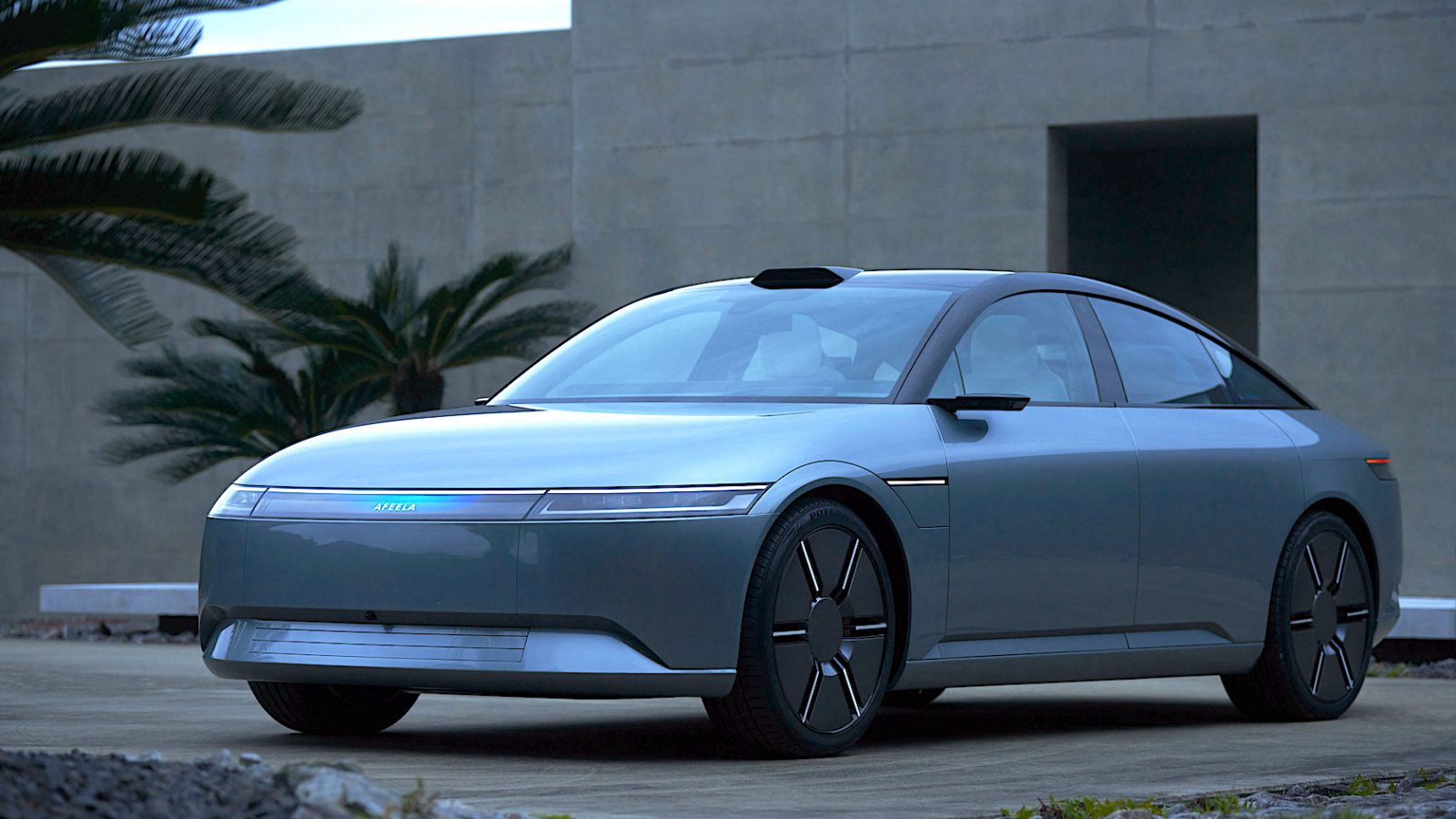 In fact, the car's logo is embedded in a screen in the nose section that can also display information to pedestrians like the weather, the car's state of charge, or, an advertisement for Spiderman: No Way Home. It's difficult to work out how much of the car is a carryover from the Vision-S prototype and how much is all new but rest assured we will be 'feeling' out Afeela to get answers.
The company was not very forthcoming as to why 'Afeela' was chosen, suffice it to say that the word 'feel' appears to be at the heart of the mobility experience they want to build—where the car both makes you feel something and also senses what you feel. Yeah, okay. We cannot help but think that the American side at Honda and Sony must have had reservations about this questionable name concoction.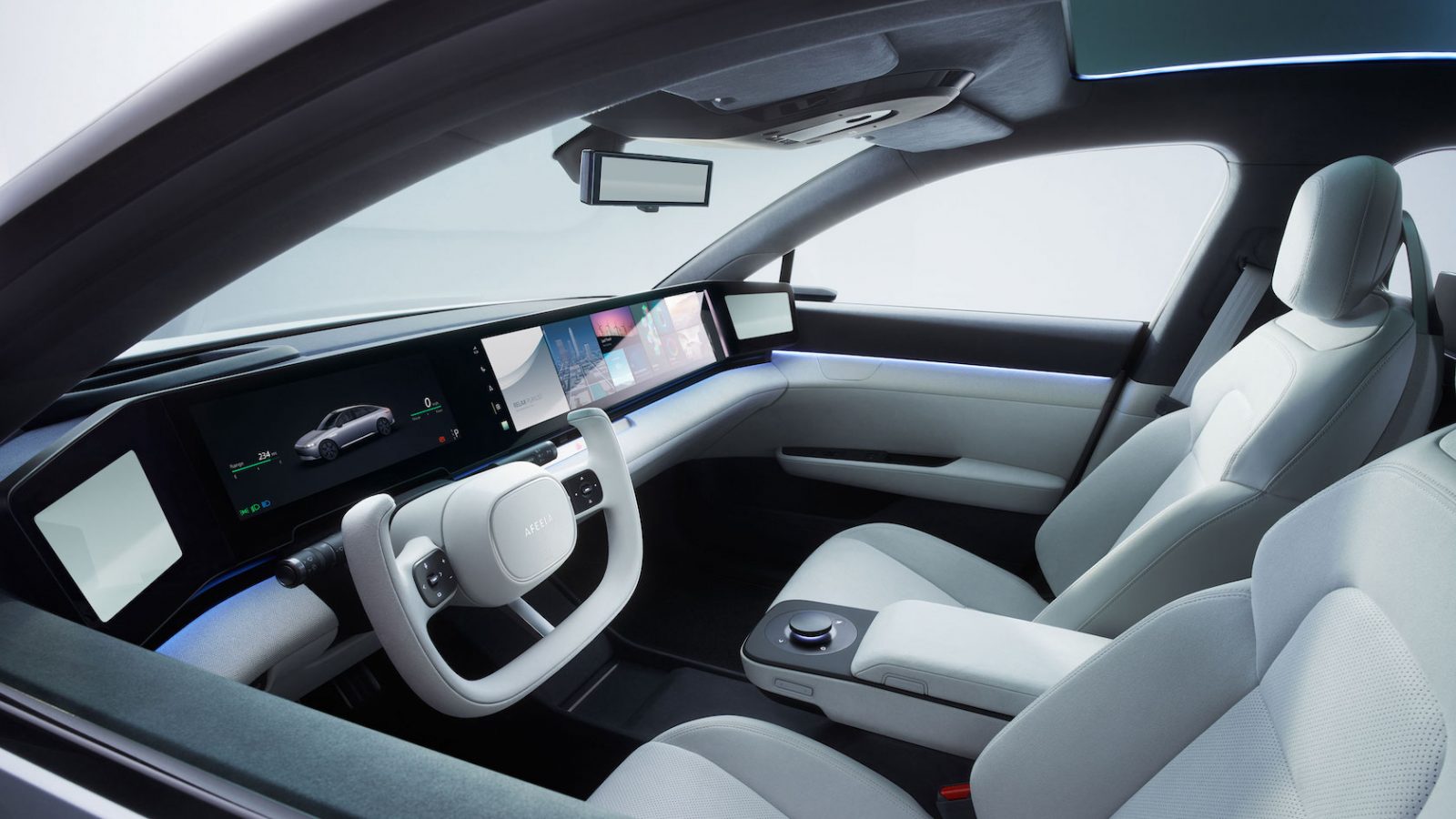 Dare I say—in the same way as the 'Nissan Fairlady Z' was renamed 'Nissan Z' in the U.S., and the 'Mazda Roadster' (its Japanese name) was renamed 'Miata' in America, Sony and Honda's American side might even decide to change the name to something more appealing to the masses when it goes on sale in the U.S. in 2026. If Honda can come up with a cool luxury brand name like 'Acura,' which became a strong performer in the American automotive landscape over 35 years ago, why can't they collaborate with Sony to create something a little sexier than 'Afeela?'
Alright, let's leave the new name alone for a while.
Other executives and partners also appeared on stage during the press conference to sprinkle certain details like the car will boast 45 sensors and cameras inside and out, which will make the switch to autonomous driving easy when regulations change. Thanks to Sony's side of the partnership, it will also offer best-in-class entertainment for movies, music, and games. Qualcomm will provide its best Snapdragon chips to power the car's tech, and Epic Games will provide its Unreal Engine for graphical interfaces.
OUR THOUGHTS
It's great to see Sony and Honda combining their strengths to create the next generation of EVs with best-in-class in-car entertainment and some 45 sensors and cameras making self-driving a cinch when Level 3 cruising are finally permitted in around three to five years. The only downside is the new brand name. I mean, Afeela? Really? What were they thinking?! We bet they see the error in their ways and update the brand name when their first production EV goes online in 2026.