In the world of car design, the Tesla Cybertruck is an anomaly. It looks like nothing out there. When it was unveiled in 2019, it caused a literal furore. At the launch hosted by company CEO Elon Musk, the media was bemused with its triangular shape, unconventional straight lines, substantial range and claims of bullet-resistant sheet metal, while public opinion was split between adoration and disgust.
One fan wrote, "I want one now." Another potential buyer exclaimed, "The future is here. So looking forward to actual forward thinking and design. We have been stuck in the past for far too long with antiquated ideas." In contrast, one engineer complained, "I'm not real happy with its looks."
But it's those radical, unique looks that have struck a cord in the marketplace. People are pining for a Cybertruck. Data from an online reservation tracker created by fans showed the Tesla racking up over 1.25 million pre-orders by late 2021 with bookings still flooding in. Should those orders materialize into actual sales, Tesla would net a sizable $79 billion in revenue.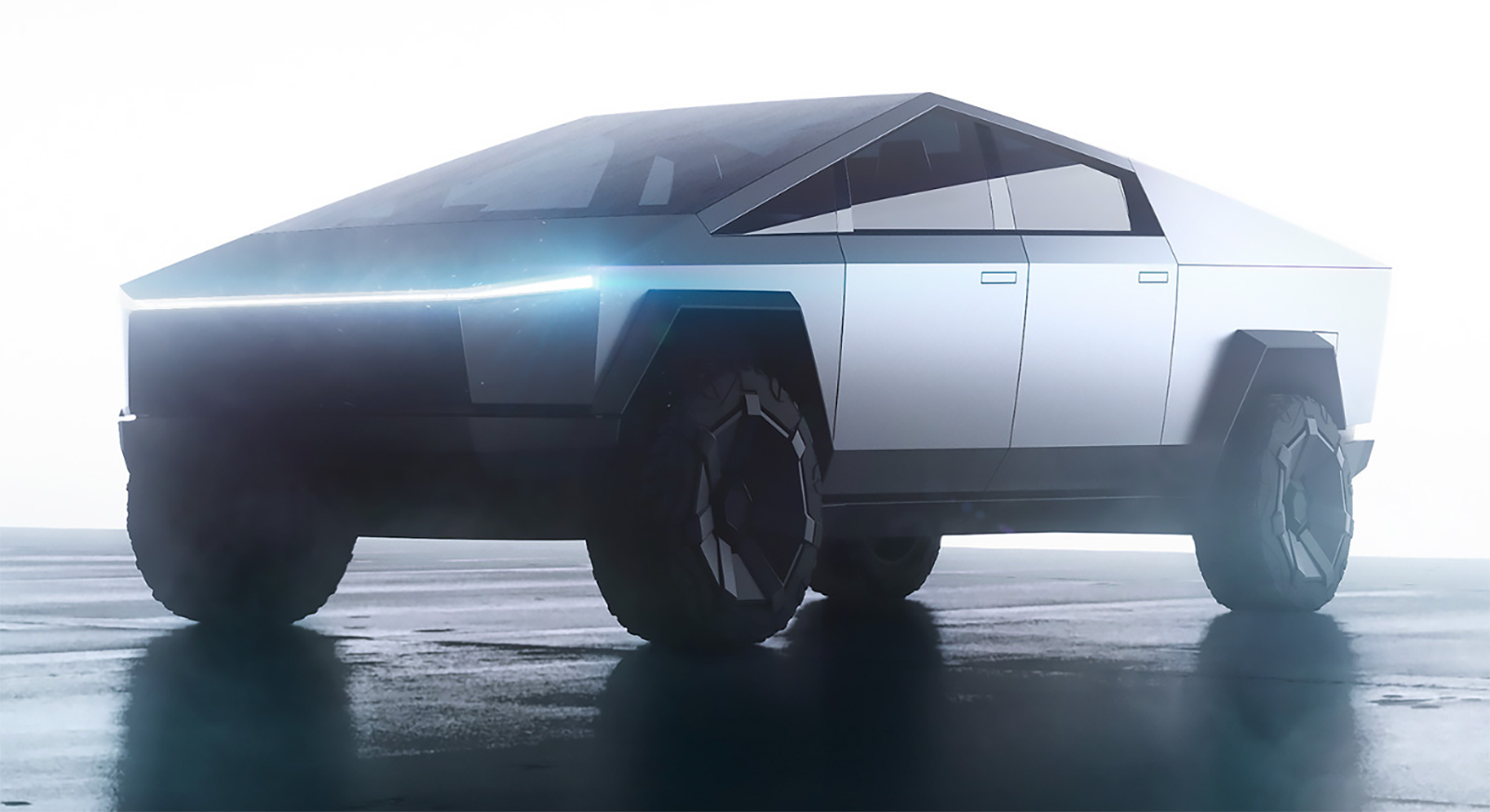 So where do we stand now, three years since the launch? After several revisions, Elon Musk confirmed that the final Cybertruck design is "finally locked" with an updated production timeline of mid-2023. And not a moment too soon, after multiple delays. In March 2022, Tesla confirmed that it aims to complete Cybertruck development by late 2022 with production starting in the first half of 2023. A significant part of the delay has been attributed to Tesla updating the design of the truck on several occasions and until now, it was not known if the automaker had finally settled on its final design. Now we know.
After admitting his design team got "too carried away with design revisions," the latest news from Musk mentions door handles. His Cybertruck will have none. Apparently the "truck can sense your approach and just knows that it needs to open the doors." Tesla will also now allow the rear glass of the vehicle to drop, thus optimizing the Cybertruck's cargo capability. In addition, the truck will also offer rear-wheel-steering for better handling and parking.
The Cybertruck will be available with a choice of one, two or three electric motors. While the single-motor truck has rear-wheel drive, the two- and three-motor models have all-wheel drive. Tesla claims it'll go from zero to 60 mph in 6.5 seconds and reach a top speed of 110 mph. Tesla claims the dual-motor truck will reach 60 mph in 4.5 seconds and peak at 120 mph. For those who want something quicker, the three-motor model will sprint from zero to 60 mph in mind-bending 3.0 seconds flat with a top speed of 130 mph.
All Cybertrucks will incorporate adjustable air suspension that can be raised or lowered with the touch of one switch while providing up to 16 inches of ground clearance. Add that to its 35-degree approach and 28-degree departure angles and the Tesla pickup could prove to be a formidable off-road machine.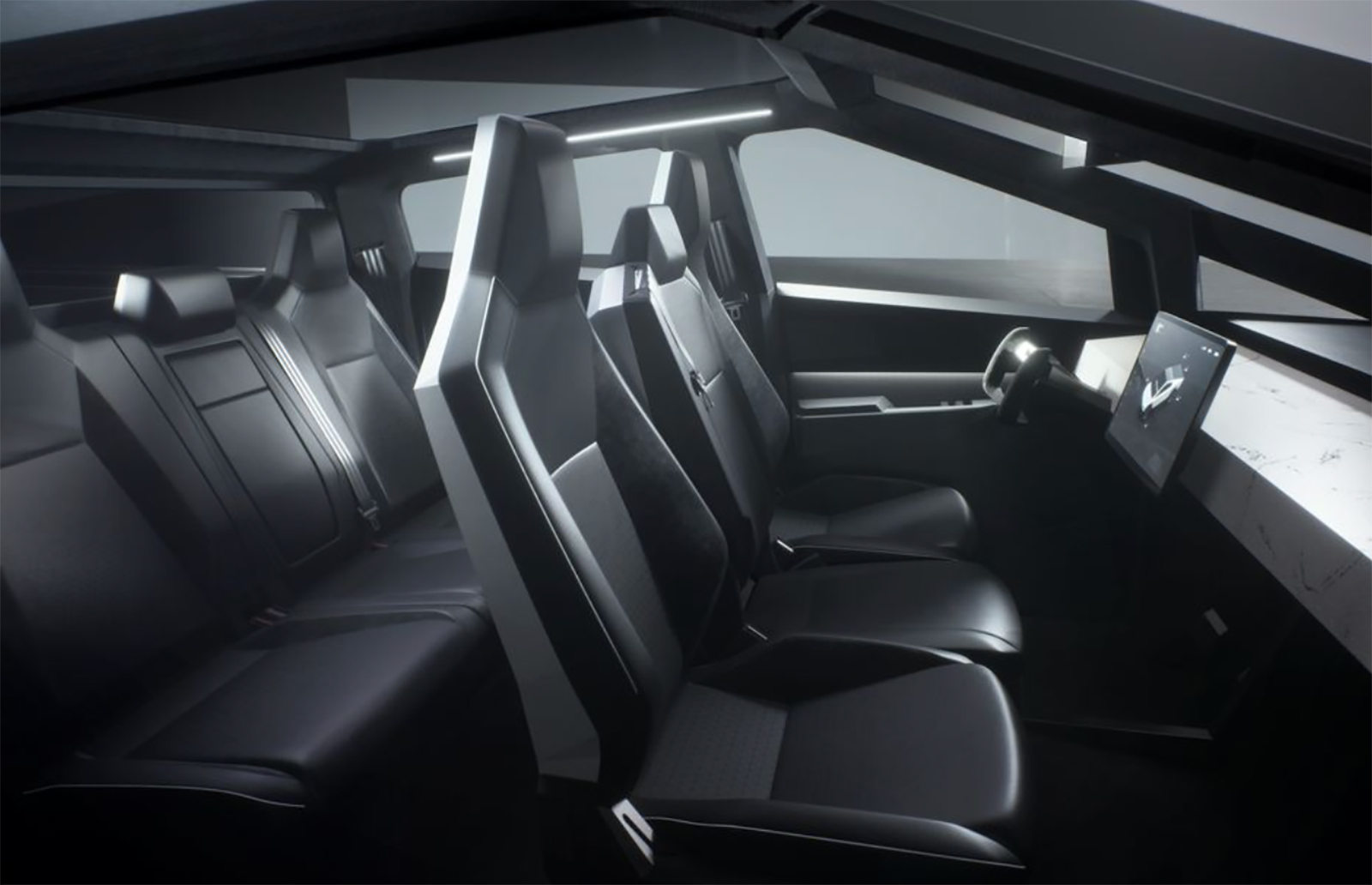 Tesla says its 814-hp triple-motor version will employ a 200kWh battery and every model will have a 250-kW charging cable. Two details that will impress potential buyers (of the triple-motor spec) is its mammoth claimed driving range of 466 miles as well as access to Tesla's vast network of Superchargers. Meanwhile, the single motor has a claimed range of 250-plus miles, while the dual motor spec boasts 300-plus miles.
Like the Model 3's minimalistic cabin, the Cybertruck's cockpit is as spartan as they come. While many standard features and options haven't been disclosed, early images show a slab-like dashboard that is solely dominated by a horizontally-mounted 17-inch touchscreen. Its race car-inspired, squared-off steering wheel looks to have some sort of illuminated display, but nothing has been confirmed. The Cybertruck will also be able to seat up to six people, and its 6.4-foot cargo bed offers 100 cubic feet of volume. It also has an easy-operation slide-out tailgate that doubles as a ramp to load four-wheelers and motorcycles.
According to Tesla, its controversial self-driving Autopilot will be fitted as standard equipment, and the company says it will offer a Full Self-Driving option for $7000.
The Cybertruck will compete with the likes of Ford's F-150 Lightning and Mustang Mach-E, GMS Hummer EV, Rivian R1T as well as an electric Silverado and a Ram EV by 2024. Even though the entry-level, single-motor Cybertruck starts at $39,900, it is the $49,900 dual-motor model that has garnered some 48% of pre-orders so far, with the $69,900 triple-motor variant running a close second. If you want to pick up your Tesla Cybertruck by the end of 2024, then you'd better get your order in now as there is expected to be quite a backlog once deliveries start.