When you hear the name Corolla, do you think of a ho-hum, bread and butter family car that's reliable, reasonably priced, safe, fuel efficient and is still the world's biggest-selling car?
Get ready to overturn that impression because the all-new GR Corolla could well be the most exciting Toyota to ever land in America. No, let's just come right out and state a fact—it is!
Packing World Rally Championship pedigree, a 300-hp turbocharged 3-cylinder engine, full-time all-wheel-drive, a pocket-friendly price and handling to shame many supercars, the GR Corolla is made by Toyota's in-house racing and customizing arm Gazoo Racing, which is of course where the "GR" moniker comes from.
At a glance, the GR Corolla looks like a Corolla hatchback that's been to the gym with Dwayne "The Rock" Johnson. With its bulging hood, huge airdam, sharp LED lights, air ducts to cool engine and brakes, flared fenders housing wide rubber, triple exhausts and a large roof wing, this sinister looking hatch would look as much at home on a Fast and Furious set as it would at a race track. The car basically comes across as a factory-bred tuner car targeting drivers who grew up playing Gran Turismo video games and secretly long to be a rally champ.
This is no random attempt at a go-fast hatchback but more of a bespoke sports car, backed by a traditional 3-year warranty. Buyers will also be gifted a free one-year membership to the National Auto Sport Association, plus expert driving instruction at a high-performance driving facility.
Toyota CEO and racing and rally enthusiast Akio Toyoda would not have it any other way. In fact, he was heavily involved in the product planning and development of the car, and actually gives his name to the high performance version — the Morizo Edition. 'Morizo' is his pseudo racing name.
Some 15 years old, the 'GR' name is a performance enhancing unit, much in the same vein as Mercedes Benz's AMG or BMW's M Division, and this Corolla hatchback has been dealt the full performance treatment.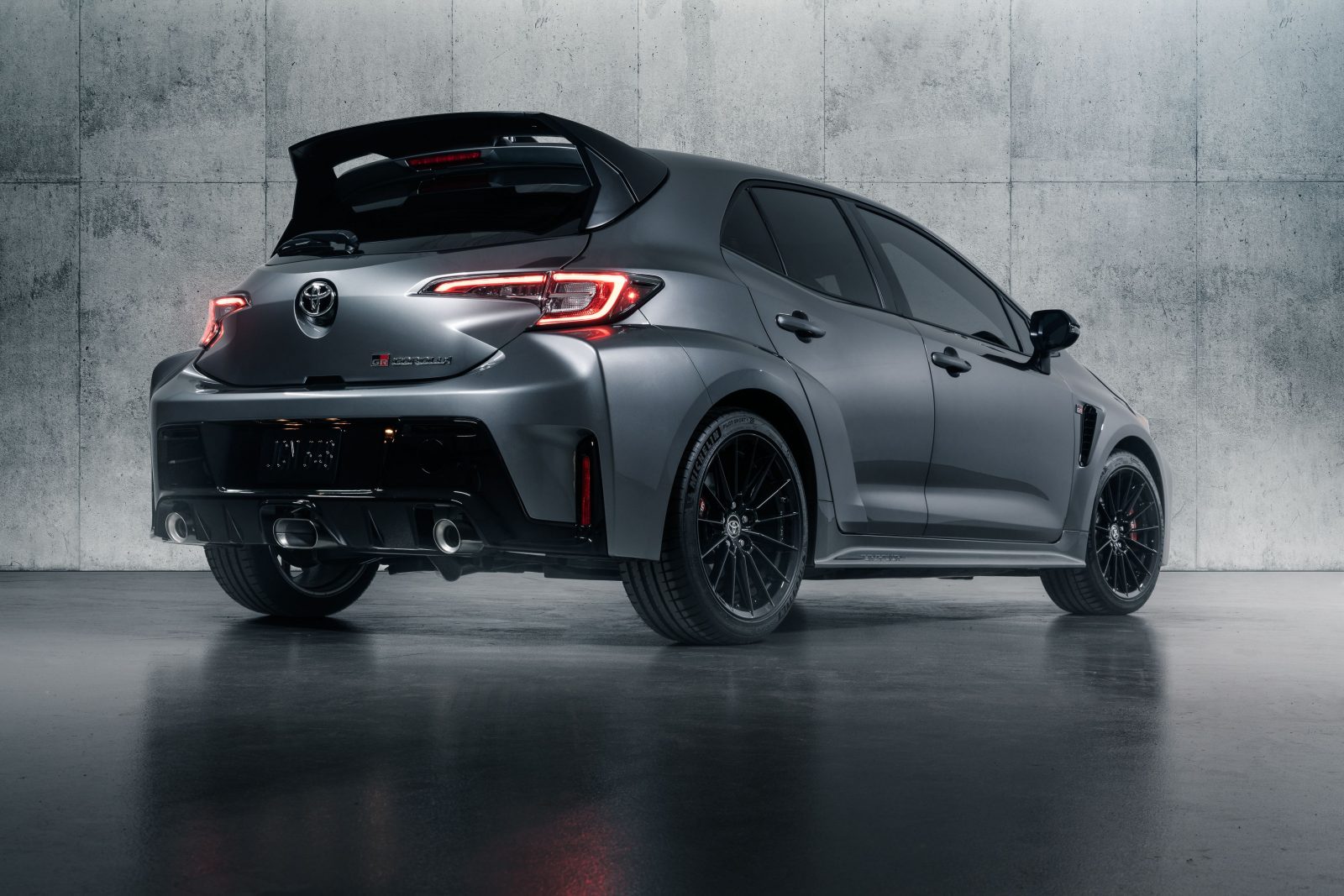 Through the GR brand, Toyota has already released the GR Supra and GR86 sports cars in the U.S. that were co-developed with BMW and Subaru respectively. In contrast, Gazoo Racing avoided collaboration this time and built the multi-award winning GR Yaris on their own, based on the WRC championship-winning Yaris starring in Europe.
Now that hot Yaris is important because it's where Toyota sourced the turbocharged 1.6-liter, three-cylinder engine for the GR Corolla. That mighty triple pot powerplant is boosted from the Yaris's 268-hp up to 300-hp and 273 lb-ft for the GR Corolla and comes only with a 6-speed manual transmission and the company's GR-Four all-wheel drive system. Expect zero to 60mph sprints undercutting 5 seconds. Honestly speaking, the 6-speed manual only decision is a brave one in a market flooded with automatic transmissions. You can count carmakers still playing around with 6-speed manuals on one hand.
The GR Corolla's AWD system was developed by the factory World Rally Championship team, and as such, is engineered for racing, capable of delivering rally car level traction on dry and wet tracks, as well as off road. It has several driver-selectable settings to balance the power distribution, of which Toyota recommends a 60/40 percent split for everyday driving. The GR uses the same basic front strut and rear multilink suspension as the standard Corolla, but it is fortified with track-tuned springs, shock absorbers, and stabilizer bars, in addition to bigger brakes and a more rigid chassis.
Its basic cabin design pretty much mirrors the current hatchback. The biggest difference is that the analog gauges have been replaced by a huge 12.3-inch touchscreen that displays boost levels for the turbocharger, gear position, tachometer, and the AWD mode.
So why do we call the GR Corolla Toyota's most exciting car when the brand offers the 382-hp GR Supra. That's because what the GR Corolla loses out in outright power to the Supra, it more than makes up for in power-to-weight ratio, acceleration, four wheel drive grip and handling and overall thrills. It will corner at least 10mph faster than a Supra, and on any surface.
The GR Corolla will be a brand new addition to Toyota's lineup for 2023 and will go up against the Honda Civic Type R, Hyundai Veloster N, Subaru WRX STI, VW Golf GTI, Jetta GLI and Golf R. It will come in three versions: the 'Core' priced at around $32,000, the 'Circuit' at and estimated $40,000 and the 'Morizo Edition' at around $45,000.
This GR Corolla is about as far away as you can get from a stock Corolla. It's supremely quick, agile, corners on rails and boasts an enviable rally pedigree. Truthfully speaking, Toyota could have given it a completely different name. If the base Corolla is genetics researcher David Banner before he transforms in the green giant, then the GR Corolla is The Hulk. That's how different these two cars are. And at around $40,000, the GR has got to be one of the highlights of the year.