In the 1985 smash hit movie Back To The Future, Marty's Delorean time machine graduated from road dweller to flying car by the time it landed in the flick's fictional future of 2015.
Now, in 2023, the world of Marty and Doc's flying car might finally be upon us. Yes, personal flying machines are almost here, and anyone with the money and a few hours of training will be able to fly one.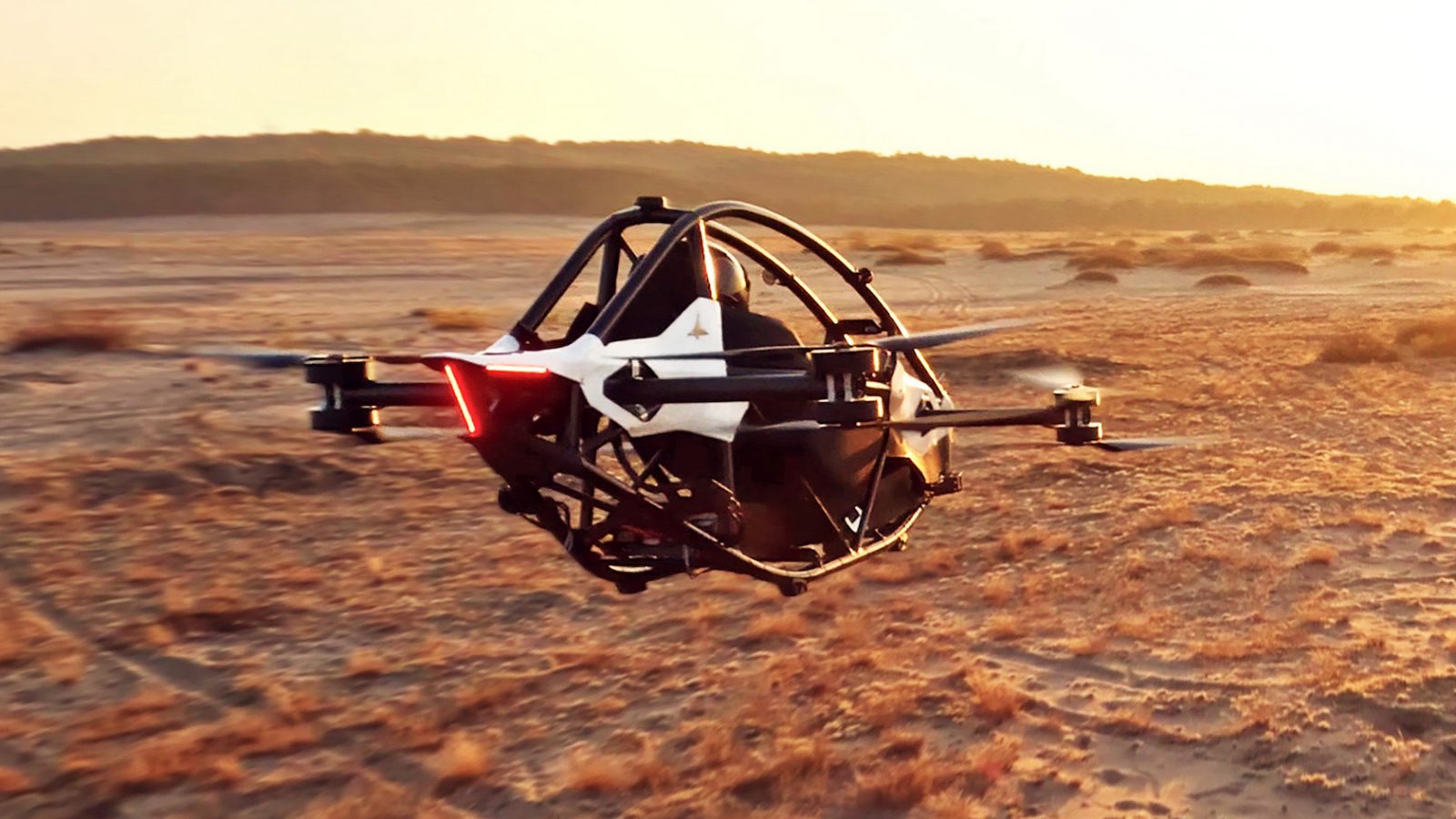 Millions of people dream of flying but acquiring a pilot's license takes time, studying and dedication — plus small aircraft can be dangerous and expensive to own and operate.
With new technologies — some borrowed from electric cars and video games — it'll soon be easier, safer and comparatively affordable for novices to take flight in their own aircraft.
Enter the Jetson ONE — a radical "jet ski in the sky," as CEO Stéphan D'haene describes it — which is available for $98,000, about the same price as an electric Mercedes Benz EQS.
It's one of several ultralight personal flying machines coming to market in the next year or so, including the $190,000 Helix from Pivotal (formerly known as Opener), the Hexa from Lift Aircraft, and the SkyDrive to be built at Suzuki headquarters in Japan.
These flying cars are referred to as eVTOLs or electric Vertical Take-Off and Landing vehicles. eVTOLs are envisioned for personal recreation, short-hop travel or "experiential" entertainment excursions.
The Jetson ONE made its inaugural U.S. flight last week at the UP. Summit in Dallas, an invitation-only gathering of entrepreneurs and investors focused on the future of transportation.
Headquartered in Italy with plans to move to the U.S., Jetson has raised $15 million from investors, including rapper will.i.am. A second round of financing is expected soon. The company says it has 300 orders and plans to begin deliveries in 2024.
The compact design is inspired by race cars, with a lightweight aluminum space frame and a carbon-Kevlar composite body. It takes off vertically and then tilts forward, flying at a top speed of 63 mph and at an altitude of up to 1,500 feet.
It has eight propellers and is powered by eight electric motors and eight swappable battery packs generating a total of 84 kWh of power — about the same as a Tesla. That's good for about 20 minutes of flying time.
The propellers on the single-seat fuselage fold in for easy storage, also making it easy to fit in the back of a pickup truck or van.
At less than 200 pounds, it qualifies as an "ultralight" aircraft, which has relatively few regulations under the Federal Aviation Administration — users are not required to have a pilot certificate, for example. Learning to fly a Jetson ONE takes about five hours of training.
The pilot uses intuitive joystick controls to go up or down and to accelerate and steer, while the flight computer handles the complicated stuff — like keeping the aircraft stable.
As a special safety precaution, redundant motors and propellers mean the eVTOL can keep flying in the event of a prop failure. Still, it comes with a "ballistic parachute" that automatically deploys in an emergency. "Our mission at Jetson is to democratize flight and make the skies available to everyone," said D'haene.
OUR THOUGHTS
If you have $100,000 to throw at something fun, then the Jetson ONE might just be the best thing you can buy. And you don't need a pilot's license. At present, these eVTOLs can only fly for around 20 minutes at a time but better batteries will change that. "We all want nothing more than to fly longer distances, for a longer time," Pivotal CEO Ken Karklin tells Axios. "That will come as battery technology matures."