The new Camry arrives with revised looks and increased luxury
Toyota Malaysia will not offer the Camry hybrid
The new 2.5-litre model starts from RM219,800
Now in its 41st year, the latest 2023 version of the hugely popular Toyota Camry sedan has landed in Malaysia showrooms. With its revised design, class-leading economy and safety, and enhanced features, the latest Camry is expected to give its sedan rivals a real run for their money while challenging the industry-dominating SUV genre as well.
Priced from RM 219,800 in Malaysia, the new Camry is powered by a 2.5-litre, naturally-aspirated, 4-cylinder petrol engine generating 209hp and 253Nm of torque. It is paired with an automatic transmission that delivers shock-free shifting and fuel economy of 19km/L, which is good but significantly less than the Camry hybrid which will not be offered in Malaysia.

Aesthetically, the 2023 Camry employs a sizable, radical new grille that looks like it was inspired by Darth Vader. The headlights are sharp and well positioned, while the overall proportions boast a sportier flavour than previous iterations.
Inside, the Camry employs a totally new dashboard design and is equipped with a range of premium features befitting a full-sized luxury sedan. These include dual-zone automatic climate control, a 9.0-inch touchscreen infotainment system, and a power-adjustable driver's seat with memory. To enhance the sporty look, the Camry also features black headlight and taillight trim, a black front grille, a rear spoiler, mirror caps, and badges. The optional Nightshade package adds matte-bronze 19-inch wheels to the mix, giving the car an air of sophistication and style.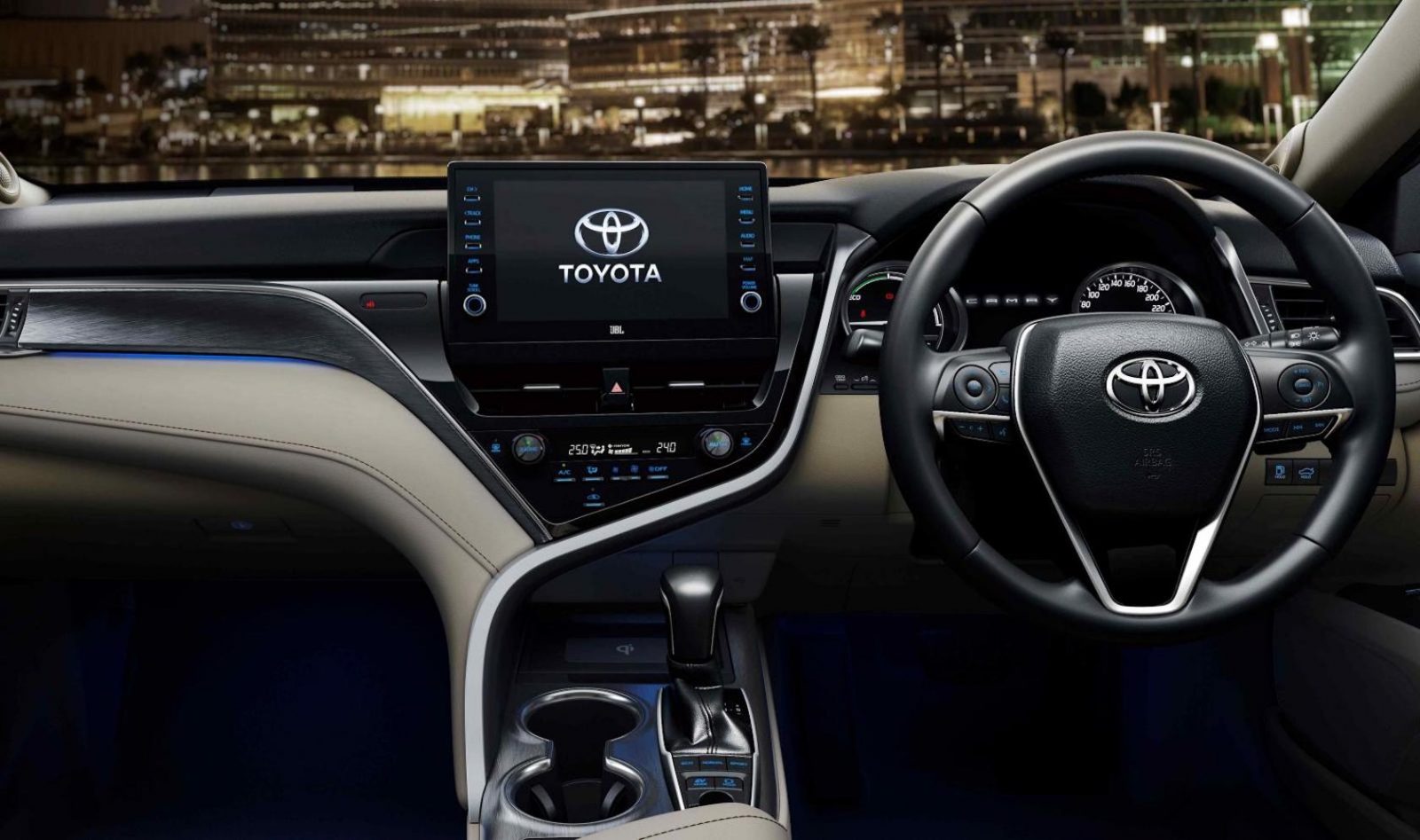 Despite its sporty appearance, the Camry is essentially a family-oriented sedan leaning towards comfort, hence its spacious cabin, and ample head and leg room for passengers. Inspired design and high-quality materials give the interior a premium fit and finish with a hint of luxury. while the suspension setup leans toward the softer side, ensuring a plush ride quality.
However, the new Toyota Camry is not without its shortcomings. The Malaysian version of the car does not include the popular hybrid variant that has contributed to Camry's global success. While the 2.5-litre petrol engine is smooth and refined, it does not offer the same fuel efficiency as the hybrid. Additionally, while the Camry looks sporty and boasts enough power, its steering tends to understeer marginally, while offering good feedback from the road.
OUR THOUGHTS
It's a shame that the hybrid version will not be offered. While it may not satisfy the needs of every driver, it undeniably offers a comfortable and luxurious driving experience. Despite its controversial front end, the Toyota Camry's combination of superb build quality, gutsy powertrain, luxurious interior and class-leading safety features has undoubtedly positioned itself well as a key player in the Malaysian market and will go head to head against popular rivals like the Honda Accord, Mazda 6, Volkswagen Passat and even the Mercedes Benz A-Class sedan.