SEMA is here and the big guns are making their presence felt. Two of Toyota's largest trucks have been specially modified for overlanding—one is equipped with a rear-mounted jet ski while another doubles as a mobile film studio.
Sales of custom off-road variants and full-sized pickup trucks make it evident that overlanding is at its height of appeal right now. For the record, "overlanding" is basically an amalgam of off-roading and camping. That combination, as you'd expect, calls for a truck to be equipped to achieve both of those objectives. In light of this, Toyota debuted a number of tuned Tundra and Sequoia models at the Specialty Equipment Market Association (SEMA) conference this week.
A bespoke Tundra that doubles as a film studio
X Overland created this "Orion" truck, which was based on a 2022 Toyota Tundra Limited. With its customized suspension and multiple add-ons, it's not only meant for conventional overlanding tasks but also functions as a mobile film studio. The 'Orion' Tundra even tested its limits on an 8,000-mile journey in the Nordic region, showcasing its impressive water-fording abilities. Apart from the off-road equipment, X Overland added a rooftop camper, a heating system, a 13.2-gallon water tank, and other accessories.
Additionally, X Overland customized the Toyota Sequoia Limited TRD Off-Road, calling it "Simba." It has a new suspension system that maximizes the SUV's trailworthiness while supporting the weight of the additional equipment. Along with a Warn winch and a steel rear bumper, it rolls on 18-inch wheels with General Grabber X3 tires. In addition, the "Simba" Sequoia features a dual-band transceiver radio and a hard-shelled rooftop tent.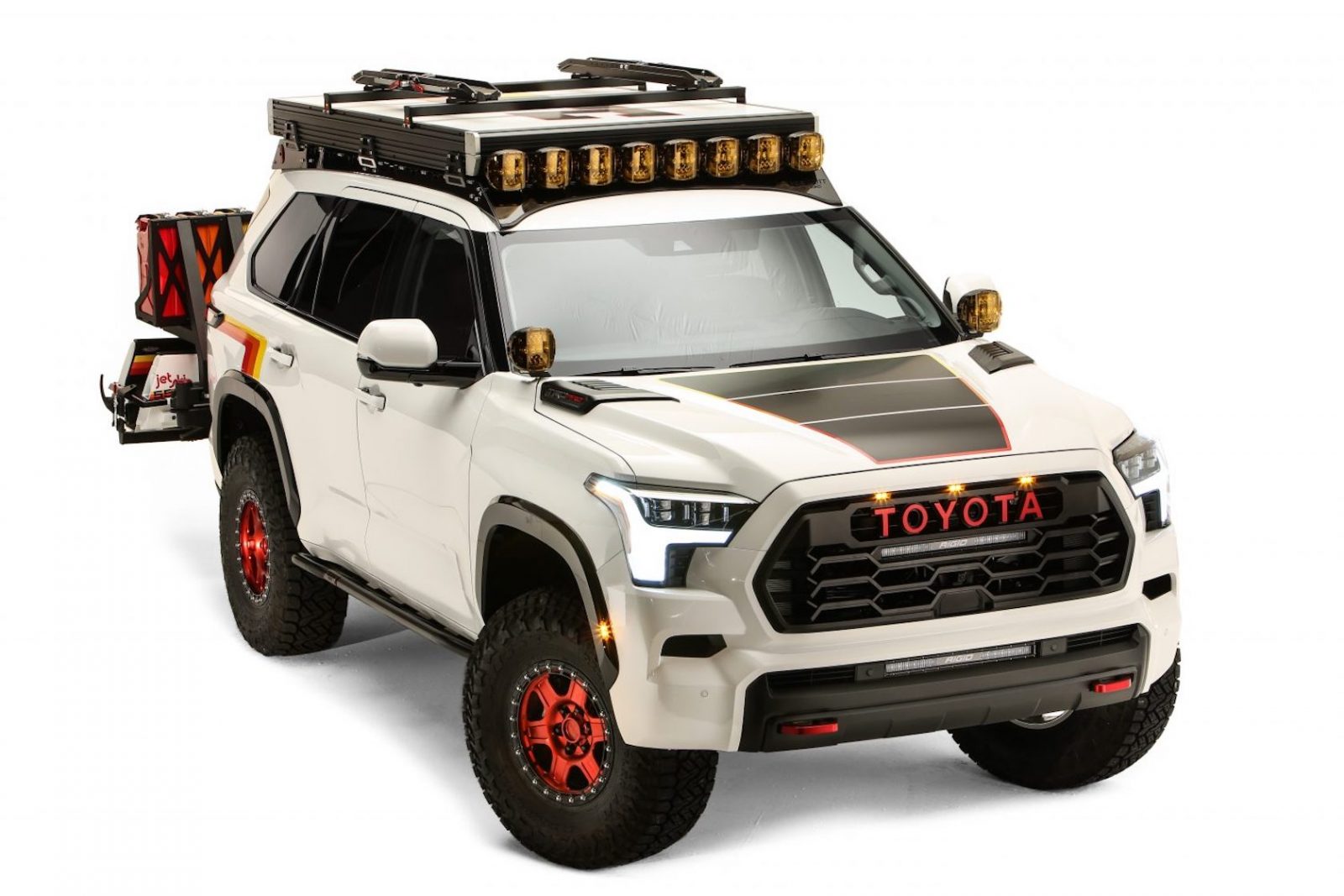 Wescott Designs created this "Adventurer" SUV based on a 2023 Toyota Sequoia TRD Pro. Tasteful Toyota heritage logos complement its understated custom white paint job, while it rides on striking 17-inch beadlock-capable wheels with large 37-inch Nitto Recon Grappler all-terrain tires. The suspension system on the Adventurer consists of a 1.8-inch lift in the back and a 3.0-inch lift in the front. Of course, without accessories like a roof rack and a rooftop tent, it wouldn't be suitable for overlanding. Perhaps the nicest feature of this Sequoia is the vintage Kawasaki stand-up jet ski that is stored on a rack installed on the hitch.
In association with CBI Offroad Fabrication, the publishers of 4WD Toyota Owner Magazine designed this Toyota Sequoia Limited TRD Off-Road. In an effort to create the most off-road capable Sequoia possible, the large SUV was modified with a Warn winch, 34.1-inch Toyo Open Country mud-terrain tires, and a 3.0-inch suspension lift. The "Ultimate Overlanding" Sequoia has a 45-liter onboard refrigerator and a rooftop tent for when it's time to camp.
OUR THOUGHTS
From what we can see here, it would seem as though Toyota has teamed up with extremely capable overlanding specialists to create these unique trucks. Given that Toyota's pickups boast some of the industry's best reliability, you can expect this Tundra and Sequoia to offer outstanding grit and resilience in the wild.