Debuting today at the Paris Auto Show, the 2023 Jeep Avenger is the brand's first fully electric model.
Pure electric Recon and Wagoneer S models to follow soon after Avenger.
As part of the Stellantis Group, which comprises Fiat Chrysler and PSA, the Avenger takes on a hint of Peugeot's styling and gets the same EV powertrain.
At the Paris Auto Show today, Jeep debuted the Avenger, its first-ever fully electric vehicle. For the American brand, that is huge news. But what was even bigger news is that the subcompact Avenger is a Euro-centric model. That's right, it won't be offered in the U.S.
In fact, Jeep has chosen this segment for a very important reason: it is expected to account for total sales of 2.2 million cars as early as next year. With Jeep, or should we say, with FCA being part of the Stellantis Group now with PSA (which stands for Peugeot, Citroen, and DS), the Avenger actually borrows some of Peugeot's styling—to make it even more palatable for a European audience. It also inherits the same powertrain as that is the Peugeot e-208.
Okay, let's all take a deep breath. So the 2023 Avenger will not be appearing in U.S. showrooms. But the electric Recon and Wagoneer S will be landing on American shores in 2024.
We've been hearing about the Avenger for a while now, ever since Jeep's parent company, Stellantis, announced its future plans over six months ago. In fact, the yellow, edgy model that debuted today in France accurately previewed what we saw on Jeep's stage. It was only last month that Jeep showed us details of the soon-to-be-launched electric Recon and Wagoneer S model alongside the Avenger.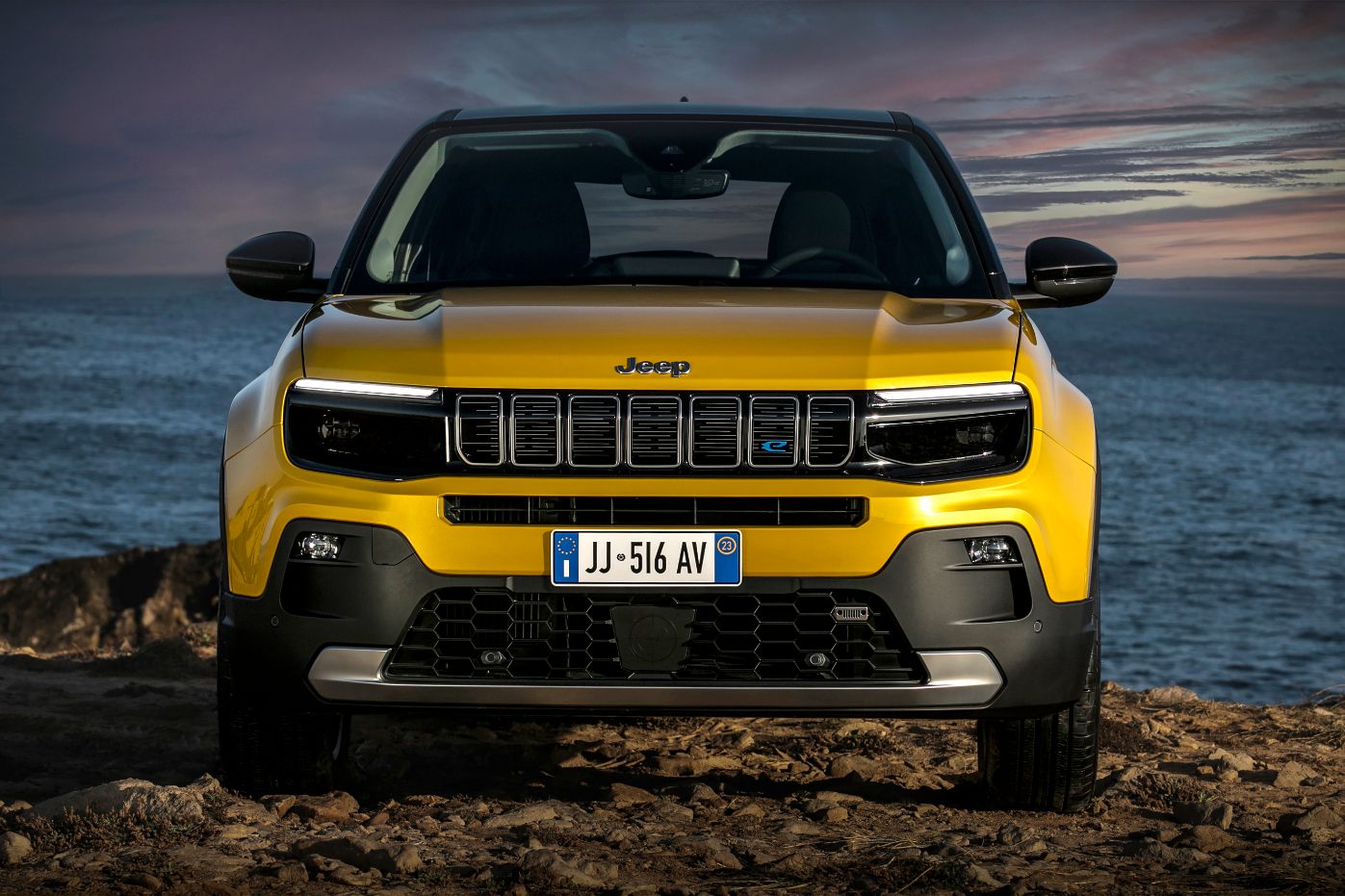 But then, when you check out the Avenger's dimensions, many Americans will nod in agreement at the brand's reluctance to launch it at home. The crossover's small dimensions are perfectly suited to Europe's narrow roads. It is noticeably smaller than the Jeep Renegade, around 6 inches shorter to be exact. Jeep tells us that the Avenger is around 161 inches long and sits on 18-inch wheels.
Its short overhangs permit a 20-degree approach angle and a 32-degree departure angle, and with 7.9 inches of ground clearance, that means the Avenger can go just about anywhere. And that's even before we mention it has hill descent control.
Powering the new compact Jeep is a 400-volt electrical system that's matched to a single electric motor propelling the front wheels. The Avenger gets a front-drive electric powertrain generating 156 hp and 192 lb-ft of torque. Those are exactly the same figures as the updated Peugeot e-208 and the new e-308, while its electric motor extracts power from a lithium-ion battery pack boasting 54.0 kWh. The Jeep's DC quick-charging speed maxes out at a healthy 100 kW, which can top up the battery from 20 to 80 percent in around 25 minutes. A dual-motor, all-wheel-drive 4xe version is coming as well. Jeep in Europe though, appears that it wants to please everyone, so the brand will also offer a gasoline-powered Avenger in Italy and Spain.
The Jeep Avenger lands in the B-segment and therefore enters the same pond as the Citroen eC4, Peugeot e-2008, Renault Mégane E-Tech Electric, and Hyundai Kona EV.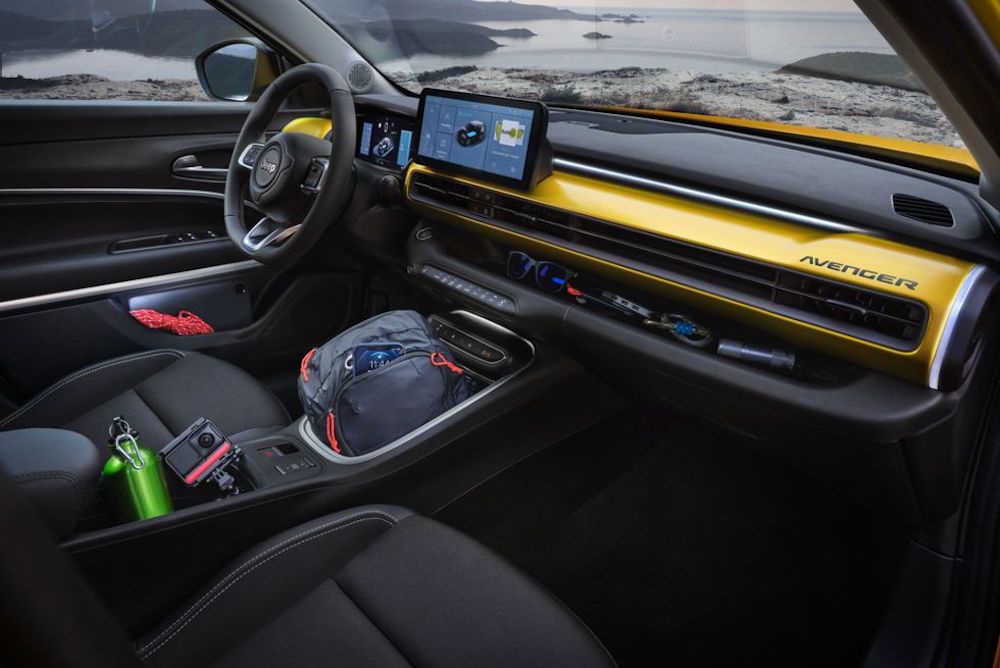 The Avenger's cockpit employs a funky, 3-toned dashboard design that showcases a body-color panel which runs right across the dash between the A-pillars and includes integrated air vents. As expected of SUVs these days, the Avenger incorporates a suitably-sized 10.3-inch touchscreen, while the driver looks down on a 7.0-inch digital gauge cluster.
Although prices are still unclear, the Avenger is slated to be built at Stellantis's factory in Tychy, Poland, and will arrive in European showrooms in early 2023.
OUR THOUGHTS
Yes, it is the most European-looking (with a hint of Peugeot), the most compact Jeep we've ever seen, but there's method in the madness. Even though we do feel the crossover would sell in the U.S., the profit margins on such a small SUV would most probably not be worth the cost of shipping it across the pond. We also think that it's as much a good idea to sell the brand's first EV in Europe as it is to sell a gasoline version of the car to Italy and Spain, which can only help to widen its customer base to those not ready to switch to EVs.