Some 1,000 Rivian Amazon electric delivery vans have just gone into service across the U.S. with thousands more to come
The cute, retro-styled vans come in two sizes—500 cubic feet and 700 cubic feet
All vans get Amazon's signature Prime blue coloring accents, satnav, driver monitoring and advanced safety features
Rivian's high-profile R1T pickup truck and R1S SUV might be the star attractions at the EV startup right now, but its new Amazon electric delivery van looks destined to be the brand's signature model.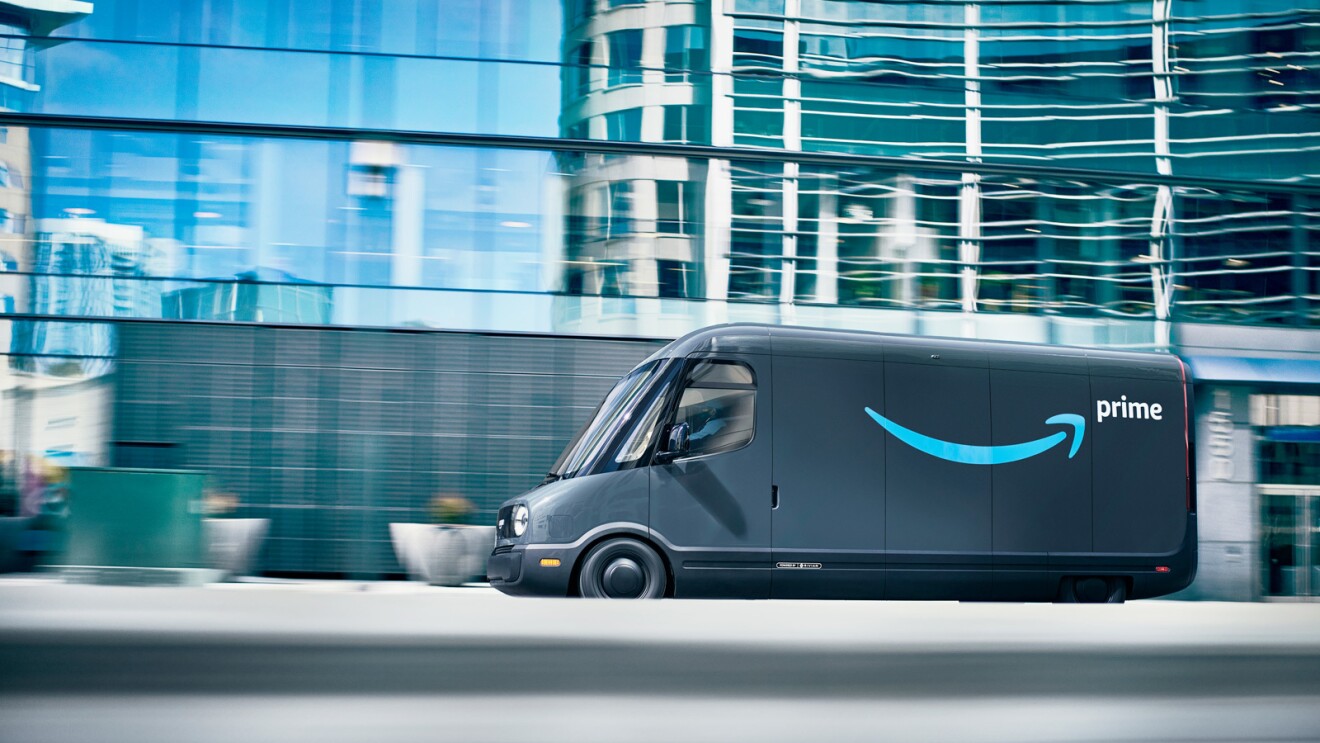 That's right folks, Rivian's Amazon EDV is finally going into service with the first 1,000 units of a planned 100,000 vans starting this week. Here we check out some of its cool features.
Firstly, that cute retro-styled face will contribute to its popularity. Rivian wanted it to have a friendly front end as it will become part of the urban street environment in the next few months. One thing that stands out is the huge Amazon logo that replaces the Rivian badge on the front nose, tail and both sides.
It comes in two lengths—one that can haul 500 cubic feet of packages, and another that can cater to 700 cubic feet. With such simple styling, it was designed to be easy to repair if damaged. At the tail end, Rivian designers have cleverly fitted bright red taillights that stretch up and over the full perimeter of the van making it not only more visible but adding a futuristic touch to the sheetmetal.
To further highlight that this Rivian van is an Amazon EDV, it employs Amazon's signature bright blue coloring from the logos to the accents at the rear end.
Rivian is remaining tight-lipped on power output for now, but it says that these vans employ detuned versions of the front motors used in the R1T and R1S. They're powered by Rivian's 135-kWh "Large Pack" battery, though we are hearing that a smaller, lighter lithium iron phosphate battery pack is in the pipeline.
Taking a page out the Rivian's R1T and R1S' cabin design, the EDV incorporates a large infotainment touchscreen and a digital gauge display. Amazon's bespoke route software replaces Rivian's standard satnav software but the remainder of the dash is similar to other Rivian models. The van offers excellent forward visibility while a 360-degree camera system helps improve side and rear visibility when parking in narrow streets.
The EDV also features a special fold-down jump seat specifically for trainees or delivery helpers, and it even comes fitted with a Prime blue seatbelt mimicking the driver's one.
Every EDV model comes fitted with an integrated first aid kit. Its location just inside the side door makes it easy to quickly grab bandages or gauze for minor injuries. The Rivian EDV is also fitted with an A-pillar mounted camera setup that monitors drivers for drowsiness or distraction whilst driving. If the system detects either, it will sound and alert to pay attention or to pull over for a short coffee break. In line with other Rivian products, the van has other driver-assistance features including lane-keeping assist, blind-spot monitoring, automatic high-beam headlamps, and adaptive cruise control.
OUR THOUGHTS
For those who thought the EV revolution was still years away, I'm afraid to say it's already here. In the same way as every carmaker is now introducing multiple EV cars and SUVs to their lineups, we are seeing companies like Rivian tying up with Amazon and Tesla collaborating with Pepsi in just two major team-ups that will transform the transportation and delivery business over the coming years.