Stranger than fiction? Yes, like you, we were surprised to hear that 59-year-old Hollywood A-lister Brad Pitt will be taking on the role of a Formula 1 driver in an upcoming, yet-to-be-named Apple Original Films' movie. Why? Because the average age of an F1 driver today is 27, with the oldest being Fernando Alonso at 41. 
And it will seem like a parallel universe has crossed over into the F1 paddock this coming weekend at the Silverstone race track in England when the fictional 'APXGP' eleventh team car joins the F1 grid, piloted by fictional character Sonny Hayes, played by Brad Pitt. I can't wait to see his first "Pitt-stop." Maybe the film will be called 'Once Upon A Time In Silverstone,' or 'Legends Of The F1,' or 'Seven Years in F1,' or perhaps 'F1 Fight Club.' Okay, enough jest. Let's just hope they choose a catchy title.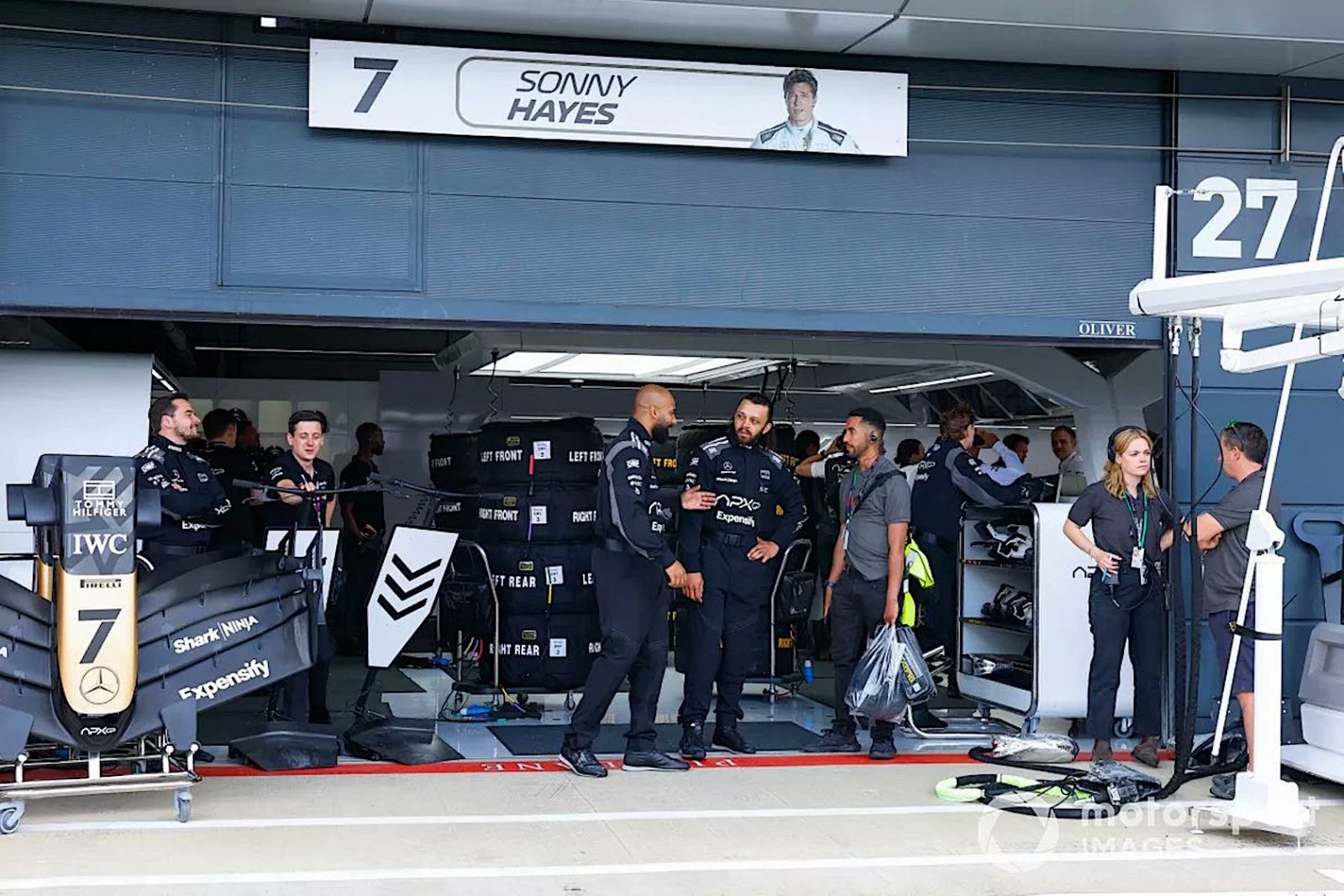 Apple Studios, makers of the racing film, first revealed last summer that it is producing a movie about Formula 1, looking to capitalize on the wave of popularity that the racing series experienced through the Netflix show Drive to Survive. We recently had our first glimpse of Pitt's race car thanks to images released by Apple Original Films and published by F1.
The APXGP car boasts a black-and-gold livery, harking back to the iconic John Player Special–branded Lotus F1 cars of the '70s and '80s as well as the Rich Energy–sponsored Haas car of 2019. In fact, Pitt's car kind of looks like a Duracell battery with wheels. Strategically though, the livery includes sponsorships from real-life companies, including IWC, Tommy Hilfiger, and Expensify. A large AMG badge along the side suggests that the fictional team will be powered by an engine supplied by Mercedes-AMG F1.
Mercedes driver and 7-time world champion Lewis Hamilton will serve as a producer on the film, in a concerted effort to keep the movie as close to real life as possible. That's a tall order when your star driver is already twice as old as the current world champion Max Verstappen.
Filming of the F1 movie will begin this weekend at the F1 British Grand Prix at Silverstone, with scenes to be shot in between official practice and qualifying sessions so as not to affect the running of the real event. That's right, even when Pitt does get behind the wheel, he won't actually be competing in the real race. Pictures have already surfaced of a pit garage in the Silverstone paddock for Pitt's fictional F1 team, called APXGP. His character's name in the movie, Sonny Hayes, appears on the wall as if he was a genuine F1 racer.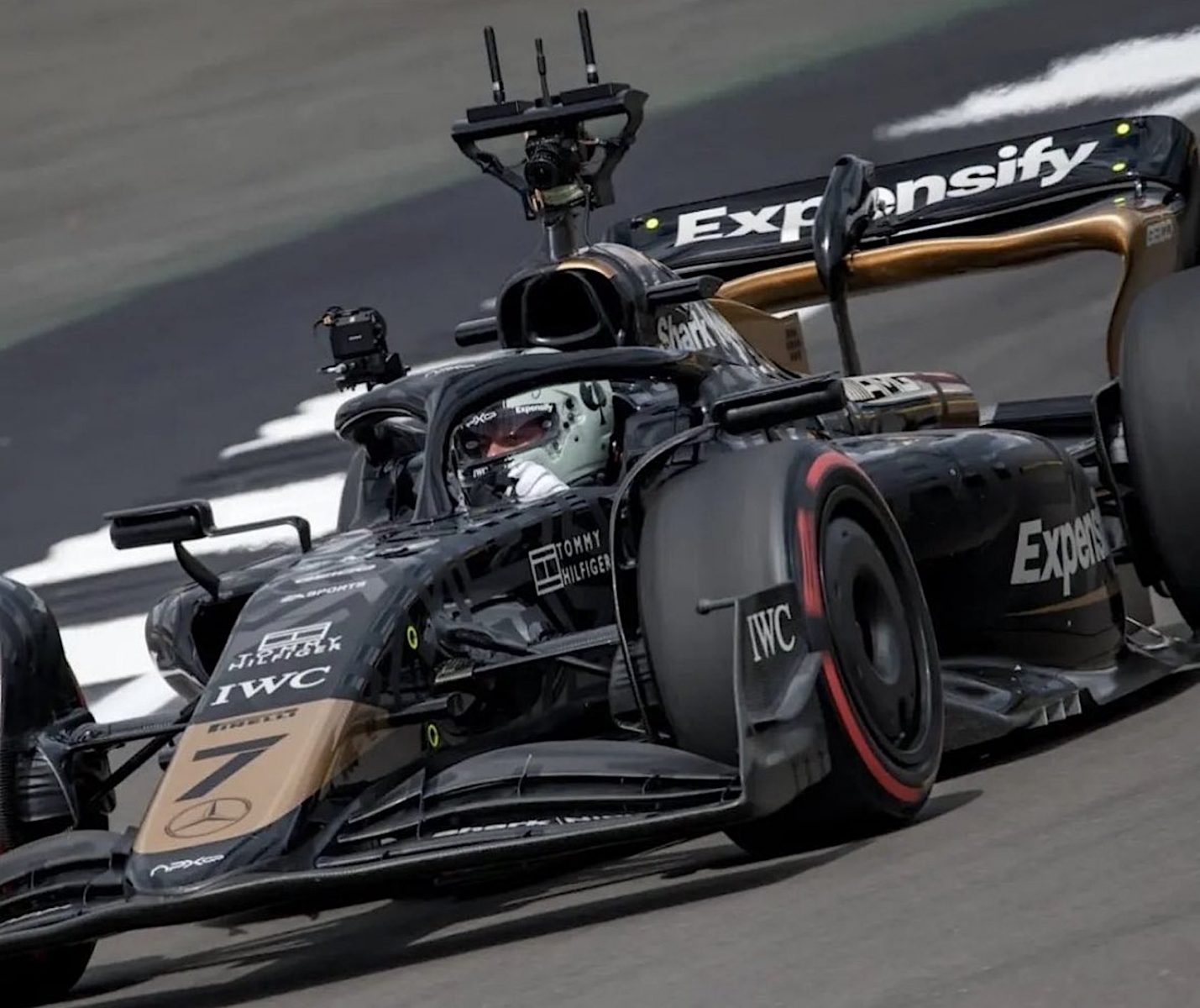 One reason, apart from the fact that he's not a racing driver, is that the car he'll be piloting is not actually an F1 car. The car appears to adhere to the latest regulations—introduced in 2022—that focus on ground-effect downforce, but the design is strategically different from the current cars on the grid. In fact, the car being used for the movie is actually based on a Formula 2 chassis, modified by Mercedes and the British racing team Carlin.
Filming will occur in the pits and on track as well, with the APXGP car piloted mainly by professional drivers. The fictional GP car has been fitted with 15 extra camera positions to capture all the footage needed from the perspective of the movie characters. Pitt and teammate Joshua Pearce, played by actor Damson Idris, have been training hard for their roles behind the wheel and will get some seat time as Top Gun: Maverick director Joseph Kosinski plans to reduce the reliance on CGI, similar to the approach he took with Maverick. No release date has been announced, but considering filming is still underway, we wouldn't expect it in theaters until late 2024.
OUR THOUGHTS
We think it's wonderful that F1 has enjoyed huge popularity and a massive boost to its fanbase of late thanks mainly to the Netflix show Drive to Survive, and fully-blown Hollywood movies about F1 are more than welcome and are likely to find mega-audiences. Our only gripe, as we're sure you've gathered by now, is why didn't the production crew choose a driver who could fit in with the real-world drivers who are mostly in their 20s. We know that the storyline follows veteran racer Sonny Hayes making a return to the sport. But at 59? Instead of Brad Pitt, we feel an up-and-coming action star like 27-year-old Tom Holland would have been a cleverer choice. Even 39-year-old A-lister Andrew Garfield is still younger than current Aston Martin driver Fernando Alonso.