Cadillac spied poaching Tesla owners in Shanghai and offering Lyriq test drives
A couple of Lyriqs were parked right next to Tesla Superchargers
The 20-30 charge time gives a brief window of opportunity to Cadillac
Could this be the most blatant, aggressive form of guerrilla marketing? We think so. Cadillac is reportedly piggybacking at Superchargers and approaching Tesla's clientele in an in-your-face way by directly offering test drives of its Lyriq crossover at a Tesla Supercharger station in Shanghai. Yes, it's poaching Tesla owners while they charge their cars.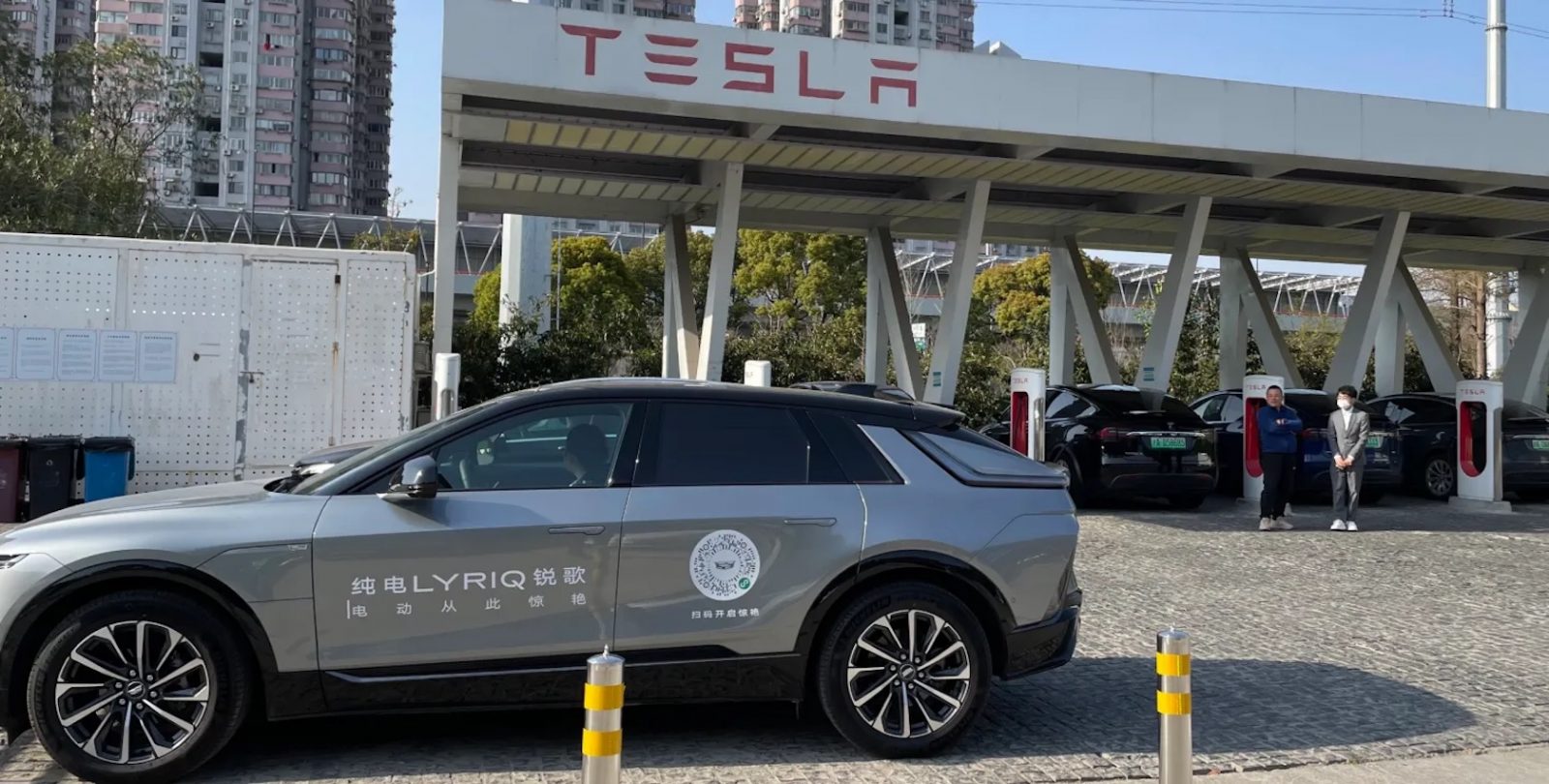 Somehow, we get the impression that such techniques would not go down very well in the U.S. or other Western countries.
According to a Twitter post by a "Jay" in Shanghai over the last few days, who uploaded some photos of the questionable action, a Cadillac dealer was parked and waiting at a Tesla charger outside of Shanghai Jinqiao Supercharger, and offering test drives to motorists as they waited. Cadillac reps Stateside were asked to clarify why the Lyriq was at that particular Supercharger station in China, but no reply was forthcoming.
From a marketing perspective, the $64,000 question must be—how can you find people who drive electric vehicles (EVs)? Your best bet is to look for Tesla owners, right? And where is the best place to find them? Supercharger stations. Dah.
Not only can you source Tesla owners there, but they will be there for between 20-30 minutes while they charge their cars—opening up a short window of opportunity to offer a Cadillac experience. And this guerrilla ploy worked as several Tesla drivers were spotted taking short test drives in the electric SUV while waiting for their own cars to finish charging.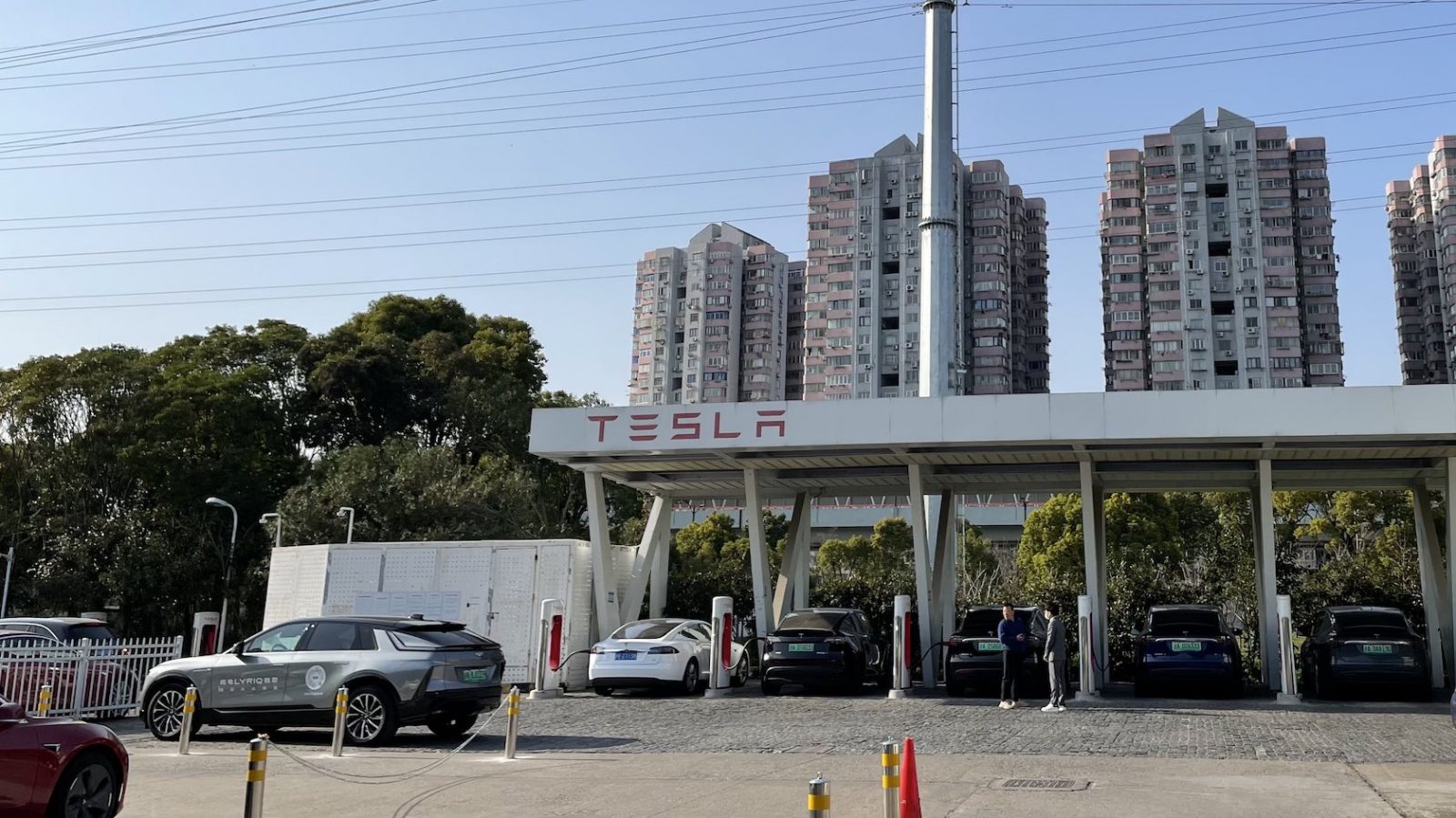 The Lyriq is Cadillac's first mass-produced, all-electric vehicle and it seems as though dealers are doing all they can to stimulate sales. The base trim starts from $59,590 in the United States and comes equipped with a single rear-mounted electric motor and a battery pack that offers an EPA-estimated range of 308 miles.
Meanwhile, in China, the Lyriq starts at RMB 479,700 or about US$70,000, which, translated, means it competes with the higher-end of Tesla's lineup in China. According to a source, it's not the first time that firms in China have directly targeted Tesla customers to try to promote their own EVs.
Production of the Lyriq started in March 2022 but last year, Cadillac could only manage to deliver 122 units in the U.S., while in China deliveries did not start until December. In contrast, Tesla sold over 430,000 units in China in 2022, so GM has a lot of catching up to do. That's obviously one reason why it's resorting to these unorthodox tactics of poaching Tesla owners while they charge.
OUR THOUGHTS
Cadillac's rather aggressive, blatant tactic shows how much impact and pull Tesla has in the market. Whether it should be allowed to continue we will leave up to the marketing section and lawyers. But GM's ploy also has a downside – proving just how influential Tesla is in the industry boasting access to its own charging network. Although, with Tesla slowly opening up its Superchargers to non-Tesla users, the tables are starting to turn, albeit very slowly.