When production EVs first appeared over a decade ago, battery swapping was considered but soon abandoned
Ample, a California startup dedicated to battery swapping, is introducing a new streamlined station that slices the process down to about five minutes.
Inherent problems with battery swapping are that EV batteries are cumbersome and there's no industry standard design
One main reason why thousands of potential consumers are delaying their switch to electric vehicles (EV)—apart from the higher (than normal) initial sticker price and range anxiety—is the time-consuming task of charging your EV. Let's face it. Charging an EV can more often than not take upwards of 30 minutes to add just 100 miles of range using a fast-charger.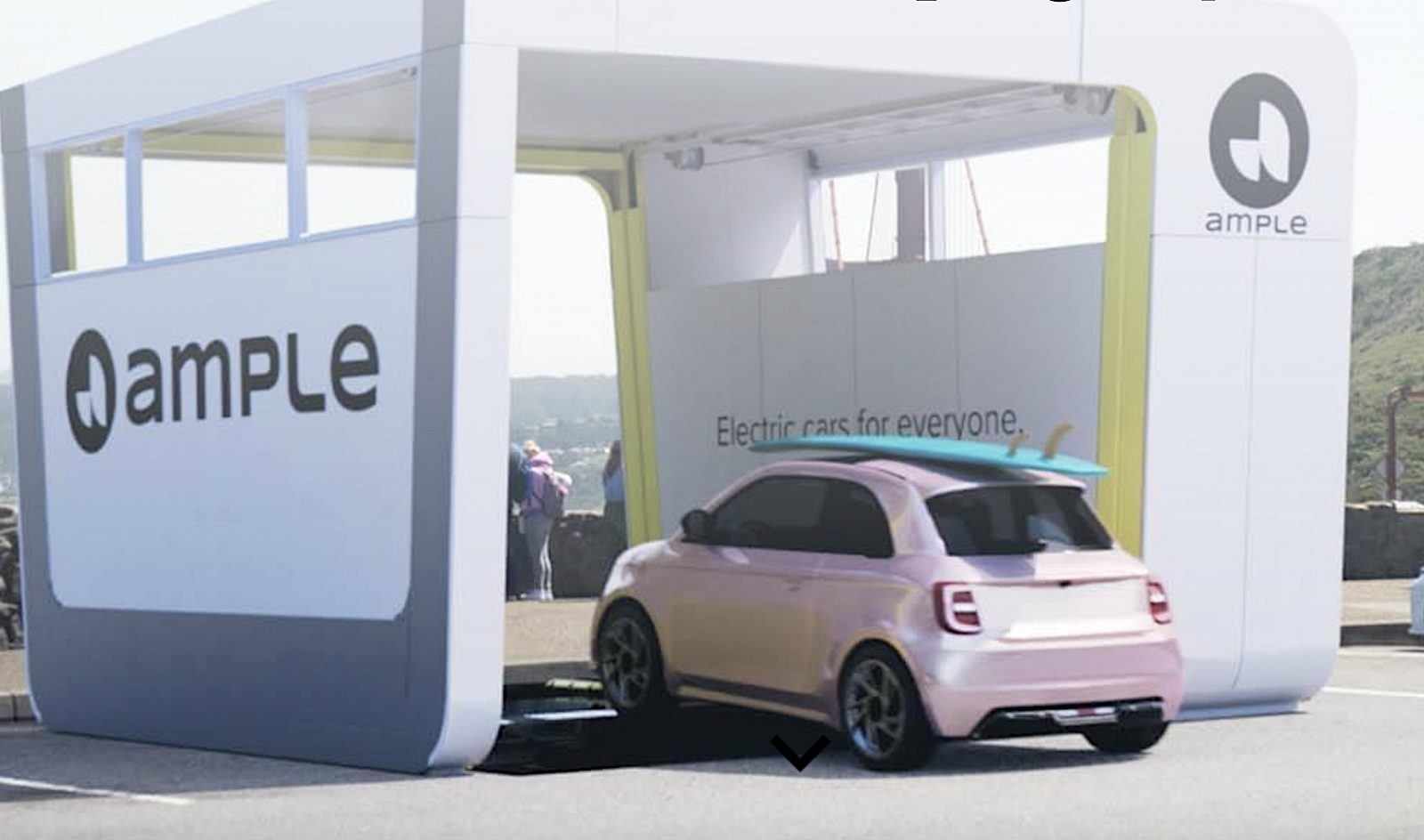 That's why battery-swapping (which can take under 5 minutes) was initially considered when EVs first started to make an impression on the market—but was quickly dismissed by Tesla's Elon Musk and several other big EV operators as unsustainable. But the fact is this—swapping batteries to save time and keep motorists moving, is an item that's very much still on the table.
As I've heard more than 100 times over the past three years, many drivers won't embrace EVs unless the recharging process is as seamless as filling up a gas tank, or close to it.
Ample, a California startup dedicated to battery swapping, is introducing a new streamlined station that slices the process down to about five minutes.
That's about the time it takes to fill up a gas tank — and far less than the half an hour it takes to recharge most EVs at public fast-chargers.
Ample's pre-fab stations can be deployed across a city painlessly in a matter of days. Boasting multiple bays at one location, the station can accommodate several cars at once. The company has been experimenting with battery swaps for Uber drivers in San Francisco and recently expanded to Spain and Japan.
The startup also just signed a deal with EV maker Fisker to install its swappable batteries in the automaker's just-launched Ocean SUV.
But to get the ball rolling and gain precious real-world experience, Ample will initially target commercial operators, including ride-hailing and delivery vehicles, says co-founder and CEO Khaled Hassounah.
So how does it work? Ample makes modular battery packs that can be integrated into EVs of any make or size and swapped out when depleted.
The shoebox-size modules fit within an adaptor plate designed to match the shape and size of a given vehicle's original battery. Such flexibility means that carmakers like Fisker can install a swappable Ample battery in under 5 minutes at the factory.
It's this simple. When a vehicle approaches Ample's drive-through swapping station, a bay door opens automatically. Once parked inside, the driver pulls out their smartphone and initiates the battery swap using the Ample app.
The automated system identifies the vehicle's battery requirements and swaps the depleted battery pack with a fully charged replacement.
Yes, it sounds easy. Battery swapping has been tried before, with little success. In the mid-2000s, Israeli entrepreneur Shai Agassi invested $900 million for a battery swap company called Better Place, but failed. Then in 2014, Tesla tried their luck by opening a single battery swap station in California, but soon abandoned the idea in favor of expanding its Supercharger quick-charger network.
The problems are obvious. EV batteries are cumbersome and there's no industry standard design. Each battery is built specifically for integration within a given car's unique architecture. Unfortunately, they do not mimic the plug-and-play type like AA or AAA batteries in flashlights etc. It's impractical for each swapping station to store and service many different sizes and types of batteries, says Sam Abuelsamid, principal e-mobility analyst at Guidehouse Insights.
Ample's modular design is meant to account for these issues. In the meantime, one fast-growing Chinese EV company, NIO, is using a standard battery in all of its six models. Similar to Tesla's Supercharger network, its swapping stations are proprietary and open only to NIO customers.
60% of NIO's 320,000 owners have opted to use one of its 1,383 Power Swap Stations in China and Europe, the company recently revealed. NIO is adding about 1,000 more stations in China and up to 70 more in Europe this year to support what it calls "battery-as-a-service.
"Under this model, buyers pay separately for the vehicle and the battery — making EV ownership more affordable for those willing to sign up for a monthly battery subscription. In Norway, approximately 95% of users have opted for battery-as-a-service, NIO said.
OUR THOUGHTS
Battery swapping is an integral part of the equation in order to stimulate greater EV adoption sooner than later. Anything that makes EVs cheaper and recharging quicker and easier — whether it's battery swapping or more accessible charging — will help accelerate EV adoption.