At CES last week, Goodyear debuted a tire boasting 90 percent sustainable materials
The new tire employs sustainable products such as soybean oil, rice husks, and pine resin, in place of petroleum-based compounds.
Goodyear first plans to bring a 70 percent sustainable material tire to market this year
The last time you heard the word 'soy' mentioned was probably at Starbucks when you ordered that Tall Soy Latte. Or maybe you pour soy milk on your breakfast cereals every morning. People today are using soy products to make everything from tofu to pancakes to imitation meat burgers to ice cream. Food products we can understand, but we had to pinch ourselves when we heard that soy was now being used in the manufacturer of Goodyear's latest tires.
A rise in environmental awareness over the past few years has led tire makers to create more challenging sustainability goals. Aiming to introduce its first 100 percent sustainable tire by 2030, Goodyear is making strides toward such a future with a demonstration tire revealed at the Consumer Electronics Show last week.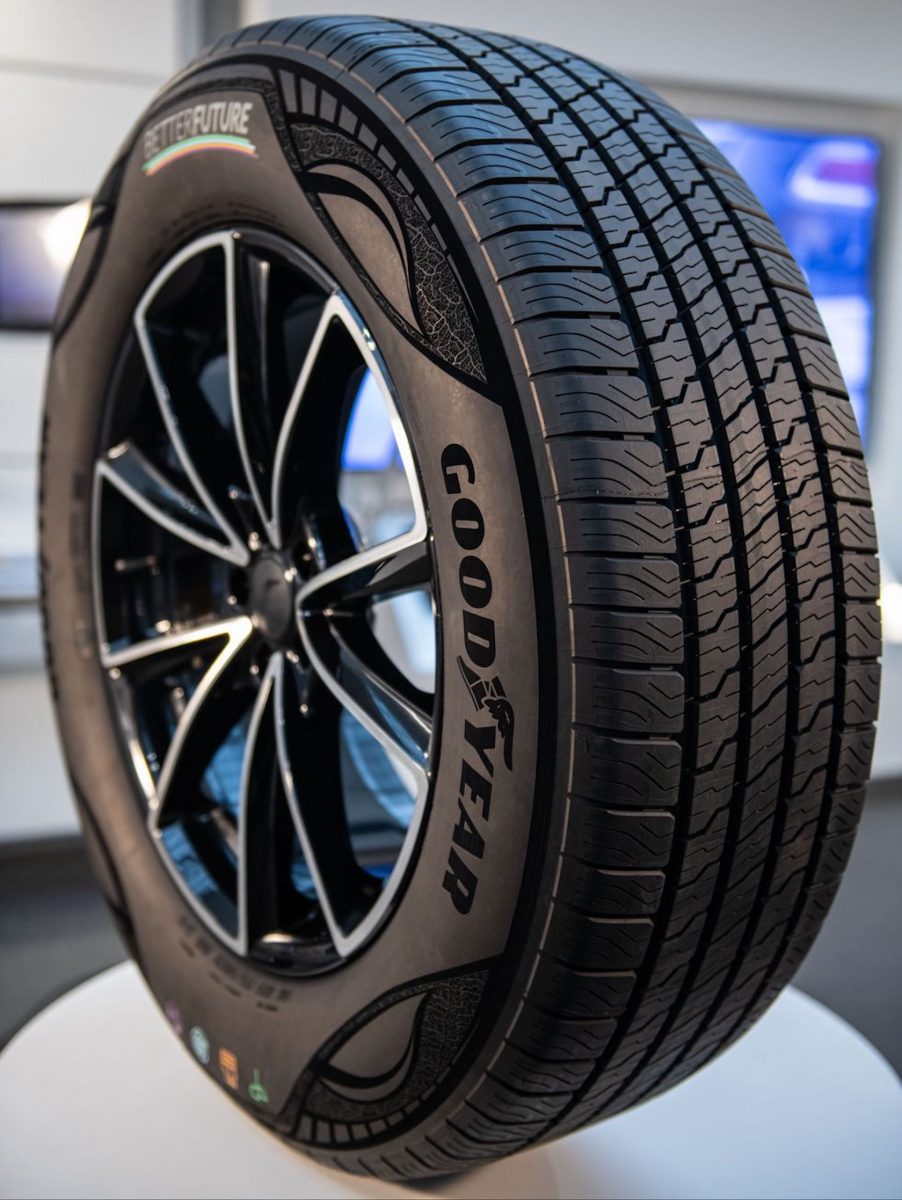 Manufactured from around 90 percent sustainable materials, the prototype tire has already cleared all regulatory and internal tests needed for use on passenger cars. It goes without saying that merely passing regulatory tests is not a guarantee of good tire performance, as we have seen on many sub-standard road tires. One aspect this test tire excels in is rolling resistance. Goodyear claims its sustainable tire rolls more easily than that of a comparison tire with traditional materials.
In addition to natural rubber, tires also employ steel, textile materials, synthetic polymers, and a long list of chemicals to make sure that your tire hugs the road beneath it. This concoction of materials though has an adverse effect on the environment.
As tires wear down with daily use, they discard small bits of rubber and chemicals that pollute the environment. To get a feel for the extent of tire waste that's left behind, check out the outside section of corners on race tracks after a Formula 1 or Indycar event. Those corners are littered with small black beads of rubber which can get blown or washed away and end up polluting rivers and lakes. Goodyear, however, has found a way to avoid this pollution. Instead of rubber beads, it leaves behind a nuance of tofu, and oddly, a hint of pine schnapps.
Tire makers are extremely tight-lipped about the chemical composition of their tire compound for fear that competitors might steal this information and find a competitive edge.
In contrast, Goodyear, has shared the 17 key ingredients across 12 components that are used in making these tires. Goodyear incorporates soybean oil to keep the tire pliable in changing temperatures; rice husk ash silica, to improve grip; and pine resin, which replaces standard petroleum-based resins.
Goodyear plans to bring a tire that's 70 percent sustainable to market by the end of this year, with a 90 percent tire in the pipeline for the mid-20s.
OUR THOUGHTS
Every time I watch a Formula 1 race, and see the mountain of small black bead waste from tires littering the corners, I think of what possibilities there might be to alleviate this critical pollution issue. If manufacturers can actually use soybean oil, rice husk and pine resin to make sustainable, earth-friendly tires, then all tire makers should follow the lead and dive into product research as quickly as possible to find even better solutions.