We know that a Specialty Sports Concept will star on Honda's stand at the upcoming Japan Mobility Show in late October. But we can't tell you anything about it because the carmaker hasn't revealed any details or images. What we can say at this stage, however, is that the concept will be fully electric, and, according to Honda, 'fun to drive.' Let's hope so.
Now, what we can tell you—and show you (!!)—is news about Honda's tiny Sustaina-C two-door hatchback concept. What's unique about this electric hatch is that it's made of recyclable acrylic and comes complete with its own minute scooter called simply—Honda Pocket.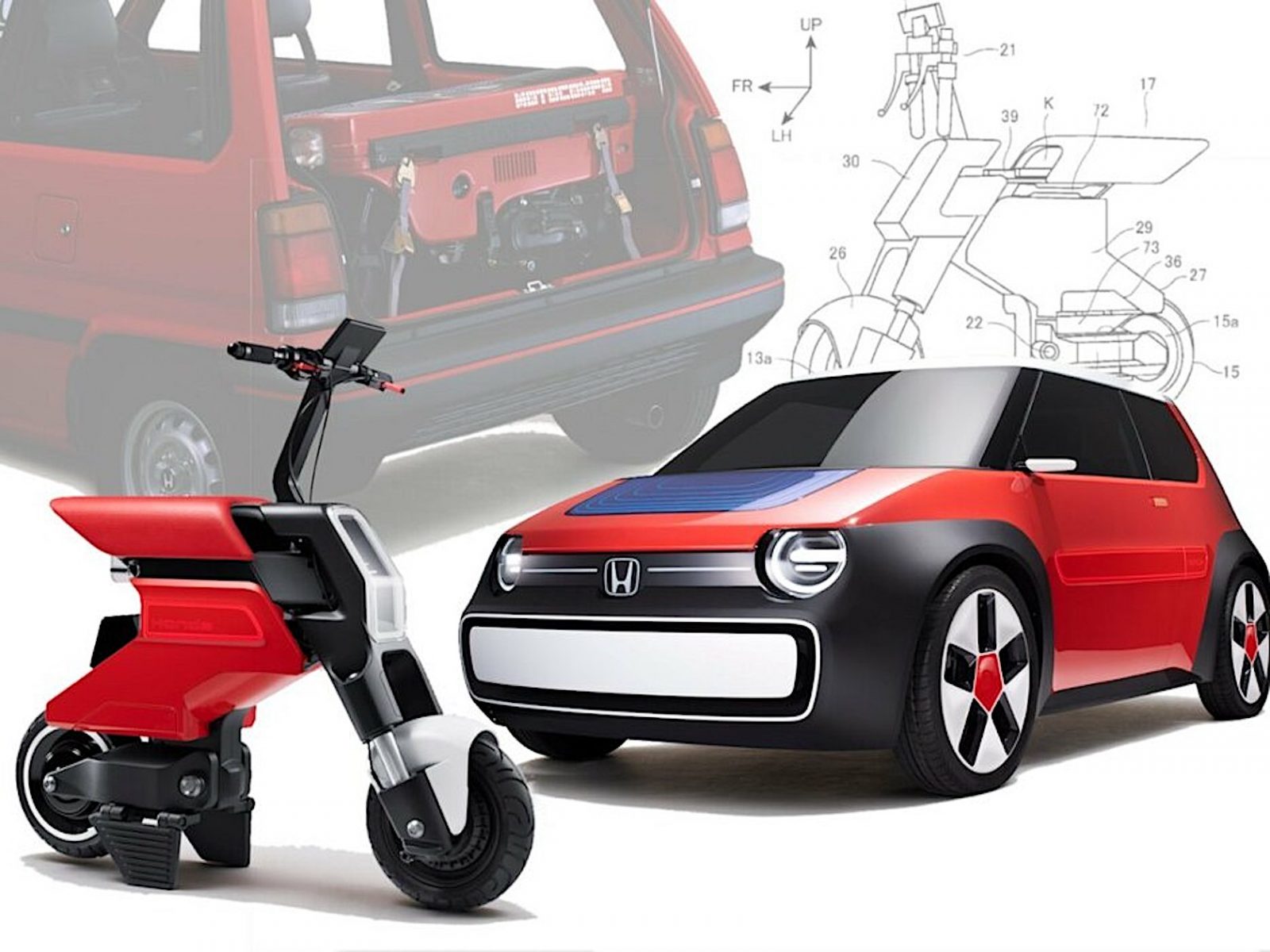 But the idea for this vehicle combination is not new. In fact, way back in 1982, Honda made a case for minicars in the U.S. when it debuted the Motocompo folding scooter designed to fit into the trunk of the firm's City compact car. It was so quirky that Hot Wheels even made a scale-sized City Turbo II with two plastic Motocompo bikes stashed in the back.
At the Big Site event complex in Tokyo on October 25, Honda will reveal its new interpretation of that popular car and scooter combination—the City and Pocket. By unveiling this funky double-feature concept, Honda is envisaging a future with roads packed full of fun little cars and handy bikes instead of waves of mean-looking SUVs.
Honda hasn't revealed any details about either vehicle, but the idea of parking an easy maneuverable little Honda hatchback, unloading a scooter out of the trunk, and negotiating those narrow streets to get to your local sushi restaurant has its merits. Such a combination would serve you better in carpark-challenged Tokyo than say Los Angeles' huge network, but as cities around the world get busier, the idea of an onboard last-mile scooter makes a lot of sense.
OUR THOUGHTS
The overpriced Honda e electric compact the firm launched a couple of years ago—making it the company's first-ever production EV—all but flopped, but what we see here is a funky, compact scooter-in-car combination that could really catch on if the price is right. Don't expect it to boast a range exceeding 120 miles though, as this will be purely an inner city, last-mile form of transport.