PROS
That eager turbo just wants to get on with the business
Sporty handling
Loads of great tech for revheads
CONS
Lacks a comfort mode, ride a bit harsh
Could do with a manual gearbox option
Noticeable torque steer when pushed hard from start
When actor Sung Kang said, "What d'you think? I'm gonna let you roll in a Hyundai?!" in 'Fast & Furious: Tokyo Drift,' he hadn't yet tested the outrageous Hyundai Kona N sports SUV. Packing a 276-hp 2.0-liter turbo that can leap from zero to 60 mph in under 5 seconds, and boasting tech like an 'N Grin Shift' button, this chunky hot hatch from hell is ripe for a starring role in the next Fast & Furious installment.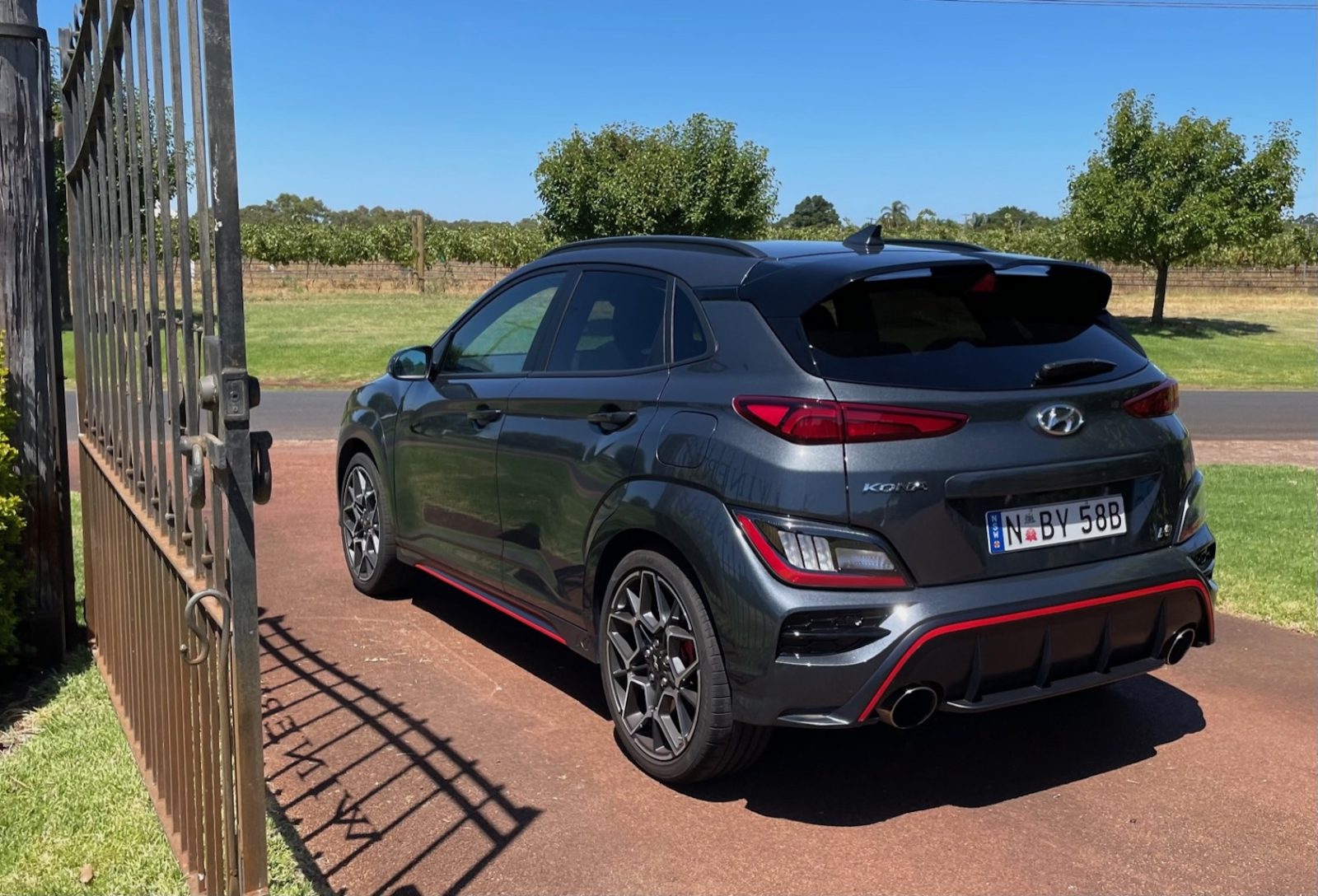 The Kona N gets twice as much power as the base model
So what is this car all about? On a recent trip to Australia's west coast city of Perth, I borrowed a Kona N and was pleasantly surprised by its tweaks and twerks. Hyundai has taken a standard Kona sub-compact and completely souped it up. Whereas the base model Kona gets a 147-hp naturally-aspirated 2.0-liter engine and starts at around $24,000, the hotted-up $34,950 Kona N inherits the same eager powerplant as the Veloster N. It pumps out 276-hp and 289 lb-ft of torque, nearly twice as much horsepower from its turbocharged 4-cylinder engine and gets a host of enhancement parts like bespoke suspension, 19-inch wheels with Pirelli P-Zero rubber, adjustable dampers, active exhaust, an 8-speed dual-clutch gearbox, and a special aero package and decals. It also gets a limited-slip diff to maximize traction in the corners. 
It comes with just three paint choices (red, black, or white) and a black interior highlighted with white stitching and special 'N' badging. While the exterior treatment is understated, this sub-compact employs a large mesh grille and air dam to feed air to the intercooler, extra thin LED headlights, twin chrome exhausts and a diffuser, red stripes around the underbody, and a sporty roof spoiler for effect.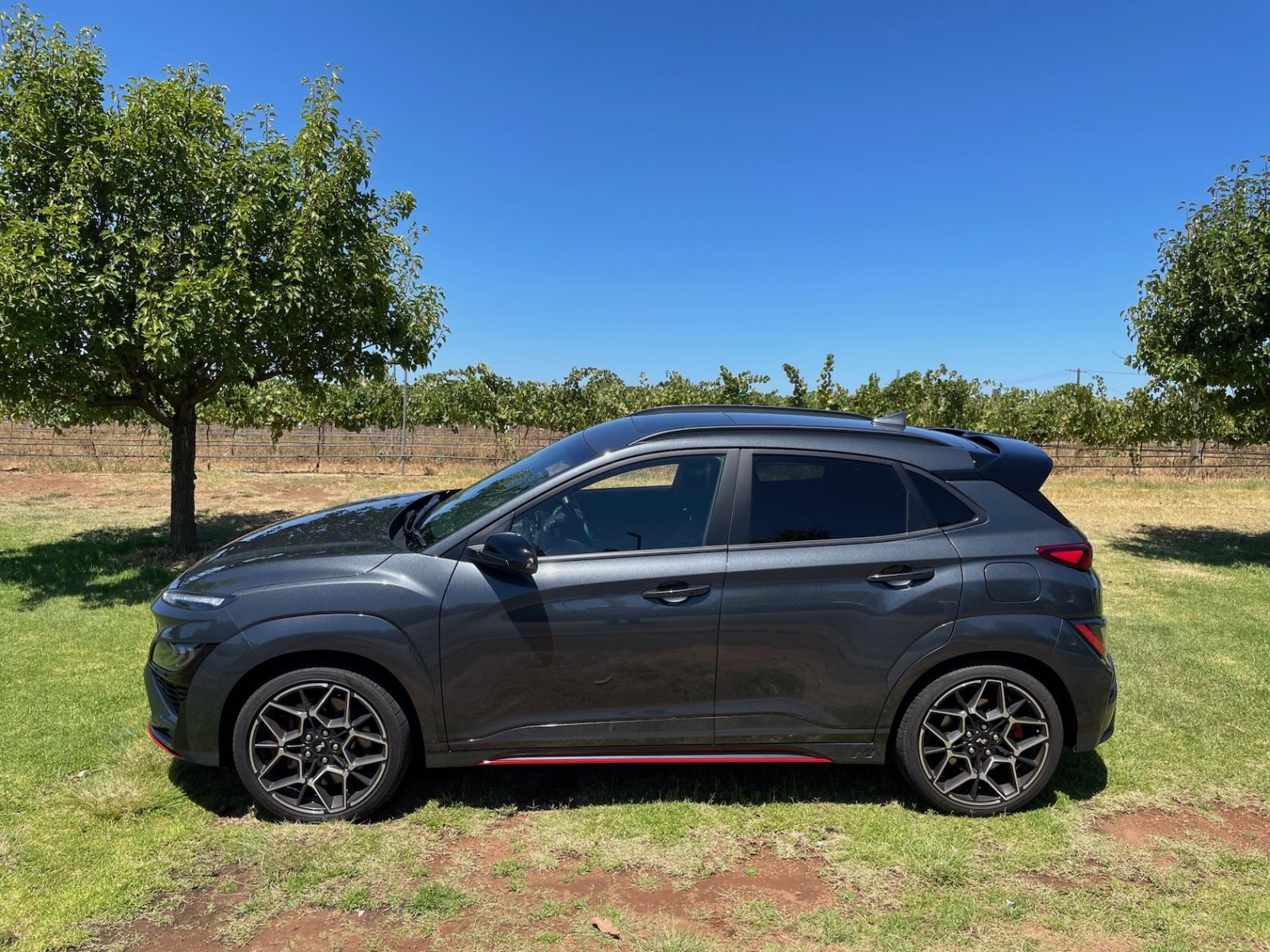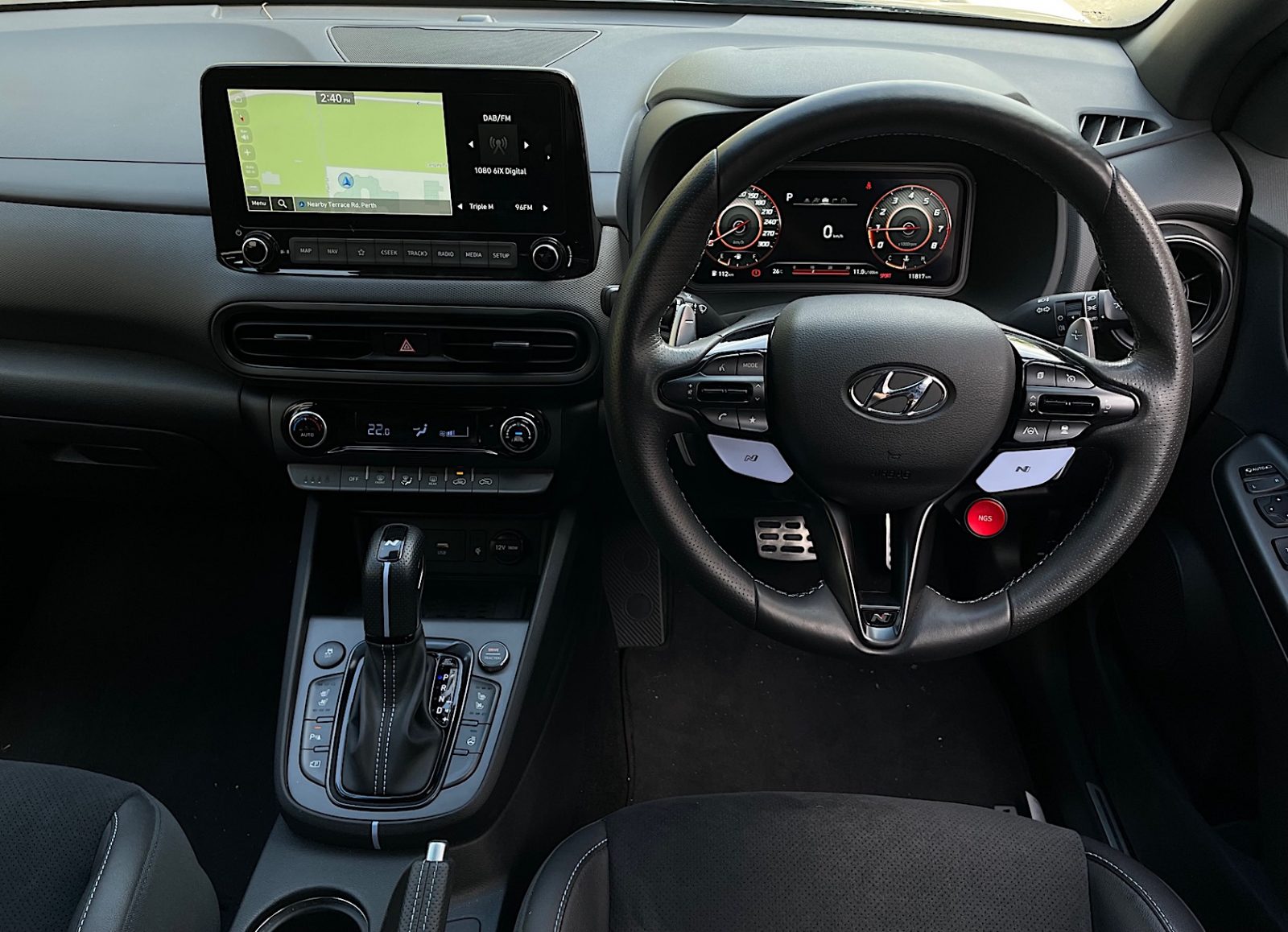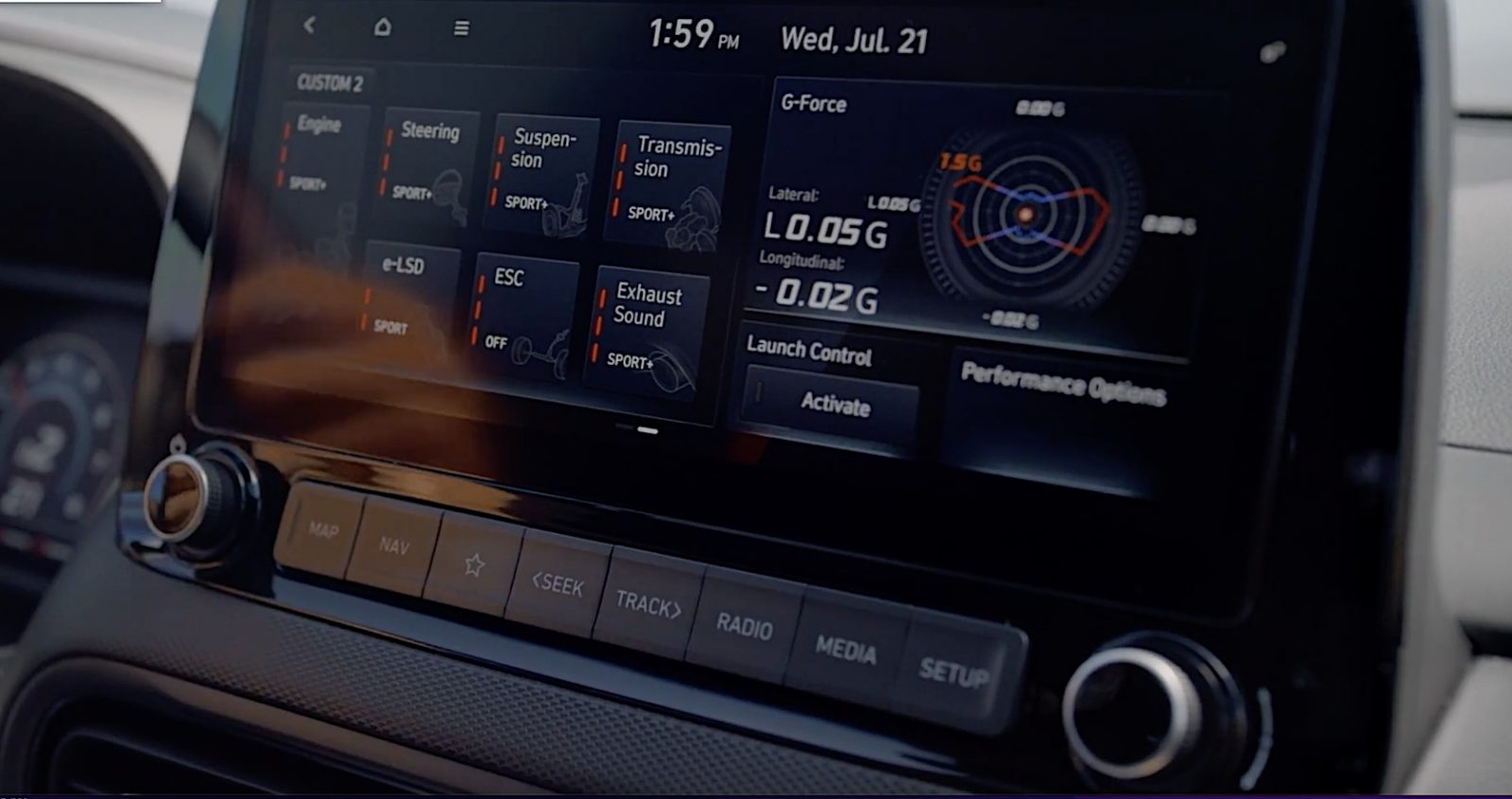 The car's gauges and graphics will put you in the mood
To put drivers in the mood, the Kona N has a high-definition 10.25-inch touchscreen containing a full menu of handling and performance enhancements switches that enable the driver to choose their preferred suspension, steering, transmission, and engine settings, and engage a lap time feature for track days. Switch the car into N mode and the surrounds of the speedo and tacho 'frizzle' for a second or two with a red hue to highlight your sports setting selections. The graphics guys have really done a good job in here even if some of the plastics are a little cheap. The heated and ventilated front sports seats are covered in leather and suede and deliver plenty of support and comfort on long drives. The rear seats are just adequate if not a little challenged for headroom.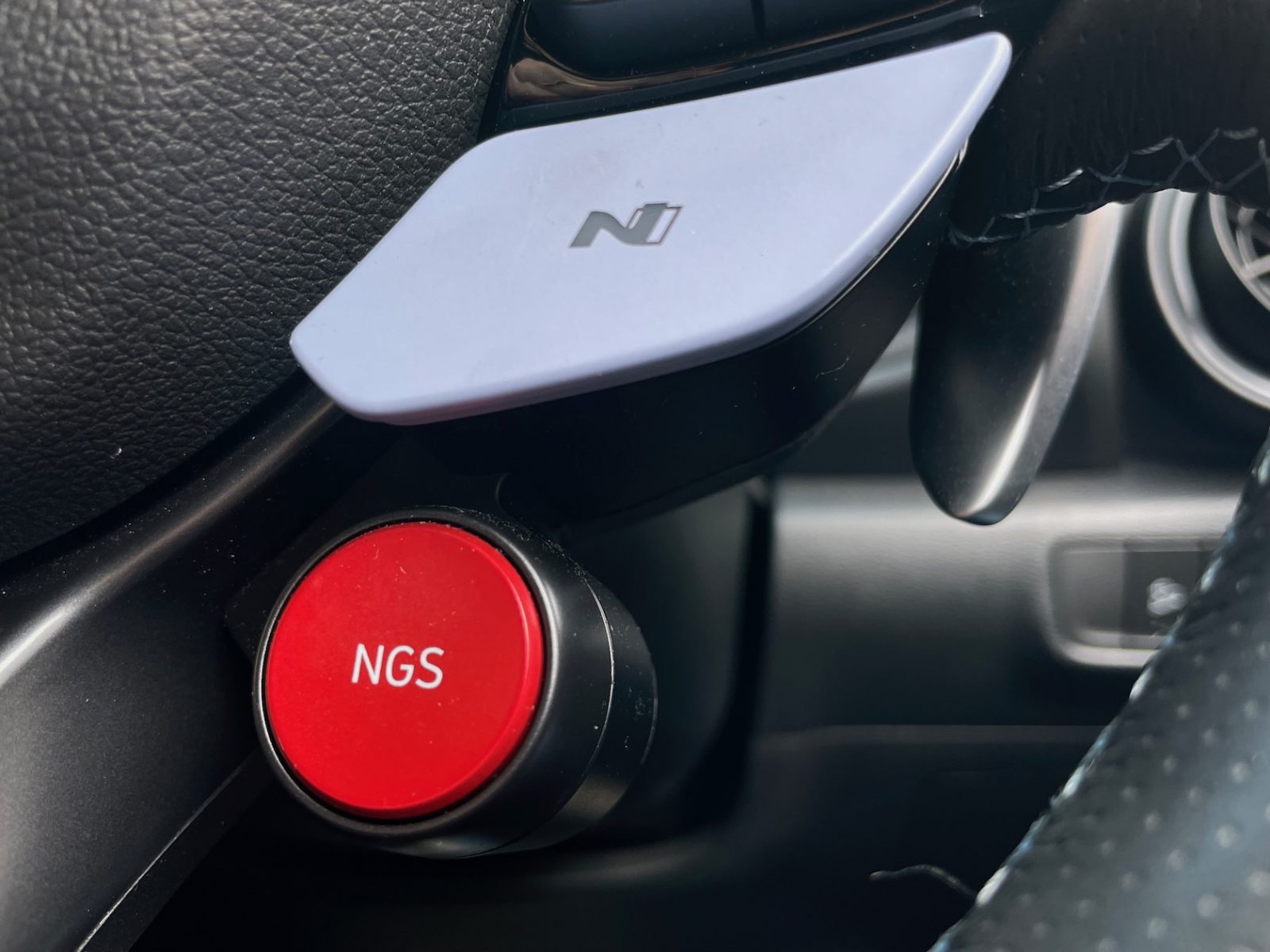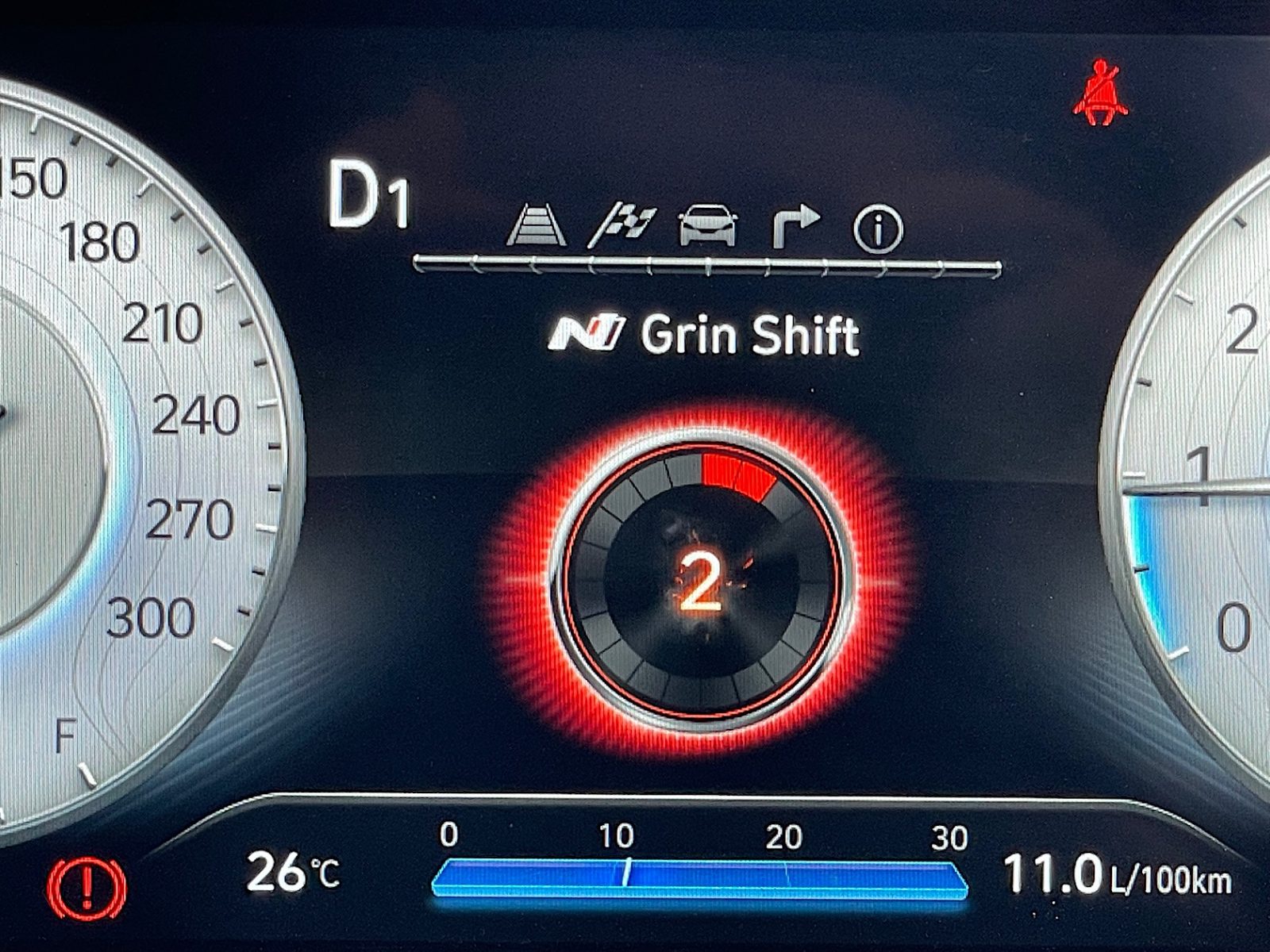 The 2.0-liter turbo has loads of herbs and can keep up with anything in its class, although it does experience marginal turbo lag at low revs. Keep it spinning above 3500 rpm though and you'll have instant acceleration for the asking. To help reduce that lag, Hyundai engineers have fitted a bright red 'NGS' (N Grin Shift) button on the steering wheel. This feature feels like something fitted to much more expensive sports cars as it delivers a new level of thrill.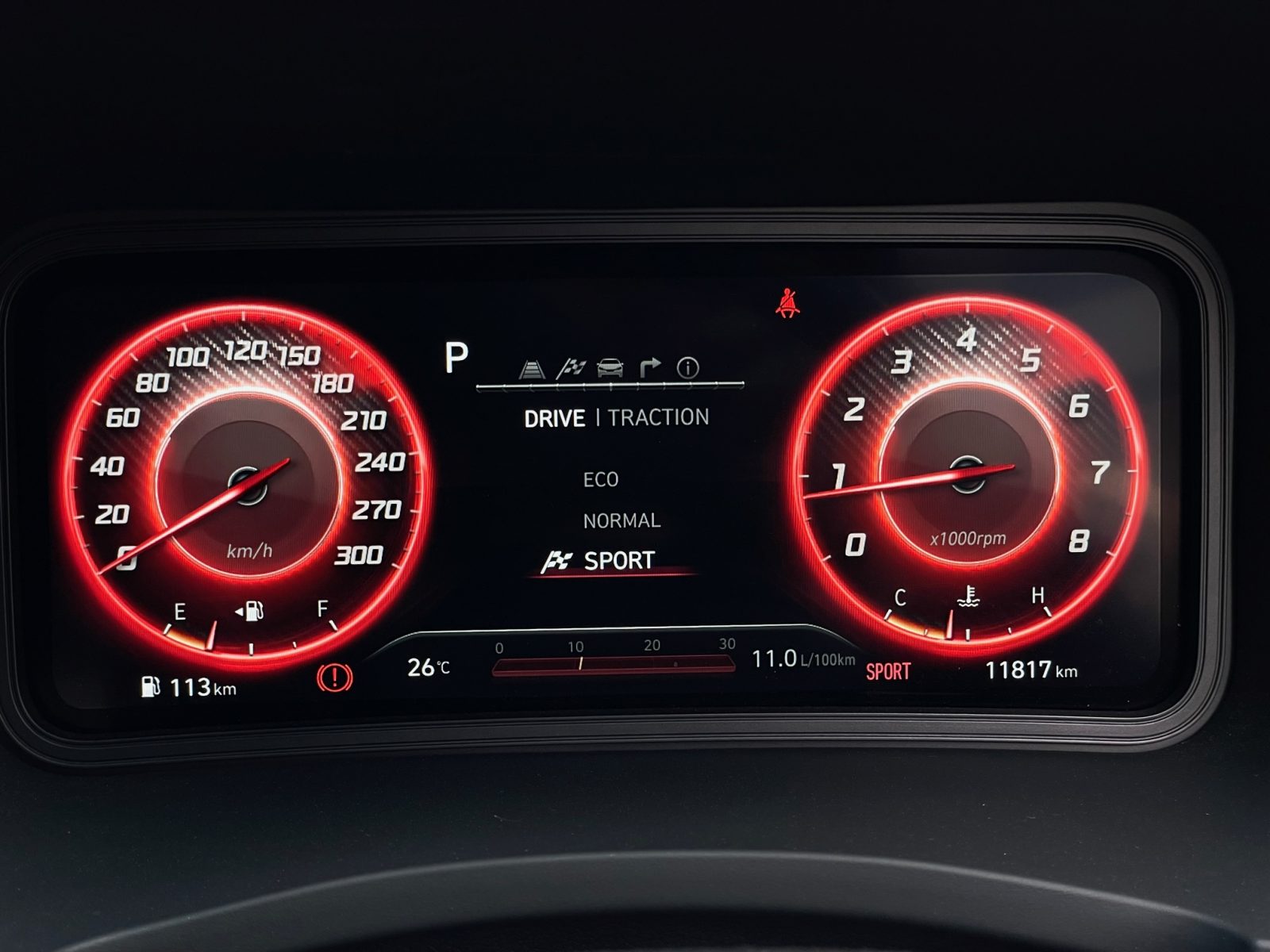 The 'N Grin Shift' switch is a nice touch
When you press it, get ready for some theatrics as you activate the over-boost function. On a small round meter between the speedo and tacho, it counts down from 20 seconds to zero and then gives you an added shot of 10 hp for 20 seconds. In this mode, the gear shifts are quicker and sportier as the exhaust barks, pops, and crackles add drama during gear shifts. Hyundai certainly let the engineers out to play with this car.
It's a fun gimmick with the extra boost of power and speedier shifts useful for those track day laps or overtaking. However, the engine still feels a little too peaky, a fact that makes it challenging to apply power smoothly. Another gripe is the aggressive limited-slip differential, which more often than not, sees you battling against torque steer, with the fronts itching for grip when pushed hard from low speeds.
Unlike the Veloster N, an 8-speed DCT is your only option on the Kona N. The paddles allow you to shift quickly and effortlessly through the gears, helping to keep you in the powerband. The steering is direct and offers plenty of weight at all speeds while the suspension is firm—perhaps a little too firm for some. But to be honest, buyers of this car will be those who lean towards stiffer sportier suspension, quick steering response and speedy throttle response.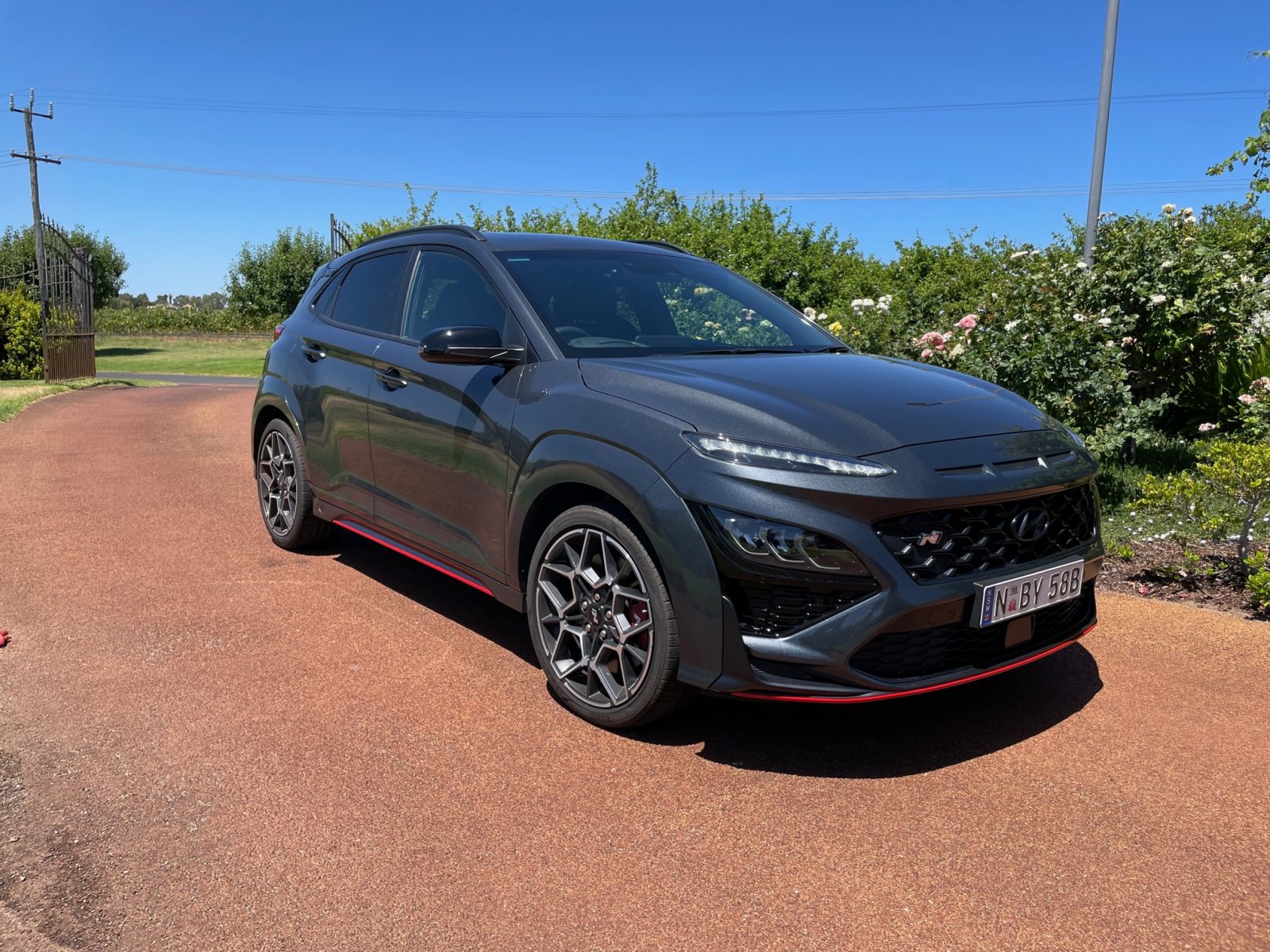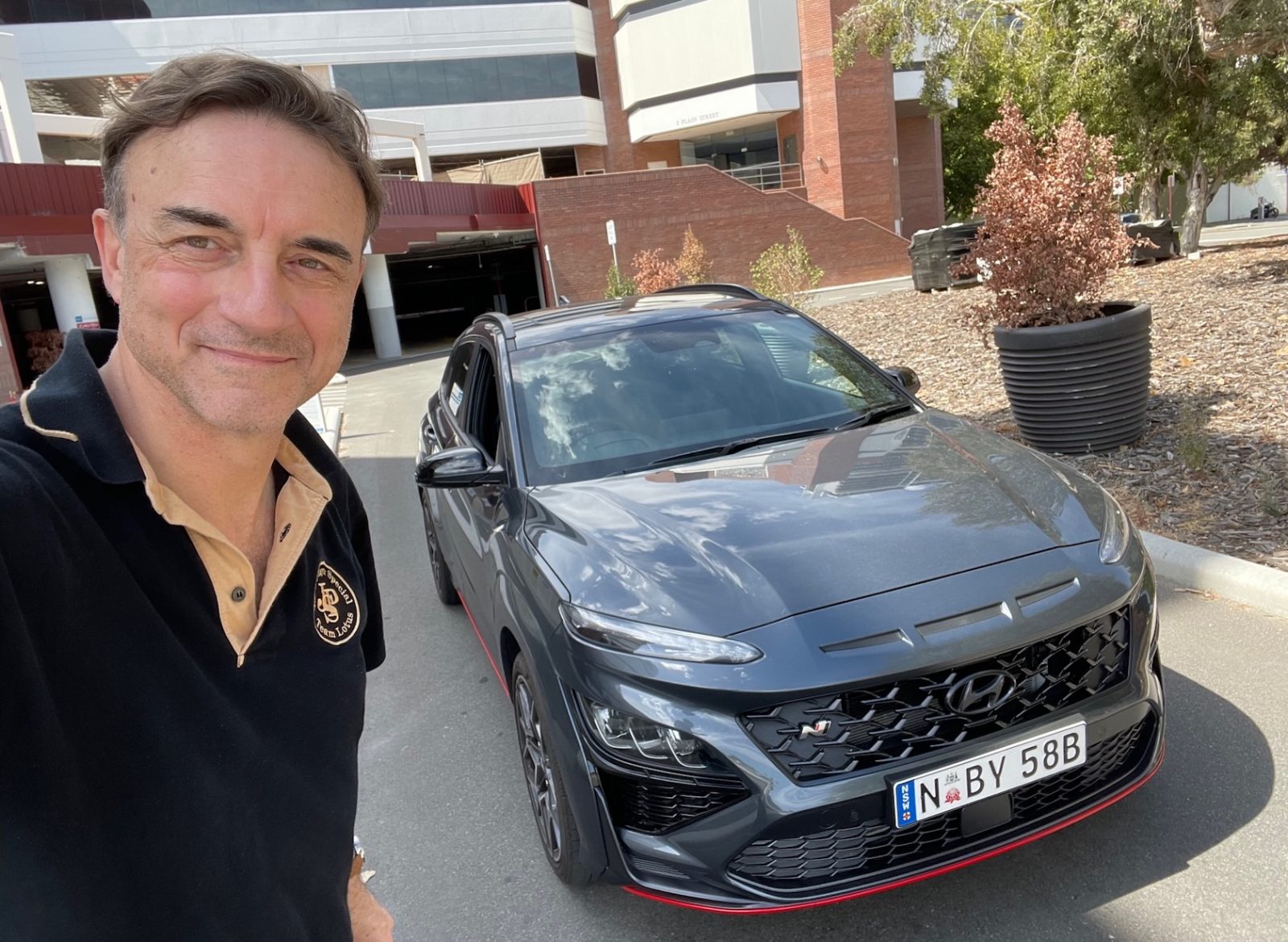 Enthusiasts will like the firm ride and manual handbrake
Flip the drive mode into Sport or N mode and you'll add extra amounts of steering weight with even stiffer suspension. But we feel these settings are more suited to a race track than public roads with potholes and trampolines. As you'd expect with a gutsy sub-compact, brake grip and pedal feel are excellent, pulling you up quickly and safely. One bonus on the Kona N, and a feature that I particularly like, is its old-school manual handbrake sitting above the center tunnel. Engineers say it was necessary to enable drivers to enjoy slides at will.
All this aggression enables the Kona N to jump to 60mph in 4.8 seconds, making it the quickest hatch in its class and putting it on a par with the outgoing 306-hp Honda Civic Type R. Whether Hyundai will go for a record lap time around the Nurburgring—like the Type R—is still up in the air. Although we'd like to see them try.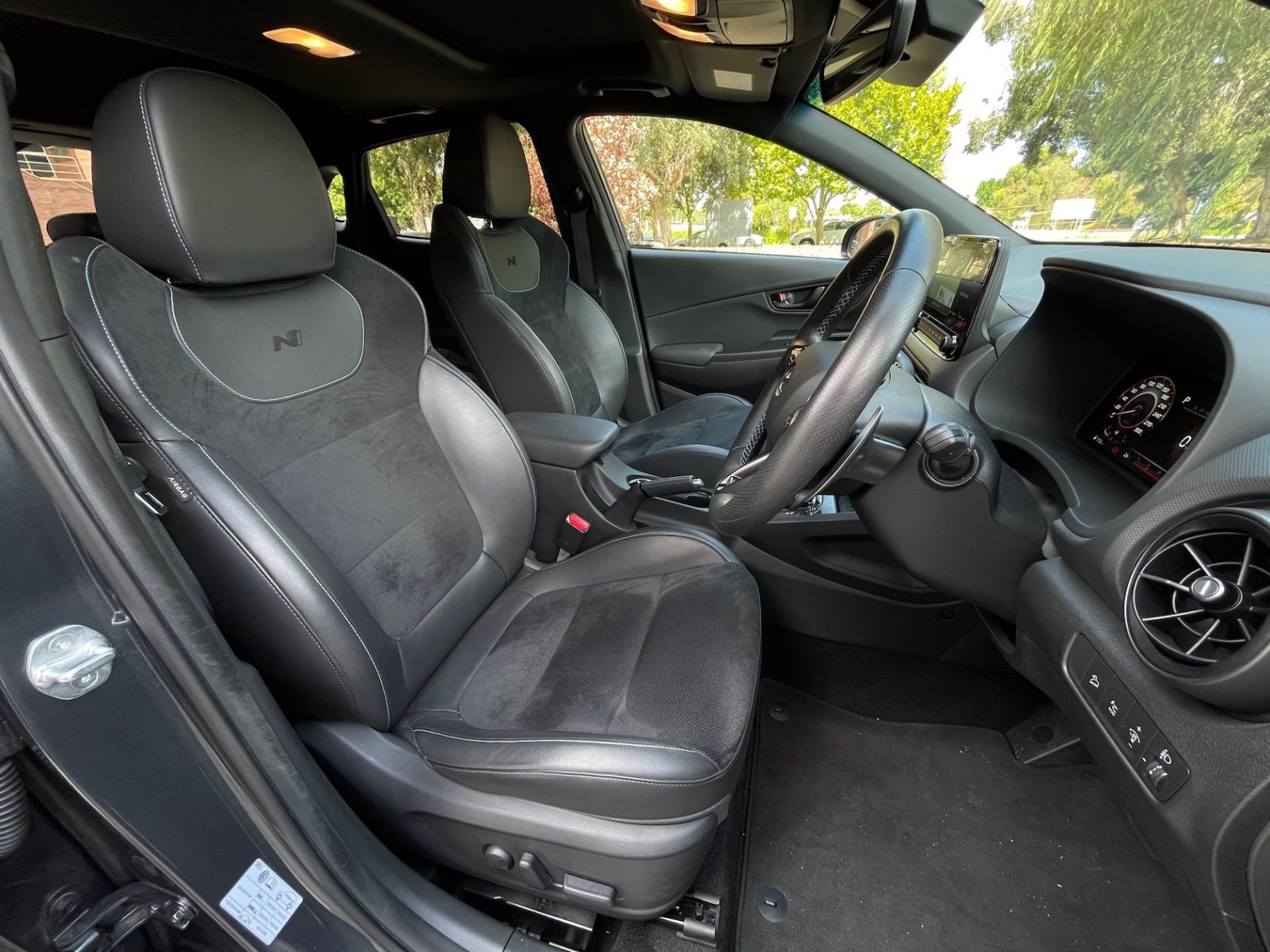 CONCLUSION
The Kona N is a feisty, brilliantly conceived little SUV. It's quick, agile, and bags of fun to drive starting from $34,950. About the only tame thing about the Kona N is its name. I mean come on, 'Kona N' sounds more like a coffee bean variety than a red hot hatch. "What flavor would you like today sir—Mountain Blend or Kona N?" Consider this. The Kona N is the M3 of BMW's 3-Series; it's the Type R of Honda Civics, it's the Nismo spec of Nissan GT-Rs, and the STi of Subaru WRXs. It at least deserves an extra letter or two—something like Kona 'N-Force' or 'N276' pointing to its horsepower—a name with more pizzazz. I'm sure the producers would enhance its name for a Fast and Furious appearance.