Mercedes plans to take on Tesla with its own charging network
Peugeot to offer a 670-hp EV with 500 miles of range
Dutch start Lightyear to offer EV powered by solar panels
As expected, next-generation electrification technology is featuring strongly at the Consumer Electronics Show (CES) 2023. Mercedes Benz has just revealed plans to take on Tesla's Supercharger network with its own high-power EV chargers, Peugeot unveiled a new saloon concept that boasts 670-hp and a range of 500 miles, while Dutch startup Lightyear previewed its second-generation solar-powered electric car with range up to 497 miles.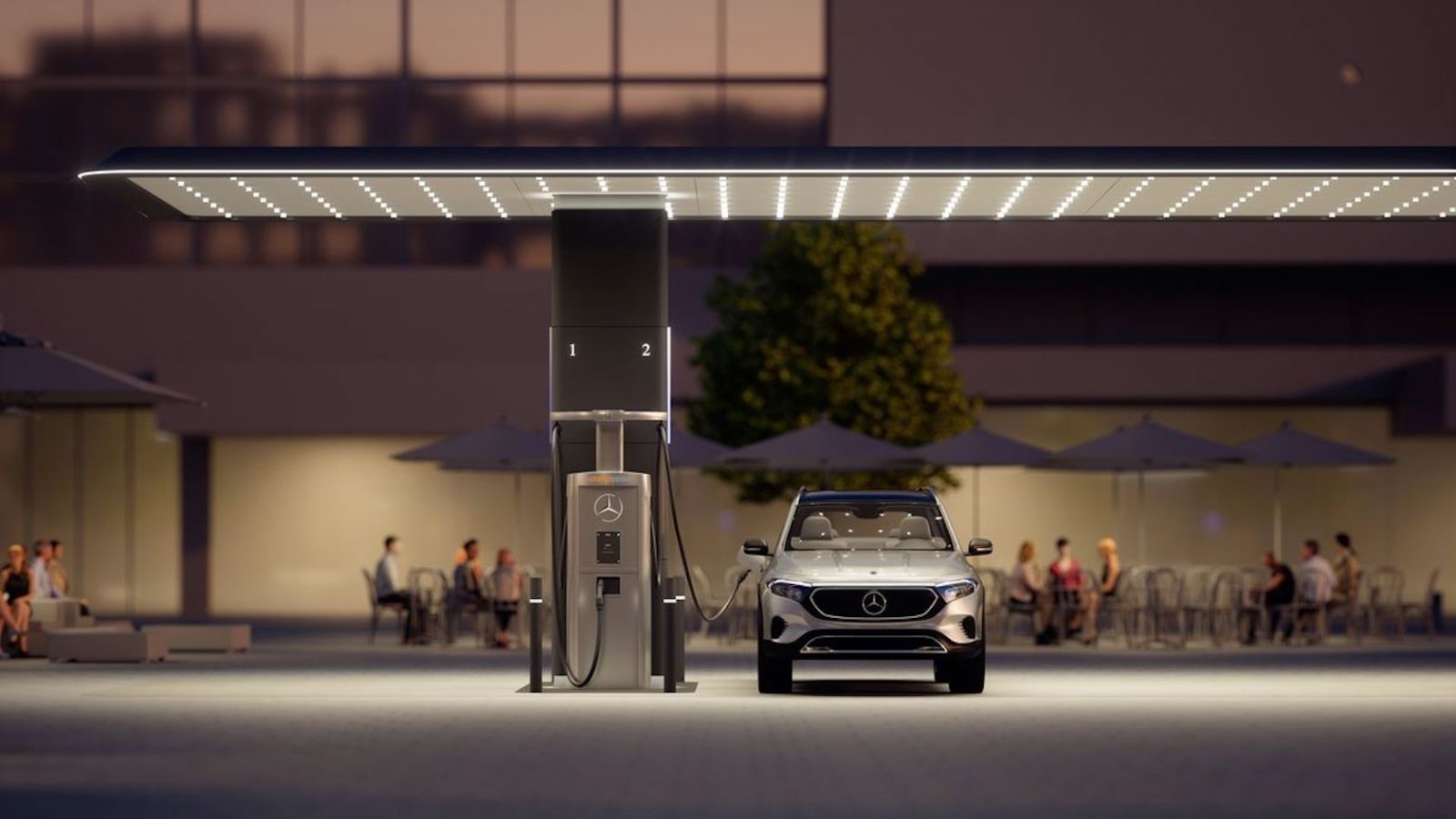 Mercedes to build 10,000 quick charging stations by 2030
Mercedes plans to install up to 10,000 quick-charging stations globally by the end of the decade. The first of 400 hubs with more than 2,500 chargers will appear in North America this year with the US roll-out complete by 2027. These hi-tech chargers will then be expanded into Europe and China, taking the total number of Mercedes charging stations to 10,000 by 2030. Depending on the location, each hub will offer between 4 and 30 fast chargers.
The charging stations will be set up to accommodate 350kW rates—comparable to Tesla—with the potential to increase in the near future. For Mercedes, one crucial aspect will focus on ensuring customers using the hubs have a "premium, sustainable and reliable charging experience." Drivers will be able to use the MercedesMe service to pay for their charge and will be able to use their smartphones to reserve a charging station slot in advance. In contrast to current charging stations, Mercedes's hubs will have a roof, food stall, restrooms, security cameras and lights to improve charging convenience and safety.
Peugeot EV concept offers 500 miles of range
Revealed this week at CES, the Peugeot Inception concept employs fresh new lines and Stellantis's forthcoming STLA large platform. Mounted between the Inception's generous 5-meter-long wheelbase is a 100kWh battery, which the French brand claims is good for a range of 800km (500 miles). The battery delivers power to a pair of compact electric motors – one at the front axle and one at the rear for all-wheel drive, and total power hovering around 670bhp, according to Peugeot. This is good enough for a claimed 0-62 mph time of less than three seconds.
Peugeot claims that the new platform's 800-volt architecture (a first for a Peugeot EV) means that 18 miles of range can be added in just one minute, with a 93 mile top up possible in just five minutes courtesy of its inductive wireless charging tech.
Lightyear leans on solar power
And thirdly, Dutch startup Lightyear used CES to reveal its Lightyear 2, hot on the heels of the Lightyear 0 (Zero), which recently entered production at the Valmet Automotive factory in Finland. 
The highlight of the 2 is its solar power charging capabilities. "By harnessing the power of the sun, Lightyear 2 elevates the electric driving experience and reduces reliance on strained power grids. In fact, while Lightyear 2 vehicles require less charging from the electricity grid than a conventional EV, they also flip the script by providing clean energy back into the grid." The design of the 2 has been optimized for aerodynamics and to capture as much solar energy as it can from panels on the hood, roof, and trunk. Lightyear claims a range of 497 miles on a full charge with 43 miles of range generated from the car's solar panels.
Set to go into production in 2025, the 2 will be sold for around $42,500 in the UK, Europe, and the US, with Lightyear targeting 100,000 deliveries per year.
OUR THOUGHTS
As Mercedes is proving, carmakers other than Tesla will also create their own quick-charging networks in the near future as the demand for EVs climbs rapidly and drivers expect better EV infrastructure. What we see in the Lightyear 2 concept is that solar panels can and will play a much greater role in charging cars by the end of the decade.