Whether in smartphones, laptops or EVs, lithium battery fires are becoming a serious issue
Lawmakers nationwide are trying to regulate lithium-ion batteries with NYC Mayor signing bills to regulate battery production and promote safer usage
Lithium battery fires require a lot more water to extinguish than gasoline cars and have the tendency to re-ignite
The electric vehicle (EV) industry is moving ahead at breakneck speed with every carmaker ramping up production. More EVs have entered the market over the last two years than all-electric vehicles combined over the last two decades. And the vast majority rely on lithium-ion (Li-ion) batteries to operate.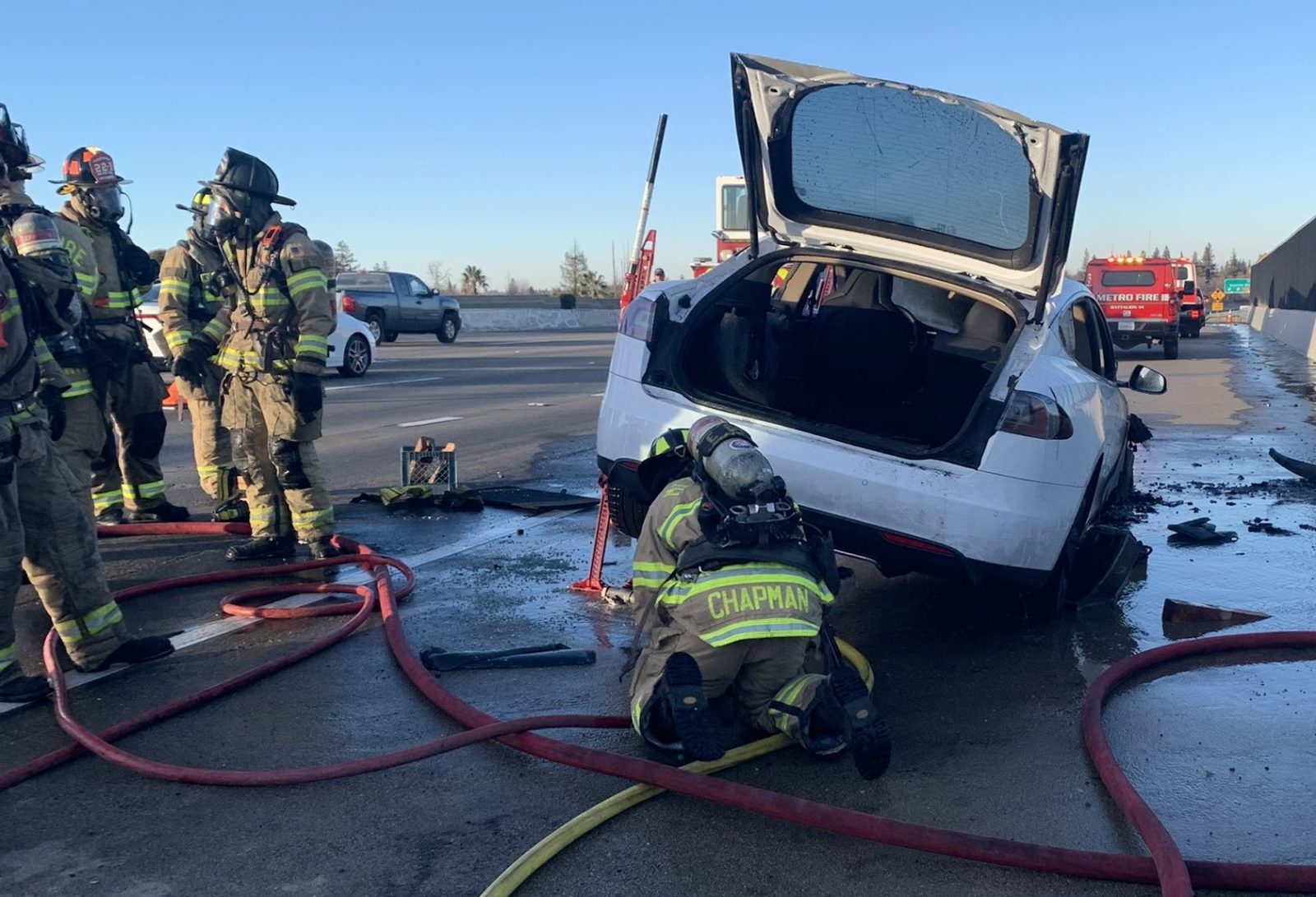 But while Li-ion batteries power everything from smartphones to laptops to scooters to cars and trucks, fires caused by these batteries are becoming a serious issue for manufacturers and governments alike, as they try to come up with more effective ways to cope with the problem and extinguish battery-generated fires that can be extremely difficult to put out.
In fact, li-ion battery fires are happening on land and at sea. In 2022, the New York City Fire Department responded to more than 200 e-scooter and e-bike fires, which resulted in six fatalities. "In all of these lithium-ion fires, it is not a slow burn; there's not a small amount of fire, it literally explodes. And it's very difficult to extinguish," FDNY Commissioner Laura Kavanagh told reporters. And of course, we've all heard of the dozens of battery fires sparked in EVs including Tesla and other marques. In January this year, a Tesla burst into flames on a California freeway and firefighters needed 6,000 gallons of water to put it out.
As was reported on NPR radio last week, fires on cargo ships are reaching crisis level. One telling example was the February 2022 blaze aboard the Felicity Ace cargo ship packed with luxury cars that sank in the Atlantic. It is not known if lithium batteries caused the fire, but according to shipping records, there were many EVs aboard the ship and when they exploded and caught fire due to the heat generated, firefighters said it made the blaze that much more difficult to extinguish. Similar sentiments are being expressed by fire departments across America as they are being called to an increasing number of EV fires on highways.
So what causes the fires? Put simply, a lithium-ion battery consists of a bunch of individual cells packed together. If a single cell fails, it goes into a state called "thermal runaway." This is when the temperature skyrockets quickly, much faster than the heat can be dissipated—causing a fire in that failed cell that quickly spreads to other cells. This is the underlying problem. The heat remains deep inside the battery and can be hard to put out with water, even lots of water. And one extra concern with lithium fires is that they have a tendency to re-ignite.
Lawmakers nationwide are trying to regulate lithium-ion batteries following this spate of fires. New York City Mayor Eric Adams signed a package of bills last week meant to further regulate lithium-ion batteries, promote safe usage and advocate for more federal action.
New York state Rep. Jeffrey Dinowitz introduced a bill last month to ban the sale and manufacturing of batteries that do not meet minimum safety standards.
U.S. Rep. Ritchie Torres (D-N.Y.) recently introduced a bill that would task the federal Consumer Product Safety Commission (CPSC) with establishing "a final consumer product safety standard for rechargeable lithium-ion batteries used in personal mobility devices."
Experts and lawmakers are pinning the blame on low-quality products and a lack of adequate regulation. "The problem arises when those batteries are poorly designed, poorly manufactured and poorly handled," Rep. Torres said.
"For me, the scandal is not that the federal government is failing to regulate the safety of lithium-ion batteries. The scandal is that the federal government is not even trying." Safer batteries could be one welcome result of Washington's efforts to amp up domestic battery production — a move it's undertaking to reduce American reliance on China and other foreign sources.
"Experience tells us that a product from the U.S. has a greater likelihood of complying with safety standards than one from China," Torres said.
OUR THOUGHTS
The above comments may sound a little sensationalist. But those are the facts. We hope this issue will feature highly in future legislation for EVs and their batteries, because some serious changes need to be made. The truth is that lithium fires are on the rise, whether in smartphones, laptops or on ships, or in EVs. Several studies have shown that EVs are less likely to catch fire than gasoline or hybrid vehicles, but when they do, they burn hotter and longer. Tesla CEO Elon Musk has previously said only 0.01% of Teslas have ever caught fire. That compares with an annual rate of 0.08% for all passenger and heavy-duty vehicles in a given year, according to NHTSA and the National Fire Protection Association.