British carmaker Ariel is well-known for creating bonkers machines like the Atom, a 2425-lb lightweight, 321-hp exoskeleton-like pocket rocket with no windscreen, no doors, no roof and no body. Now they've created the electric 1180-hp 'Hipercar' supercar that looks like a baby Batmobile. That's because this time, the car has a body.
While the vehicle is classed as a prototype, it employs production-ready bodywork, says the maker. Hipercar stands for HIgh PERformance CArbon Reduction and Ariel is now sharing more details of its first EV that has required close collaboration with a number of British based companies, including Cosworth.
Now let's get to that Batmobile-inspired bodywork. Ariel says the Hipercar's exterior styling comes from the requirements of generating low drag and the necessary cooling for those motors. It features vertical fins sticking up from each corner for straight-line stability and one more running along the centerline of the rear deck while its roof-mounted scoop directs air to the turbine.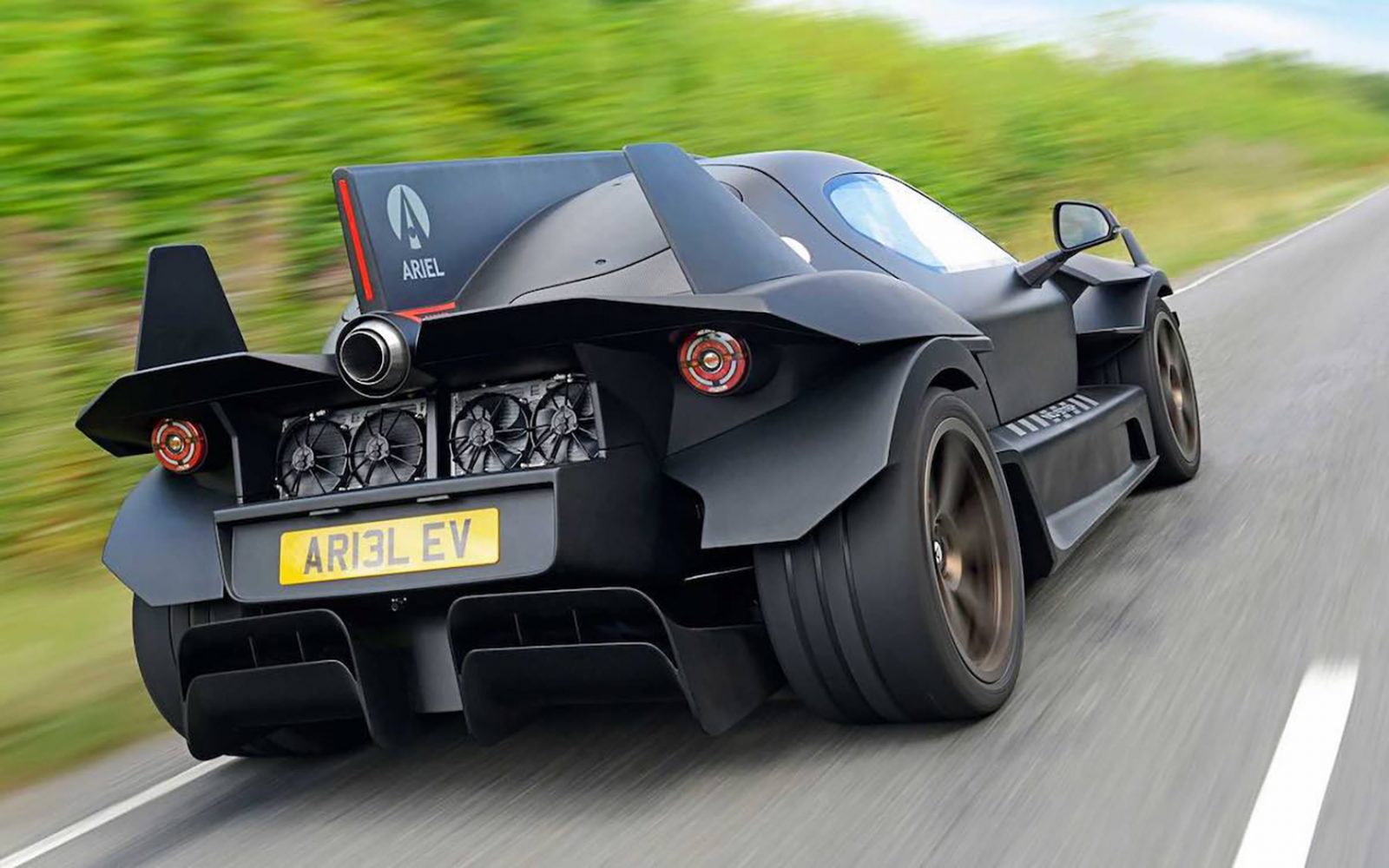 Considered a compact road car, the Hipercar will come in either rear wheel spec, with two electric motors, or all-wheel-drive with four motors. The AWD model will weigh around 3185-lb and is powered by four 295-hp motors fitted to each wheel, totaling 1180-hp and 1327 lb-ft of torque. The rear-wheel version will produce 581-hp. Ariel says the AWD spec has an EV range of 150 miles and the option of a range-extender in the shape of a catalytic generator, a compact micro-turbine running on whatever fuel is appropriate. Also offering torque vectoring, it will be capable of 20 minutes of flat out punishment on a racetrack from a single charge. Boasting a claimed zero to 60mph sprint of 2.0 seconds flat and a zero to 100mph jump of 4.4 seconds, we might just have a car to take on the Tesla Model S Plaid.
The Hipercar will be fitted with a Cosworth-sourced 62-kilowatt-hour battery that runs on 800-volt architecture and offer an estimated 150 miles of range in the WLTP cycle. To boost this figure, Ariel will offer an optional Cosworth turbine range extender. It will spin at 110,000 rpm, produce 47-hp of power and ride on an aluminum monocoque with carbon-fiber body panels. The AP Racing brakes have six pistons up front and four pistons at the back, a must to pull up those 1180 horses. And according to Ariel, it's possible to adjust the level of regenerative braking, traction control, and torque vectoring.
Final pricing is not available yet, but the company suggests that its pricing should come in under £1 million (under $1.15 million).