The Nissan 370Z was gathering dust and almost forgotten when its successor, simply named 'Z,' burst onto the scene this year looking sharp and shouting 400-hp for an entry-level price of $41,000. That is significant. It translates to $100 for every one horsepower.
That's a difficult figure to beat. Even the Ford Mustang GT, an arch rival of the Z, only delivers 480-hp for $55,000 while the Toyota Supra costs around $56,000 and generates 382-hp.
For the record, the entry level 'Z Sport' starts at $41,000, while the 'Z Performance' rises to $51,000. And the limited edition 'Z Photo Spec' gets a sticker price of $54,000. But unlike other rivals which offer different engine specs for different prices, every Z grade gets the full 400 horsepower.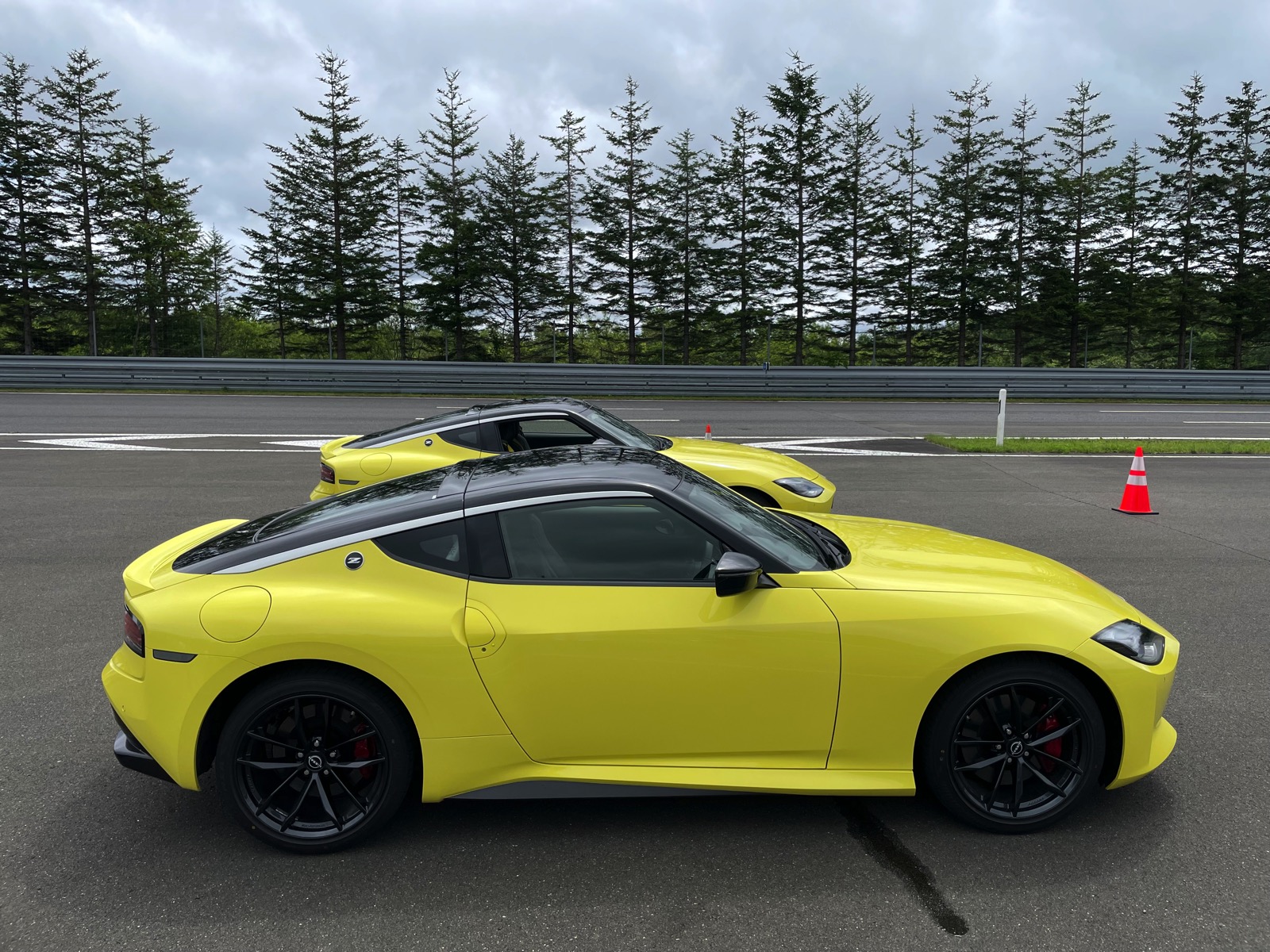 The truth of the matter is that sports car sales around the world are falling and relatively inexpensive ones are like hen's teeth to find. Even though the market is being dominated by boxy SUVs, hybrids and electric cars, Nissan still felt it needed to have a signature sports car in its lineup. The GT-R is over a decade old now and not sold in the U.S. anymore.
But building a new sports car from the ground up is an extremely expensive business which is why there are basically only two ways to create new sports cars these days. Either collaborate with another manufacturer—like BMW and Toyota did with the Z4 and Supra or Toyota and Subaru's joint efforts with the GR86 and BRZ; or use the platform and parts from a predecessor and spruce it up.
Nissan did the latter. That's right, the Z is actually a heavy refresh as opposed to a fully new model. Make no mistake—on the outside, the Z employs brand new sheet metal that sits on a carried-over platform. If you liked it in photos then you'll love it in the flesh. We did. It's a stunning looking coupe that perfectly melds retro with new.
The Driving Experience
After driving the Z at Nissan's proving ground in northern Japan recently, we'd have to say that this all-new iconic marque is doing everything it can to brush off the cobwebs and dust and shine like it's never shone before. The eye-like headlights are a nod to the lights off the original Datsun 240Z while the squared-off grille is also inspired by the original 1969 model.
After designers inserted multiple small chrome rectangular accents inside the grille for the production version, thus radically improving the look of the Z concept's large gaping hole, we breathed a sigh of relief. The new front end with its signature long hood scream speed and look the biz.
Up the back, the tail lights pay homage to the twin parallel brake lights of the 300ZX from the late 80s and complete a very tidily finished rear end. Its silhouette extracts strong lines and curves from the original 240Z and 300ZX and is superbly proportioned.
The Interior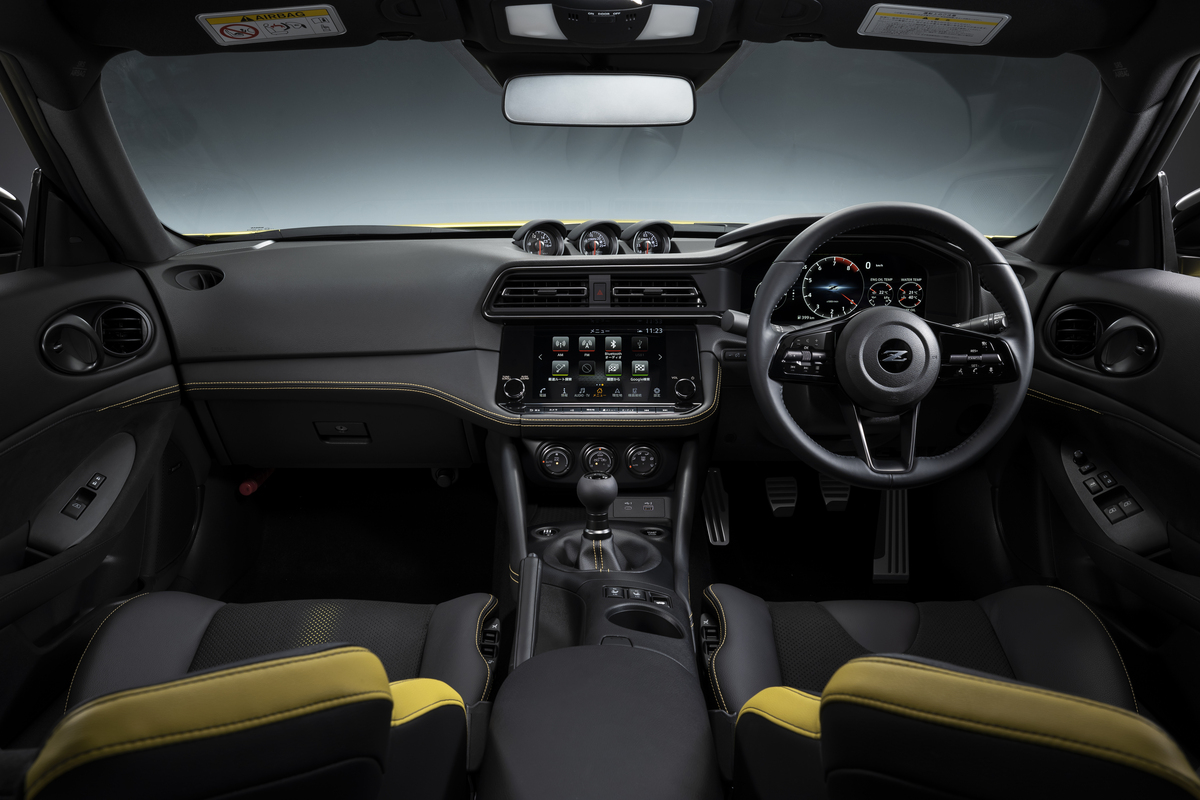 The interior is a similar story with a subtle but aesthetically appealing mix of new and retro design traits. It looks pleasing and sporty even though it has carried-over switchgear from the old 370Z—that came out in 2009. And to be honest, some of that switchgear does look more than a decade old in a car on sale in 2022. The HVAC controls, window switches, and most glaringly, the heated seat controls are all clear carryovers from the outgoing car, as are the door handles. Its eight-speaker Bose sound system is acceptable but nothing new, and confirmed to be a carryover part from the 370Z.
However, that said, it's the stand-out features you look at and interact with, like the steering wheel, instrument cluster, and touchscreen display that are all new and help create an all-new cockpit feel. One highlight of the new cockpit is the triple pod gauge cluster, inspired by that found in the original Datsun 240Z and carried over in successive generations. It wouldn't be a Z without it! In summary, Nissan revised the interior just enough for it to feel new and luxury materials like suede on the seats and door cards make the space come across as new.
An 8-inch touchscreen infotainment system is standard, with higher grades getting a 9-inch display. Both come with Apple CarPlay and Android Auto and operate on the same system found in most of Nissan's latest models. A 12.3-inch digital gauge cluster puts all the pertinent information front and center, and easy to read. There's enough head and leg room for drivers up to 6 ft 4 inches and excellent visibility. There's ample space in the luggage area, or should we say there should be if it wasn't for the shock towers intruding into that space.
The Engine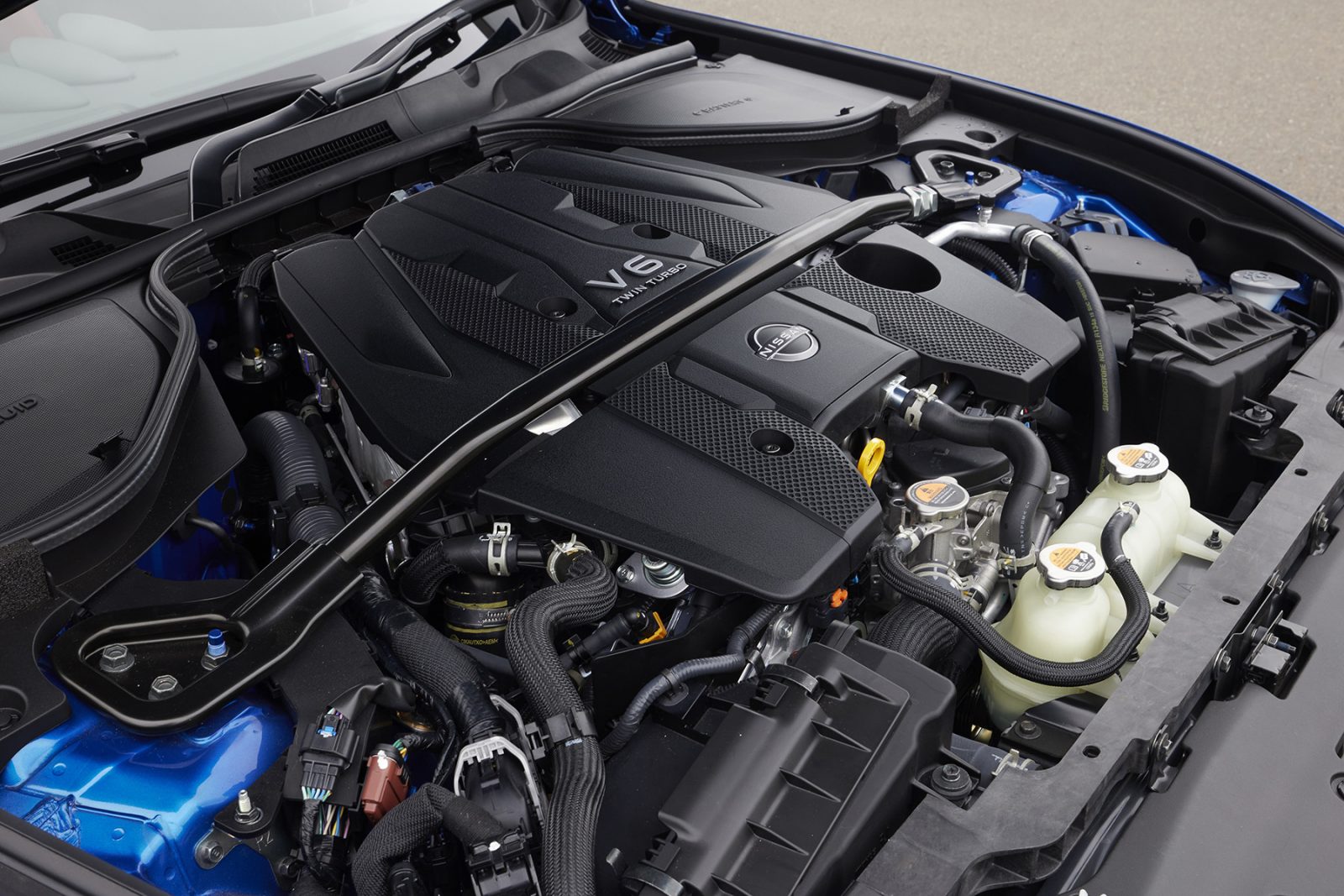 The most critical part of the Z that can be called new is the twin-turbocharged 3.0-liter V6 engine pumping up 400 hp and 350 lb-ft of torque. Okay, playing the devil's advocate, it's not a new engine, but it is new in the Z. It just happens to be the same engine as that found in the Infiniti Q60 Red Sport 400, but most importantly with the Z, it can be paired with a 6-speed manual or a 9-speed automatic with flappy paddles. As you'd expect, power goes to the rear wheels and manual cars benefit from a carbon-fiber composite driveshaft.
As the most powerful Z ever, it was no surprise to discover just how quick it responds at any rpms. It'll jump from 0-60mph in 4.0 seconds and covers the quarter-mile in 12.3 seconds (for the auto version). Keep the tacho spinning at over 3500rpm, and boost will stay on tap at nearly every point on the tachometer, making highway overtaking a cinch without worrying about downshifts.
The 6-speed manual's shift action is heavy but precise with little chance of missing a gate while flicking between gears.  Obviously, Z purists will opt for some heel-n-toe antics, but for those wanting a little more subtlety, leave that role to the pitch perfect rev-matching system and you'll get a faultless shift every time. The clutch is good but can tend to have a long vague bite.
The Handling
Steering is nicely weighted and precise and lets the driver know exactly what's happening on the tarmac below. Apart from the car's ample power and sharp handling, one thing that stood out was the ride quality. They got a lot right with the new Z, but one aspect that really stands out is the chassis. Superb. This car rides great yet offers endless grip and confidence in the twisties.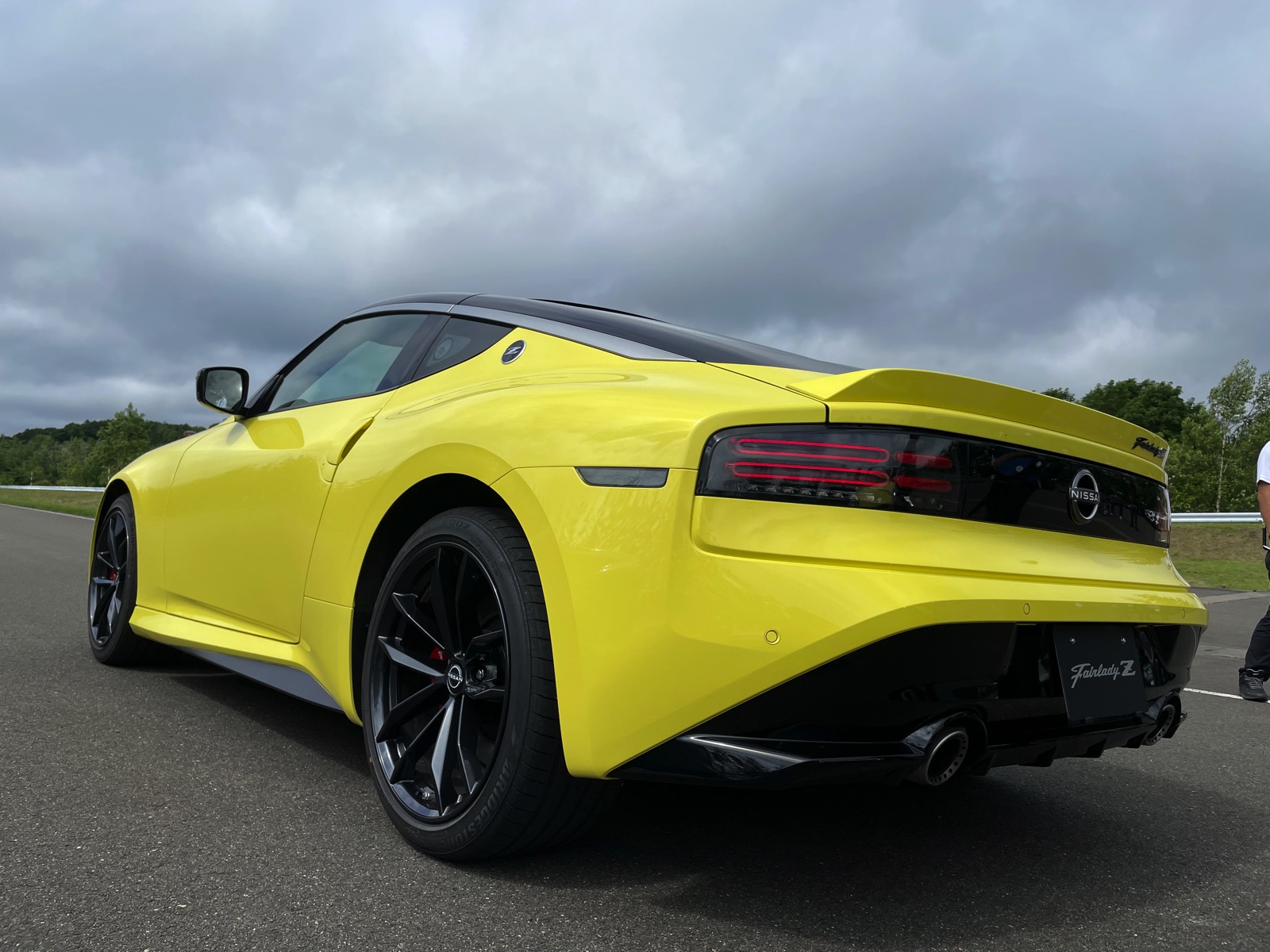 There is body roll, but it's natural and not enough to be unpleasant on the road. Likewise, the turning circle feels extremely tight, perhaps thanks to the car's relatively short 100-inch wheelbase. The Z will soak up the bumps competently while offering excellent compliance and staying surprisingly quiet. Hang on. That's actually one gripe we had. The Z's unemotional exhaust note doesn't quite suit its looks, on-road speed and aggression. We would have liked something throatier but we're sure the customizers and tuners will fix that.
Our test car's mechanical limited-slip differential kept the power from constantly switching into yaw, although there's more than enough herbs to get the Z sliding sideways, if that's your bent. The static dampers do a great job transferring weight without making the ride twitchy and annoying on regular roads, although the car still feels a little harsh in daily use. The Performance-specific brakes on higher spec models are easy to modulate, making it as easy to brake in slow moving traffic as it is to stop hard from 80mph.
Final Take
We've mentioned the Z's main rivals about in its price bracket. But let's put things in perspective and compare the Z with a car that it's very evenly matched with in terms of performance and handling—the Porsche Cayman GTS 4.0. As mentioned above, the new rear-drive Z packs a 400-hp 3.0-liter twin turbo that will do 0-60mph in 4.0 seconds. In contrast, the rear-drive 718 Cayman GTS 4.0 generates 394-hp from its 4.0-liter flat-four and sprints from zero to 60mph in, you guessed it, four seconds flat. But to secure a Cayman you'll have to fork out $88,000, more than twice the price of a basic Z.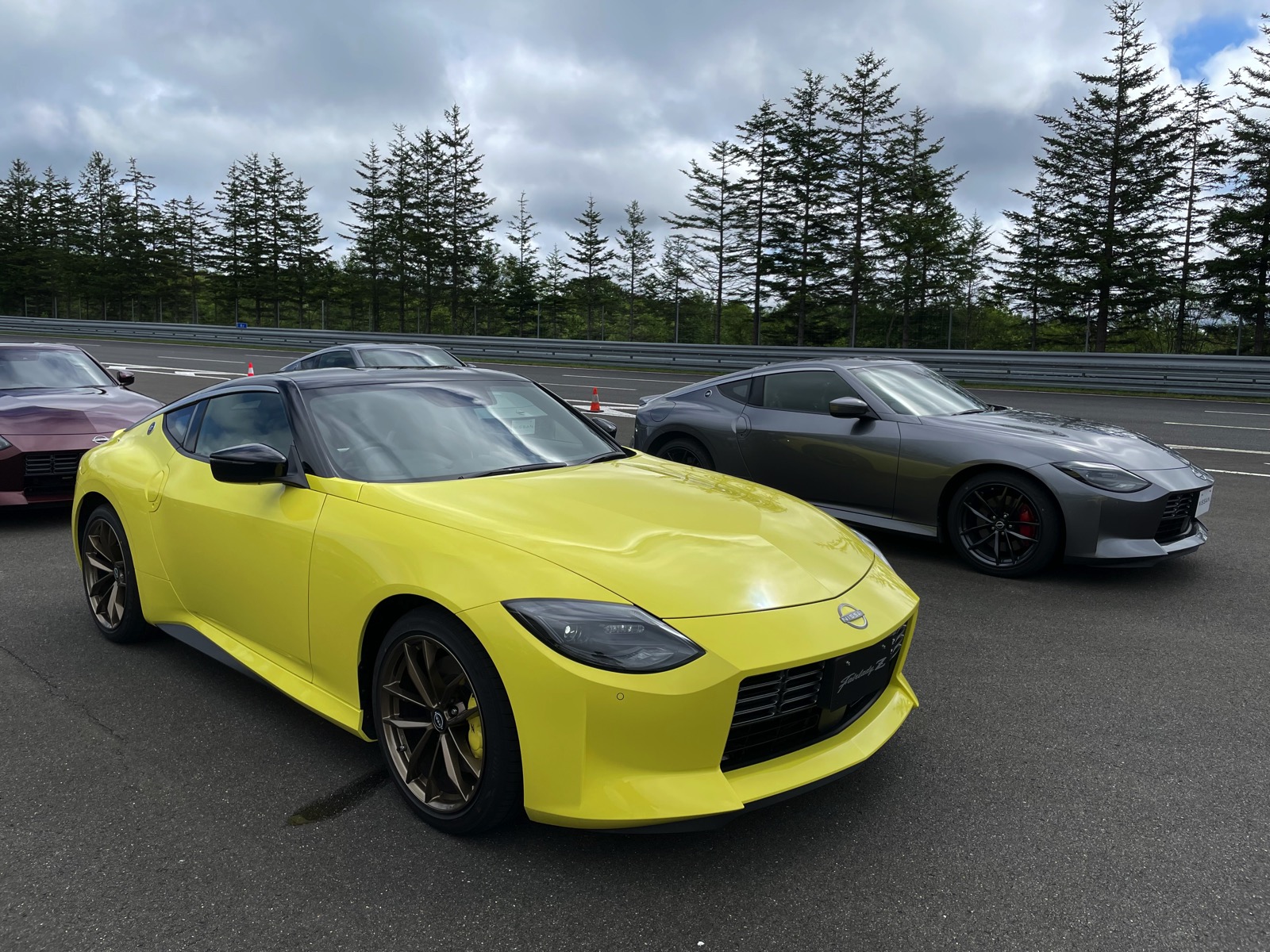 So, whether you're comparing the Z with a Cayman or more reasonably priced sports cars like the Mustang or Supra, the Z flies out of the blocks with a 400-hp V6 that starts at $41,000. It might not be as quick to 60mph as the Mustang, it might be a little heavier than the Supra, it might lose space in the back due to those strut towers, and its higher spec models might close in on that mid-$50,000 price point, but when it comes down to looks, acceleration, handling, street cred and price, the Z is the total package and hard to beat.