The EQS's headrest pillows are the softest in the industry
This electric SUV comes standard with scents and sounds that relax or stimulate you to stay aware behind the wheel
It offers calming nature themes like "Forest Glade," "Summer Rain" and "Sounds of the Sea;" the latter combines the sound of seagulls and surf
One of the first things that surprises and impresses when you first sit in the driver's seat of a new electric Mercedes-Benz EQS SUV is the fluffy white pillow sitting snugly on your headrest. It's specially engineered to help you sleep, when of course, sleeping is an option.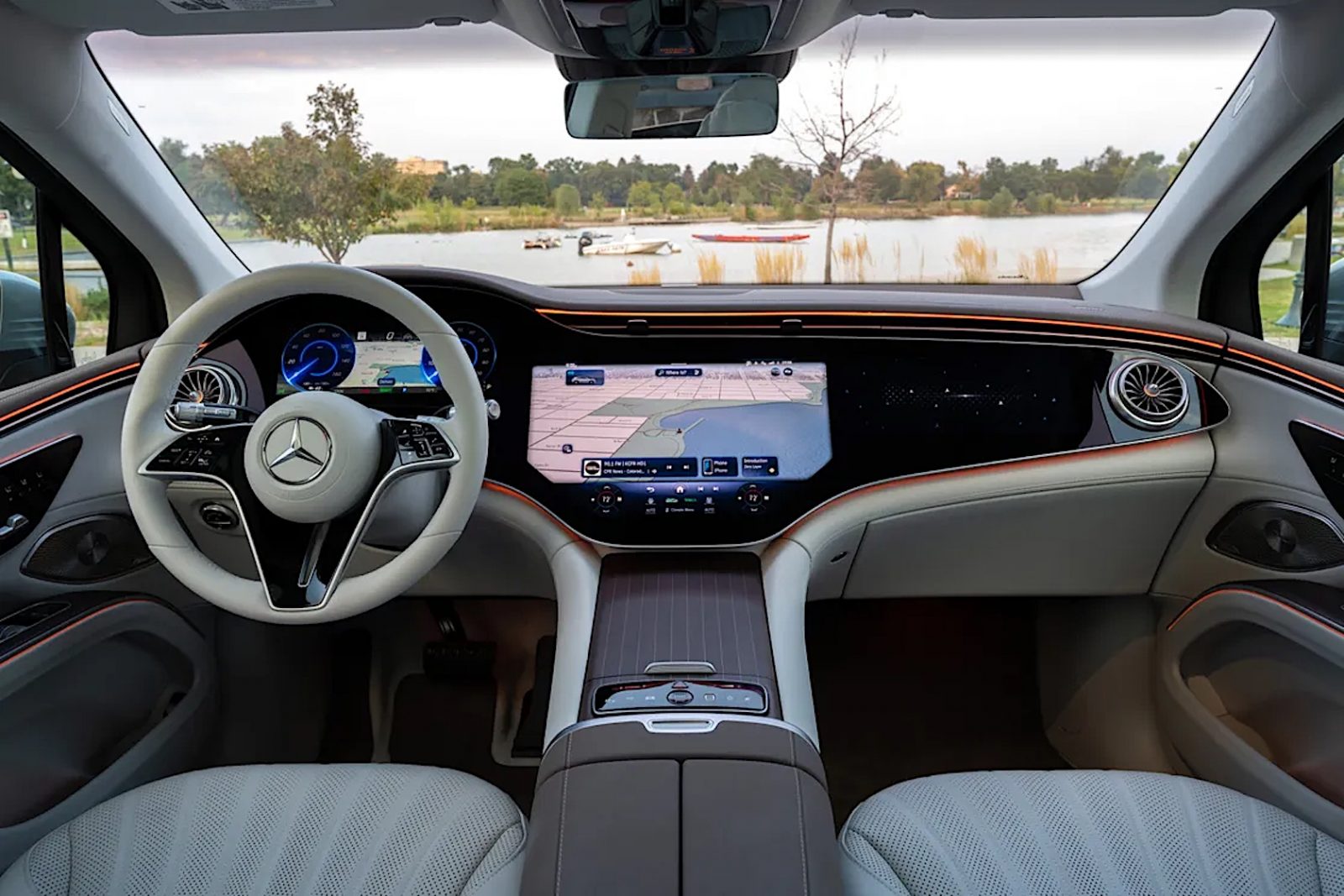 The EQS SUV—starting at $104,400 —takes EV ownership to a whole new level of opulence. This is the first SUV in Mercedes' growing EV lineup and includes features you're not likely to encounter in your next vehicle:
Firstly, it comes standard with scents and sounds that relax or stimulate you.
In addition, AI-enabled birthday reminders and to-do lists are offered — plus prompts to call friends at the usual time. One other unique function is a "power nap" mode that reclines the seat, darkens the cabin, and plays sleep-inducing music while you're parked at a charging station or rest area.
Here we are referring to the 2023 EQS 450 4-MATIC SUV, the mid-level model with a starting price of $107,400 (rumored to be available in Malaysia soon at RM 698,888) and an EPA driving range of 305 miles. It also features a long list of premium options — including a $2,000 augmented reality heads-up display and an advanced display called an MBUX Hyperscreen for $7,230 — which brings the total retail price to $129,285. Dominating the full width of the cabin, this hugely impressive Hyperscreen, extends from the left A-pillar to the right one.
Meanwhile, the car's intelligent navigation system plans the fastest and most convenient route to your desired destination— including charging stops — by predicting the energy demand and adapting to traffic jams or a change in driving style.
The EQS SUV also incorporates a Faster acceleration mode thanks to an optional software upgrade that adds 80 hp (to 435 hp), for $90 a month (or a one-time fee of $2,950).
The system takes AI to the next level by adapting to drivers' preferences and anticipating their wishes, proactively displaying the right functions at the right time, and offering personalized suggestions for infotainment, comfort, and other features.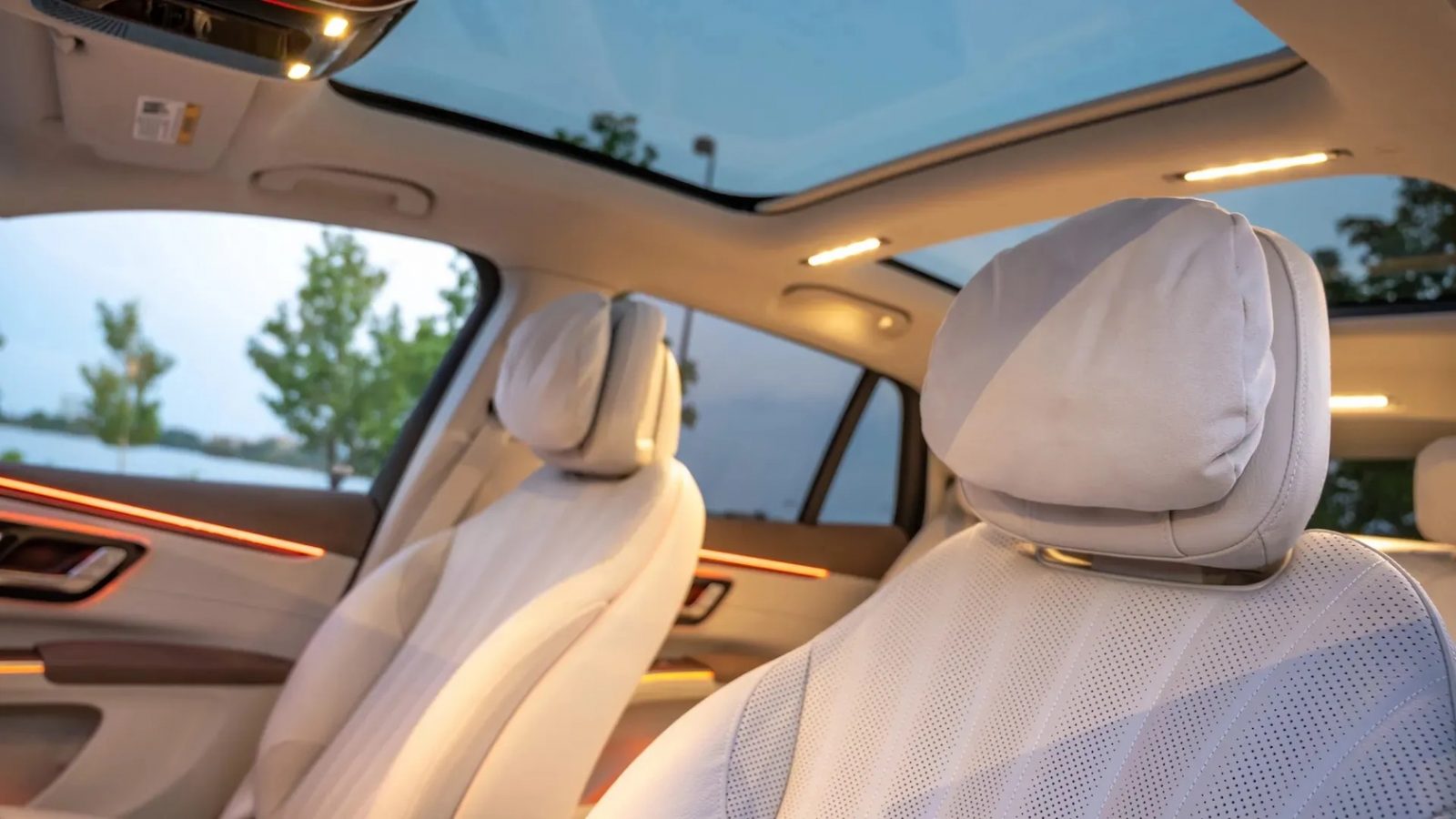 Cabin fragrances are becoming a thing. The EQS SUV has its own specially composed fragrance called 'No.6 MOOD mimosa,' which is "an earthy fragrance with a touch of sensuality" that unfolds in three phases, from fruity to woody.
But according to Mercedes' designers, what's different about this SUV is how it makes you feel. The Mercedes' "Energizing Comfort" program uses preset combinations of ambient lighting, climate controls, fragrances, massage seat modes, and sounds to create mood-based themes like "Vitality" or "Refresh."
It offers calming nature themes like "Forest Glade," "Summer Rain" and "Sounds of the Sea;" the latter combines the sound of seagulls and surf with blasts of HEPA-filtered air from the air conditioning system. So the cabin air is charged with soothing sounds but not harmful PM 2.5 particles.
According to Mercedes, the car will see that you're stressed and automatically triggers the Joy program. If kit senses you're tired, then it'' initiate the Vitality program.
If the car detects you need to perk up, and you think so too (after all you should listen to your overseer!) then you merely push a button and crimson-colored graphics start to swirl across the Hyperscreen while instrumental music pulses from the Burmester speakers—initiating the Vitality mode. Some drivers would almost certainly switch off this mode as it can be distracting in certain situations.
I tried an EQS sedan recently, and actually felt calmer after experimenting with this model — as I drove alone using "Forest Glade," featuring the sounds of birds, rustling leaves and a gentle breeze accompanied by warm music and a subtle fragrance.
OUR THOUGHTS
From soft, fluffy pillows to fragrances and sounds that relax and stimulate you, the EQS SUV takes the art of relaxation, and its opposite to the next level. And all this tech is activated using AI that can read your state of awareness and act on it autonomously. At the end of the day, however, I'm sure there will be drivers who will want to switch off this 'big brother' type of surveillance and drive in peace and quiet.